Starz Psychics: Overview
From the moment you land on the Starz Psychics homepage, you'll see this site is different from others. I'll be honest, the dated appearance of the platform and the limited information made me really skeptical. But as I dove deeper into the site, I realized that Starz Psychics has a charm to it that big-name platforms like Oranum and Kasamba just don't. On Starz Psychics, you won't feel like just another number.
However, this doesn't mean this small, niche platform doesn't have drawbacks. Read on to learn what I discovered about this site and whether you should hand over your credit card details.
Types of Readings on Starz Psychics
Starz Psychics is a bit different from other platforms due to its minimalistic, simple design and set up. Unfortunately, the platform doesn't have any filtering options and psychics are not grouped according to topic or category. In order to see what each psychic specializes in, you'll have to click on their profile and read further.
That being said, Starz psychics has less than 30 readers in total. So, if you wanted to take the time to check out every reader, it wouldn't take you that long. Here is an overview of what you can expect from their main reading categories.
Love and Relationships
At present, there are only three psychics who specialize in love and relationship readings on Starz. Based on their profiles, they each have extensive experience in this particular area, so any of them would be a good choice for questions about your love life.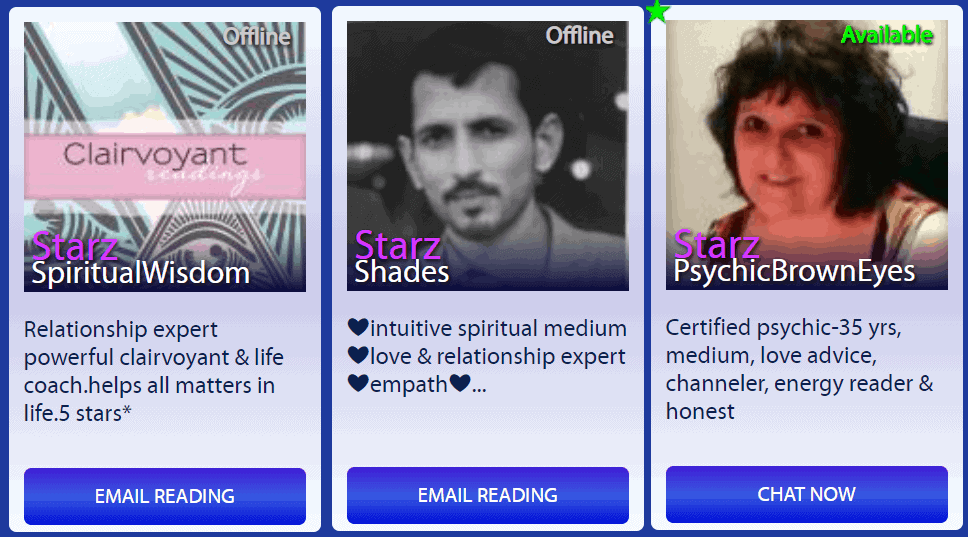 Astrology Readings
If you're searching for an astrologist, you have 5 options to choose from, one of which is the founder of Starz Psychics. You can find out more about each astrologist's experience on their profile page.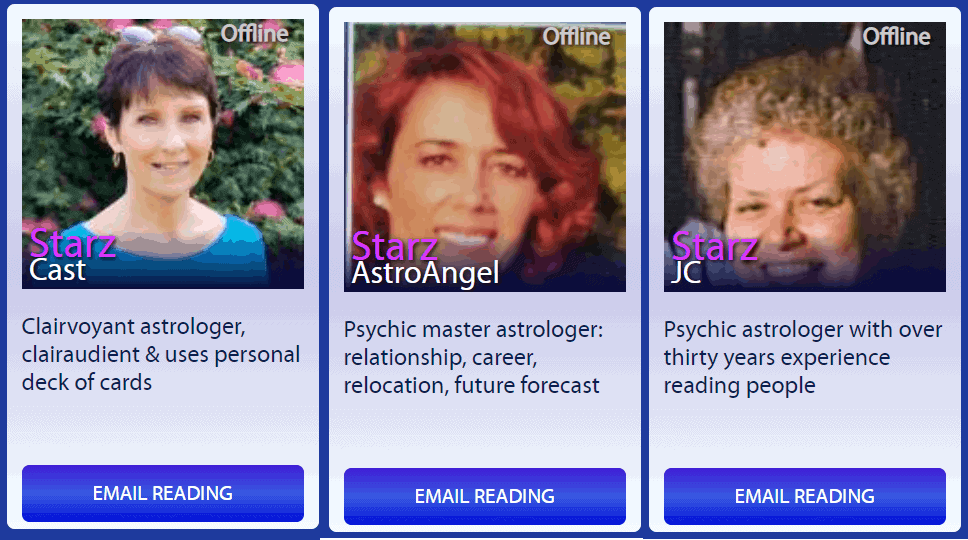 Tarot Readings
Most of the psychics use tarot as a tool during their readings, but if you are searching for a psychic who specializes in tarot, there are 15 professional readers to choose from.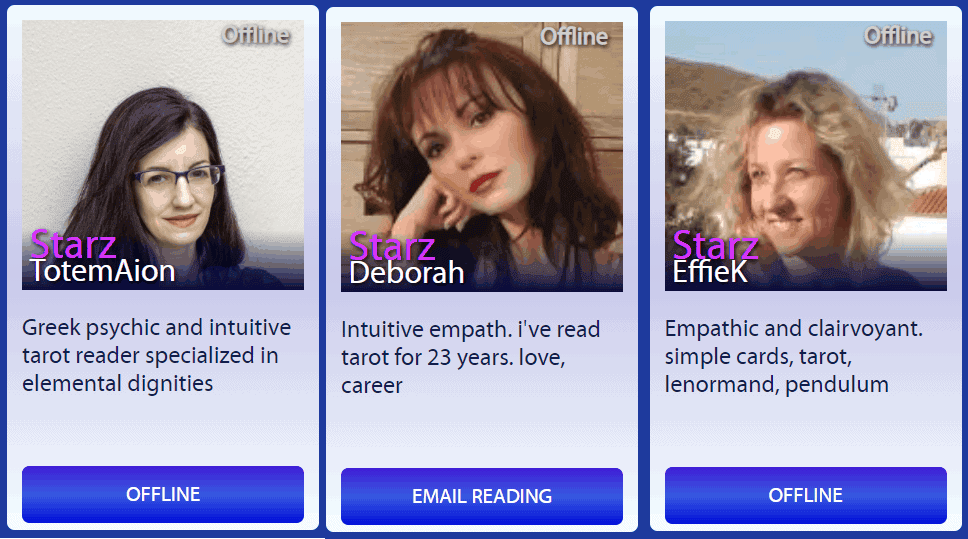 Find More Readers on Starz Psychics
How to Use Starz Psychics
Since Starz Psychics is one of the more minimalist sites out there, it's great for people looking for a really simple, straightforward platform that's easy to use. You don't need a credit card or any payment method to create an account. You simply fill out this form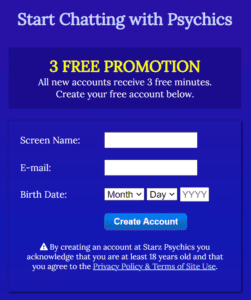 What's nice about StarzPsychcis is that you don't need to use your real name if you don't want to – simply enter a screen name. After you've created an account, you'll receive an email to verify it. You'll notice that there's no space on this form to enter a password. Starz Psychics automatically generates a password, which you'll receive in a separate email. Here's what your account dashboard looks like:

Since there aren't hundreds of psychics on the platform, browsing for a reader is as easy as scrolling through the homepage. You can click on every reader's profile to read more about their experiences, as well as their customer reviews. One nice touch is that every psychic's profile tells you what part of the word they are from, when they joined Starz Psychics, and when they last logged in. This is helpful in letting you know if a psychic is generally active on the site or not.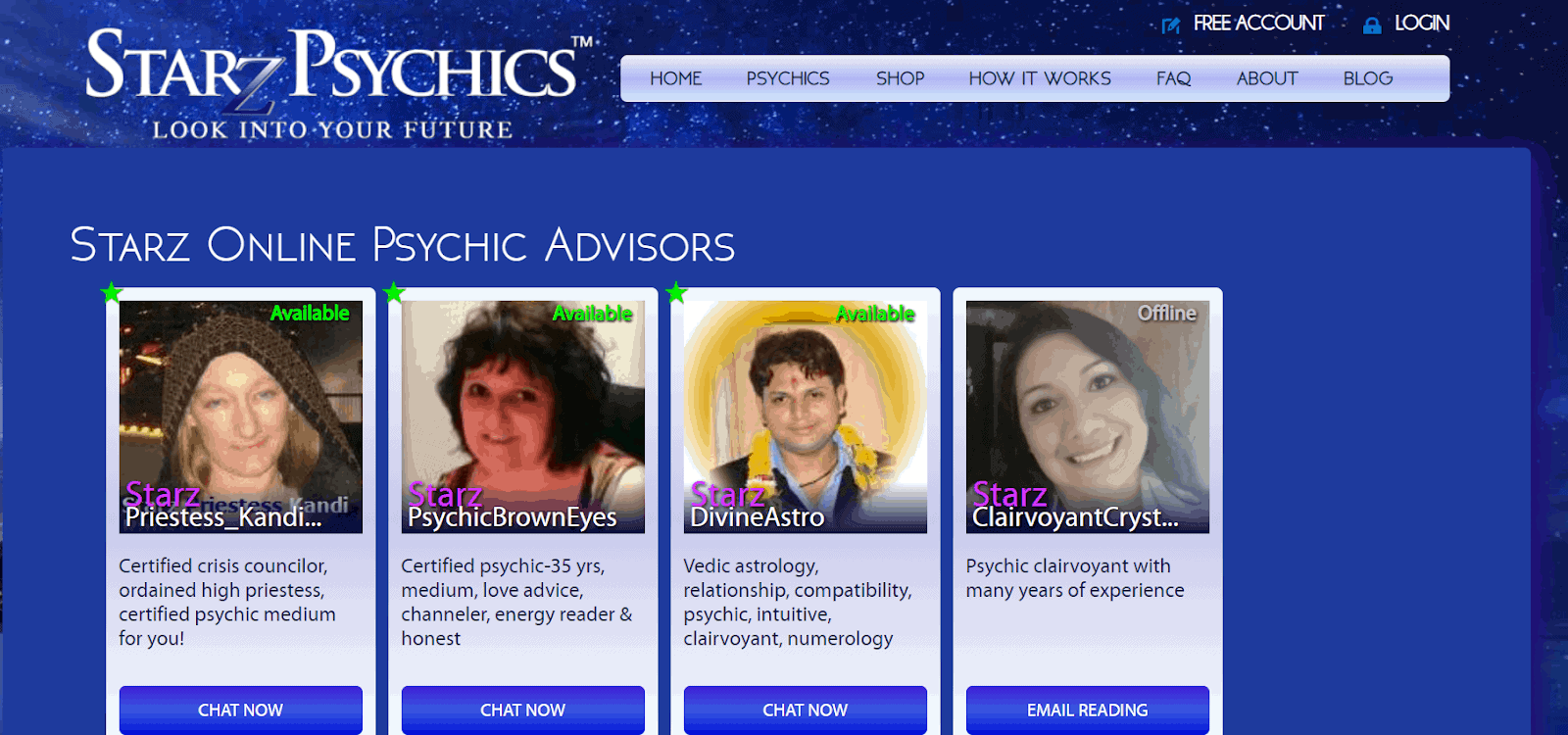 On Starz Psychics, readings are delivered either via chat, or email. If a psychic is online, you'll see a green star next to their box and it will say "available". You can immediately start a chat with a psychic who's online.
If your chosen reader isn't available, you can send them your question and details about your situation for an email reading. But keep in mind that chat and email readings have different rates. (Read on to learn more about pricing).
In keeping with its simplicity, Starz Psychics does not have a mobile app. That being said, the site is easy to access using the browser on your phone.
Create Your Free Starz Psychics Account
Is Starz Psychics Trustworthy?
While Starz Psychics is one of the smaller psychic reading sites, it's been around since 1999. From what I can see, the whole site seems to be run by one woman, its founder Natalie Sist, who is also an advisor on her site. So unlike some other sites, there isn't a whole company or team of people behind the scenes. On the one hand, this does give it a more homely feel. On the other, it might be a red flag.
At Starz Psychics, there is no satisfaction guarantee, and their website does not include any information about a refund policy. However, it's worth noting that their customer support email is active and responsive. When you reach out, Natalie, herself, will reply to you on the same day.

Through this email, I was able to learn that Starz Psychics does not issue refunds. At the very best, you'll get your minutes credited to your account if you have a very unsatisfactory reading.
While the site could offer more clarity and information on its psychic screening process and code of ethics, the fact that it has less than 30 psychics leads me to believe that Natalie interviews and manages the psychics herself.
All in all, while Starz Psychics doesn't offer refunds or guarantees, it has a low introductory rate for new users, allowing you to get a feel for the site without paying more than $10 or $15.
Find a Reader on Starz Psychics
Top Starz Psychics Advisors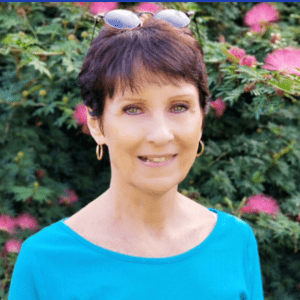 Perhaps the most unique thing about Starz Psychics is that the owner and creator of the site also offers readings. Natalie is a clairvoyant astrologer with over 25 years of experience. She even has her own personal deck of cards that she designed for readings.
If you read through her profile, you'll see she has a full list of client reviews praising her abilities. One client even wrote, "If you are looking for a gifted, kind, understanding, intuitive astrologer/reader, Natalie is the person for you! She's been a trusted confidante of mine for over 10 years, and I have referred her to many of my friends, all of whom have enjoyed their readings immensely. She will help you see the truth in front of you and will guide you to recognize the best choices in your life."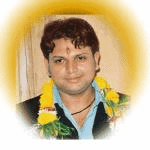 Divine Astro has been on Starz Psychics since 2013. He uses Vedic astrology to make accurate predictions for his clients. By using your date, time, and place of birth, he draws an instant astral chart that helps him answer all your questions. One client wrote, "I am so amazed at this gifted person. He is truly honest and knowledgeable. I am amazed at how well he can see. He knew how to explain me and my personality perfectly and answered all my questions patiently and honestly using my birth chart. A true master at his art."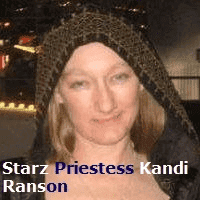 Priestess Kandi Ranson has been on Starz Psychics since 2013 and is an ordained High Priestess. She is a natural-born psychic and medium who has studied astrology and astronomy for more than 40 years. She can prepare a birth chart for you and is even skilled in photo readings. One of her clients wrote, "Very good reading with Priestess Kandi Ranson. She was professional, accurate, and insightful, and offered much clarity. Highly recommended."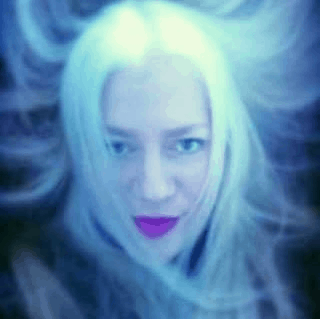 Melissa joined Starz Psychics in 2018, but has many years of experience across a wide range of topics including relationships, reuniting and reconciliation, soulmates and twin flames, family, and more. In her readings, she uses tarot, her ancestral spirit guides, and automatic and angelic writing. One client described her as, "One of a kind. She is so accurate with her answers. She makes you feel so understood. She doesn't waste your time, her answers are quick and to the point. She is more than an advisor to me… she is a friend. Thank you Melissa for always being there for me."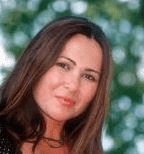 Hope Raines has been on Starz Psychics since 2012 and has over 20 years of experience as a psychic reader. She is also a Reiki healer, numerologist, and dream interpreter, and uses oracle and tarot cards. She covers many topics, from relationship issues to financial concerns. One of her clients described her as, "Genuine reader!! Honestly very amazed at the level of detail she picked up in our reading!! Probably one of the best on Starz Psychics."
Starz Psychics Pricing
The truth is that Starz Psychics' pricing is not as straightforward as it could be. That's why I did some digging to help you navigate this part of the platform. To start off, Starz Psychics offers new users 3 free minutes just for creating an account. Here I give the platform a lot of credit because these 3 free minutes are actually free. Many other psychic reading sites advertise free minutes, but you only get them by entering payment information and verifying your credit card. That's not the case here. As soon as you've created your account, you'll see those minutes are available.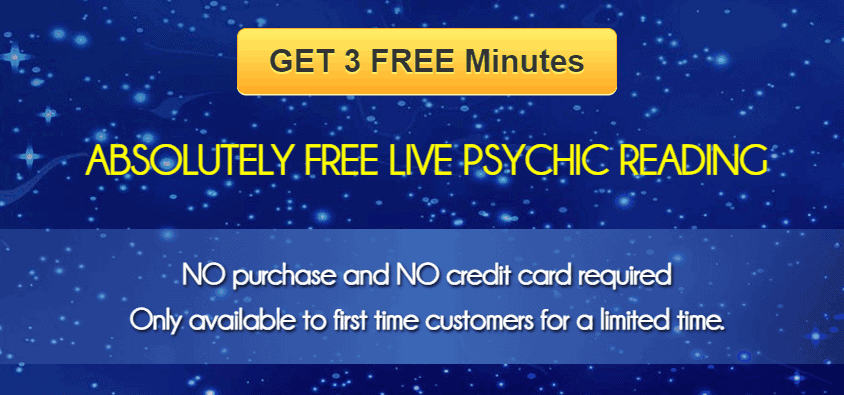 Unlike other sites, readers on Starz Psychics do not set their own individual rates. This makes pricing pretty straightforward— you buy minutes, and those minutes go towards any reader you choose to chat with.
Here's where things get a little fuzzy: once you've created your account you have the option to purchase 10, 15, or 25 minutes at a rate of $1 per minute. This, however, is just an introductory rate. Unfortunately, it doesn't say anywhere on the site what the cost per minute is after you've used up this initial offer.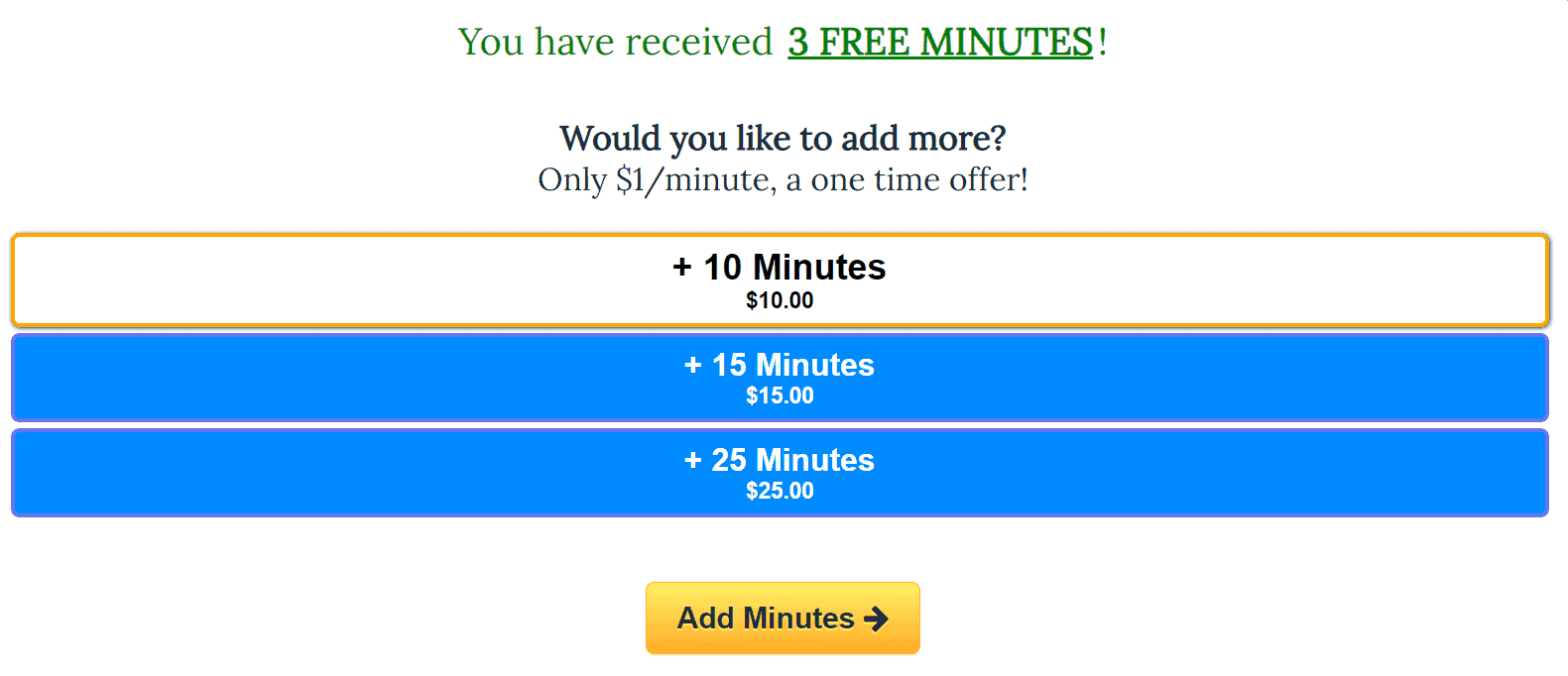 It's also really important to note that chat and email readings don't have the same rates. When you ask for a reading by email, you obviously can't be charged by the minute. Here are the rates for email readings: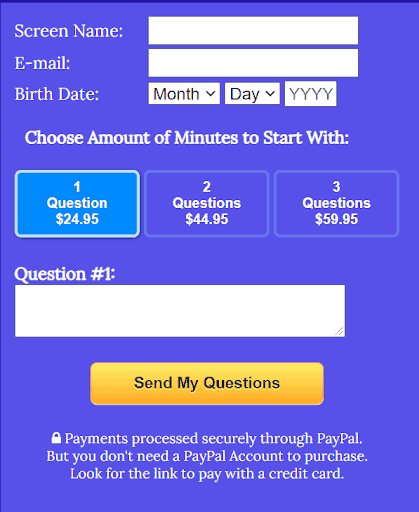 It's also important to note that the Starz Psychics platform doesn't have credit card payment facilities. When you purchase minutes, the site redirects you to PayPal, which means you have to login or create a PayPal account to proceed. While this doesn't cost you anything, it is an inconvenience if you don't already have one. You also have the option to pay by check, but your minutes won't be credited to your account until after the check has cleared with the bank.
Unique Features
Starz Psychics has a truly unique feature that I've yet to see on other psychic reading platforms. The site actually has its own "shop" where you can purchase everything from jewelry, to photo readings, to psychic tools and books.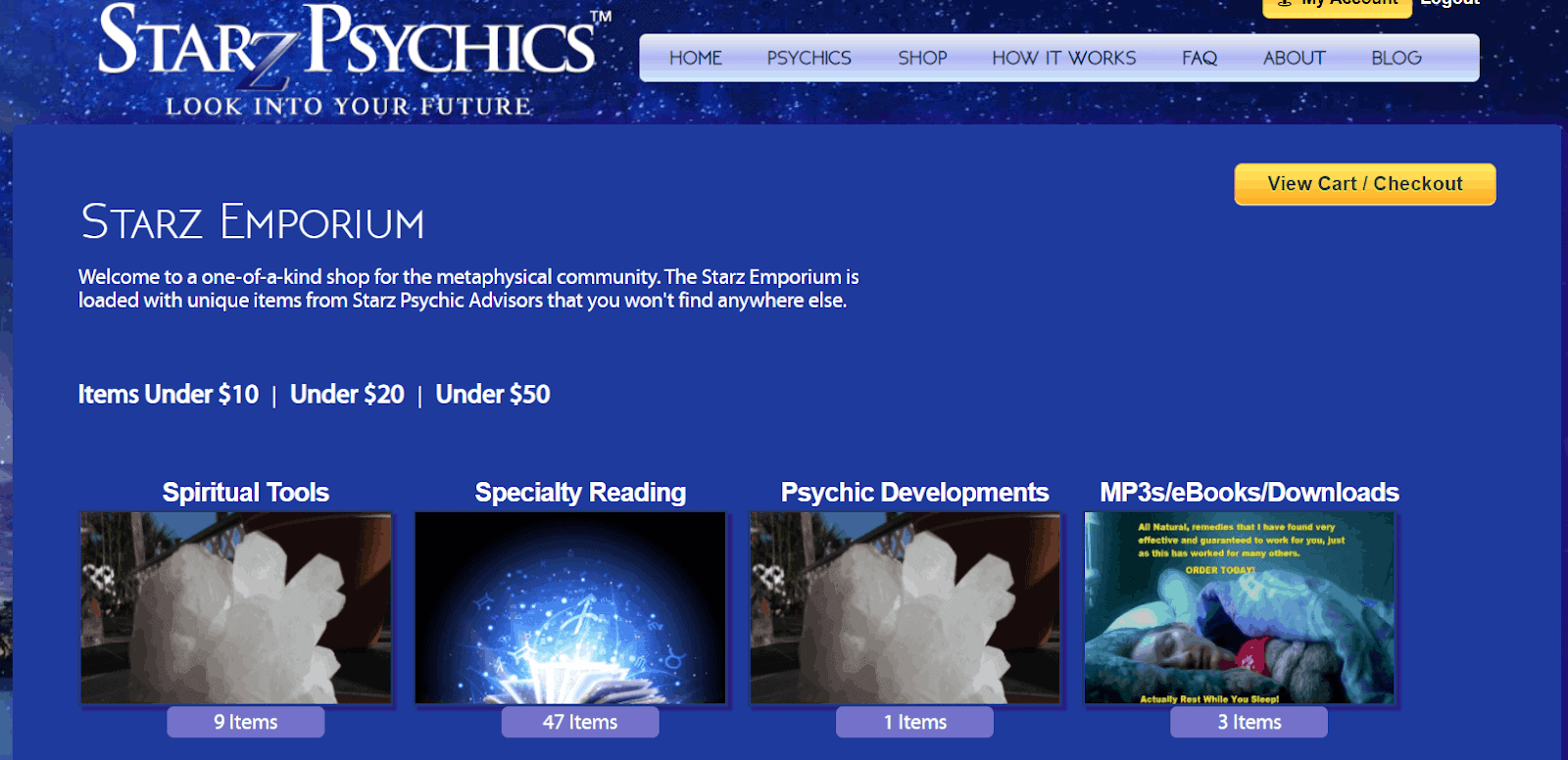 If you spend time browsing the site, this section is definitely worth checking out.
Bottom Line
Starz Psychics is very different from some of the other big-name sites. Instead of a large platform with hundreds of advisors and lots of bells and whistles, Starz Psychics is more like the mom-and-pop version of psychic reading sites.
It's got less than 30 psychics and one of them is even the website's founder. So if you're looking for a website that has a small, close-knit community, this may be the one for you. While there's no refund or satisfaction guarantee policy, you can give this platform a shot for as little as $10. You might be pleasantly surprised by what you find!