At some point in your life you may wonder if you'll ever find true love and turn to tarot cards for the answer. Knowing if marriage is on the cards can help you understand where your current relationship is headed.
However, tarot decks have so many cards that it can be overwhelming to unravel their meaning. To help you out, I've listed the cards and spreads that predict a marriage in your future.
When you need expert guidance in your tarot readings, you can consult a trustworthy psychic. If you are looking for the best site for Tarot marriage predictions, I recommend California Psychics. Its rigorous screening process ensures you receive expert guidance from a trustworthy tarot reader.
Tips For Using Tarot Cards to Predict Marriage
There are a lot of prejudices and mysteries surrounding this divination method. If this is your first time using tarot cards, you can rely on these tips to guarantee a satisfactory experience.
Tarot Readings are a Guideline
Tarot readings gain power from your readers' psychic ability to read, interpret, and communicate the energy from the other realm. However, whatever the outcome, remember that the tarot is a guideline, and only you have the power to apply wisdom to your situation.
Reversed Cards
Remember that, in any tarot reading (and even more so in tarot cards prediction for marriage readings), the meaning of the cards really depends on which way up they present.
Reversed cards always have a reversed meaning, that, depending on where the reversed card falls in the spread, could mean very different things for the seeker.
Consider Psychic Guidance
If you are new to tarot readings, getting the guidance of an expert psychic could guarantee greater accuracy. After all, this is an important dimension of life that you don't want to take chances on. Check the background and reviews of your psychic before confirming your appointment.
Tarot Cards That Might Predict Marriage
Here are the tarot cards I personally favor when it comes to forecasting marriage. Always bear in mind that the context of your reading carries significant weight, and the appearance of the cards in a reversed state or in a particular sequence also matters greatly.
The Hierophant
Probably the most marriage-minded card, the Hierophant is very custom and tradition-oriented. In plain English, that means it symbolizes traditional values.
If the Hierophant card appears in a marriage tarot reading, it might suggest that you and your partner share similar cultural or religious beliefs. This card strongly signifies relationships built on commitment and even as traditional wedding ceremonies.
This card also suggests that you will find the perfect officiant for your wedding. The relationship is legit for the spiritual authorities, who will send the right person to make your union official.
Another meaning of the Hierophant is that your relationship accommodates social expectations. You don't need to worry about being judged or meeting resistance to this union.
If the Hierophant is placed in a future position, it could mean that marriage is on the cards in the future. If you see it in the past position, it could also be referring to a past marriage or engagement.
The World
The World card is a favorable indicator that a future marriage is in store for you. It signifies the potential for stronger bonds, abundance, and fresh commitments. If this card appears in your reading, it may imply that you are prepared to take your relationship to the next level.
It usually means a substantial milestone has been accomplished or is about to be accomplished. Therefore, if this card appears in your tarot card's prediction for marriage, it could mean that you've wanted this union for a long time.
The term "The World" can also signify the end of a important phase or goal achievement and the start of a new one. This can be applied to individual circumstances and is heavily influenced by the specific context of your reading. In this context, it might imply that marriage is in your future, although not necessarily with your current partner.
In fact, if you're single or contemplating being single and receive the World card in your tarot cards prediction for marriage reading, it could mean it's time to find a new partner.
If the World card is reversed it means that your love life is entering a re-evaluation stage. Prepare to leave outdated prejudices behind and welcome new developments in this area of your existence. Trust that the Universe is directing you to your best possible future.
The Three of Cups
This is a very happy card, usually it predicts some kind of celebration, such as engagements, weddings, children, and more.
Wherever your relationship is, it could mean it's heading for more stable, committed ground. It's not necessarily a marriage card in its own right, but it is an excellent card to receive.
Justice
Justice is a mysterious card to receive in a tarot marriage reading. It symbolizes concepts of law, order, morality, and fairness. Justice represents a quickly executed marriage rather than a dreamy, fairytale celebration.
If you see Justice and the Hierophant together, it could be that you see marriage as a very cultural, traditional institution bound by law. If the card is reversed, it could indicate disharmony or an imminent breakup.
The Lovers
This card indicates that you are a match made in heaven. You and your partner are dedicated to each other's spiritual evolution, and your souls are meant to be together. Getting the Lovers could mean that you work together towards a common goal.
However, the Lovers also suggests sexuality, temptation, and deeper, darker desires. The couple depicted on the cards is Adam and Eve, and if this card is reversed, it could mean that your relationship might take a less committed turn.
Getting the Lovers could suggest that you aren't being honest with your partner. If you are single it indicates that you are clinging too hard to the past, which prevents you from welcoming a new person.
The Ten of Cups
The Ten of Cups is probably the most stirring of all tarot cards. It is a positive sign to get it in your tarot cards prediction for marriage reading. Overall, it means you are getting your dream wedding and married to the person of your dreams.
This card heralds weddings, families, babies, and more – it's a great sign of commitment and happiness.
If the card is in a reversed position, it could indicate a temporary hiccup, but nothing to worry about. Any disruption in the environment can be solved by talking with your partner.
The Ten of Pentacles
The Ten of Pentacles is an excellent sign of marriage from a more business-like, matter-of-fact point of view.
It's much more financial and traditional than the emotional Ten of Cups, usually meaning property, money, and other acquisitions that will remain in your family. If you receive the Ten of Pentacles and don't have any assets, it could well mean that one day you will.
The Sun
The Sun usually induces happiness. Long-lasting marriages (especially when it's in a future position), coupled with other marriage-like cards (like the ones on this list), could herald positive developments in your relationship's future.
This card indicates a new social order that will bring your family and community contentment. It also suggests that your family might expand with a new baby, which you welcome with joy in your heart.
In reversed position, it indicates that you should work on your self-esteem before getting its full effects. However, it's a highly positive card for marriage.
The Ace of Cups
This is the card to receive if you want a marriage filled with love, romance, and more. It's a good indicator of a happy marriage, especially if it's in the 'future' position.
The Ace of Cups also represents fertility and could herald a pregnancy. If you are just starting a relationship, it means that this union might be for the long haul.
If this card is reversed, it encourages you to accept yourself and work on your self-esteem before finding true love. Your emotional wounds and blockages will soon leave and make room for a more fulfilling love experience.
The Ace of Wands
If the Ace of Cups is all about romance, then the Ace of Wands is all about passion. This card shows you a possible marriage filled with excitement, great sex, and all things pleasurable – a partner with a great libido and a lot of physical affection and needs fulfillment.
The Knight of Cups
This is the card indicating you have a knight in shining armor. The Knight shows your partner is a romantic and endearing person who will love and care for you. Although he's not quite the King of Cups, the Knight will always learn to please you. Even if he lacks the experience of a King, he'll make up for it with enthusiasm and stamina.
The Page of Cups
Just like the Knight of Cups, the Page of Cups can mean a younger, well-intentioned person – perhaps your future spouse, who is currently inexperienced when it comes to commitment, marriage, or relationships. It means that you, the seeker, will have to be the more decisive influence on the relationship.
The Page of Cups could also indicate an intense, emotional connection with someone who is very openly emotional and impressionable – Page of Cups' partners need to be handled gently.
The Four of Wands
The Four of Wands represent 2 people celebrating under the same roof, it suggests a solid and happy marriage. This card talks about a new positive start or a long-awaited triumph in your love life.
If you've experienced a breakup with someone dear to your heart, this card could herald their return, restoring the joy and harmony in your home life.
The Wheel of Fortune
Getting the Wheel of Fortune in your tarot reading for marriage represents an imminent positive change. In short, your relationship is heading toward an expansive marriage and future together.
The Empress
The Empress is one of the best cards you can get in a tarot reading to predict marriage. This card is ruled by Venus, the planet of love and relationships, heralding a more harmonious and fulfilling chapter in your love life.
This card indicates a pleasant surprise, romantic gesture, or marriage proposal. It also symbolizes pregnancy, marking the expansion of your family on the horizon.
The Emperor
The Emperor represents stability, loyalty, and confidence. It's an excellent card for marriage as it heralds a solid commitment on behalf of both partners. It means that you want to build something that lasts forever.
Marriage Tarot Spreads
Depending on whether your question is "Who will I marry?", "When will I get married?", "Are we meant to be together?" or something else; one tarot spread might work better than another. Whether you are reading for yourself or a professional tarot reader is reading for you, there are several different useful tarot spreads for marriage.
6-Card Marriage Tarot Spread
This is a great, detailed spread, which is ideal if you're thinking about making or receiving a marriage proposal or are thinking about accepting one.
The reader will lay out 2 rows of 3 cards, with each card meaning the following:
Position 1: compatibility
Position 2: soulmate likelihood
Position 3: marriage
Position 4: channelings
Position 5: strengths
Position 6: outcome
This spread is a great one for you if you're looking for a deeper reading about your relationship and your partner, or even yourself.
5-Card Marriage Tarot Spread
A more simplified tarot card prediction for marriage spread than the 6-card spread, this is a great one if you're curious about the qualities of your partner or if they're spouse material.
This is a great spread if you're trying to define your potential spouse…or even if you have a pick of a few. The reader will lay out 2 rows with 2 cards on the top and 2 on the bottom:
Position 1: appearance
Position 2: financial outlook
Position 3: current situation
Position 4: positive qualities
Position 5: negative qualities
3-Card Marriage Tarot Spread
The most simple spread of all when it comes to tarot card predictions for marriage.
The 3 cards are laid out in a straight row and symbolize:
Position 1: past
Position 2: present
Position 3: future
As always, if you're looking for more clarification on any of the cards, your tarot card reader can draw another card to answer your question.
Best Psychic Sites for Tarot Marriage Predictions
1. California Psychics – Best Overall for Tarot Marriage Predictions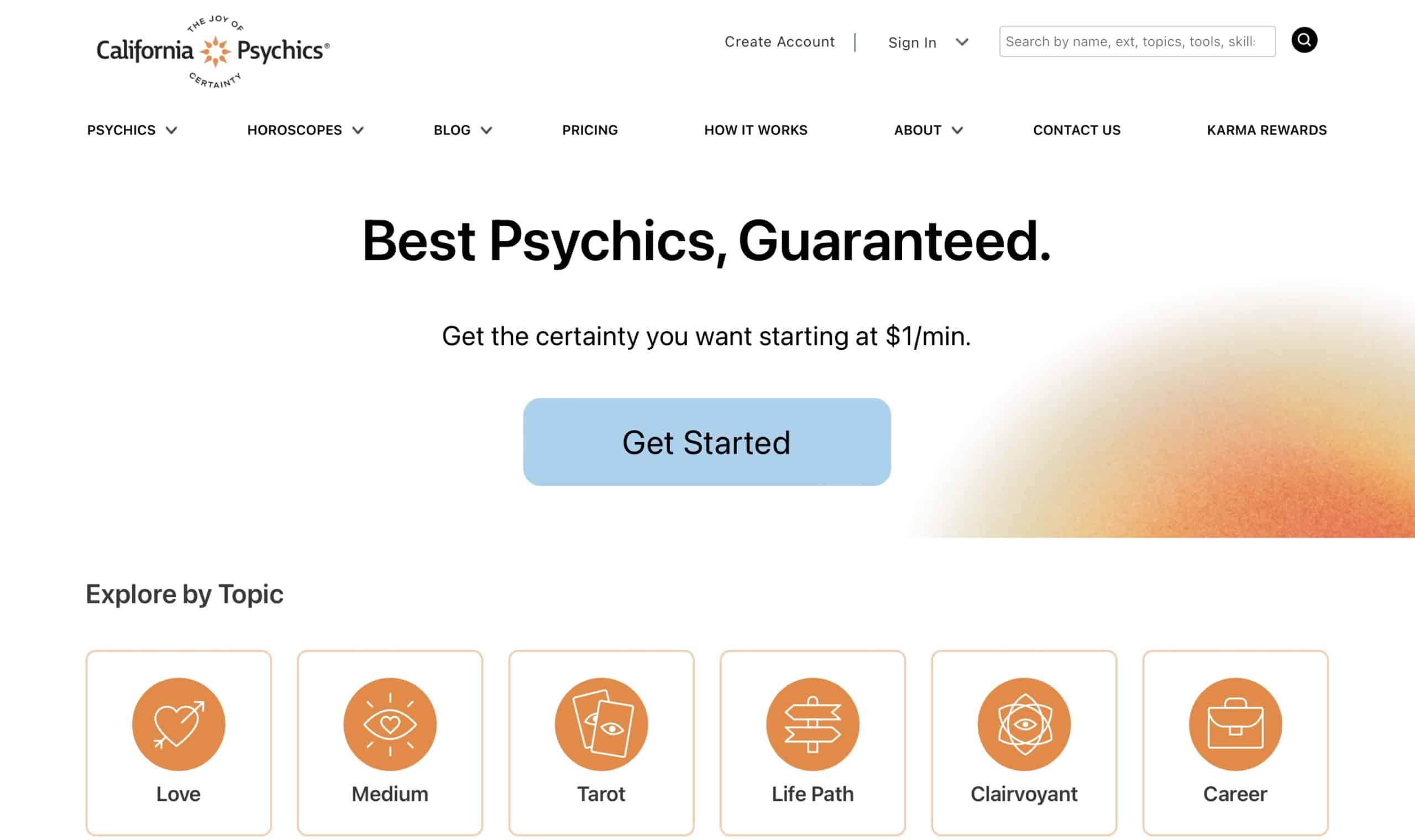 317+ tarot psychics to choose from
$1 per minute introductory rate
Rigorous medium screening process
Mediums available 24/7
California Psychics is one of the largest and most reputable sites for trustworthy online tarot readings. It has plenty of thoroughly-screened psychics to choose from, most of which are 5-star rated and hold rave reviews from its clients.
Readings are available by chat, video, or phone call, so you can choose how personal to be with the tarot reader. I sometimes schedule tarot readings before going to sleep. However, I also like to chat with my psychic on my way to the office, so I appreciate that California Psychics lets you choose the best communication method for you.
California Psychics doesn't use preprogrammed responses, which is why its tarot readings feel more intimate and enlightening. Its tarot psychic readers take the time to perceive what is behind your concern, taking an accurate look at your situation.
Marriage hits a sensitive spot for me, as I'm the only one of my group of friends who haven't heard wedding bells yet. However, my psychic was highly empathetic and respectful, and guided me throughout the whole reading and left me with a sense of empowerment afterward.
Moreover, when you try California Psychics to get a tarot reading, you get a 100% money-back guarantee if you are not completely satisfied with your consultation. This policy encouraged me to get a risk-free reading.
2. Purple Garden – Enjoy Tarot Mobile Readings on the Go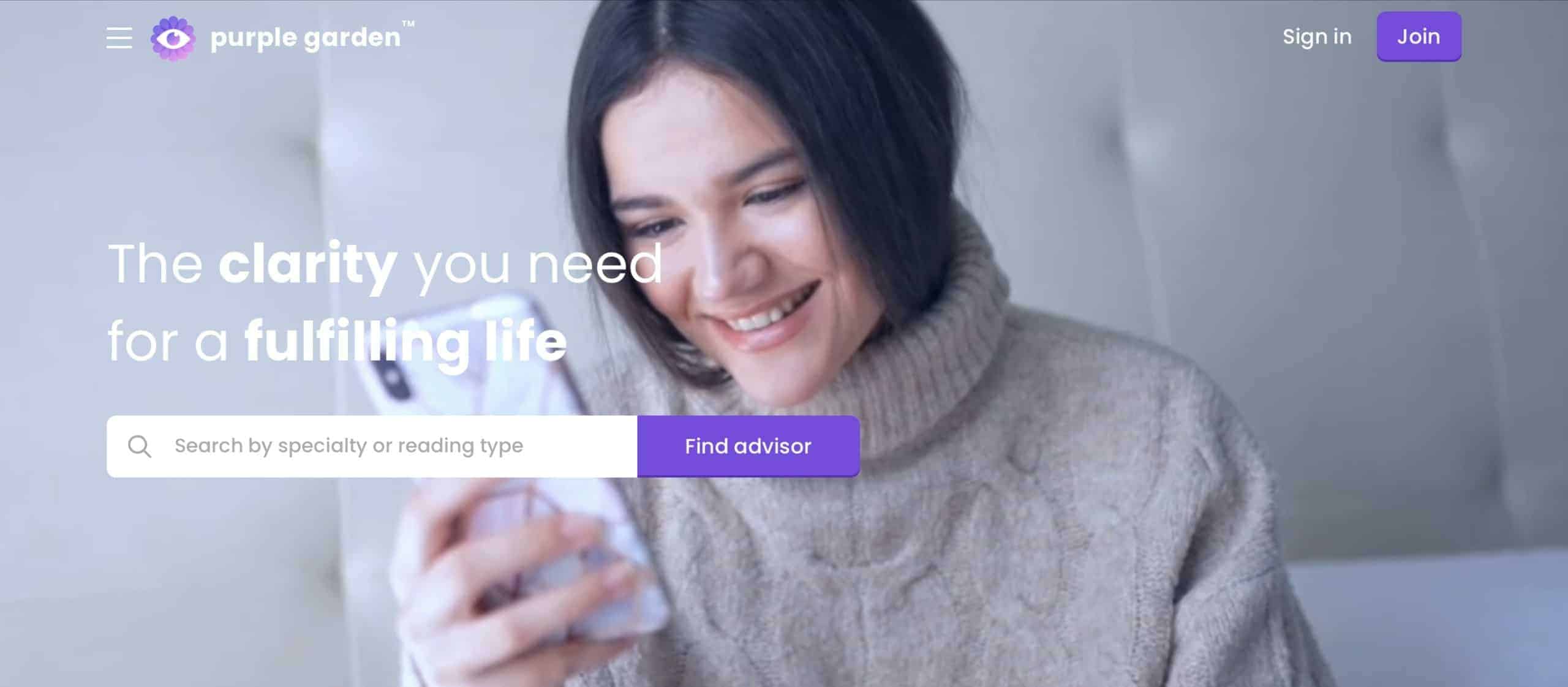 Over 20 tarot readers available
$10 towards your first reading
User-friendly mobile app
Alerts that notify when your favorite medium is available
Purple Garden features a well-developed mobile app that connects you with your tarot reader on the go. I found it helpful and accessible, allowing me to get a tarot reading regardless of the time and place.
You just need to create an account, select the type of reading you are looking for, and decide if you want your consultation via chat, call, or video. In my case, contacting my tarot psychic reader via chat helped me feel less awkward and withdrawn.
Purple Garden includes an introductory video for each psychic, allowing you to check their background and see if they match your energy. I wanted the guidance of an uplifting tarot reader who didn't make me feel overwhelmed throughout the session. Watching how they introduced themselves helped me make an informed decision.
I was impressed that Purple Garden offers a 2% cashback reward on every purchase you make on the site. However, it doesn't offer a money-back guarantee so you won't be able to get a refund if you don't like your reading outcome.
3. Keen – Use the Find a Psychic Tool to Pick Your Tarot Reader
157+ tarot readers to choose from
5 minutes for $1
Helpful user reviews
"Find a psychic" tool
Keen's "Find a Psychic" tool helps you find the right tarot reader easily. I found this tool useful because I quickly narrowed down my search based on my budget. In addition, the filters allowed me to choose an advisor with more than 10 years on Keen instantly.
This psychic site is home to skilled and reliable tarot psychic readers who can help you with your marriage concerns. Besides tarot, it offers other types of love and relationship Readings, Astrology Readings, Mediumship Readings, and Dream Interpretation.
If you still don't know which tarot reader to choose, you can rely on helpful reviews for every advisor on Keen's list. This will give you a better insight into their personality and personal style, guaranteeing you'll meet a trustworthy advisor during your tarot reading.
Frequently Asked Questions
What is a tarot reading?
Tarot is an ancient divination method that can give you enlightening guidance about your future. A typical tarot deck features 78 cards divided into major and minor arcana. The first group talks about major life lessons or turning points, while the second group deals with your everyday experiences.
These cards connect with your higher self and decode the messages of the spiritual realm. However, some of these messages can be hard to decipher. This is why I recommend you contact a psychic from on of the best psychic sites for tarot readings.
Are tarot readings accurate?
Tarot readings are accurate because they directly tap into your subconscious mind. Tarot readers can connect to the spiritual realm and offer sound guidance regarding your future based on the cards you choose.
To guarantee an accurate and rewarding tarot reading, I recommend you seek help from an experienced tarot reader such as the ones on the top sites for tarot readings.
Which tarot cards mean divorce?
There are 3 tarot cards that can mean divorce. These are the Three of Swords, which heralds pain and separation; the Tower, which indicates an unexpected crisis; and the Five of Cups, which represents a change of partner.
However, tarot readings are highly personal and require a careful reading by a qualified professional. Some cards could talk about a positive outcome in one reading while representing an adverse scenario in another one. I recommend you seek guidance from an experienced psychic from the best sites for tarot readings.
Bottom Line
Tarot readings are one of the best ways to regain control of your love life. They can help you understand where your current relationship is heading or find out if you are meant to get married at all.
You can perform a tarot reading on your own and see if the cards you get match the ones featured in this article. If most of the cards match, it's a positive sign that you are heading to a stable and loving marriage.
If I can give any further advice, it's to seek a trustworthy tarot card reader like the ones from California Psychics. They will help you identify your blind spots and give you much more accurate advice about your personal situation.
To summarize, here are the best sites for tarot marriage predictions