It can be difficult, frustrating, and time-consuming finding the right tarot reading site and reader if you're in the UK. This is because there are many sites that don't offer readings in your local time zone. Plus, being unable to see prices in GPB can be confusing.
I don't want you to spend your time looking for a site only to be left discouraged, as there are many great options you can explore. However, despite the plethora of choices, there are many trustworthy sites that offer high-quality tarot readings for those in the UK. Regardless of your aims, these sites can help guide you in the right direction.
After testing several tarot reading sites with stellar reputations, I'd say that California Psychics offers the best value for money for UK users. The platform is easy to use, and its attractive introductory offer lets you get 20 minutes worth of reading time at £0.83 per minute.
In a Rush? Here Are My Top Picks for UK Tarot Readings
Best Sites for UK Tarot Readings in 2022
1. California Psychics — Best Overall for Tarot Readings in the UK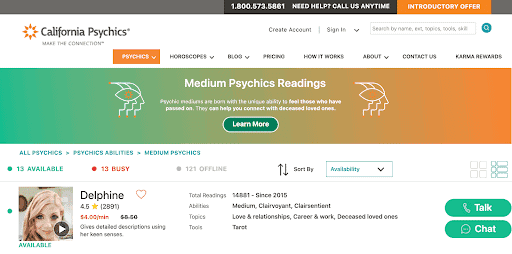 Rates as low as £0.80 per minute
Large number of rotating promotional offers
Communication methods include chat, calls, and email
User-friendly website
100% satisfaction guarantee available
California Psychics has a number of UK tarot readers who are available 24/7 on its mobile app. As soon as I downloaded the mobile app, I could get a tarot reading via live chat, phone, or email. If you prefer using a computer, an easy-to-use website is also available, which helps you choose a suitable tarot reader without wasting much time.
There are over 300 highly-skilled and experienced tarot readers for you to choose from. Since California Psychics thoroughly vets its psychics, only about 2 to 3 make it onto the team out of about every 100 applicants. This is one of the strictest of any website which guarantees you will easily find a top-notch tarot psychic.
You can expect rates as low as about £0.80 per minute, which are some of the lowest out there. It also has a long list of promotional offers that are in rotation which can save you money. And if you're not satisfied, you can request site credit by contacting support within 24 hours after your reading, however, the agents determine the amount in this instance.
2. Purple Garden — Get a Tarot Readings On-the-Go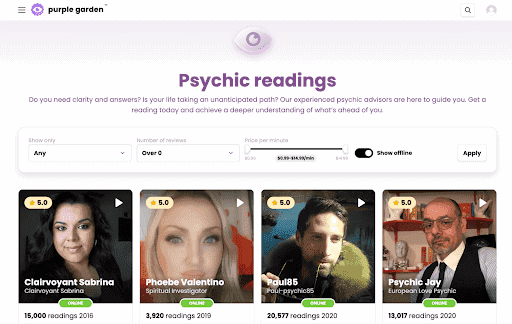 Tarot, and many other readings are available
Get readings anywhere with the mobile app
Strict vetting process for new psychics
New clients get an £8 credit
Psychic profiles are highly informative
Purple Garden's mobile app offers you the ability to get a tarot reading from anywhere, including the UK. What makes the mobile app better than the website is that it also provides you with video and phone call options instead of just chat. I liked being able to access other reading types such as dream analysis and love readings, in addition to tarot readings.
It's also my top choice for reliability and trustworthiness, thanks to its strict psychic vetting process and excellent customer testimonials. Each applicant's resume, prior work experience, and accomplishments are screened ensuring high-quality standards. This means you're highly likely to receive genuine service and avoid connecting with charlatans.
As a new client, you get about £8 of credit which you can apply towards tarot readings or any other service of your choosing. Since Purple Garden does not provide a satisfaction guarantee, this is a great way to try out the service entirely risk-free without spending your own money.
3. Keen Psychics – 100% Satisfaction Guarentee Provides Risk-Free Tarot Readings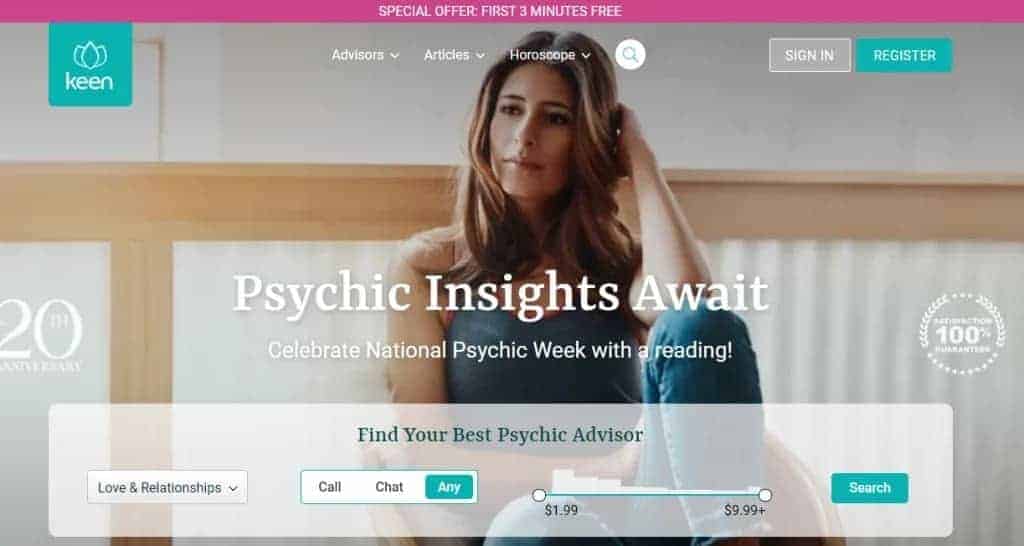 Great introductory offer for new customers
Intuitive mobile app
Tarot readings are available 24/7
100% satisfaction guarantee
Excellent psychic search function
Keen Psychics is one of the best psychic reading sites if you're in the UK. That's because you have access to a powerful psychic search function along with the ability to schedule a reading that works for your schedule and time zone. As a new customer, I managed to get a decent introductory offer of roughly £1.59 for 10 minutes.
Additionally, Keen Psychics employs a very strict and stringent vetting process. This means only carefully selected individuals are invited to come on board. It takes its services seriously which indicates that you can expect high-quality, accurate, and helpful tarot readings here.
And if you still aren't fully satisfied with the services you receive, you have access to a 100% money-back guarantee. You can request a refund in the form of a "Keen dollars" credit once every 30 days, up to 72 hours after your last conversation, and up to £20 in value. While prices aren't listed in GBP on the website, Keen accepts payments from GBP bank accounts.
4. Psychic Source — Good Selection of Communication Methods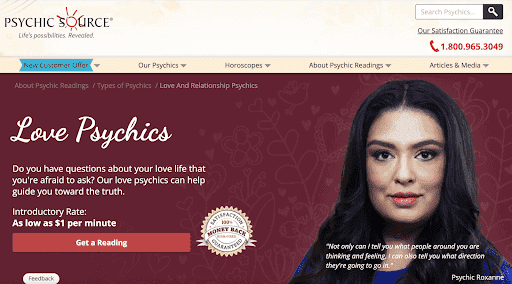 Tarot and angel card readings available
Chat, phone, and video readings available
Schedule a call for any time, including in BST/GMT
Create a list of "favorite" psychics
100% money-back guarantee
Psychic Source offers angel and tarot card readings at less than £1 per minute, which is one of the lowest introductory offers I've seen. You'll need to purchase 10, 20, or 30 minutes to get this deal — but if you want a longer reading, I recommend taking advantage of the 30-minute package to save the most amount of money.
With over 200 highly skilled tarot readers, you're bound to find a tarot reader you'll connect with. I managed to sort and filter psychics based on what I was looking for, and "favorite" them to my list. Most of the psychics here are highly reviewed by past clients, so it's likely you'll get a high-quality service.
Additionally, Psychic Source has one of the strictest vetting processes of any psychic site. Only about 2 of every 100 individuals are invited to join the team. If you're still unsatisfied with the last reading you received, you have 24 hours from the end of your last exchange (via video, chat, or phone), to request your refund.
5. Kooma — UK-Based Tarot Site With Affordable Rates
Geared towards UK users
£4.99 for your first 20 minutes
Over 100 tarot readers in total
More than 50 readers with a 5-star rating
Kooma performs regular performance evaluations
Kooma is a good choice if you're looking for a tarot reading in the UK because it's a local UK business. Since not all tarot reading sites allow you to schedule an appointment in UK time, Kooma makes it easy to get service that fits best with your schedule.
It also offers over 100 different tarot readers, at least 50 of which boast a 5-star rating. I've found that Sally (PIN 1937) remains one of Kooma's best tarot readers as she has roughly 1200+ reviews. Not only can you get a reading that fits with the UK time zone, but you can also be sure that the quality you'll receive is top-notch.
As a new customer, your first 20 minutes are £4.99 which I found to be a pretty reasonable introductory rate. If you need a longer session, this rate will allow you to try out the service without feeling like you're spending too much. If you're still not satisfied, you can get a refund for up to 10 minutes of your latest reading, up to 48 hours after it ended.
Comparison: Best Sites for Tarot Readings in the UK
| | | | | |
| --- | --- | --- | --- | --- |
| | Starting Price | Number of Reading Types | Introductory Offer | Satisfaction Guarantee |
| California Psychics | £0.83 per minute | 8+ | Discounted Per-Minute Rates | Yes |
| Purple Garden | £0.64 per minute | 5+ | Free Credits | No |
| Keen | £1.59 per minute | 5+ | Discounted Per-Minute Rates & Free Minutes | Yes |
| Psychic Source | £0.53 per minute | 20+ | Discounted Per-Minute Rates | Yes |
| Kooma | £0.80 per minute | 6+ | Discounted Per-Minute Rates | No |
Tips on Choosing a Tarot Reader in the UK
1. Check for UK Availability
If you're looking for tarot readings in the UK, I've only chosen tarot sites that offer readings in the GMT/BST time zones. This makes it easy for you to get a reading that fits perfectly with your schedule.
2. Make sure the pricing is affordable
The most reputable tarot reading sites in the UK offer some form of introductory offer. I don't want you to spend more than absolutely necessary, especially as a new customer, when you're just starting out. You may want to get a feel for a certain website before committing to a larger amount of money.
Many psychic sites offer free readings for your first three minutes, and more. I've only chosen sites that offer new clients either free minutes, discounted rates, or bonus credits just for signing up. This way, you'll be able to try things out with as little financial risk as possible.
3. Choose a communication method you prefer
Depending on your personal preferences, the top tarot reading sites in the UK offer several communication methods including chat, email, phone, and video. Phone, chat, and video are excellent options if you want immediate answers — and if you want to take your time to analyze a psychic's answers and formulate your questions, email is best for that.
Some people believe video is the best way to go. In-person readings are generally more accurate, and reliable, and can oftentimes provide you with much more information since the psychic can see your body language and facial expressions — however, the best psychics can still provide you with accurate readings via text.
4. See how experienced your tarot reading site is
The best tarot reading sites have been around for at least 10 years which means they must be doing something right. I would anticipate that these sites have been able to determine what works, how to vet their psychics adequately, and how to keep customer satisfaction as high as possible. I've only chosen sites today that fit these criteria.
Additionally, each site offers experienced tarot readers who have been practicing their craft for several decades. This doesn't necessarily mean, however, that tarot readers with less tenure are less competent. Many readers who have only been practicing for a short while are still very capable of offering important insights that could help you overcome any of your life's challenges.
5. Take note of customer reviews and psychic profiles
What other customers are saying about the psychics you're considering can shed a tremendous amount of important information. This information can help you understand how a psychic operates through the eyes of others, and how highly respected their services are. You'll be able to get a better sense of the type of experience you can expect.
Psychic profiles, on the other hand, will help you understand how psychics like to portray themselves to potential new clients. Together with customer reviews, these two things will be able to provide you with a holistic sense of how your reading might go. All of my shortlisted sites show transparency in both of these areas.
6. Make sure there's a satisfaction guarantee or refund policy
I've only included sites that offer some form of satisfaction guarantee or refund policy. Your options for refunds include: having the minutes you've spent on a conversation credited back to your account for a future time; getting a complete refund; or getting a partial refund up to a certain amount of spent minutes.
Some other sites don't offer a guarantee. However, they'll usually let you thoroughly research a psychic before you buy or let you sit in on a live session for free. I highly recommend carefully reviewing any site's satisfaction guarantee to protect yourself from having your time and money wasted.
FAQs on Tarot Readings in the UK
Can tarot readings be done online in the UK?
Yes. Tarot readings can be obtained online, even from the UK. For a local experience, I recommend selecting a site that features most of its readers from the UK, like Kooma. If you choose to go with a site that doesn't primarily operate from within your region, it might be difficult to get a reading during a time that's most convenient for you — for example, not early in the morning, or late at night.
Which is the best tarot card reading app for the UK?
From my experience, Purple Garden has the best mobile app. You can get desktop readings as well, but Purple Garden's mobile app lets you get a reading from anywhere you have access to the internet. The app also offers a couple of extra features the site doesn't — namely phone and video call readings whereas the website only offers chat-based readings.
Can I give myself my own tarot reading?
Technically, anyone can give themselves a tarot reading (or pull tarot cards). However, it's not very straightforward to ascertain any reliable information if you're not experienced. Each tarot card has a specific meaning. If you're not well-versed in the art of tarot reading, it would be quite impossible to know what the cards mean, and what they say about your life.
Professional readers, on the other hand, are highly trained, have years of experience, and can draw from a unique skill set that not just anyone has. For example, a professional tarot card reader, like one from Keen Psychics, can provide you with an accurate and informative reading. You won't be able to do this on your own.
Bottom Line
It isn't always straightforward to find a reputable tarot reading site in the UK. However, the right tarot reading sites offer high-quality readers backed by excellent customer testimonials. These individuals can help you understand more about the issues you might be facing in your past, present, or future.
You shouldn't have to spend more time or money than you absolutely need to in order to receive a high-quality reading. Therefore, I only choose sites with affordable rates and let you get a reading during a convenient time in the UK.
Out of all the UK tarot reading sites I tested, California Psychics provides the most user-friendly platform for tarot readings in the UK. You can take advantage of its introductory offer for new clients at £0.83 per minute for 20 minutes. Plus, the ease of use of its website and app makes the customer experience top-notch.
To summarize, here are the best sites for tarot readings in the UK