It can be difficult, frustrating, and time-consuming finding the right tarot reading site and reader if you're in the UK. This is because there are many sites that don't offer readings in your local time zone. Plus, being unable to see prices in GBP can be annoying.
Not to mention so many sites claiming to offer legitimate psychic services are plain scams. I put together a list of the best, most trustworthy sites that offer high-quality tarot readings for those in the UK. Regardless of the type of guidance you're looking for, these sites offer tarot readings that will help put you on the right path.
After testing several tarot reading sites with stellar reputations, I'd say that California Psychics is the best option for UK tarot readings online. The platform is easy to use, shows you available tarot readers in GMT, and its introductory offer gives you 20 minutes of reading time at about £0.80/minute.
In a Rush? Here Are My Top Picks for UK Tarot Readings Online
Best Sites for UK Tarot Readings in 2023
1. California Psychics — Best Overall for Quality Tarot Readings in the UK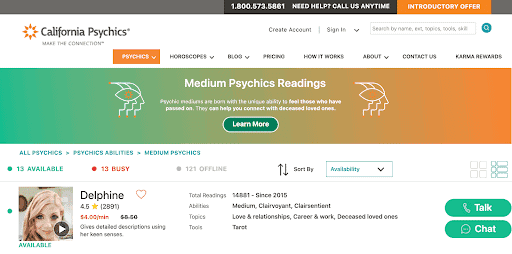 More than 300 psychics who specialize in tarot readings
Filter readers by availability to see those available in GMT at any given time
Chat online, call, or download the app
New customers can get a reading for just £0.80/minute
100% satisfaction guarantee
California Psychics is the best site for UK tarot readings. When you filter its thousands of psychics by tarot specialty, you're shown the ones that are currently available in your timezone. There were always more than a dozen highly-rated tarot readers available when I searched from the UK at different times of day. You can also schedule appointments in GMT and there's a local UK phone number to reach the psychic reader line.
Each reader has a profile description with intimate, personal details that makes it easy to get a sense of who you'll mesh with. Real customer testimonials also allow you to see whether others have found valuable guidance. Plus, the readers are legit — California Psychics has been around for more than 25 years and vigorously screens each psychic on the site, so you don't have to worry about scammers.
Tarot readings are available across a wide range of topics and abilities, too, so it's easy to find what you're looking for. Whether you want advice on your relationship, career, finances, or life path, there is a tarot reader ready to help. There is also a nice range of specialties like mediums, dream analysts, and clairvoyants, all equipped with cards ready to read.
It was a bit annoying that, even though you can pay with GBP, prices are shown in USD, so you have to convert the cost yourself. I wasn't really bothered by this because California Psychics has good prices, especially for newcomers. Introductory packages allow you to choose a set of minutes at a rate of roughly £0.80/minute, which is pretty affordable.
2. Purple Garden — Enjoy UK Tarot Readings On the Go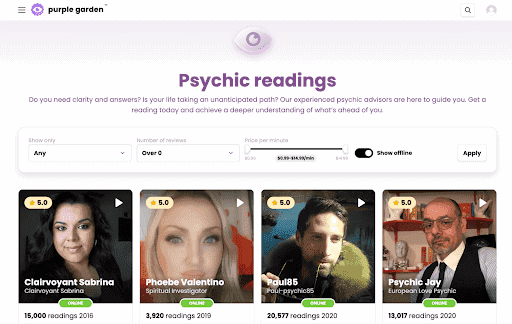 Wide range of psychics specialized in tarot on hand to guide you

Connect via chat, call or video
£8 credit on your first reading
User-friendly website

Psychic profiles are highly informative
Purple Garden is great if you want to get a UK tarot reading on the go. I personally found its mobile app for iOS and Android user-friendly and intuitive. On top of this, Purple Garden lets you choose between chat, call, or video so you can pick the communication method you're most comfortable with.
Its app allows you to book readings in your local UK timezone whenever is most convenient for you. The list of tarot psychics on the site seems endless when you're scrolling through. While the total number of tarot readers isn't disclosed, I counted more than 200, so you'll easily find several highly rated readers that fit your schedule.
If you prefer, you can also have a reading on desktop. I found it easy to switch between using the desktop at home, and the mobile apps when I was on the go.
The customer reviews, detailed reader profiles, introductory videos, and ratings system all help you choose the psychic that stands out the most for you. You can search by topic for exactly what your personal situation calls for — some options include career, grief, life path, and more. I opted for a love tarot reading, and I found my Purple Garden reading helped me make sense of the issues I was experiencing.
Unfortunately, Purple Garden doesn't have a satisfaction guarantee. However, it does have several deals for you to use before you commit to the service. New customers are offered a credit matching bonus, rates starting from £0.99 per minute, and 5% cashback with every purchase
3. Keen — Find a UK Tarot Reader Easily With an Intuitive Psychic Searching Tool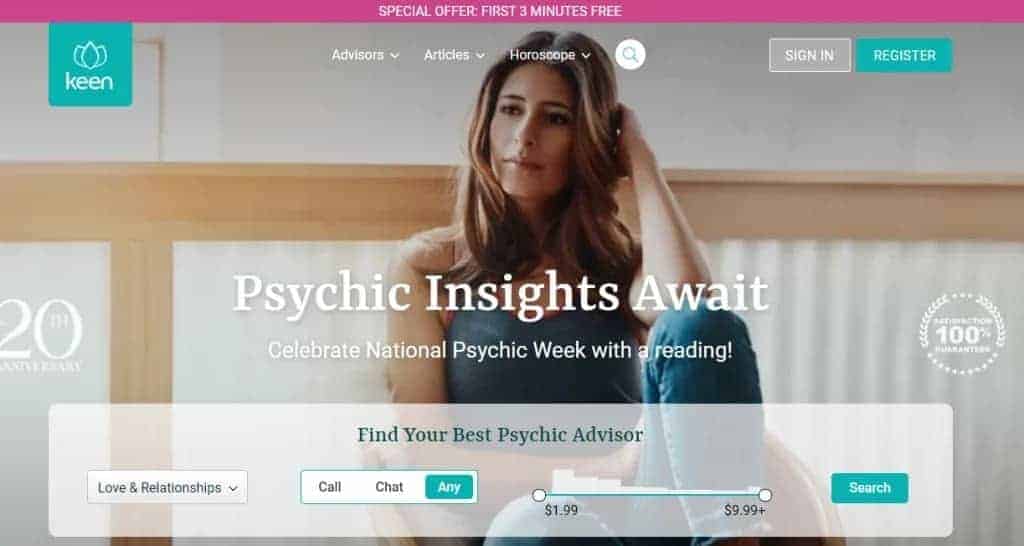 Wide variety of readers with UK availability
Call or chat online with app

Only pay £1.99 for your first 10 minutes as a new customer

Read articles, horoscopes and more for free
Satisfaction guarantee for extra peace of mind
Keen's "Find a Psychic" tool makes it easy to search for a psychic currently available in your UK timezone. I was able to filter tarot readers to show only the ones who were currently available, which made it easy to find a tarot reading in the UK.
You can filter tarot readers from lots of categories, including relationships, career, and loss, so make sure you picking the most relevant to your situation. I found Keen's tarot reader profiles incredibly comprehensive which helped to get a really good feel for their style. You can see their specialties, skills, and background.
The user ratings help narrow it down even further. However, if for some reason you aren't happy with the reading you received, Keen also offers a satisfaction guarantee. I personally had no need to redeem this offer, but it's reassuring to know it exists.
You can either call or chat online, whichever one you prefer. The site allows you to schedule appointments for later and there is a mobile app for iOS and Android. I was disappointed to see that Keen doesn't offer video readings, which is my preferred contact method for tarot. However, Keen gives you a very generous introductory offer of 10 minutes for only £1.99.
4. Psychic Source — Get a UK Tarot Reading via Video Call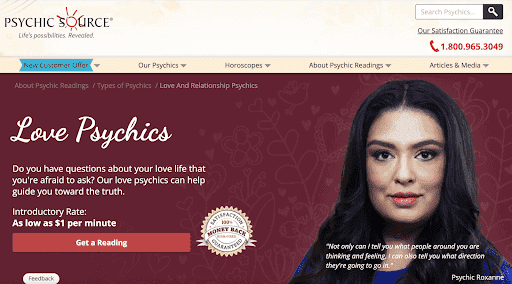 Over 200 highly skilled readers available
Connect from the UK by call, chat or video
Rates from £1 minute and value packages

Get access to free blog posts, podcasts, and guides

Satisfaction guarantee
Psychic Source allows you to get a UK tarot reading over video call. This communication method is the best for this medium because you'll be able to see the card that's turned as your psychic turns it — I always feel a stronger connection and to both my psychic and reading results.
Tarot readers on Psychic Source have all been screened for authenticity, quality, and are committed to gently helping you with whatever problem you're facing. However, if you're not comfortable talking to your psychic over video chat, you can also call or chat. I found no reduction in the quality of my Psychic Source reading results whether I chose to video call or just chat.
On top of this, Psychic Source has tons of spiritual resources to browse through, such as advice on relationships, videos and podcasts about spirituality, and even a tarot guide. There are also filters to help you choose the best psychic, as well as customer reviews and detailed reader profiles.
You can choose to contact your psychic on the mobile app for iOS or Android, or on desktop if you prefer. Appointments can be scheduled in your local timezone with your chosen psychic. Psychic Source's app doesn't feel as intuitive to use as the others on this list. But, it's still possible to find the exact reading you're looking for.
New customers get introductory rates of below £1 minute (up to 30 minutes). On top of that, the first 3 minutes free and you can enter into the reward program for added value. It offers a satisfaction guarantee, too.
5. PathForward — Great for First Time UK Tarot Readings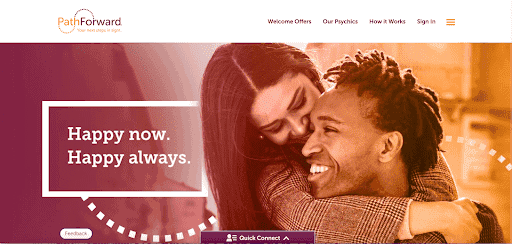 Connect with talented psychics from the UK
Access via phone or online chat

Generous £1/minute welcome offer

Free horoscopes, blog posts, and guides on readings

Satisfaction guarantee
PathForward makes it intuitive to get a UK tarot reading. I found the site incredibly easy to use, which is ideal if it's your first time getting any kind of reading. As a bonus, it offers flat and upfront rates for all its readers, so you can be sure exactly what you're paying.
I found that choosing my PathForward psychic was easy as the site allows you to filter psychics based on which ones are currently available. You can filter by the exact topic of reading you want, from categories such as career, relationships, and spirituality.
I did find that PathForward doesn't offer as many psychics that specialize in tarot as the other sites, with only 36 tarot readers on-site. However, this does make it quicker to choose a psychic. The reader profiles and other user reviews helps you to narrow down the search even more. You can direct message readers too, which I was impressed at as not many sites allow it.
PathForward offers 24/7 customer support if you run into any problems, along with a satisfaction guarantee. New customers get a welcome rate of £1 a minute and your first 3 minutes are free.
Comparison: Best Sites For Tarot Readings in the UK
| | | | | |
| --- | --- | --- | --- | --- |
| | Starting Rates (from) | How to Connect | Face to Face? | Satisfaction Guarantee? |
| California Psychics | £0.83 per min | By phone, chat or via app | ✘ | ✔ |
| Purple Garden | £0.64 per min | By chat, call or video | ✔ | ✘ |
| Keen | £1.59 per min | By phone, chat or via app | ✘ | ✔ |
| Psychic Source | £0.53 per min | By call, chat or video | ✔ | ✔ |
| PathForward | £0.75 per min | By phone or online chat | ✘ | ✔ |
Tips for Choosing the Best Site for Tarot Readings in the UK
When it comes to choosing an online tarot reading in the UK, use these tips to ensure you find the right psychic for you.
1. Check for UK availability
All the sites featured allow you to schedule and receive your readings in the GMT/BST timezone. This will help you find readers in your country and more likely to be awake when you are. Sites with large quantities of readers from all over the world can offer readings 24/7 to suit you.
2. Decide your tarot reading budget
It's important to consider your budget before jumping into the world of online tarot readings. A reading is likely to last at least 20 minutes, so think about how much you want to spend in advance. Also, consider whether you will want regular readings, or to get a one time reading only. Remember to check out any rewards schemes and promotional offers that can save you money.
3. Decide which communication method you prefer
You will also want to think about how you prefer to connect with your chosen reader. Email is the most flexible time-wise, but you might not get an answer straight away. Chat facilities are usually online and instant, however live video offers the most personal interaction. You can also opt for a phone call if that is what you feel most comfortable with.
4. Check for genuine psychics and a guarantee or refund policy
No one wants their first experience of having a tarot reading to be disappointing, so I have only featured sites that have stood the test of time by sticking around for a decade or more. Some sites, like Keen, have been around for 25-30 years, which proves that they are reputable and trustworthy with genuine psychics on board and happy customers that keep returning.
Refund policies like those offered by California Psychics also give you extra peace of mind that you won't be left feeling like you have been scammed by a fraud.
5. See which tarot reader you feel most drawn to
All of the sites listed have lots of handy features that help you connect with the right reader for you. You can use the quizzes or search functions to search by category, type of reading, or scheduling method.
Once you are in the right area, browse the readers' profiles to get a feel for their delivery style and services. You can read their reviews, see how customers have rated them and sometimes even watch an introductory video. Look for the readers who stand out to you the most.
6. Prepare for your reading
Your reading is more likely to be successful if you prepare in advance, and also approach it with an open mind. Before your scheduled reading begins, sit quietly for a few minutes and clear your mind of any thoughts. Make sure you have a calm place, with no distractions around you if you can help it, and just relax and breathe deeply to regulate your energy flow.
You should also prepare some specific but open-ended questions for your reader. Your reader will probably only manage 1 or 2 questions per reading, so think about what you want to know most and start with that.
Your psychic can't give you highly-specific answers and timelines, so don't expect that. It's also important to remember that you are in charge of your destiny and can alter your life path at any time.
FAQs About The Best Sites for UK Tarot Readings
Is tarot popular in the UK?
Tarot is growing in popularity in the UK. Growing uncertainty, strange world events, and changes in how we live our lives has led more people to seek understanding, meaning, and spiritual guidance.
Traditionally, you would need to visit a psychic or tarot reader in person, but recent years have seen an explosion of online services. Modern technology means it's possible to connect with a psychic from anywhere at any time you choose.
I have picked out the best sites for a UK tarot reading, so you will be able to find psychics that fit your availability. Readings are available by phone, chat, or video to further suit your schedule.
How does tarot work?
There are 78 cards in a tarot deck, 22 'major arcanas' and 56 'minor arcanas'. The major arcanas are said to depict big life changing events that are fated. The minor arcana show scenarios where we have more flexibility to influence using our free will.
Your reader will draw cards for your specific question, and place them into positions that reveal the answers you are seeking. The cards depict 'energies' which the reader is able to tap into and relay to you as messages and guidance. To make sure you're picking the best reader for you, make sure you follow these tips to choose the best tarot reader.
What makes a good tarot reading?
A good tarot reading will help you understand your situation and how best to move forward. You should receive clarity, guidance, and information that helps you make decisions.
Different tarot readers have different styles so try out the top rated UK tarot reading sites to find the one that suits you. Some readers are empathetic and compassionate, some are supportive and motivational and some are more direct and forthright. The reader biographies give you clues and you can check the reviews from other customers as well.
Psychic readings are most beneficial when conducted by a verified, experienced reader. All the sites we have recommended feature quality, trustworthy psychics with thousands of readings under their belts. Many sites also offer satisfaction guarantees too, for extra peace of mind.
Bottom Line
Finding a quality tarot reading on a trustworthy site in the UK can take up lots of your time. These services have become ever more popular in recent years, and so finding the right service for your situation and budget can be daunting.
To help you out, I have tested many psychic reading sites and shortlisted the best. Each site has great features that ensure you can quickly and easily connect with the tarot reader who is right for you.
My favorite psychic reading site is California Psychics. With its intuitive mobile app, competitive rates, and pool of experienced UK psychics, it has everything you need to get guidance.
To summarize, the best UK online tarot reading sites are…