Tarots are a powerful tool that can help you uncover unknown information about your life and set you back on the right path. Since tarot readings can be highly informative and entertaining, you might be wondering if it's possible to use tarots to help others. After all, it is an unusual skill.
The good news is that it's possible for anyone to use a tarot right at home – even if you aren't spiritually gifted. With enough practice and a tarot deck of your own, you can become a source of wisdom for your friends and family by connecting to the spiritual realm.
But since it isn't easy to read tarots, you might prefer to get a tarot reading from a tarot expert instead. In addition to the speed and convenience, this option is surprisingly affordable. Psychic sites like California Psychics lets you get 20 minutes of reading time for $1 a minute, which can be used on more than 1 tarot reader.
How to Choose a Tarot Deck
1. Look for a Connection
Whether you are shopping in person or online, gauge how you feel when checking out a particular deck. You may have heard about a few popular decks, but this doesn't mean they are right for you. Use your intuition to find a tarot deck you feel connected to.
2. Review the Imagery
The images on the cards are what you will use to perform your readings, so before you make your purchase, make sure the imagery appeals to you. Check out the style of the artwork, the colors, and even the stories each picture is telling. Do you want to use this imagery to do tarot readings for others?
3. Consider the Size of the Cards
Tarot cards come in various sizes, so decide whether a smaller, regular sized or larger deck is a better fit for you. Keep in mind that you're going to need to shuffle the cards.
4. Review the Card Guide
Most tarot decks come with a guidebook that tells you more about the meanings of each card. Before committing to a purchase, check out how comprehensive this book is and whether it gives you enough information to support your readings.
5. Quality is Key
Lastly, opt for a quality tarot deck. Yes, your cards will become worn out over time, especially if you plan to use them often, so it helps to know your deck is made with quality materials that will last longer.
How to Do a Tarot Reading for Others
Quiet your mind: Before you start your reading, it's important to quiet your mind and center yourself to connect with the energies around you. It also helps if you perform a reading in a calm space surrounded by objects that you love.
Begin with a question: Next, ask an open-ended question out loud or in your mind. Stay away from questions that require a yes or no answer and remember that the deck is there to provide guidance on the possibilities the future holds – not set instructions.
Shuffle the deck: There is no right or wrong way to shuffle the deck. You may use the overhand shuffle or even cut the deck and put it together again as you see fit.
Pull your card(s): You can choose cards from any part of the deck that you feel drawn to. As a beginner, it may be simpler to start with one card, but as you become more confident you can pull multiple cards for a spread. More cards tend to lead to broader guidance but can be difficult to handle if you are inexperienced.
Lay the card(s) facedown: Don't reveal the cards right away. Take the time to tune into your intuition and then turn one card over at a time. With each card, use the symbols, images and colors to decipher the meaning and gauge the guidance you are getting to the question you've asked.
While these are the basic steps you'll need to follow to do a tarot reading for others, it takes some practice and getting guidance from a tarot expert really helps. Psychic Source offers tarot readings for less than $1 per minute, plus you get the first 3 minutes for free.
Best Tarot Reading Sites in 2022
If you're struggling to do tarot readings or find it isn't what you expected, then you can get an online tarot reading from a trustworthy psychic site instead. All of these sites contain a number of experienced tarot readers who can provide much more accurate readings than self-taught tarot readers.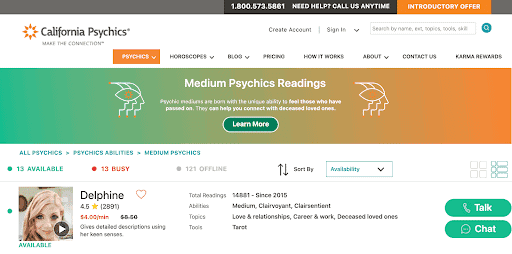 Tarot card readings are available 24/7
Very user-friendly website
Mobile app is also excellent
Communicate via email, chat, or calls
100% money-back guarantee available
California Psychics lets you get an accurate tarot reading when you want it, as its expert tarot readers are available 24/7. This is handy if you need immediate assistance with a personal matter. I managed to book a mobile reading on the spot by using its user-friendly mobile app.
Thanks to its wide range of communication methods, you can get a tarot reading via phone, chat, or video. Phone and video reading are better if you like face-to-face communication and verbal interaction, while chat is more suitable for taking time with answers. The method you choose won't affect your rate, so you aren't pressured into finding one that suits you.
if you're a first-time user, just keep in mind that you'll need to purchase an introductory package of at least 20 minutes, to begin with. This means you can get a reading from as low as $1 per minute for 20 minutes, which is a steal. And if you aren't satisfied, you can use its 100% satisfaction guarantee to get your money back.
2. Purple Garden — Enjoy a Mobile Tarot On The Go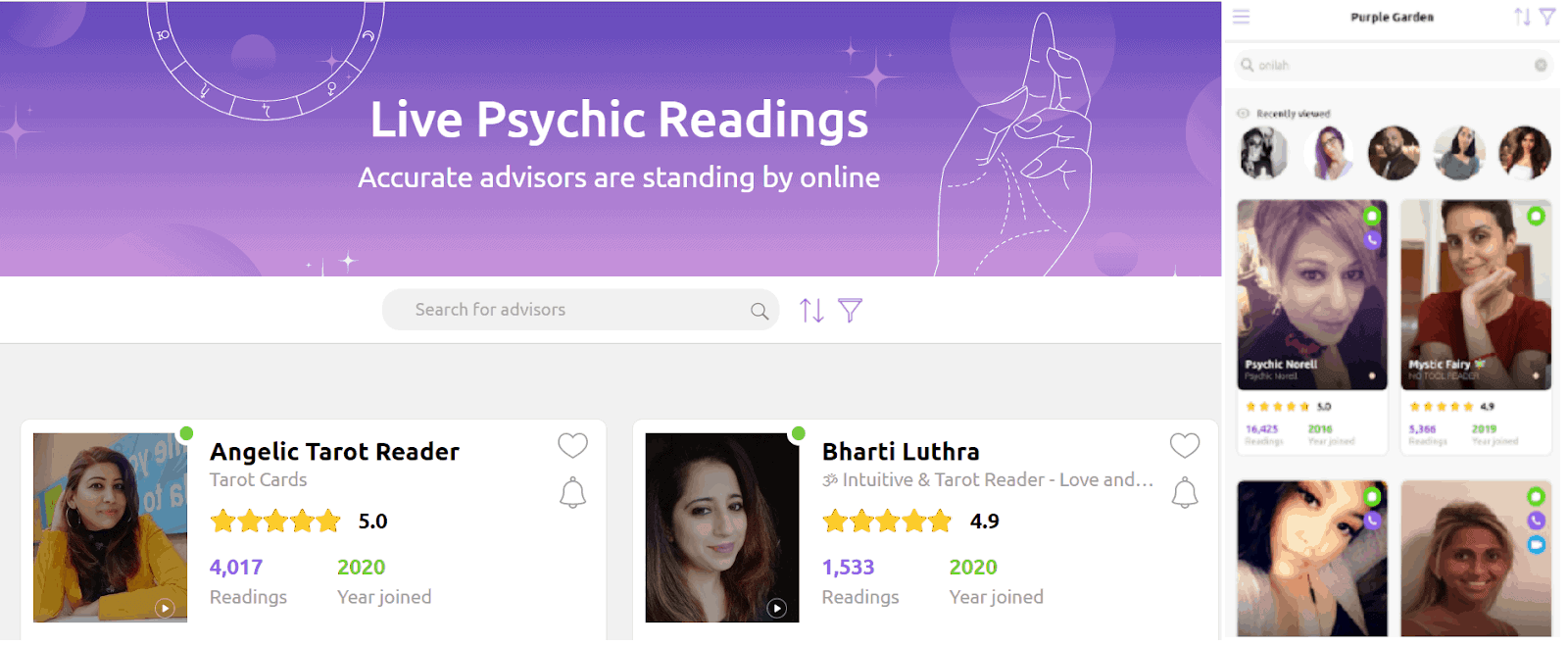 Stringent psychic vetting process
Excellent mobile app for on-the-go readings
$10 credit for new customers
Wide range of reading types
Informative psychic profiles
Purple Garen's mobile app is hard to beat for convenience, as it lets you get a tarot reading from anywhere. Even though there's a decent desktop version, the mobile app stands out for its simplicity and ease of use. It only took me a little under 15 seconds to download and install it on my Android phone, and scheduling a tarot reading was just as quick.
Another benefit is Purple Garden's clean interface, where you can use extensive filters to find a suitable tarot reader for your needs. Not only are there plenty of experienced tarot readers to choose from, but most of them are available at any time. This means you'll barely have to wait to get a tarot reading.
The site also stands out for its trustworthiness and positive customer reviews. It also uses a strict vetting process to screen its psychics, meaning you're highly likely to get an accurate tarot reading. Most of the tarot readers had highly favorable reviews when I checked their profiles, which further increased my confidence in Purple Garden.
3. Keen — Choose From A Number of Expert Tarot Readers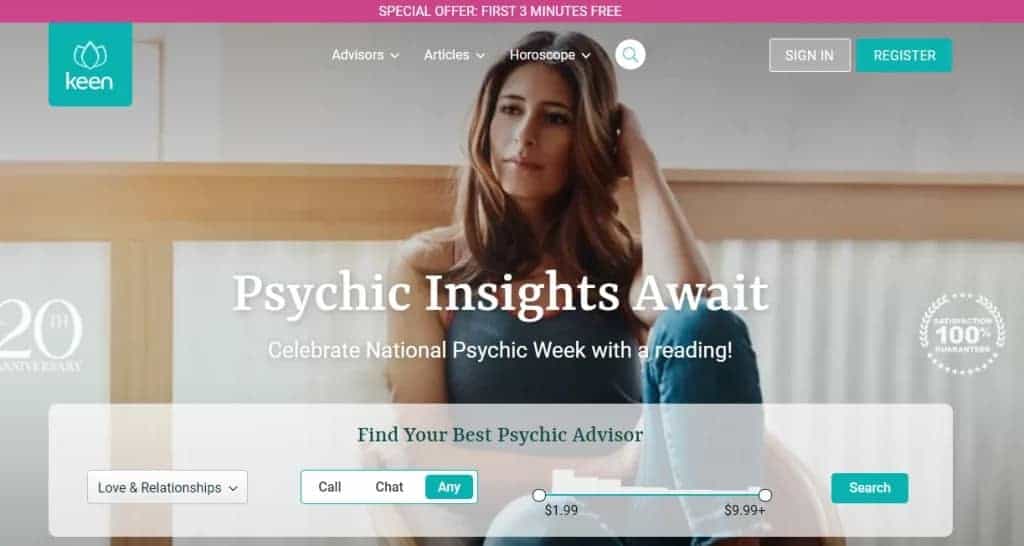 24/7 access to tarot card readings
35 million satisfied clients
Emails, chat, and calls are available
Access to a mobile app available
100% money-back guarantee
Keen has over 100 tarot readers to choose from, most of whom have been with the site for over a decade. Additionally, their profiles contain a large number of positive customer reviews, adding further credibility and trust. Since the psychic profiles were highly detailed, I felt more confident than usually when choosing a tarot reader.
You can also complement your tarot reading with a cartomancy reading, which uses regular playing cards instead of tarot cards. This combination can help you tell the timing of particular events and interpret meaning to guide your future. Readers will usually charge the same rates for both readings, too, which can help you budget better.
Thanks to Keen's top-notch customer service and satisfaction guarantee, you can be assured of a quality tarot reading experience. The satisfaction guarantee lets you claim a full refund if your reading didn't satisfy you (within reason). You just need to contact them within 72 hours of your reading to use it, which isn't difficult.
Bottom Line
Tarot reading is a useful skill that you can use to help friends and family. If you're feeling a pull towards tarot readings and want to start giving readings to others, you just need to follow some straightforward steps to get started, regardless of your experience level.
But if you're pressed for time and prefer convenience, you can also get advice from a top tarot reader at an affordable rate. California Psychics lets you speak to several tarot readers for as low as $1 per minute. And because of its stringent screening process, you're bound to get an accurate reading.