Whether you're interested in reading Tarot cards for others as a hobby or for professional purposes, it can be an intimidating experience. Learning Tarot is a process, so doubting whether you do a Tarot reading correctly and accurately is common. Fortunately, there are reliable methods to ensure you're well-prepared and confident during your readings.
In this guide, I'll outline the correct order for how to do an accurate Tarot reading so that you can develop confidence. Maintaining a consistent approach will stop you from becoming stuck during a session and make you appear more professional. After doing several readings with this set structure, you can add a unique touch to your future sessions.
If you're struggling to read Tarot for others, I suggest seeking professional advice. By connecting with an experienced Tarot reader on California Psychics, you can refine your reading skills and gain valuable insights into your spiritual journey. You'll also get to ask important questions and receive personalized advice.
How to Do a Tarot Reading in 7 Easy Steps – A Quick Overview
Step-By-Step Guide: How to Do a Tarot Reading for Others
Undertaking the journey towards Tarot mastery is a process that develops gradually. It's crucial to recognize that attaining perfection immediately is not feasible. Yet, by adhering to this guide, you can lay a strong foundation and gain confidence in your skills while performing Tarot readings. These measures can also aid in enhancing the precision of your interpretations.
1. Determine the Focus
Establishing the reading's starting point can induce anxiety when you're new to reading Tarot for others. However, having a focal point is crucial for setting the context of the reading, particularly for beginners. When you don't have a starting point, it can be challenging to understand what the cards refer to.
The key is to steer clear of questions that seek information and stick to those that set your reading up for success. Suitable focus questions could include, "Which area of life do you need the most insight on at the moment?" or "Is there a specific question you'd like answered during this reading?
Some readers will only read for others if provided with clear and open-ended questions. Others will only ask for the area of focus for the session, while some don't ask for a focus at all. However, as a beginner, I suggest asking the person you're reading for to specify the reading's scope to provide context.
2. Shuffle Your Cards
Shuffling cards during a Tarot reading is unique to each reader, so you shouldn't feel like there's a set way to shuffle. However, it's common to split the deck in half, shuffle, place it into one pile, and shuffle again. You can repeat this step until you feel called to stop but make sure you follow your intuition with your shuffling.
Getting a good shuffle when you're starting a reading is essential because it "wakes" the cards. This is because shuffling gets the cards' energy flowing and infuses your energy with that of the cards. Some readers even say that shuffling their cards helps them tap in intuitively and gets them in the right energy for a reading.
3. Ask Relevant & Open Ended Questions
Now that you've established the focus, you'll need to craft your Tarot questions in a direct and non-confusing way. Refrain from asking yes or no questions, and aim to be precise and clear. Since Tarot relies on storytelling, beginners are not recommended to ask yes or no questions.
I suggest asking about the energy surrounding a situation rather than asking if something will happen. An inappropriate question might be, "Will my client get married this June?", while a better alternative is, "What energy should my client expect regarding marriage?".
This step is connected to step 2 because many readers go back and forth. As a general rule of thumb, you should shuffle and pull additional cards whenever you ask your cards a new question. If you change the focus, you should put all cards back, shuffle, and pull for a new spread.
If you freeze up when asking the right questions, consider seeking expert guidance from a Tarot reader on California Psychics. They can share techniques that help you project your questions correctly and clearly.
4. Draw the Cards
Once you've asked your question and shuffled, you can begin to draw your cards. You can draw the cards or ask your client to select a certain amount. The latter is most common for structured spreads like the Celtic cross, but you can also draw the cards yourself with a set spread if this feels more comfortable.
When it comes to drawing your cards, there are 3 ways. Firstly, you can shuffle until a certain amount of cards fall out. Alternatively, you can shuffle and draw cards from the top of the deck as it's face down. It's also possible to spread the cards like an accordion and select the cards they feel the most drawn to.
While you're still figuring out your reading style, you can keep it simple with a 3 card spread. Simply draw 3 cards, place them next to each other from left to right, and assign the context of each card. For example, the first card could represent the past, the second card the present, and the third card the future.
5. Interpret the Message
While you should have a baseline understanding of what each card means, it's always best to interpret the cards based on the energy you pick up. You can't always rely on your memory to come through during a session because a Tarot reading relies heavily on intuition.
To develop your interpretation skills, experiment with the methods below:
Focus on your clairs: If you have active spiritual gifts, you may receive words, sensations, feelings, and colors that give you additional information. For example, you may feel the energy of constriction, which could highlight an important theme in the reading.
Touch cards you feel drawn to: If you're intuitively touching certain cards and hovering over them, pay special attention to them. You should relay whatever comes to your mind as you touch or hover over them.
Use a pen & paper: Some readers will write down the information they pick up from a card with pen and paper. Once you pull the cards, hold each one and record your feelings.
As you look at the cards, you'll want to pay attention to the energy of individual cards and how they relate to the energy of the cards around them. The most important cards in a spread will always be Major Arcana cards. The Major Arcana is made up of 21 cards which represent one's journey through various spiritual stages, also known as "the fool's journey".
On the other hand, the Minor Arcana includes 56 cards that touch upon more mundane and day to day themes. The Minor Arcana is divided into four suits which are Wands, Cups, Pentacles, and Swords.
Suit
Significance
1. Wands

– In tarot, the suit of Wands represents the element of Fire.
– The Wands symbolize passion, creativity, inspiration, action, and the power of transformation.
– They are associated with the realms of willpower, ambition, spirituality, and personal growth.

2. Cups

– The Cups suit represents the element of water, which is associated with emotions, intuition, relationships, and the subconscious mind.
– It signifies the realm of feelings, creativity, and the inner world of emotions.
– The Cups cards reflect the emotional aspects of life and offer insights into matters of the heart, relationships, and spiritual connections.

3. Pentacles

– The suit of Pentacles represents the element of Earth.
– It's associated with material possessions, wealth, abundance, practicality, and the physical aspects of life.
– The Pentacles suit reflects our relationship with the material world, including our finances, resources, career, and the tangible aspects of our lives.

4. Swords

– Swords in Tarot are associated with the element of Air.
– They represent the intellectual and mental aspects of life and are often depicted with imagery related to blades, swords, or knives.
– The Swords suit delves into the realm of thoughts, communication, conflicts, decisions, and the power of the mind.
Additionally, you'll want to analyze repeating themes, symbols, and colors throughout the cards. For example, if you notice many of the characters in the cards are alone, the situation may be more about the individual. Moreover, seeing a lot of yellow in the cards may indicate matters related to personal power and confidence.
6. Follow Up With Advice
After you've interpreted the situation, you'll need to provide advice to the person you're reading for. If you are uncomfortable with predictions, you don't need to incorporate them into your practice, but you should at least give takeaway advice. For specific advice, you can ask a separate question to the cards about what action to take.
That said, this is where the Celtic Cross spread can come in handy because it already has a set position for the "advice" card. If you choose to go with a spread like this, you can just leave the initial spread and pull additional cards to clarify the initial advice card.
When interpreting the advice cards, you can mix intuitive and rational approaches to give your client well-rounded advice. However, go with whatever feels most comfortable and accessible during the reading. If you're not sure about something, make sure to be transparent with your client about it.
7. Express Gratitude & Close the Session
Once you feel your client has received sufficient information and advice, you'll want to close the session. To do so, put your cards back into one pile and place the deck face down. You can also set the intention that the session is complete and put a protective crystal on your deck, such as a selenite wand or obsidian.
Don't forget to express gratitude to your client and your deck for the messages it delivered to you during the session. Once you're alone, I recommend meditating to clear your energy, light some incense or sage to cleanse your space, and put your deck away in its designated spot.
Best Sites For Tarot Reading Insights in 2023
It's no secret that reading Tarot for others can be stressful for beginners. However, getting a reading from a professional can provide inspiration and advice on how to better conduct your readings. These sites are best if you want to connect with a credible Tarot reader for an affordable rate, all from the comfort of your home.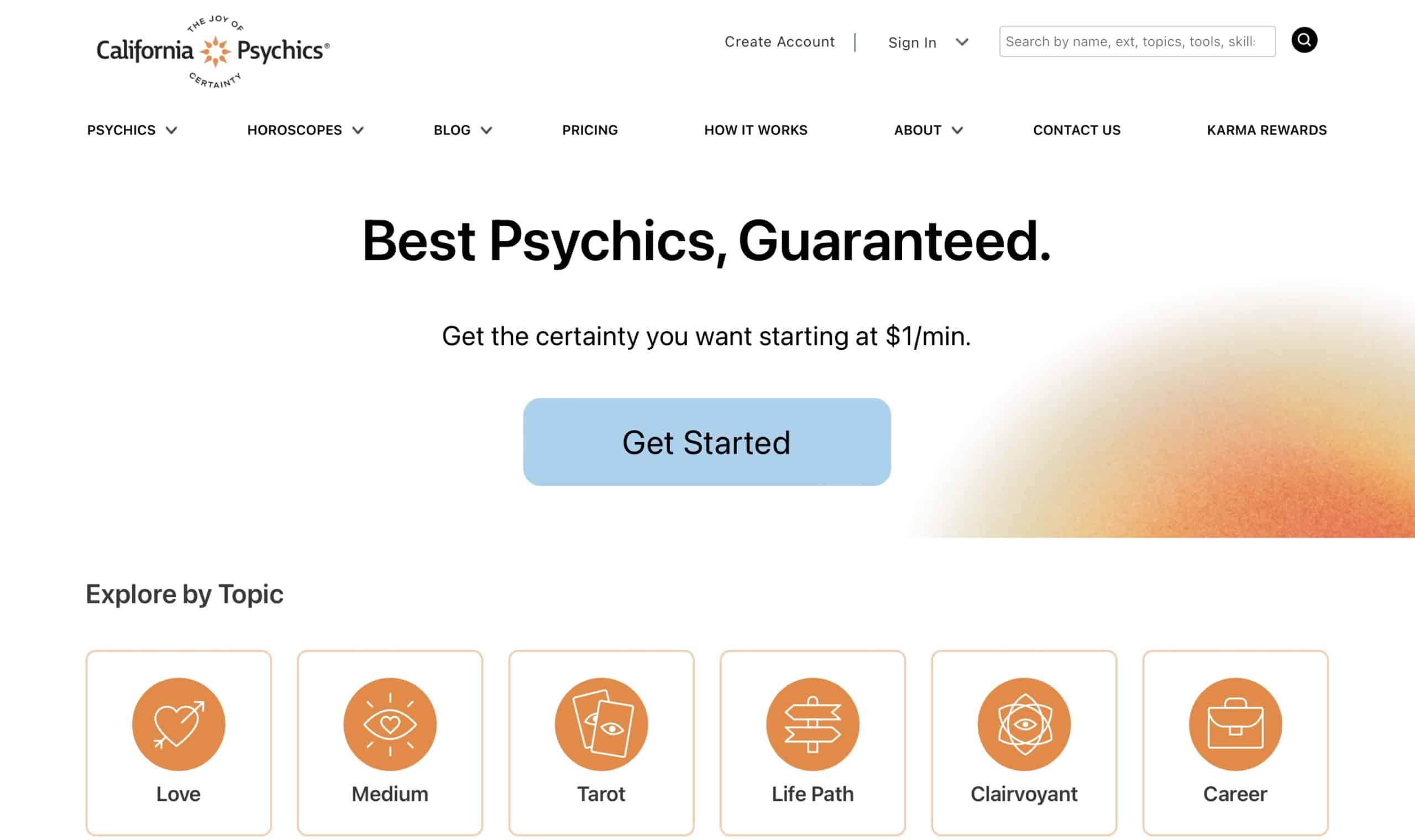 300+ Tarot readers available
Strict vetting of advisors
$1 per minute for newbies
Satisfaction Guarantee
Karma rewards program
California Psychics is a trustworthy site with a generous selection of Tarot readers. With 300+ Tarot readers, you can find a talented advisor who inspires and advises your Tarot practice. Knowing this will help you feel more confident when you choose a suitable Tarot reader.
Finding out that California Psychics only accepts 2% of all reader applicants made me feel more at ease. It thoroughly tests all applicants to ensure legitimacy and monitors their sessions for 90 days after admission. Due to the high quality of its Tarot readers, you'll never need to worry about being ripped off.
Considering the quality of its Tarot readers, it's impressive that California Psychics offers pricing that fits different budgets. First-time users can connect with a Tarot reader for as low as $1 per minute. This introductory offer is ideal because you can get a lengthier session without breaking the bank and still test different Tarot readers.
While California Psychics has a 24/7 hotline for customer support, it's only available in the US. That said, you can easily submit a request form to customer service and get assistance within a few hours. Even for immediate answers, its FAQ section is thorough and helpful for problem-solving without additional support.
2. Purple Garden — Enjoy Tarot Advice By Chat, Call, or Video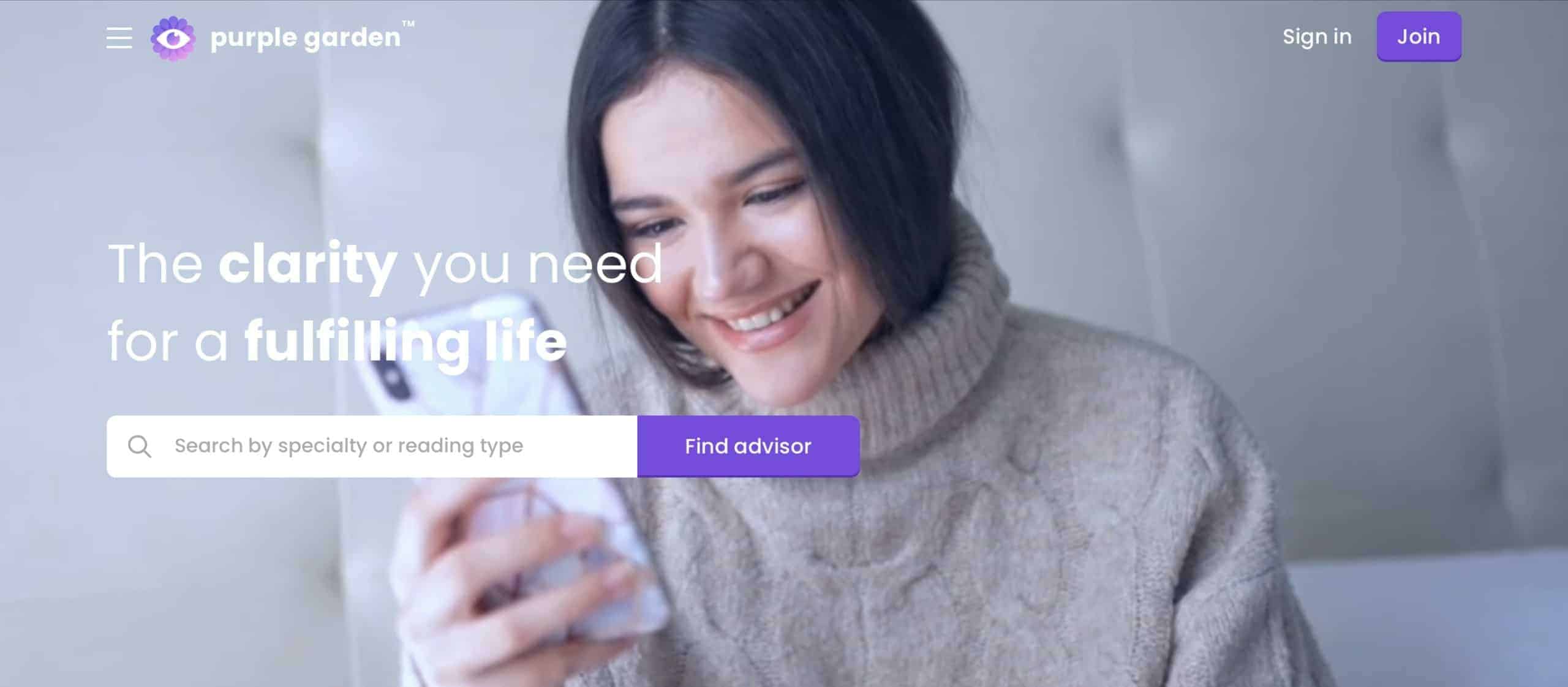 Detailed advisor profiles
Chat, call, & video Tarot readings
$10 credit upon joining
Journeys community feature
Transparent review sections
Getting Tarot support on Purple Garden is flexible and can be tailored to your preferences. If you want to remain anonymous during your Tarot session, use its chat or call option. Alternatively, you can opt for a video reading if you're visual, which can be helpful when receiving Tarot guidance.
I was impressed by how Purple Garden's Journey's feature offers a safe space to connect with like-minded people. Not only can you share your experiences, but you can receive Tarot reading recommendations and insights. The feature offers a way to find community support and trustworthy suggestions.
As a new Purple Garden client, you'll get a $10 credit for joining and even be eligible for 2% cashback on all purchases. Considering that its rates start at $0.99 per minute, the $10 credit will help you avoid rushing your Tarot session to save money. This enables you to absorb knowledge more efficiently and get the most out of your reading.
Although Purple Garden's vetting process isn't as strict as other sites, it's very transparent with its customer reviews. The reviews for each Tarot reader are displayed on each profile and as a numerical summary of positive vs. negative reviews. So with a glance, you can decide if a particular Tarot reader is worth your time.
3. Keen — Get First-Hand Advice From Experienced Readers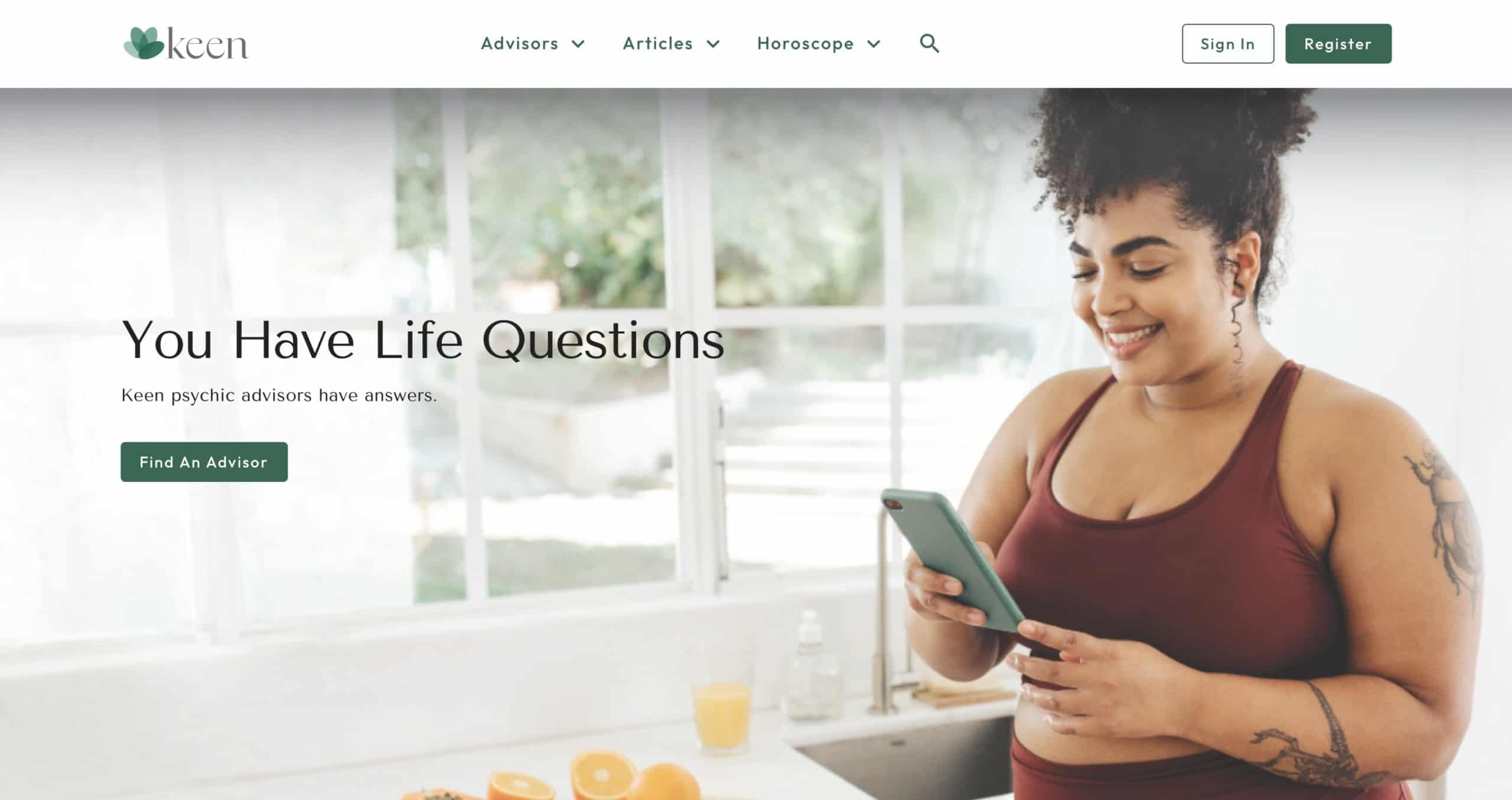 Experienced Tarot readers
Advisors with a 4.7+ star rating
Offer of 5 minutes for $1
Tailored search filters
Email readers before paying
Keen is a solid choice for getting Tarot insights since it has some of the most experienced Tarot readers I've seen. Many advisors have been on Keen since 2001 but have been practicing Tarot for 30+ years. With this many readers, you can feel at peace and be assured of personal guidance.
Something I enjoy about Keen is that it's one of the few sites where you can email a Tarot reader before paying. While this feature should only be used for general inquiries, it can ease doubts. If you want to ensure that your Tarot reader feels comfortable giving you Tarot advice, you can always ask in advance.
Narrowing down your options on Keen is straightforward with its thorough search filters. You'll have 6 categories to filter by, making matching with the right Tarot reader easier. For example, if you want a Tarot reader within a specific price range, you can filter for this criteria and save yourself the hassle.
Remember that Keen only offers Tarot readings via live chat and call, making video readings unavailable. But the upside is that you can get advice on the go, giving your greater convenience and flexibility. You'll also benefit from connecting more discreetly for added privacy and flexibility.
FAQs on Tarot Readings
Can I read Tarot for someone without their permission?
Technically you can, but you shouldn't because reading for someone without consent is unethical. This is because it goes against universal law to violate someone's free will, and you do this by reading their energy without permission. All in all, reading Tarot for others is a sacred practice that should be done ethically.
If you want to read for a specific person and have their consent, you should follow a set structure for the greatest accuracy. Having a set system ensures you respect the practice and show integrity, which is the ethical avenue. Additionally, it can provide more opportunities to read for others if you're professional in your approach.
How can I gain confidence reading Tarot for others?
Like other arts, practicing is the best way to gain confidence in reading Tarot for others. This will help you become more familiar with the cards while developing intuitive gifts. I recommend practicing with various people so you can get exposure to different situations and learn new ways to interpret the cards.
Preparing yourself before a reading is essential, which is where a set structure can help. As a beginner, you may be prone to blanking during your readings, affecting your confidence levels. If you have go-to methods to follow during these moments, you can feel more in control even if you go blank during the reading.
That said, the most important thing to remember is that intuition is not perfect. After all, reading Tarot is not an exact science, and your interpretations won't always be spot on. But being transparent about this with others can lift the pressure off your shoulders and help to build more trust with the people you're reading for.
How long should a Tarot reading last?
The length of a Tarot reading can vary depending on the number of cards in a spread and on the complexity of the situation. Generally, a Tarot reading can last 30 minutes to an hour, but it can be shorter or longer depending on the person's needs. It's best not to rush your readings, but always respect your client's time.
You can also connect with a professional Tarot reader and see how long an average reading is. This can also be helpful if you decide to charge for your readings and need help choosing a fair rate. I suggest looking at the going rates for Tarot readers with a similar experience level to determine an appropriate cost for your services.
Bottom Line
Interpreting the Tarot for yourself is one thing, but doing it for others can really test your abilities. However, the nerves of reading for others shouldn't keep your practice from evolving. After all, you can set yourself up for success by staying organized and going into your reading with a plan.
With a step-by-step approach to reading Tarot for others, you can expect your confidence and accuracy to increase. I recommend returning to this guide whenever you feel stuck or need a refresher on best practices. But always stay patient with the process and be realistic with yourself as you evolve.
Remember that Tarot is a skill that can take time to develop, and it can feel especially isolating when you begin reading for others. That said, you can find strength in confiding with more experienced Tarot readers and receive valuable insights. Having a support system can help you stick to your practice and allow you to advance further.