Being cheated on is one of life's most painful experiences, so it's not unusual to worry whether your partner is truly faithful or not. But randomly accusing your significant other of cheating will likely result in detrimental effects, leaving you in a worse position than before.
Tarot cards can provide comfort and guidance when seeking answers on relationship issues like cheating. They can help you connect with your inner energy and interpret what's going on in your relationship, so you can stop making rash decisions that produce disastrous consequences.
But for the best possible results, you should work with a professional tarot card reader from a trusted site like California Psychics. It has a vigorous psychic screening process, ensuring you'll get the best possible service each time. And thanks to its introductory offers, you can get 20 minutes worth of reading time for $20, which is an excellent deal.
The 12 Tarot Cards That Mean Cheating
Before I dive in, I'm prefacing my tarot card for cheating and infidelity list by saying that, although the tarot is a powerful and intuitive form of psychic reading, only you and your partner can know the truth in your relationship.
Here are some quick things to keep in mind when reading tarot cards for cheating and infidelity:
1. The 2 of Pentacles
The 2 of Pentacles signifies that something is in the balance or someone is juggling several things simultaneously.
From a relationship perspective, drawing the 2 of Pentacles could mean that your partner is stressed because their attention is divided between you and another partner. Or it's an indication that they're performing a balancing act, i.e. being in a relationship with several parties.
2. The High Priestess
Drawing The High Priestess card signifies that you should follow your intuition. So, if you've been having doubts about your partner's loyalty, then your suspicions are probably correct.
If The High Priestess is reversed, it's a warning that your relationship has hidden meanings and secrets. For example, your partner is hiding their true intentions from you, i.e., taking on another lover or having an affair. It could also indicate that your partner is untrustworthy and keeping things hidden from you, such as their true feelings.
3. The 7 of Swords
This is one of the most common tarot cards associated with cheating and infidelity. That's because the 7 of Swords stands for deception.
If you see this card, there is a good chance that your partner is hiding something from you — good or bad. It could be something innocent, such as a gift, or more malicious such as a secret lover.
Regardless, be on your guard, and pay close attention to any sudden changes in your lover's behavior when the 7 of Swords comes into play.
4. The Tower
As a symbol of shock, destruction, and the unexpected, The Tower often appears when infidelity is suspected. It could mean that you're about to receive a nasty surprise, i.e., your partner being unfaithful, which in turn destroys your relationship.
But this isn't always the case as The Tower can also mean that your expectations are about to be subverted. For example, your suspicions about a cheating partner are proven wrong, which comes as a big surprise.
5. The Fool
The Fool signifies strange or unpredictable behavior and is commonly associated with cheating or infidelity. It can mean that:
Your partner isn't being honest with you (They claim to be faithful but are actually having an affair).
Your partner's true colors are unknown to you (For example: they don't take your relationship seriously).
There is someone else in your partner's life, you just don't know it yet.
These interpretations can change depending on the context of your question. But most tarot card readers believe that The Fool represents questionable behavior or beliefs, like being free from the commitments of a relationship.
6. Knight of Wands
Drawing this card during a relationship reading is usually a bad sign as the Knight of Wands represents passion, impulsiveness, and energy. It is sometimes seen as indicating that your partner is having an affair, hence the impulsiveness and passion.
Another interpretation is that your relationship has unmet desires, i.e., the lack of sex or intimacy. These desires could trigger your partner to fulfill these needs elsewhere if left ignored.
7. The Queen of Swords
The Queen of Swords doesn't just warn you of an unfaithful partner, but it can also show you other things.
For example: If it appears in your space during a reading, it's a warning that you're actively sabotaging your relationship. Perhaps your overly jealous behavior is driving your partner away, or you haven't been paying enough attention to them. Regardless, take a step back and reconnect with your partner.
When the Queen of Swords is drawn in your partner's space, they allow other people to sabotage the relationship. Besides them having an affair, it could also show that other parties are trying to get between the both of you.
And if the Queen of Swords is drawn anywhere else, then be prepared for disruptive outside influences. Close ranks with your partner and get ready to weather the storm together.
8. The 3 of Swords
This card represents heartache and pain, which is why it often appears during relationship readings where infidelity is suspected. The third sword seen is the intruder, i.e., a third party infringing on a union between you and your partner, which leads to tears and periods of long difficulty.
But this isn't always the case, as heartache can also mean an upcoming difficult period. Some readers interpret this as a time for you and your partner to work things out reasonably. Failing to do so will lead to heartbreak and the relationship's end.
9. The Magician
The Magician is commonly associated with the manifestation of new and exciting opportunities. But it is sometimes seen as a bad omen for this card to appear, especially if you're getting a tarot reading for cheating and infidelity.
Magicians use deception and trickery to manipulate their audience. As a result, the card can also warn you of a deceitful partner, such as one who tricks you into believing in their fidelity.
10. The Moon
Uncertainty, illusion, and intuition are all hallmarks of The Moon, which is why it's often seen as a symbol of infidelity. The direct opposite of The Sun, The Moon is shrouded in mystery and darkness, symbolizing your partner's unfaithful nature.
At the same time, the intuition aspect of The Moon encourages you to trust your instinct and uncover hidden secrets.
11. The Devil
The Devil is commonly associated with bad habits, addictions, indulgences, and forbidden desires.
If it appears during a love and relationship reading, it could mean that your partner is indulging in their forbidden desires. For example, they are satiating their lust by having an affair with a secret lover. Or perhaps they still haven't turned away from their philandering ways and are now being tempted by someone else.
12. The 3 of Cups Reversed
When drawn reversed, the 3 of Cups can sometimes signify that an unwelcome third party is in your relationship. It could mean that someone else is trying to sabotage your relationship, or you're involved with someone who's already attached.
Alternatively, a reversed 3 of Cups could also signify that you and your partner need some space from one another.
Best Online Psychic Sites for Tarot Readings in 2023
1. California Psychics — Best Overall for Quality Tarot Card Readings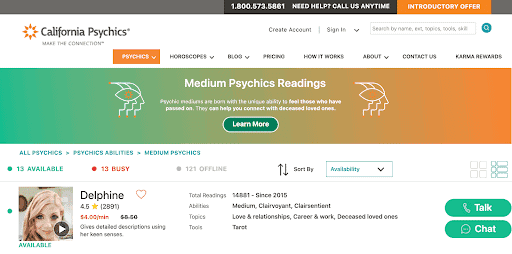 Rigorous psychic screening process
Schedule callbacks with your chosen psychic
Special $1 per minute introductory offer
Karma rewards program
24/7 customer service
California Psychic offers you some of the best tarot card readers, thanks to its strict psychic screen process. Because of this, you won't ever have to worry about connecting with a scammer or getting a poor-quality reading. I saw that most of them have performed over 1,000 readings and are highly rated.
If you're on a tight schedule, you can always arrange for a callback from one of the site's tarot card readers. I tried this function out for myself and was contacted by the psychic within several hours. This is a handy feature if you're short on time or want to have a session with your favorite tarot card reader.
You can purchase 20 minutes at $1 per minute, thanks to California Psychic's special one-time introductory rate. So, newcomers have plenty of time to try as many psychics as they want. I tried this offer out for myself, and the tarot card reader I connected with gave me some great advice on improving my love life.
And you'll also receive $20 of free credit if you sign up for California Psychic's Karma rewards program. You can even renew points for free callbacks, too. I was especially impressed by how its points system gives you access to various perks and benefits.
While there's plenty to like about California Psychics, its confusing web layout made it difficult for me to navigate. However, its smooth mobile apps for Android and Apple lets you get tarot card readings on the go, which is super convenient.
2. Purple Garden — Enjoy Video, Call, and Chat Tarot Readings
Multiple communication channels
Transparent review system
High-quality mobile app
Free credit for deposits of $40 and above
5% cashback on all purchases
Purple Garden offers video, call, and chat tarot readings. This means finding a communication method that suits your personality is easy. I arranged for a video session with one of its psychics and was pleasantly surprised by my experience. She was friendly and gave me a reading that proved to be remarkably accurate.
The site's transparent review system makes it trustworthy. You can see all the ratings and comments left by your psychic's previous clients, along with their specialties and a short bio. This helps you make the right decision regarding a particular psychic, so you won't have to worry about wasting your money.
There are also mobile apps for Android and iOS users, so you can connect with Purple Garden's psychic advisors on a mobile device. I downloaded both Android and iOS apps and found the interface to be user-friendly and responsive. Booking a tarot card reading session with the mobile is fast and easy.
Besides that, Purple Garden also has a generous bonus offer. With it, you get $4 free credit when you deposit $40. What I liked about this offer was that you can use the extra $4 to schedule a session with any psychic of your choice.
A downside to using this site is that it does not have a satisfaction guarantee or refund policy. But on the plus side, Purple Garden has a proven track record of quality, so the chances of you getting a poor reading are small.
3. Keen — Choose From A Large Selection of Tarot Card Readers
Extensive roster of gifted psychics
100% satisfaction guarantee
Filtering system makes it easy to find psychics
Generous introductory offers for newcomers
Mobile app available
Keen provides you with a vast roster of gifted psychic advisors. With so many talented individuals to choose from, you'll be hard-pressed to find a tarot card reader who doesn't work for you. In my case, I took the time to scope out the advisors available and found one who was both highly accurate and understanding of my needs.
What further boosted my confidence in the platform was its 100% satisfaction guarantee. The site reimburses you with up to $25 in credit for any unsatisfactory readings, as long as you submit your request within 24 hours of the finish time. All of which means that you don't have to worry about losing money on a bad reading.
By using the site's psychic filtering system, you can easily find the right tarot card reader for your needs. It lets you input preset criteria such as reading type, topic, delivery method, and pricing, meaning you can find a suitable psychic with just a few clicks. I tried this feature out for myself and quickly found a top-rated love and relationship tarot card reader.
First-time users can use the site's introductory offer and get the first 3 minutes of their reading free. This means you can get a tarot card reading done without having to fork a cent. Thanks to this offer, I arranged a session with one of Keen's psychics, who read my cards for me.
A minor con of the site is the lack of video reading options. But this isn't a big deal as Keen offers live chat and email reading options. Besides that, there is also an option to schedule callbacks from your favorite psychics, which is always a plus.
FAQs on Tarot Cards That Indicate Cheating
Can a tarot card reading prove that my partner is cheating on me?
Yes, tarot cards can help determine if your partner is cheating on you. That's because they can help you to get in touch with your subconscious. And by channeling your inner energy through the cards, your psychic can help you find the answers you've been looking for.
But keep in mind that it's essential that you speak to a skilled psychic advisor to get a tarot card reading. These gifted individuals have the experience and knowledge to interpret tarot cards correctly. More importantly, they are a neutral presence and are unaffected by biases or emotions.
Can tarot cards predict love?
Possibly. While tarot cards cannot find you a partner, a tarot card reading is often an excellent opportunity to get good relationship advice. Or look for ways to improve how you interact with those around you.
Love psychics often use tarot cards to deliver advice to their subjects, making communicating easier. The cards drawn provide greater context to the client and give them something to relate to.
This is why you should always work with an experienced tarot card reader well-versed in topics related to love and romance.
What does a reversed tarot card mean?
Drawing a reversed tarot card means that you should pay extra attention to it. When a card is reversed, it takes on a "shadow" form which could mean that things aren't what they should be. For example, an upright 3 of Cups card represents friendship and celebrations, while the reversed card calls for independence and the presence of an unwelcome third party.
However, not all reversed tarot cards have a negative connotation attached, in some instances, a negative card can be a good thing. If you're struggling to make sense of reversed tarot cards, then consider speaking to a skilled and gifted tarot card reader.
Bottom Line
Finding out that your partner is being unfaithful can be a frustrating experience. If you aren't careful, you could falsely accuse your partner of cheating when they're not and unnecessarily damage your relationship.
This is where guidance from tarot cards could come in handy because they channel your inner energy to seek answers to your partner's actions and motives. But not everyone is skilled in reading tarot cards, so I highly recommend you reach out to a genuine psychic with proper interpretation abilities.
After testing dozens of online psychic sites, my favorite platform for tarot card readings is California Psychics. Its rigorous psychic screening process, 24/7 customer service, and Karma Rewards program provide you with high-quality readings and generous savings.
To summarize, the best sites for tarot readings are…