Cheating situations are devastating, and it's really troubling if you suspect you might be in one. Tarot cards can provide guidance for relationship issues like cheating. They can help you connect with your higher self and interpret what's going on, so you can avoid making rash decisions.
While you shouldn't use tarot cards alone to accuse someone of cheating, they will highlight areas of concern in your relationship. You can use this knowledge to achieve greater self-reflection and personal growth.
If you're feeling especially overwhelmed or upset, it's best to consult a psychic love expert from a trusted site. California Psychics has lots of top tarot psychics that specialize in cheating. And, thanks to its introductory offers, you can get 10 minutes of reading time for just $10.
In a Rush? Here Are My Top Cheating Psychic Site Picks
12 Tarot Cards That Might Show Cheating
The Moon
Uncertainty, illusion, and intuition are all hallmarks of this card, which is why The Moon is often seen as a symbol of infidelity. The direct opposite of The Sun, The Moon is shrouded in mystery and darkness, symbolizing your partner's potentially unfaithful nature.
At the same time, the intuition aspect of The Moon encourages you to trust your instinct and uncover hidden secrets.
7 of Swords
This is one of the most common tarot cards associated with cheating and infidelity. That's because The 7 of Swords stands for deception.
If you see this card, there is a good chance that your partner is hiding something from you — good or bad. It could be something innocent, such as a gift, or more malicious such as a secret lover.
2 of Pentacles
The 2 of Pentacles signifies that something is in the balance or someone is juggling several things simultaneously.
From a relationship perspective, drawing the 2 of Pentacles could mean that your partner is stressed because their attention is divided between you and another partner. Or it's an indication that they're performing a balancing act, i.e., being in a relationship with several parties.
3 of Swords
The 3 of Swords card represents heartache and pain, which is why it often appears during relationship readings where infidelity is suspected. The third sword seen is the intruder, i.e., a third party infringing on a union between you and your partner, which leads to tears and periods of long difficulty.
But this isn't always the case, as heartache can also mean an upcoming difficult period. Some readers interpret this as a time for you and your partner to work things out reasonably. Failing to do so will lead to heartbreak and the relationship's end.
This card has a lot of meanings when it's pulled during a cheating tarot reading. If you're uncertain about its exact meaning in the context of your relationship I recommend you seek guidance from a tarot reader at California Psychics.
5 of Swords
The 5 of Swords shows inflexible attitudes, hurt egos, petty disputes, and someone who is not considering the impact their actions might have on others.
In a love reading, it indicates a need to compromise and a need for honest communication and healing. You and your partner both need to commit to working on any issues and resolving them amicably.
The Devil
The Devil is commonly associated with bad habits and addictions, indulgences, and forbidden desires. If it appears during a love and relationship reading, it could mean that your partner is indulging in their forbidden desires.
For example, they are satiating their lust by having an affair with a secret lover. Or perhaps they still haven't turned away from their philandering ways and are now being tempted by someone else.
The Tower
As a symbol of shock, destruction, and the unexpected, The Tower often appears when you're about to receive a nasty surprise, such as your partner being unfaithful.
But this isn't always the case, as The Tower can also mean that your expectations are about to be subverted. For example, your suspicions about a cheating partner are proven wrong, which comes as a big surprise.
The Lovers
The Lovers often indicates a strong soulmate connection, which, unfortunately, can mean your partner has another lover. It can also show up when there is a decision to be made regarding love and a need for commitment to make things more stable.
This card shows a need for some raw honesty and true vulnerability between you. Whether it represents cheating will depend on the question asked and its position in the spread, however, in some cases, it couldl be a clear warning that someone has another love interest.
Since the meaning of this card can change depending on the question asked, I recommend you seek professional guidance. A cheating tarot reader at California Psychics can give you essential insight into the card's exact meaning.
Knight of Wands
Drawing this card during a relationship reading is usually a bad sign, as the Knight of Wands represents passion, impulsiveness, and bold energy. It is sometimes seen as indicating that your partner is having an affair.
Another interpretation is that your relationship has unmet desires, i.e., the lack of sex or intimacy. These desires could trigger your partner to fulfill these needs elsewhere if left ignored.
The Magician
The Magician is commonly associated with the manifestation of new and exciting opportunities. But it is sometimes seen as a bad omen for this card to appear, especially if you're getting a tarot reading for cheating and infidelity.
Magicians use deception and trickery to manipulate their audience. As a result, this card can also warn you of a deceitful partner, such as one who tricks you into believing in their fidelity.
The High Priestess
This card by herself does not indicate cheating however, The High Priestess does warn of secrets and someone keeping their cards very close to their chest. Also, she shows up to warn you to pay attention to your intuition as it always knows the truth.
If The High Priestess is reversed, it's a warning that your relationship has hidden meanings and secrets. It could indicate that your partner is untrustworthy and keeping things hidden from you, such as their true feelings.
10 of Swords
The 10 of Swords is not a card of cheating, but it is not a good omen to get in a love situation as it can mean betrayal and serious problems to be resolved. At the very least, it indicates change is needed, and it can suggest the end of a relationship, divorce, or separation.
Get a tarot reading at California Psychics
Tips on Cheating Tarot Readings
Be Ready to Hear the Truth
The thing to be aware of with tarot cards is they won't lie to spare your hurt feelings. So if you don't want an honest and truthful answer, then rephrase your question and ask something else.
Psychic platforms feature experienced psychics specializing in love and relationship, offering valuable insights into your relationship dynamics and guiding you in making informed decisions for the future. These psychics possess deep compassion and empathy, engaging in a conversation with them can be highly beneficial, as they lack emotional involvement unlike yourself, which makes them capable of assisting you to step back.
Don't Rely on a Tarot Reading Alone
If you pull any of the cards on this list, it is time for some self-reflection and honesty. Take time to think, observe, and gather your thoughts together. If you are feeling especially anxious, talk to a professional and get their advice.
Talk to Your Partner
Having a open, genuine, and heartfelt conversation with your partner prior to making any decisions. Explain your feelings and give them an opportunity to respond. Bring out time to listen, understand their perspectives and grasp the essence of what they are saying.
Stay composed and avoid allowing your doubts to evolve into fear, resentment, or distrust. It may or may not be infidelity issue, if both of you are unable to communicate or trust in each other, it's likely that underlying issues need your attention.
Are you currently grappling with doubts or concerns regarding potential infidelity? Consider seeking guidance from a professional psychic about your fears. The platforms listed below feature expert psychics specializing in love and cheating matters, and they even offer enticing introductory deals to kick-start your journey.
Get love advice at California Psychics
Best Online Psychic Sites for Cheating Tarot Readings in 2023
1. California Psychics — Best Overall for Quality Tarot Card Readings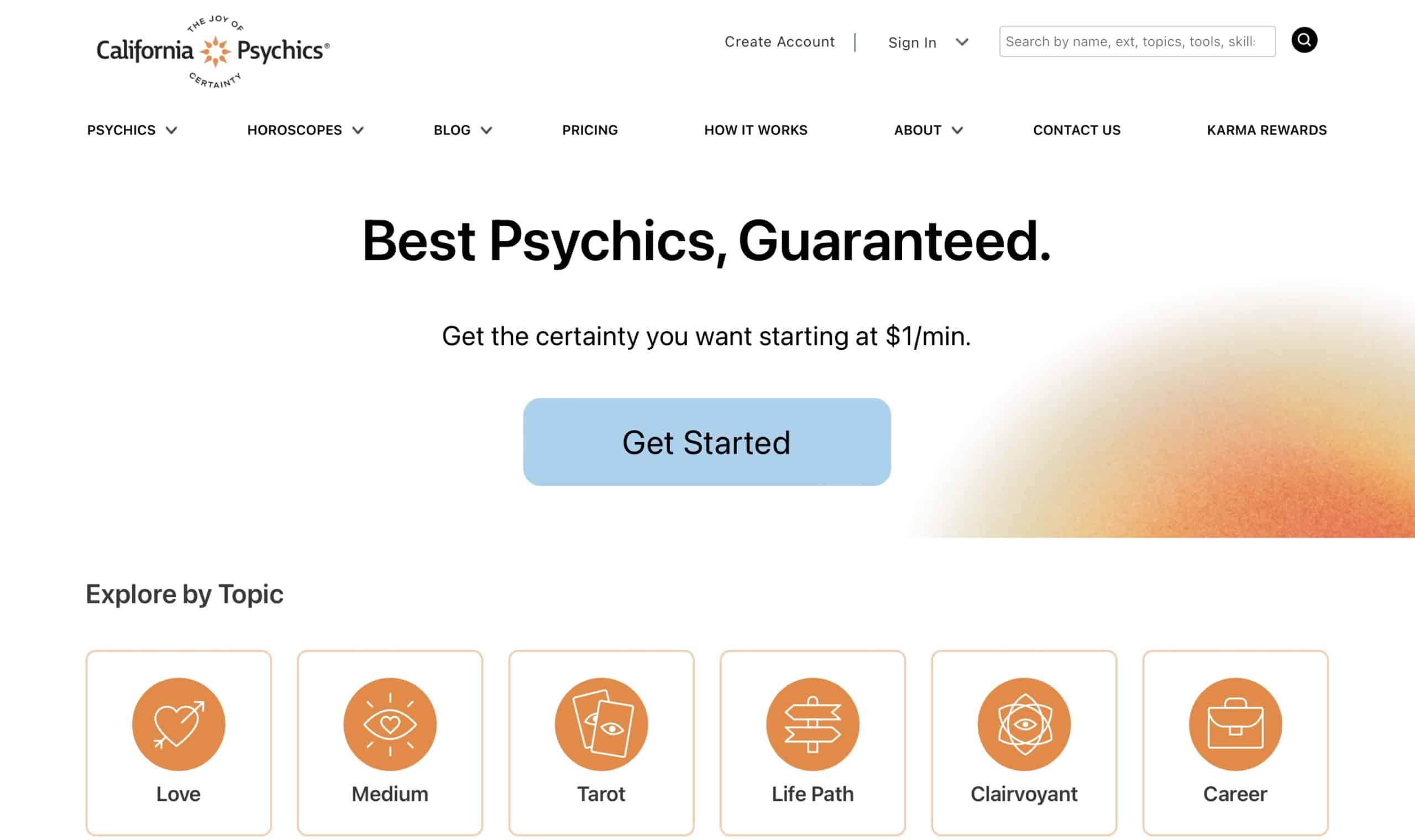 485+ love and relationships psychics available
Readings by phone call or online chat
Starting rate of $1 for new users
User-friendly website with many features for ease of use
100% safe with satisfaction guarantee
California Psychics is the best overall site for cheating tarot readings. It has almost 500 love psychics available, and these are carefully screened to ensure accuracy and quality. For extra peace of mind, there's a satisfaction guarantee and a 24/7 customer support team on hand.
I found it easy to search for a cheating tarot reader, as the website is so user-friendly. It has features like a filter, matching quiz, and various sorting tools to help you navigate straight to the psychic you need. You can view their schedule, see your position in the queue and any waiting time.
You can connect by phone or online chat, and some readers accept direct messages, and there's a mobile app, too, so it's easy to arrange readings from anywhere you choose. I found it very easy to arrange a reading on California Psychics, as you can choose to request a callback or book a specific time that suits you.
In terms of pricing, you can choose a 20-minute introductory reading package that best suits your needs, with rates as low as just $1 minute. Unfortunately, you can't use the introductory offer with any of California Psychic's premier mediums, though I didn't find this an issue as you can use the deal with plenty of its other tarot readers.
2. Purple Garden — Enjoy Video, Call, and Chat Love Tarot Readings from Anywhere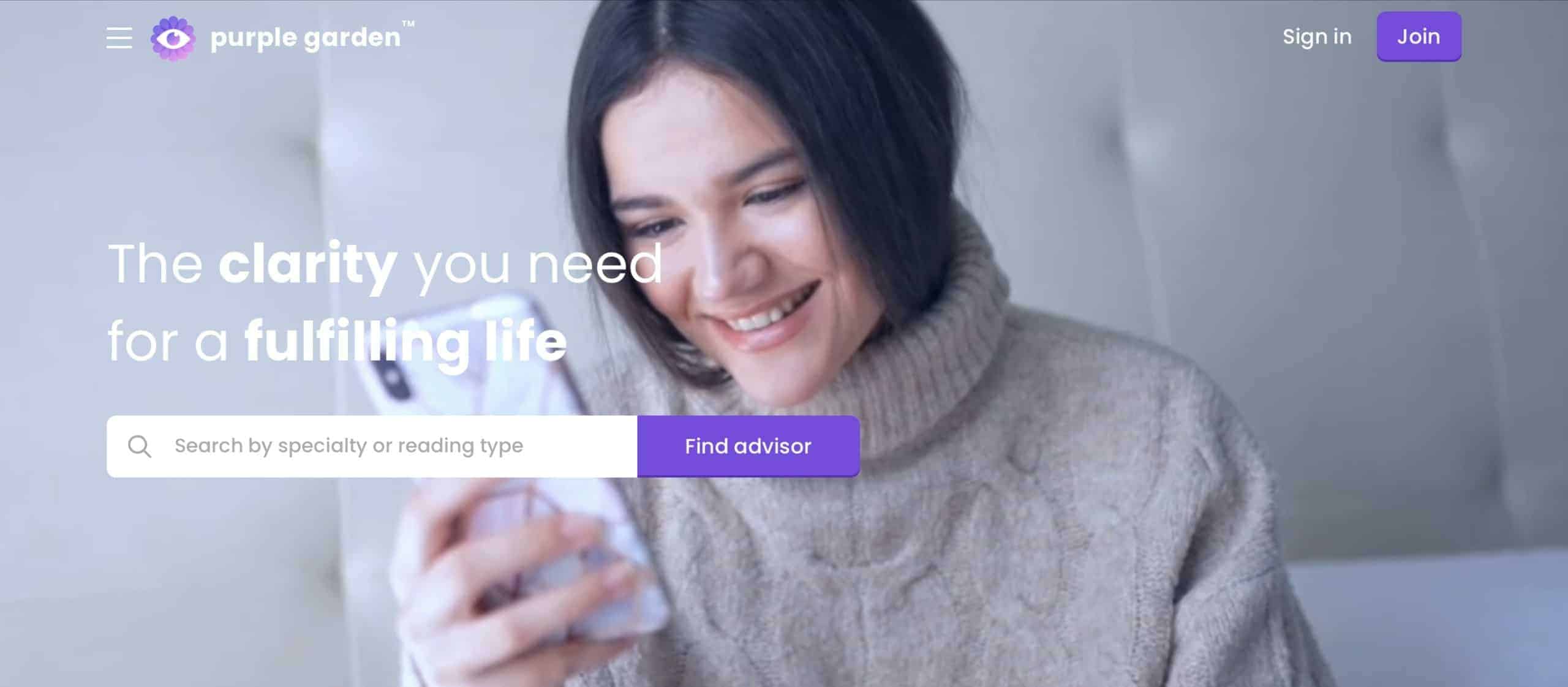 600+ love and relationship psychics on hand to speak to
Readings by call, chat, or video
Get a $10 credit matching bonus on your 1st reading
Detailed profiles clearly showing reader's specialities
Claim a refund if not satisfied
Purple Garden has everything you need to have a cheating tarot reading from anywhere. With its mobile app, you can relax and enjoy your reading whenever and wherever you want. You can enjoy your reading via call, online chat, or video.
I found it very convenient to find a psychic that met all my requirements. Although there are hundreds of love and relationship psychics to choose from, it is easy to sort through them using the filters and to choose a reader by looking at the profiles.
A lot of the psychics have thousands of reviews, which you can use to judge how accurate the readers are. I also like the sad or smiley faces that let me see at a glance how they are rated by others. The reviews and star ratings on Purple Garden are authentic, with both positive and negative reviews being shown for authenticity.
Purple Garden doesn't have any appointment function, however you can clearly see if advisors are busy or available. You can also try psychics easily, as new users get a $10 credit matching bonus, there are low regular rates, and you get 2% cashback. If you're unhappy with your reading, you can claim a refund or credit, as long as it's within 3 days.
3. Keen — Choose Your Tarot Reader with Confidence with the Find a Psychic Tool
245+ love and relationship psychics to choose from
Contact readers by call or online chat
Get your first 5 minutes for only $1
"Find a psychic" tool helps you quickly connect
Get a reading credit if you're not happy
Keen makes it easy to find the right tarot reader with its "Find a psychic" filter tool. This let me easily find a psychic that fit exactly what I was looking for without needing to spend hours reading profiles.
On top of this filter function, each of their highly rated and long-standing psychics' profiles shows their recent customer reviews. When used alongside the filter tool, I found it easy to sort through all the psychics. I especially like the "Endorsed Strengths" section, as I can quickly see what the psychics are good at and how others find their approach.
You can arrange a callback or chat at a time that's convenient, and I like how there's a handy 'alert me' tool that lets me know when my chosen psychic comes online. You can send a message or 'ping' too, at no cost.
Unfortunately, Keen doesn't offer refunds, but it does offer credits you can use toward your next reading. New users get competitive regular rates, an introductory offer of 5 minutes for $1.
4. Psychic Source — Quickly Filter Out Tarot Readers Experienced in Cheating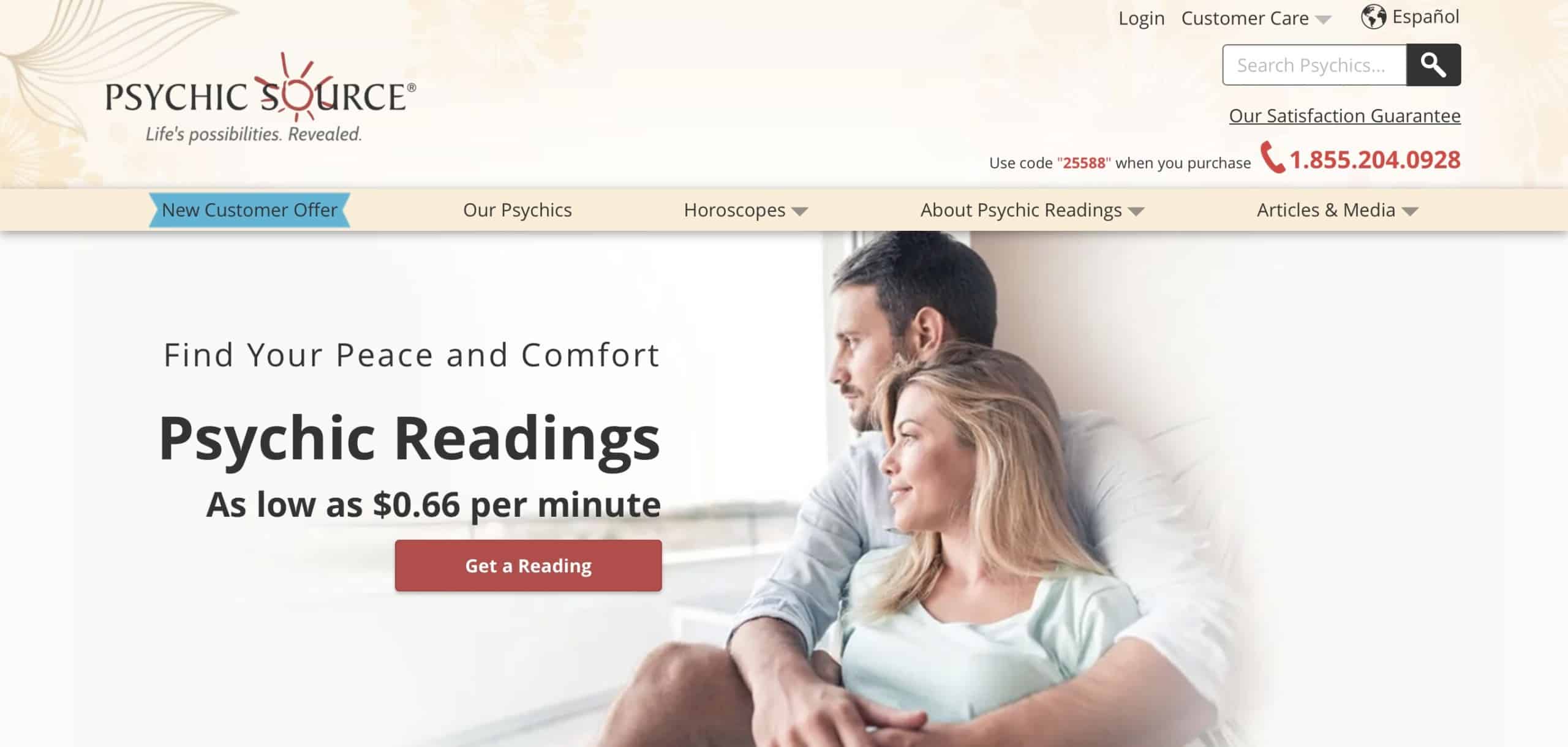 115 cheating hearts psychics available
Readings available by phone call, live chat, and video
Rates from just $0.66 per minute for new customers
Clever website with scheduling function
Claim another reading if you're not satisfied
Psychic Source is great because its' website lets you filter out the tarot readers who can help with cheating from the "Subjects and Expertise" category. I really appreciated being able to choose a psychic with this kind of experience, and I felt less embarrassed about bringing up my situation.
I found the website easy to use, especially when it comes finding a reader. Booking a reading on Psychic Source is straightforward with the scheduling information, so it's easy to fit it into your diary, especially if you need a tight window due to other commitments.
The one downside of Psychic Source is that some tarot readers only offer call readings. While this isn't the best communication method for tarot, it's good if you're on the go. If you're still not sure, new users to Psychic Source get a $0.66 per minute introductory offer (up to 30 minutes), the first 5 minutes free, a rewards program, and the option of value packages. There is also a satisfaction guarantee if you're not happy with your reading.
5. PathForward — Peace of Mind Promise Guarantees a Quality Tarot Reading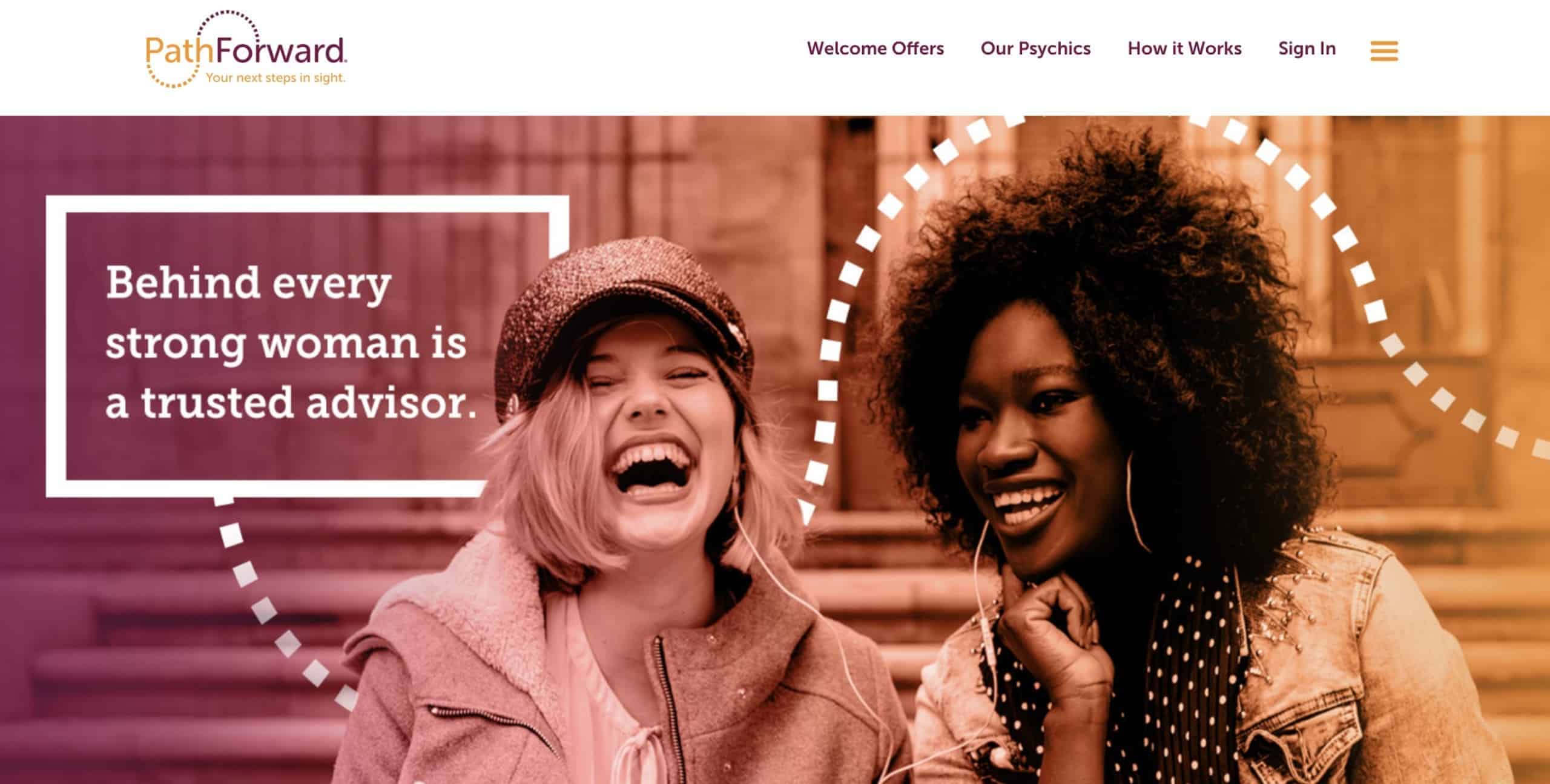 57 love specialist psychic readers
Connect easily by phone or chat
Rates from $0.83 minute
Great website with scheduling and appointments
'Peace of Mind Promise' guarantees you a refund if dissatisfied
PathForward offers a "Peace of Mind Promise" in case you don't like your tarot reading. This promise gives you the time spent on the reading back so you can contact a different psychic. However, it's doubtful you'll need it as PathForward only accepts 5% of applicants, showing it prefers quality over quantity.
I found the site clean, straightforward, and well laid out, and PathForward's psychic profiles show plenty of information on the results page. I find this really narrows down the time spent searching, as I don't need to keep going in and out of profiles. There are introductory messages that helped me get a feel for what their strengths are.
There are fewer psychics than other sites, but you only need one good reader, and it isn't too hard to find one on this simple but efficient platform. New users get 3% rewards on every purchase, plus there's simple flat fee pricing for all psychics.
FAQs on Tarot Cards That Indicate Cheating
Can a tarot card reading prove that my partner is cheating on me?
A tarot card reading alone cannot confirm that your partner is cheating, but it can help you get more information and confirm any suspicions you already have. Together with other signs of unfaithfulness, it will help you decide how to approach the subject with your partner and highlight where your relationship might need work.
If you are still uncertain whether there is something to be concerned about, get a reading with an experienced tarot psychic to help you unpick your partners' attitudes and behavior.
What are some other signs that my partner might be cheating?
These are all signs that your partner might be cheating. Look for two or three before jumping to any conclusions:
Your partner might be acting differently towards you, perhaps by being more critical or elusive.
They may start sprucing up their appearance all of a sudden, working out more or buying new clothes.
They could be acting suspiciously with their phone or technology, such as changing their passwords, deleting their browser history, or becoming extra guarded with their phone.
In extreme cases, they may even have a second phone they keep hidden in their car or briefcase and which gets turned off when they are with you.
They may start coming home late a lot or making excuses to spend time elsewhere.
Bizarrely, they might even accuse you of cheating as a way of trying to cover up their tracks and deflect suspicion away from themselves.
If you notice a few of these signs, you should contact an experienced tarot psychic for cheating advice.
Can my intuition help me in a cheating situation?
Your intuition can give you warning signs that something is amiss with your partner. These can be gut feelings, such as a strange feeling in the pit of your tummy or a sense of dread or foreboding. You may also have dreams in which your partner is with another or receive signs and synchronicities that cause you to become alert to the possibility.
You might sense your partner is acting differently towards you, as if they have a problem with you, for no apparent reason. Likewise, they might become overly attentive and loving as they try to cover up their tracks.
A qualified psychic can help you confirm what your gut is saying, so reach out for guidance if you need to. All the sites on this list have experienced tarot advisors who can help you work through a cheating problem.
Bottom Line
Cheating situations are messy and difficult to deal with. It can be hard to know if you are in one or what action to take if you suspect you are. Tarot cards can give you guidance and help you work through your emotions.
Tarot cards can also highlight where there is a cause for concern in your relationship. If one or more of these cards show up, or you feel uncertain about what to do now, you may need the help of an experienced tarot psychic.
My favorite site for getting a cheating tarot reading is California Psychics. With its intuitive mobile app, competitive rates, and massive pool of experienced love psychics, it has everything you need to get a top-quality cheating tarot card reading.
To summarize, the best online psychic sites for cheating tarot readings are…