Aligned Social is a new social media app that prioritizes mental health and wellbeing, authenticity, and human connection. It was founded by a group of female entrepreneurs and healers who wanted to create a platform free from the manipulation and censorship of the big social media giants. Aligned Social aims to empower users by providing health and wellbeing resources, posting prompts, and a zero-tolerance harassment policy. The team consists of Cassandra Shuck, a Shamanic healer; Jade Miller, an astrologer; and Kaylin Kustura, a psychology guru, each with their unique expertise and passion for promoting digital wellness.
In this interview, we sit down with Co-Founder, Jade Miller to learn about the app's unique features, including its focus on fostering positive connections and relationships between users, and integrating various wellness practices. Additionally, she discusses the team's commitment to user safety and privacy, and their vision for the future of the platform.
How did you become involved with Aligned Social and how has it evolved since then?
Well, it all goes back to astrology. I was on a Facebook group called "Women Empowering Women" or something similar. I don't usually go on Facebook because it's not a happy place for me, and I don't use it much for my own business. Social media has always been a pretty broken and barren landscape to me. However, I happened to be on this group, and I saw something that Cassandra had posted. It resonated right away because she's Cassandra, and I knew right away that it was different. I had this voice in my head, which I've learned to follow, and it said, "Message her right now and ask her if she wants a birth chart reading from you." I'd never done anything like that before, and she was a complete stranger, but I messaged her and asked if she wanted a reading. That was three or four years ago. We stayed in touch from that point on.
I found myself with my little business of reading birth charts laid off from corporate and needing collaboration with other people because that's in my chart. I don't work well as an island. I don't work well isolated. I need other people, accountability, and collaboration. I reached out to Cassandra, and she needed someone to take a sales position for her marketing company. So, I took that position, and things fell into place from there. Our team is all remote, so we try to get together in person as much as possible. When we were all in Florida together, we sat around the kitchen table and started dreaming up a better world. It started with social media, realizing it needed improvement. I want to burn down the school system, but let's start here. We started imagining and dreaming up this idea, and that's how I got involved. I made the decision to invest my own money and time, and the rest is history.
What sets it apart from other social networking platforms currently on the market?
What sets Aligned Social apart from other social networking platforms currently on the market is our commitment to building a bridge between technology and wellness. As someone who values the importance of technology in my daily life, I am grateful for the ability it provides me to connect with people all over the world. However, I also recognize the negative impact it can have on mental health and wellbeing. Aligned Social was created to prioritize mental health, authenticity, and human connection. We believe that social media should be a positive force in people's lives, and we're determined to provide a better way.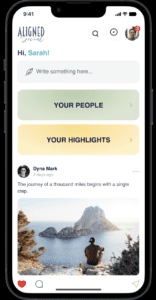 One of the unique features of the Aligned Social App is the focus on fostering positive connections and relationships between users. How do you facilitate this sense of community and encourage users to engage with one another in meaningful ways?
That's where we delve into the realm of AI, a world that I, like many others, know little about and find quite intimidating. However, we have a new approach to AI that we call 'compassionate AI'. Essentially, we have human touchpoints and users on the backend collecting data and information on what serves people and how to get them into their communities. The success of fostering positive connections and relationships among users will depend largely on their participation, as well as the Wellness Matrix Index and the AI we utilize. Building this program will require a significant number of users, and while I personally do not have a strong technology background or the expertise to explain how it works, I'm thrilled to be part of a team with individuals who possess beautiful and ingenious ideas to make it happen. So, I'm excited to be part of this journey as we explore this aspect.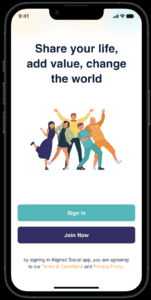 The app also integrates various wellness practices such as meditation, breathwork, and sound healing. How do these practices enhance the overall user experience, and how do you envision their evolution in the future?
At the heart of it, when users log on, we ask them how they feel and provide a frequency, measured in Hertz, that clears their chakras and aura. We'll be introducing little features like this that the user might not even be aware of, but which ultimately contribute to their sense of wellbeing on the platform. Additionally, meditations and breathwork are readily available and included in the toolbox without any extra cost, making them easily accessible to users. All these features make it an attractive platform that users can return to, feeling supported in their wellness journey. As we continue to evolve, we'll explore new wellness practices that can be integrated into the platform to further enhance the user experience.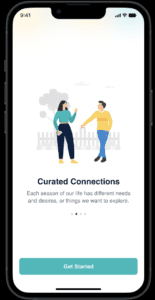 In recent years, there has been growing concern about the negative impacts of social media on mental health and well-being. Could you please explain how the Aligned Social App addresses these concerns and how you prioritize user safety and privacy?
At Aligned Social, we prioritize user safety and privacy above all else. We never sell user data to third-party users or the government, ensuring that user privacy is always protected. We have assembled a team of brilliant minds who are experts in their respective fields, and they are constantly exploring new ways to improve our platform's safety and security.
Our team is committed to creating a safe and inclusive environment for all our contributors. We believe that everyone deserves to be treated with respect and dignity, and we are determined to eliminate bullying and harassment on our platform. We are continually exploring new ways to enhance user safety, and we are confident that we will continue to find innovative solutions to keep our contributors safe.
While we are still in the early stages of development, we are confident that we can create a thriving platform that prioritizes user safety and privacy. We believe in abundance and are committed to creating a sustainable revenue model that doesn't compromise our users' wellbeing.
To check out Aligned Social visit