Many people don't think psychics are real until they get a reading from an experienced psychic who convinces them otherwise. I can relate — I used to be skeptical about psychics too.
But, after getting psychic readings from both experienced advisors and flat-out frauds, I can tell you that there are, in fact, some real psychics out there. I've put together some tips to help you separate the real psychics from the fakes.
My findings revealed that the best psychic readings are from California Psychics. You can meet California Psychics' advisors through introductory videos and customer reviews.
In a Rush? Here Are 3 Tips To Spot a Real Psychic
Research the psychic and website: Psychic websites like California Psychics have a profile for each of their psychics. The higher the number of readings, ratings, and positive reviews, the more likely you're dealing with a real psychic.
Detailed and clear readings: If a psychic seems to rely on clues and uses your answers to craft vague statements, then you're probably dealing with a fake psychic.
Relying on your gut feeling: Your intuition is one of your psychic abilities — in the end, your "gut feeling" is the most important clue of all.
What Exactly Is a Psychic?
Psychics are people who are gifted with extrasensory perceptions or ESP. This means psychics can sense things that most people can't — things in the spiritual plane that help them predict the future, communicate with passed loved ones, or simply give you accurate advice.
Psychics are not magicians or supernatural beings. They are humans like you and me, but they have been gifted with abilities and skills, and the knowledge of how to use tools such as divination to help others.
How Do Psychic Abilities Work?
Most psychics get answers to your questions through telepathy and/or clairvoyance. Both involve transferring information via senses beyond the physical, beyond what we are naturally accustomed to. Telepathy mostly deals with human-to-human transfers, while a clairvoyant can also get information from objects, images, locations, etc.
Psychics can also be gifted with intuition, mind-reading, aura reading, and more. Gifts like these help psychics predict the future, tell you about your past, answer your questions, and communicate with those in the spiritual plane.
But even beyond these gifts and abilities, psychics are differentiated based on the tools they use as well as the types of readings they offer.
Psychic Mediums: Specialized in communicating with the spiritual realm. Mediums typically provide answers about your loved ones who have passed away, helping you get closure or tie up loose ends.
Clairvoyants: Have the ability to see other people's thoughts, feelings, and fantasies. They can have insight into past and future events as well as interpret symbols to unravel the client's concern.
Fortune tellers: Specialize in predicting or telling the future. They typically use tarot cards, crystal balls, astrology, numerology, or even your palms.
Remote viewers: Can locate lost items or loved ones. From a distance, remote viewers can help you find whatever you have lost, whether physical or emotional.
Tarot readers: Answer a variety of questions regarding your love, professional, or spiritual life based on the cards they pull.
Astrologers: Analyze experiences based on on the movement of the planets and other celestial bodies. They are guided by the Hermetic principle "as above, so below."
Techniques That Fake Psychics Use
People who seek advice from a psychic are putting themselves in a vulnerable position. After all, you're placing your hopes in a spiritual advisor who seems to have the answers.
As a result, you're likely to believe whatever your advisor tells you, becoming susceptible to giving sensitive information and financial rewards just to get clarity. Knowing the techniques used by fake psychics will keep you on your toes during your next reading.
Upselling Clients to Buy Specific Charms
Fake psychics use broad, general affirmations to manipulate you. The most typical is suggesting that your current problem is the product of an evil curse. As a result, they trick you into buying their expensive charms, amulets, or magic spells to help you break this curse.
Barnum Statements
The Barnum statements refer to the psychological phenomenon where people describe vague and general statements that sound highly accurate. Fake psychics use Barnum statements to describe your personality, even though most people also relate to them.
Examples include:
You have a great need for other people to like and admire you.
You have a tendency to be critical of yourself.
You have a great deal of unused capacity
While you have some personality weaknesses, you are generally able to compensate for them.
Convincing Customers to Reveal Important Information
Most people seeking psychic advice are willing to share their concerns with their spiritual advisors. However, fake psychics will tell you they must share intimate details in order for them to give clear guidance.
The psychic then uses this personal information to provide a more specific, but just as inaccurate, statement about you.
Blaming the Client
When psychics use general claims, they risk missing some of them, raising their client's suspicion. For example, let's say that your medium psychic is talking to your deceased grandpa only to find out they are alive.
During these situations, the psychic will claim that you are not engaged enough in the reading. That way, you are the one to blame for the negative results, not the other way around.
Reading Body Language
This cold reading technique is used by most fake psychics. They read the subtle details of your speech and body language to make specific assumptions.
As a result, they take advantage of your psychological vulnerability and base their advice on your subconscious actions.
How to Spot a Fake Psychic
I'd like you to be aware that most fakes engage in cold readings by picking up on hints you reveal. This could include your body language, attire, cultural background, among other elements. It's essential to recognize that these so-called psychics might use this information to make vague statements that could seemingly relate to a lot of individuals in your shoes.
Many fraudulent psychics are exposed sooner or later. A popular example is Ms. Cleo, the self-proclaimed Jamaican mystic who flooded late-night television with ads about her psychic abilities.
Not only did she turn out to be a fake psychic, but she was also a fake Jamaican, born in California. She ended up settling out of several courts in different states for her fraudulent practices.
Unfortunately, fakes like Ms. Cleo makes skeptics even warier about whether psychics are real.
Here are some tips to help you differentiate a scammer from a real psychic:
Research the Psychic and Website
If you're getting a psychic reading online, then you already have a lot of information available to help you make an informed decision.
Psychic websites have a profile for each of their psychics. These profiles include the number of readings a psychic has conducted, ratings and reviews, and details about their experience and abilities.
Utilizing these resources can assist you in investigating a psychic before making a payment for a session. The greater the number of readings, ratings, and positive feedbacks, the higher the likelihood that you are engaging with a genuine psychic.
Trustworthy psychic websites also offer satisfaction guarantees. The better the satisfaction guarantee is, the more likely you are to deal with a trustworthy psychic website.
Watch Out for Overly Vague Psychic Readings
Remember, psychics are not wizards or supernatural beings, so even real ones might not be 100% specific all the time. However, a psychic reading that is just too vague is likely fake.
If a psychic seems to rely too much on clues and uses your answers to questions to craft vague statements, then you're probably dealing with a fake psychic.
To sum it up, if the reading sounds like it can apply to anybody, then the psychic is probably not real.
Check the Customer Reviews
Prior to scheduling a session with your spiritual advisor, first, take some time in reviewing customer feedback. While this seems logical, a certain level of eagerness exists among individuals seeking answers, causing them to hastily engage with the first psychic that pops up on their screen.
Trustworthy psychic websites offer clients reviews and ratings to help them track their experiences. If a psychic has many positive reviews, they are not looking to scam you.
Getting to Know Hot and Cold Readings
If you are new to exploring the psychic industry, you might not be aware of the difference between an authentic reading and a deceptive one. Regular seekers of psychic advice are familiar with the tactics fake mentalists use, such as employing hot and cold readings to mislead their clients.
A "hot psychic reading" refers a so-called psychic who has knowledge of something about you. They may have done some research on your life behind your back or overheard a private conversation.
A "cold reading" refers to the ability to read your body language and make assumptions based on your age, clothing, cultural background, or sexual orientation.
All About the Money and Hidden Fees
Psychic readings can get really expensive, even when performed by a real psychic. But fake psychics take it several steps further by hiding extra fees and using additional methods to get more money from you.
For instance, a fake psychic might use scare tactics to get you to keep coming back for more readings. As mentioned above, a fake psychic might tell you about a curse that requires several readings to get rid of. They might even require you to purchase their products, like candles or oils, to make extra money.
Use Your Intuition
Remember, most people (if not all) have psychic abilities, even when they are not aware of it. Your intuition is one of your psychic abilities — in the end, your "gut feeling" is the most important clue of all.
Did the reading feel real or not? Did you have that jaw-dropping moment? That "how could a stranger have known that" moment? Did you feel a presence or energy — whether good or bad?
Also, psychics are not there to scare you into coming back. Real psychics will help you feel comfortable and open. They provide guidance, not extortion. If a psychic reading leaves a bad taste in your mouth, there's a good chance you've come across a fake psychic.
Best Sites to Find Real Psychics Online in 2023
1. California Psychics – Best Overall for Psychic Readings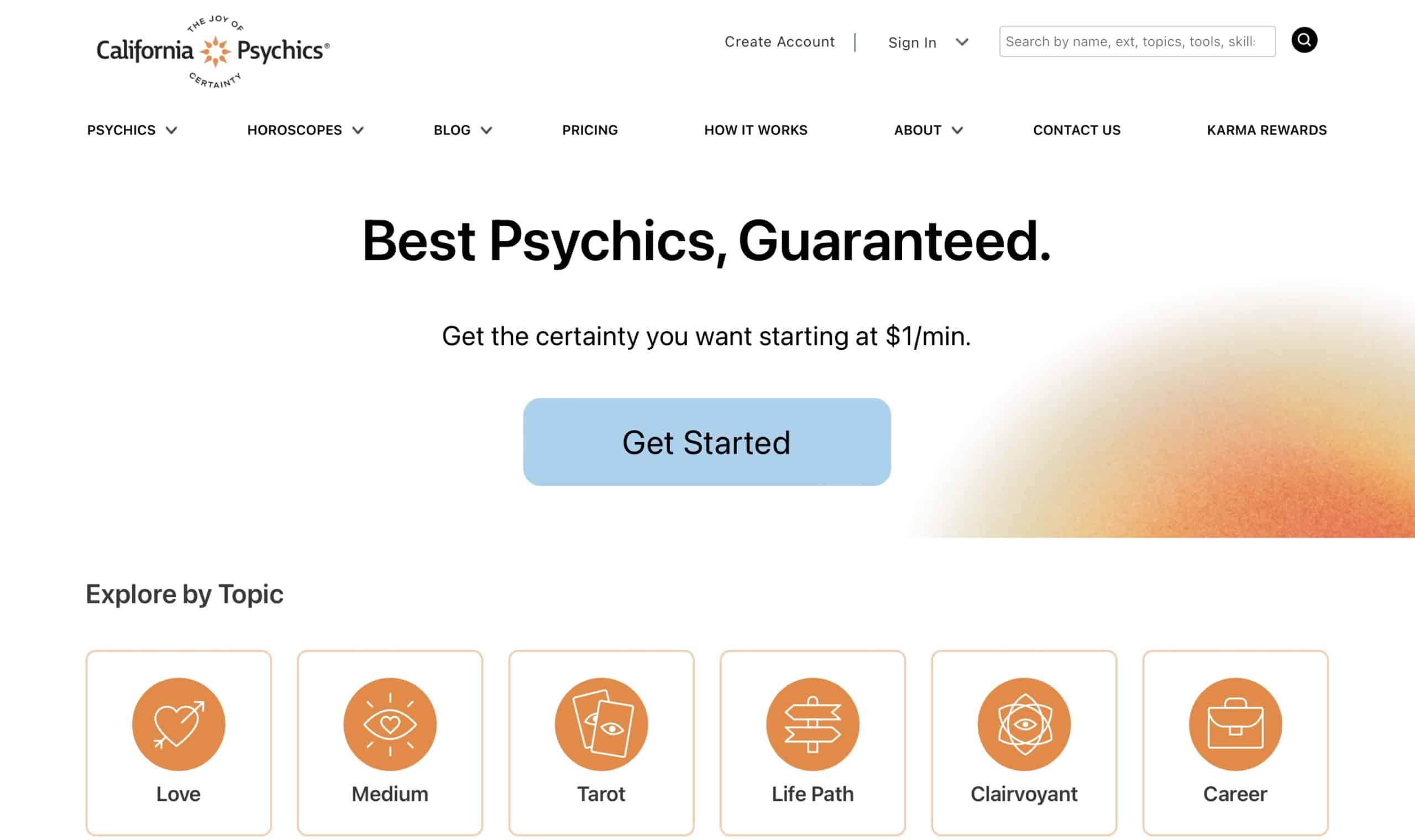 Wide range of psychics, reading types, and communication methods
$1 per minute introductory rate
Rigorous medium screening process
Mediums available 24/7
California Psychics is one of the most reputable sites for trustworthy psychic readings. It has a wide pool of thoroughly-screened psychics to choose from, most of which are 5-star rated and hold rave reviews from their clients.
It offers an extensive range of readings, ranging from tarot, pendulum, and astrology readings, to dream interpretation, crystals, and mediumship. Readings are available by chat, video, or phone call, so you can choose how personal to be with your psychic. I was happy to see you can schedule your California Psychic reading. This let me choose exactly when I'd be free and in the right mood for the best reading.
Once you create an account, you can filter the type of readings you're looking for to meet a psychic that specializes. I was looking for an Astrology Reading at the moment and found a good amount of astrology psychics available thanks to the search tool.
My psychic reading felt intimate and personal because California Psychics doesn't use preprogrammed responses. My advisor took the time to understand my query without rushing to give me vague or general statements. My psychic took a thorough and accurate look at my specific situation without forcing me to reveal important information.
I was skeptical about psychic readings and took every precaution to ensure that my advisor did not rip me off. However, my medium was highly professional and didn't use any of the techniques used by fake psychics, offering me guidance without manipulating my judgment.
In addition, California Psychics offers a satisfaction guarantee. This policy encouraged me to get a risk-free reading that made me feel more confident.
2. Purple Garden – Enjoy Psychic Readings on the Go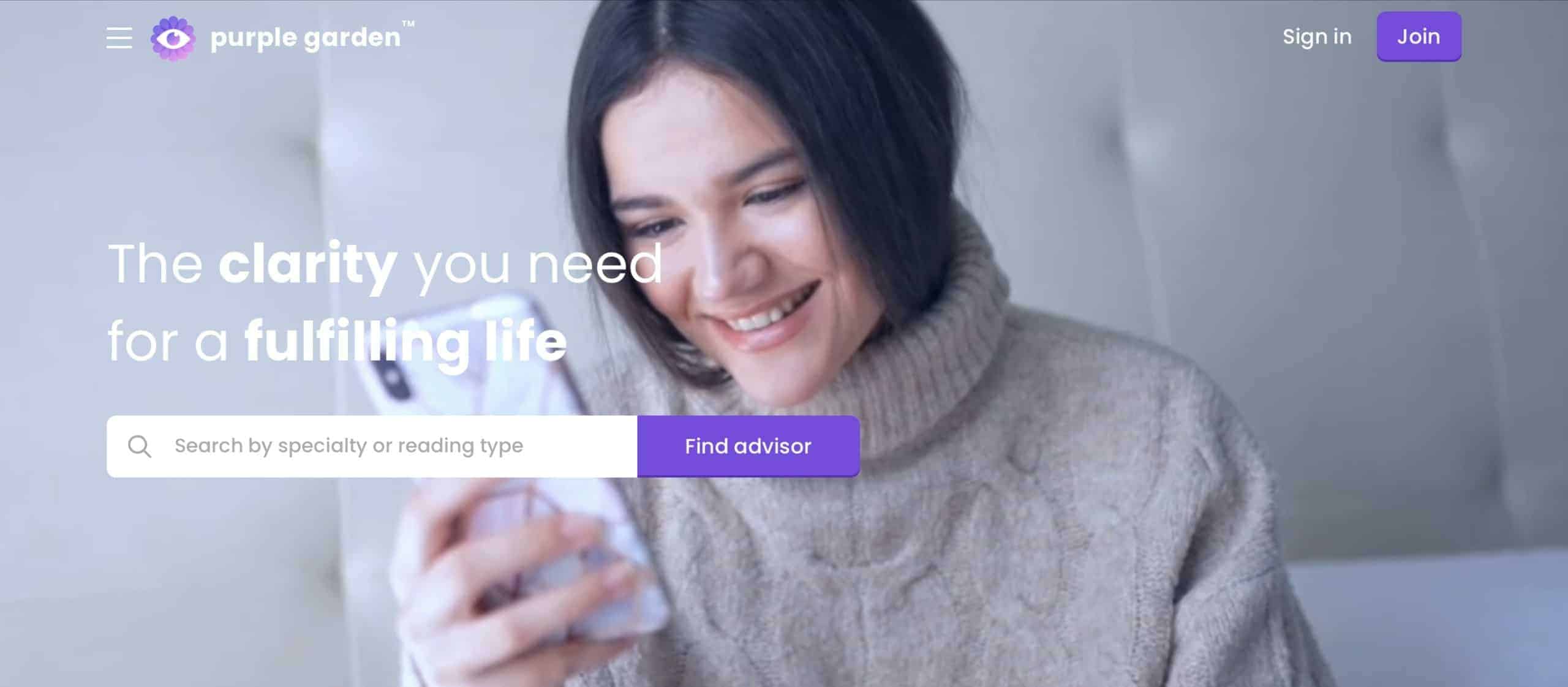 Wide range of reading types and communication methods
$10 credit towards your first reading
User-friendly mobile app
Alerts that notify when your favorite medium is available
Purple Garden lets you get psychic readings on its well-developed mobile app that connects you with your psychic on the go. This was a perfect fit for my hectic lifestyle, which was one of the reasons why I was looking for spiritual guidance.
I easily created an account, selected the type of reading I was looking for, and decided if I wanted my consultation via chat, call, or video. In my case, I felt more confident contacting my Purple Garden psychic through video call.
Purple Garden includes an introductory video for each psychic, which helped me check their background and customer reviews. This allowed me to find a trustworthy psychic with plenty of customer reviews attesting to it. Moreover, watching how the psychics introduced themselves helped me come to a faster decision.
My medium psychic didn't give me overly vague responses or use additional methods to upsell specific charms or magic items. They helped me with my query and gave me a sense of empowerment once it was over.
3. Keen – Use the Find a Psychic Tool to Pick The Right Advisor
Different communication methods to choose from
5 minutes for $1 for new customers to avoid frauds
Helpful user reviews
"Find a psychic" tool
Keen's "Find a Psychic" tool helps you find a trustworthy psychic reader easily. I created an account and choose the type of psychic I was looking for, the communication method, and my price range.
I found Keen's filter tool useful because it quickly narrowed my search based on customer reviews and ratings. The filters instantly allowed me to choose an advisor with more than 20 years on Keen, making me feel more confident about their reliability. Finding the most appropriate psychic for you will increase the chance of having a satisfactory reading.
This psychic site is home to skilled and trustworthy psychics who won't try to manipulate your decisions. In my case, my advisor kept a professional approach and gave me straightforward answers to my concerns.
If you still don't know which psychic to choose, you can rely on helpful reviews for every advisor on Keen's list. This will give you a better insight into their background and skills, guaranteeing you'll meet a trustworthy advisor during your reading.
Bottom Line
It is natural to question the skills and forces that tradition tells us don't exist. However, the fact that we question whether psychic powers are real shows that we are open to the possibility that they are.
Believing in psychics and mystical abilities is a personal choice. Only you can determine if psychics are real, and the best way to decide is to try a psychic reading for yourself.
Thankfully, many psychic websites like California Psychics offer a satisfaction guarantee, so you can experience it for yourself without jeopardizing your savings. Just keep in mind that fake psychics also exist, so use the tips I've provided to separate the frauds from the real psychics.
To summarize, here are the best psychic sites for real readings