Job interviews can be daunting, as being caught off guard while attempting to make a good impression can make even the most self-assured person nervous. One way to impact the outcome of your job interview is to use crystals, which are spiritual gifts that can provide divine assistance. But the question is which crystals should you use?
This guide will tell you everything you need to know about crystals, so you can use them to your advantage in a job interview. But if you prefer further guidance on your career, you can speak to an online career psychic from a site like California Psychics. The site lets you get a career reading for $1 per minute with some of the best career psychics who use crystals.
5 Best Crystals to Use for Your Next Job Interview
1. Citrine
Citrine, which is prized for its ability to inspire creativity, happiness, and clarity, can help boost your self-worth, confidence, and courage as you prepare for your job interview.
Citrine stimulates the Solar Plexus and Sacral Chakras and clears blockages. These chakras promote rational thought and creativity. Both of these are excellent qualities to have during an interview. Having citrine on hand during an interview will help you answer questions clearly and concisely.
2. Pyrite
If you are feeling unworthy of this job opportunity, Pyrite is the crystal to turn to. It can easily drain all your negativity and help you feel more positive, allowing you to manifest more success.
As you walk into your interview, you will feel upbeat, energized, and clear-headed. Keep a piece of pyrite in your pocket at all times and use it to recenter yourself whenever negative thoughts arise.
3. Aventurine
If you frequently feel as if luck isn't on your side when going into an interview, it's time to add Aventurine to your crystal collection.
Aventurine is regarded as the stone of opportunity, making it one of the best success crystals. Working with this stone also gives you the ability to create your own luck, so wearing a piece of it as a pendant is a great idea. You will feel much more optimistic, confident, and capable of dealing with even the most difficult interviewer.
4. Tiger's Eye
Look no further than Tiger's Eye if you need to shift your mindset from anxious to confident.
This brown and gold crystal can provide you with the courage, determination, and willpower you need to succeed at your upcoming interview. It will assist you in overcoming your fears and moving past any reservations you may have, instead, guiding you to take bold action as you pursue this new opportunity.
5. Malachite
Job interviews can be so stressful that one's emotional stability suffers. Because malachite is the stone of transformation, it will help rebalance the scales in your favor. It can transform the negative into the positive in terms of emotions, finances, and health.
Malachite is commonly worn as an amulet, so put one on before leaving for your interview and notice how you become calmer and more focused. It is also a money magnet and can assist you in negotiating a very good salary.
If you need some extra reassurance and guidance, it also helps to speak to a career psychic before your interview – California Psychics is highly recommended for this. Plus, you can speak to a psychic for just $1 per minute as a new customer.
Best Sites for Career Readings in 2022
If you're stuck in a rut and need advice for an upcoming job interview, a psychic career reader can provide assistance. All of the psychic reading sites below have several career psychics who can use crystals to help find the answers you seek.
1. California Psychics — Best Overall For Career Readings With Crystals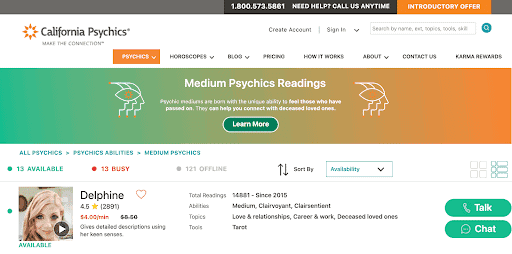 All psychics must pass several strict tests
Psychic matching tool
Backed by a 100% satisfaction guarantee
Can schedule appointments
Karma Rewards Program provides free $20 credit
California Psychics' advisors must pass several assessments and a background check before approval. Although there wasn't much information given about these tests, clients regularly praised readers for their accurate and precise predictions. This gave me the confidence to use the site's services.
To help you get started, the site has a psychic matching tool designed to help you find a compatible reader. This feature lets you filter psychics by price, topics, tools, ability, and style. After inputting my preferences, the tool matched me with a great advisor who clicked with me.
The site's 100% satisfaction guarantee is another thing that strengthened my confidence. According to the company, clients can request a refund if they receive an unsatisfactory reading. While you are limited to only 1 refund a month, this is still a fair deal and protects you from losing money.
Besides that, California Psychics also lets you schedule appointments, which is highly convenient if you're on a tight schedule. I used this feature several times to book sessions with tarot card readers. Doing this ensured that I always had access to my favorite psychic advisor.
Although the site doesn't support video readings, you can connect with psychics at an affordable rate via live chat or email. For example, top-rated psychics are available at just $4 per minute, which is one of the lowest rates.
2. Purple Garden — Career Readings With Crystals Through Video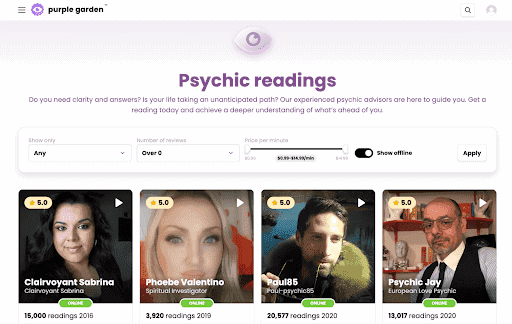 Offers video readings
Rates start at $0.99 per minute
Newcomers are eligible for free $10 credit
Transparent review system
5% cashback on all readings
Purple Garden allows you to connect with psychic readers who use crystals via video. This gives you a whole new way to reach out to your chosen psychic advisor. I enjoyed my session with my psychic, who made several predictions that came true. And if you don't feel comfortable with a video reading, you can also opt for a phone or live chat reading.
The rates offered by the site are one of the most affordable around. You can get a psychic reading for $0.99 per minute, which is something you don't see very often. Don't let the price tag fool you, though; the psychics on Purple Garden are all genuinely gifted. I took advantage of this offer to explore the many readers on the site.
When you deposit $10 or more on the site, you receive $10 worth of free credit. There are no restrictions, and you can use these credits for a session with any psychic. I used this offer to book a tarot card reading with one of Purple Garden's top readers. Unsurprisingly, the reading I got was highly accurate and precise.
While the site doesn't allow you to leave a review for readings under 5 minutes, you can always filter psychics according to their ratings. This feature can protect you from connecting with a low-quality advisor.
3. Keen — Get The First 3 Minutes of Your Career Reading With Crystals For Free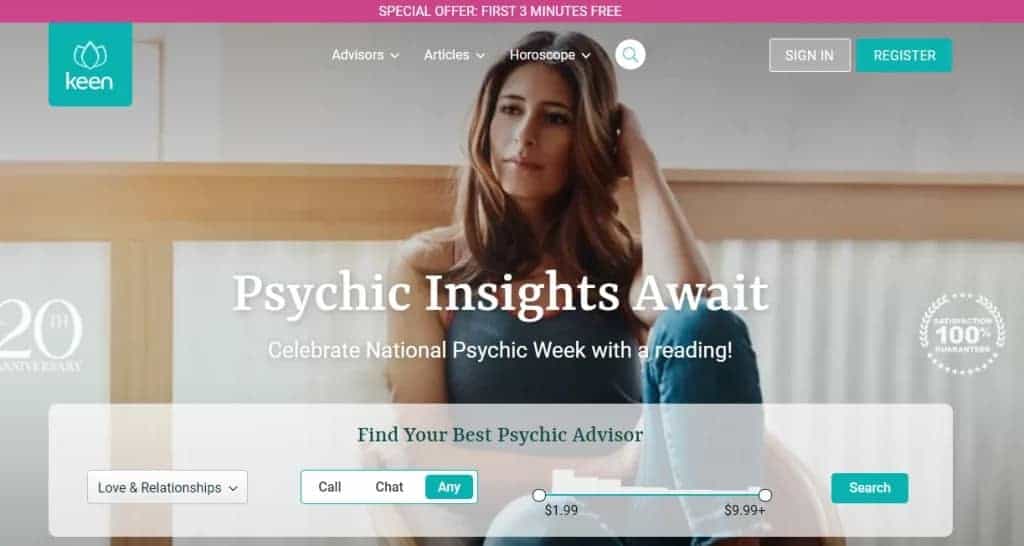 Attractive offers for newcomers
Backed by a 100% satisfaction guarantee
Helpful filtering system
Option to schedule psychic appointments
Large roster of gifted readers
If you're new to Keen, you can choose to get 3 free minutes or buy 10 minutes for just $1.99. This is an excellent way to explore Keen's roster of psychic advisors without risk. I used my 3 free minutes for a session with a top-rated psychic.
Another thing I like about the site is its 100% satisfaction guarantee. According to Keen's policy, you can request a refund if you're dissatisfied with your reading. This shows me that the site is confident that its advisors can deliver quality psychic readings. All of which translates into better, more accurate tarot card sessions.
Thanks to its filtering system, Keen makes it easy to find a psychic that suits you. The system lets me filter psychics by niche, contact method, and price. And this is what helped me reach out to a tarot card reader I could connect with.
I was slightly disappointed that the site does not support video chat. But Keen makes up for this by letting you schedule psychic sessions at a time of your choice. So, you can schedule a session with your favorite advisor if you're too busy.
Bottom Line
Crystals are extremely potent divine tools. The key to getting the most out of them is to meditate and set your intentions so that they can get right to work manifesting your heart's desires. The five crystals listed here all have different powers, so pick the one that best suits you and you'll have an advantage over other interviewees.
However, don't be discouraged if it takes more than one try; the universe closes some doors to open the perfect door for you. It also doesn't hurt to have some extra guidance and assistance though, as you can get an accurate and affordable career reading from a site like California Psychics.
To summarize, the best sites for career readings are…