Waiting for a soulmate connection can get daunting rather quickly, but thankfully spiritual tools like crystals can help bring you together with your match. The trouble is that with so many crystals out there, narrowing down the right one for your needs is rather overwhelming. And even when you've narrowed it down, you're probably wondering if you're even working with your crystals correctly.
Throughout the course of my personal and professional spiritual practices, I became familiar with all sorts of crystals. And as a serial romantic, I quickly became intrigued with exploring the best types of crystals for love. Having this knowledge also helped me support my clients when they encountered blocks in their love lives.
To keep things simple, I've compiled a list of the best crystals to help you attract a soulmate. The list mostly focuses on each crystal's properties and recommended usages so you can determine which one is suitable for your situation.
10 Best Crystals to Attract Your Soulmate With Ease
When it comes to manifesting, selecting crystals that align with the energies you're hoping to bring in is important. Consulting with this list and selecting the crystals you resonate with should aid in manifesting your soulmate.
1. Rose Quartz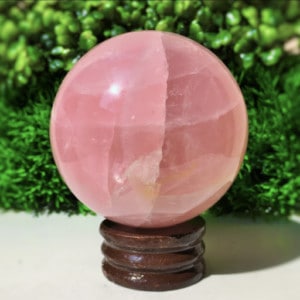 Rose Quartz is a powerful stone for attracting soulmates due to its ability to open and heal the heart chakra. Working with Rose Quartz will help you release emotional blockages caused by past wounds and fears related to love. Ultimately, Rose Quartz can help you clear out the negative energy blocking you from attracting your soulmate.
Besides clearing the path for love, Rose Quartz can help you nurture a deep sense of personal love and self-worth. Embodying this energy will draw in partners who see your worth and want to cherish you. This crystal's ability to radiate the frequency of love, harmony, and affection will also make you more attractive to those that match this vibe.
2. Rhodochrosite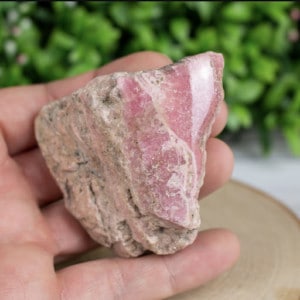 Consider working with Rhodochrosite if you want to manifest a soulmate that's ready to share love, warmth, and emotional intimacy. You should also use it to boost intuition to discern between your soulmate and who isn't properly, as it helps if you have difficulty seeing who's right for you.
Additionally, Rhodochrosite projects your love inwards and helps you reflect on your inner child and past-life traumas that may be affecting your love life. With this crystal, you'll see things clearly and get the chance to become whole within yourself. Not only that, but Rhodochrosite will ensure that you accept your soulmate when you cross paths.
3. Malachite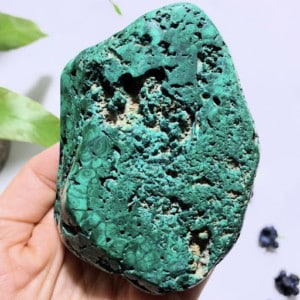 Malachite is a stone of transformation suitable if you're after a major shift in love. Working with it can support you in gaining awareness of the patterns, beliefs, and behaviors that hold you back from attracting your soulmate. It'll bring insight into the energies that negatively affected your past relationships so you don't repeat the same cycles.
All in all, Malachite encourages you to embrace change to make energetic space for your soulmate to enter your life. And when you're feeling down about attracting your soulmate, it'll help boost your confidence. The radiant effect Malachite has on your aura will allow you to attract a soulmate that values you for your authentic self.
Remember that it could be beneficial for you to connect with a love psychic could be beneficial if you need further guidance and confidence in embracing change.
4. Green Aventurine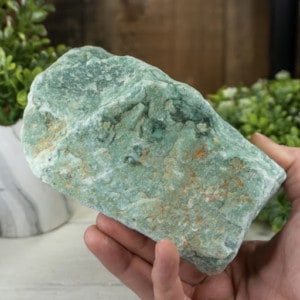 Green Aventurine can brighten up your life when you need some optimism and joy in love. It's for you if you've been pessimistic about attracting your soulmate. Ultimately, Green Aventurine shifts your energy so you can become a magnet for positive experiences like soulmate connections.
This luck crystal aligns you with fortunate and serendipitous experiences like unexpectedly meeting your soulmate. Green Aventurine encourages you to remain open to possibilities and opportunities in love. Working with it will give you the courage to step out of your comfort zone and increase your chances of meeting your soulmate.
5. Citrine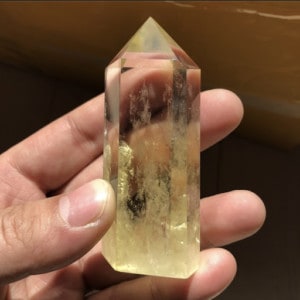 Citrine boosts your manifestation power by aligning your thoughts, emotions, and actions to the frequency of your soulmate. Using it will bring stability and balance to your emotional body. By uplifting your spirits, your aura will become a magnet for a soulmate who's also emotionally balanced and aligned.
The energy of Citrine can manifest prosperous opportunities, such as an abundant soulmate. And at best, a soulmate that can welcome unconditional love, happiness, and fulfillment into your reality. With Citrine by your side, you can boost the good vibes and transform your life with the soulmate of your dreams.
6. Morganite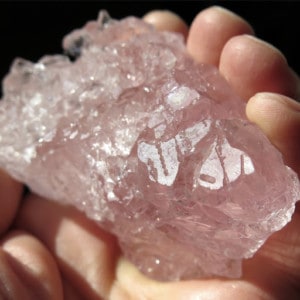 Attracting your soulmate lies in your ability to sit in your divine feminine energy so you can receive. But, if you have a hard time with this, working with a crystal like Morganite can support your divine feminine energies. With Morganite, you can explore how to connect to your divine feminine and attract a soulmate that will respond to nurturing frequencies.
Struggling with impatience is common when waiting on your soulmate, but Morganite encourages patience and surrender. When using Morganite, you can release urgency and attachment to outcomes so you can embrace the natural flow of the universe. This detached energy can ironically act as a catalyst to attract your soulmate quicker.
7. Rhodonite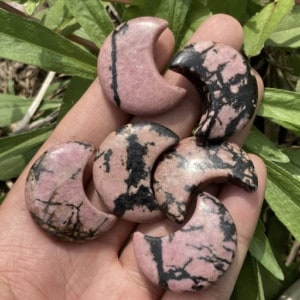 Rhodonite is renowned for its capacity to balance relationships and promote understanding between partners. Since it supports clear and open communication, Rhodonite will help you express your needs, desires, and boundaries. In turn, you'll also attract a partner that is willing to express themselves in a healthy and effective manner.
The stone encourages empathy, forgiveness, and compassion in love and facilitates a deeper connection with your potential soulmate. Its sensitive nature will also aid you in connecting to your heart chakra, so you can attract a soulmate that is genuinely aligned with your heart's desires.
8. Larimar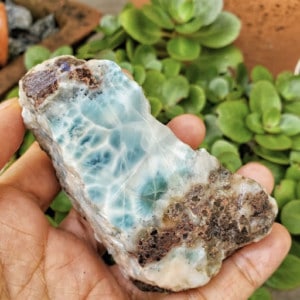 If you struggle with self-expression and effective communication, Larimar can assist you in vocalizing your needs in love. It's a great crystal if you have an anxious attachment style and have difficulty setting boundaries. Ultimately, Larimar will grant you clarity for what you need in love and give you the voice to express those needs to your soulmate.
It carries a gentle and serene vibration that promotes inner peace and positive energy. If you're anxious about love, Larimar can soothe intrusive thoughts so you can start a new chapter with your soulmate feeling a greater sense of trust. But it may also be helpful to express your concerns to a love psychic since they'll have the insight to put your anxieties to rest.
9. Jade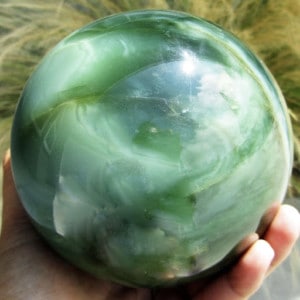 Bonding with a crystal like Jade can greatly support you if you often find yourself in combative relationships. Since it encourages open communication, empathy, and cooperation, it'll create a supportive environment for healthy soulmate connections to thrive. Having Jade in your energy can attract a soulmate that brings you peace rather than chaos.
Additionally, Jade encourages a grounded and centered approach to romance. With its grounded frequency, you can stabilize your energy and clarify your intentions in love for better manifestation power. In turn, your energy will be peaceful and aligned with your wants so you can attract your soulmate more easily.
10. Amazonite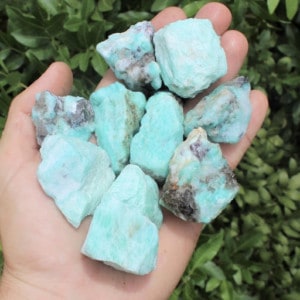 Amazonite is essential when you're low in self-esteem and struggling with self-acceptance. A negative self-perception can be a massive block for attracting a soulmate, but with Amazonite, you can work on building a positive image of yourself. Feeling good about yourself will be the secret to having the magnetic energy that attracts your soulmate.
Further, Amazonite is a wonderful guide that can enhance your ability to trust your inner guidance in love. Sometimes when you lack self-worth, you can fall into the trap of settling for the wrong partners. But Amazonite will help guide you to your soulmate and ensure you're with someone that's aligned with your values, goals, and overall well-being.
11. Moonstone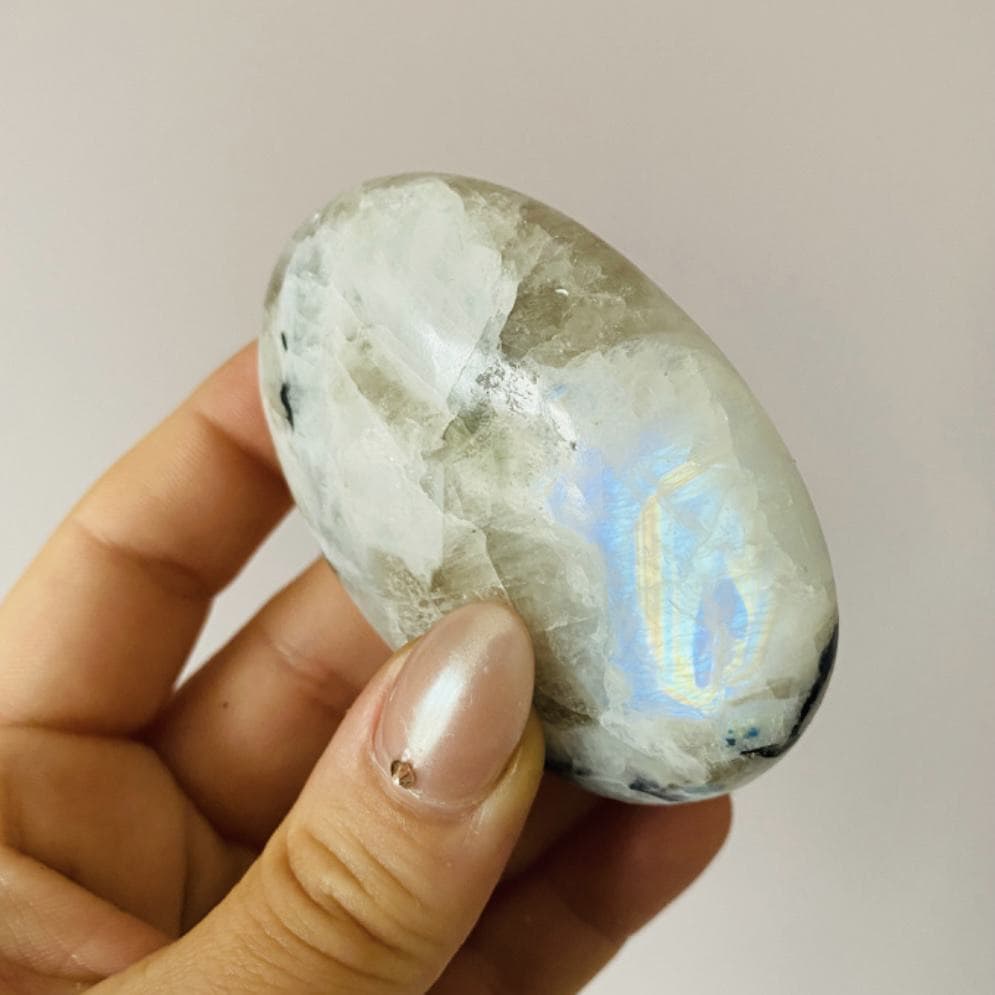 For spot on intuition in love, get yourself a Moonstone. Not only does Moonstone repel those that aren't for you, but it also connects you to your inner wisdom. Sometimes a pretty face and charming ways can lead you to develop a relationship with the wrong person. So if you struggle with getting swept off your feet too quick, Moonstone will tap you into your discernment and help you pump the breaks when needed.
It's also known as the traveller's stone since it brings luck and protection to new beginnings. And who doesn't want that positive energy when entering a soulmate relationship? I suggest working with Moonstone when you feel those self-sabotaging ways creeping back in.
When Crystals Don't Immediately Work
Crystals are one-of-a-kind spiritual tools because they have the ability to maintain a stable frequency. This is not the same with humans, since our environments and moods are constantly in flux and therefore our frequencies as well. But, when you work with a crystal whether it be by meditating with it or wearing it as jewelry, your aura gets infused with it's frequency and forces yours to match it.
So, let's say that you're having a hard time finding a soulmate and you also tend to struggle with your self-esteem. Although the two issues may seem unrelated, the frequency you emit around love and not being worthy is creating an energetic block in love. Wearing a crystal that works to boost your confidence can stabilize your frequency and actually help you heal so you can vibrate at the frequency that will attract a soulmate.
But, what about when you're using the right crystal and still nothing? Well, sometimes it's not so cut and dry. Although compatible crystals can do a lot of work on your behalf, there may be more to it. Let's say you have karma that's meant to teach you the value of independence and the path towards self-love. In those cases, you may not find a soulmate until you learn the spiritual lessons required.
I personally went through this and it wasn't until I started doing some serious TLC that my soulmate came in. I just wish that back then, someone could have guided me and told me about the spiritual side of things. If you're feeling lost about why love just isn't coming in (despite all the crystals you have), it may be helpful to chat with a love psychic. That way, you can get a head start on resolving the energies blocking your love life.
Best Sites for a Love Reading
Finding a soulmate can sometimes get tricky, so getting reliable guidance from a love psychic can be of great value. To bring you peace of mind and clarity, I've put together a list of my go-to sites for love insights. The following platforms offer affordability, a wide selection of psychics, and reliable customer support.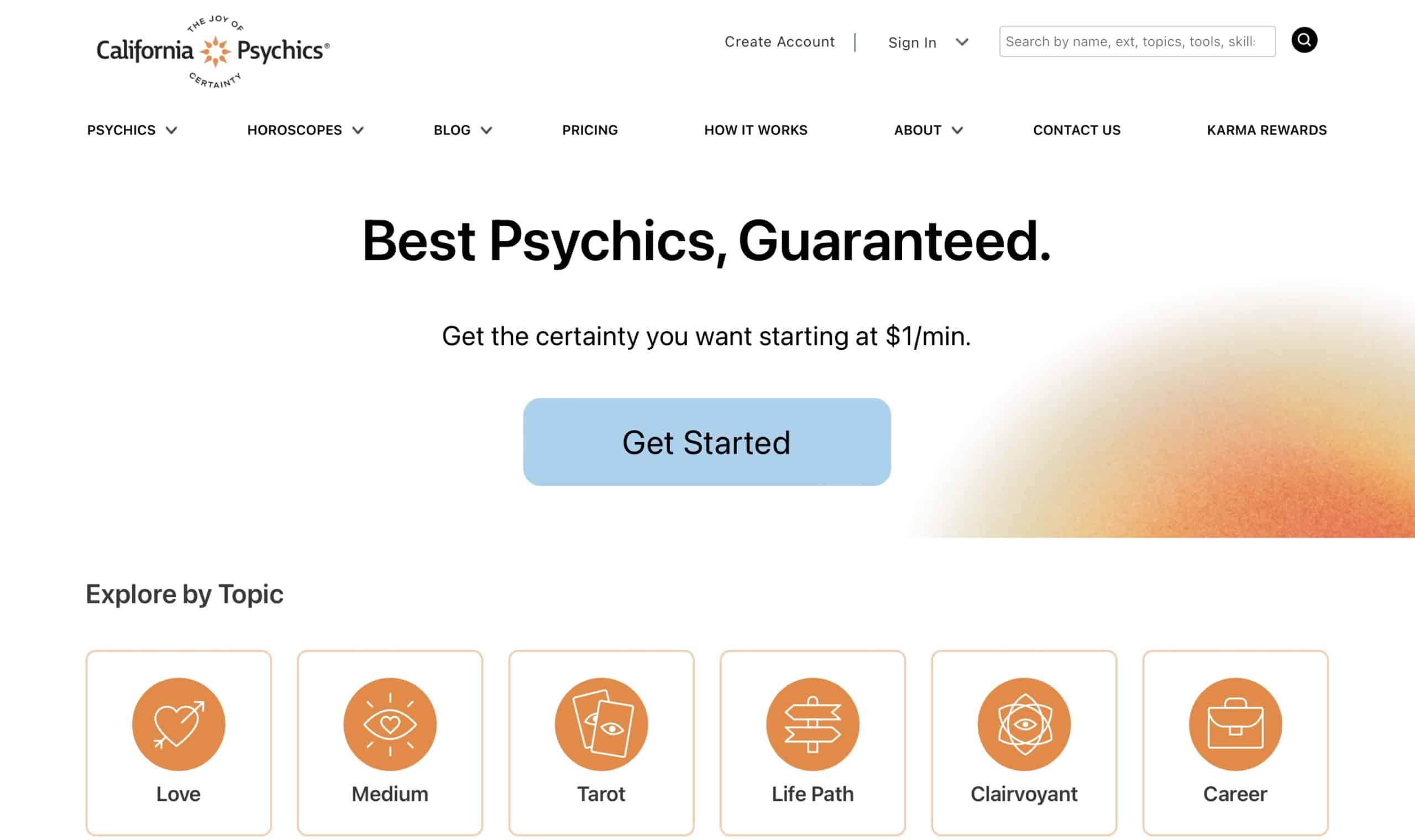 $1, $2, or $4 per minute
300+ love psychics
Satisfaction guarantee
Karma rewards program
Strict vetting practices
In my opinion, California Psychics offers the best value while maintaining high quality love readings. On the platform, you'll have the option between its $1, $2, or $4 per minute offer without compromising quality for cost. You can feel at peace knowing you're getting credible love advice without blowing your budget.
I feel safe placing my trust in California Psychics because of its strict vetting processes for psychics. Not only does each psychic undergo rigorous testing, but they're also monitored for quality purposes for 90 days after joining. Regardless of the love advisor you choose, you'll feel confident knowing your psychic has been thoroughly vetted.
Since there are over 300 love psychics, choosing a love reader on California Psychics can be time-consuming. Fortunately, you can cut your search time in half using its psychic match tool and get straight into your love messages.
2. Purple Garden – Feel at Ease With a Chat, Call, or Video Reading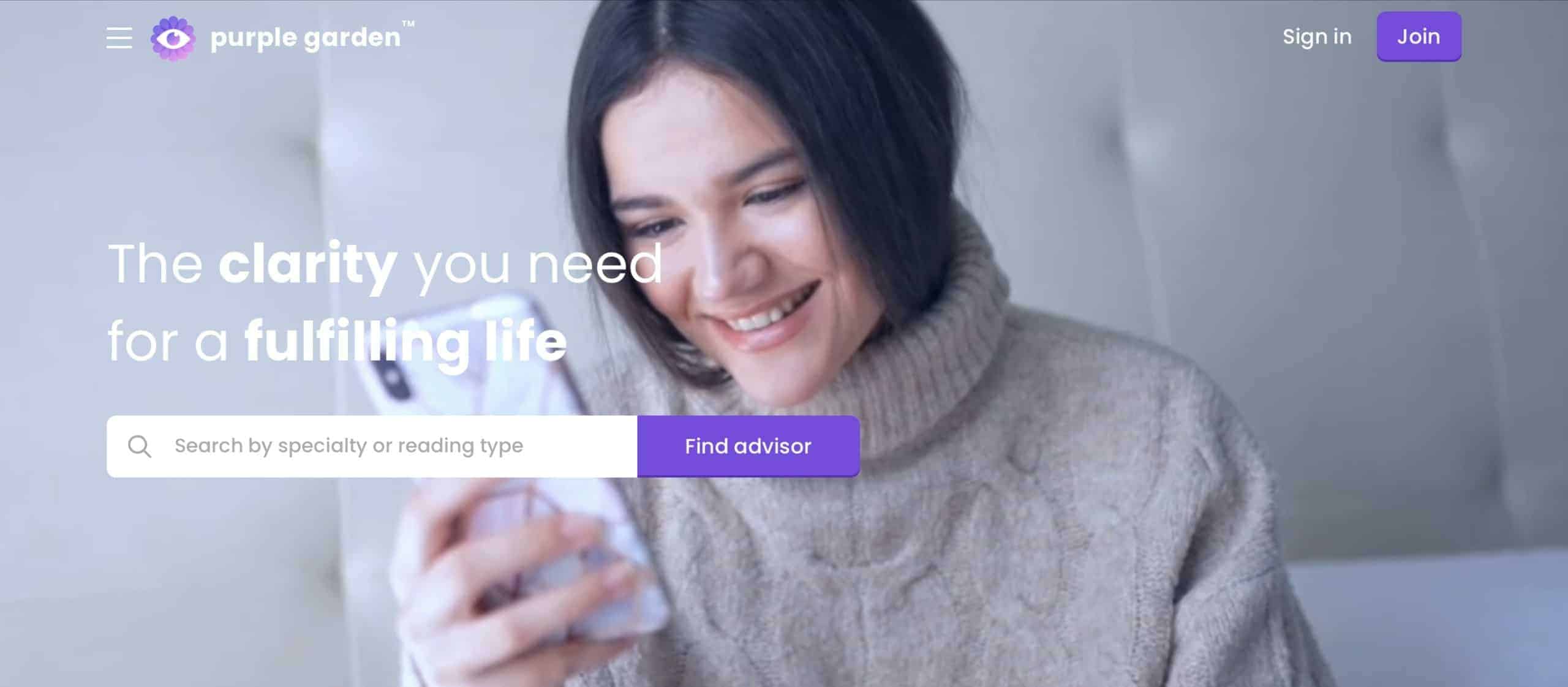 2% cashback on readings
Journeys community feature
Flexible communication methods
Top accuracy badges
Videos on love psychics' profiles
Purple Garden is amongst my top picks because of the flexibility it offers with its contact methods. You can choose a live chat, call, or video session and get love insights in the manner you'll feel most comfortable with. Having the option of a video reading can be a major plus if you appreciate face-to-face interactions.
I appreciate how I can get a better feel for the love psychics on Purple Garden through their introduction videos. Each psychic has a video on their profile that highlights relevant details about their experience, making the choosing process more intuitive. Instead of going based on their bio, you can tune into their energy by watching their video.
Although the screening process on Purple Garden is vague, the site's interface makes it simple to find credible love advisors. With its "Voted Most Accurate" category, you can save yourself the worry of a bad reading and browse psychics that their clients have voted as accurate.
3. Keen – Enjoy Last Minute Insights on the Go With Its Mobile App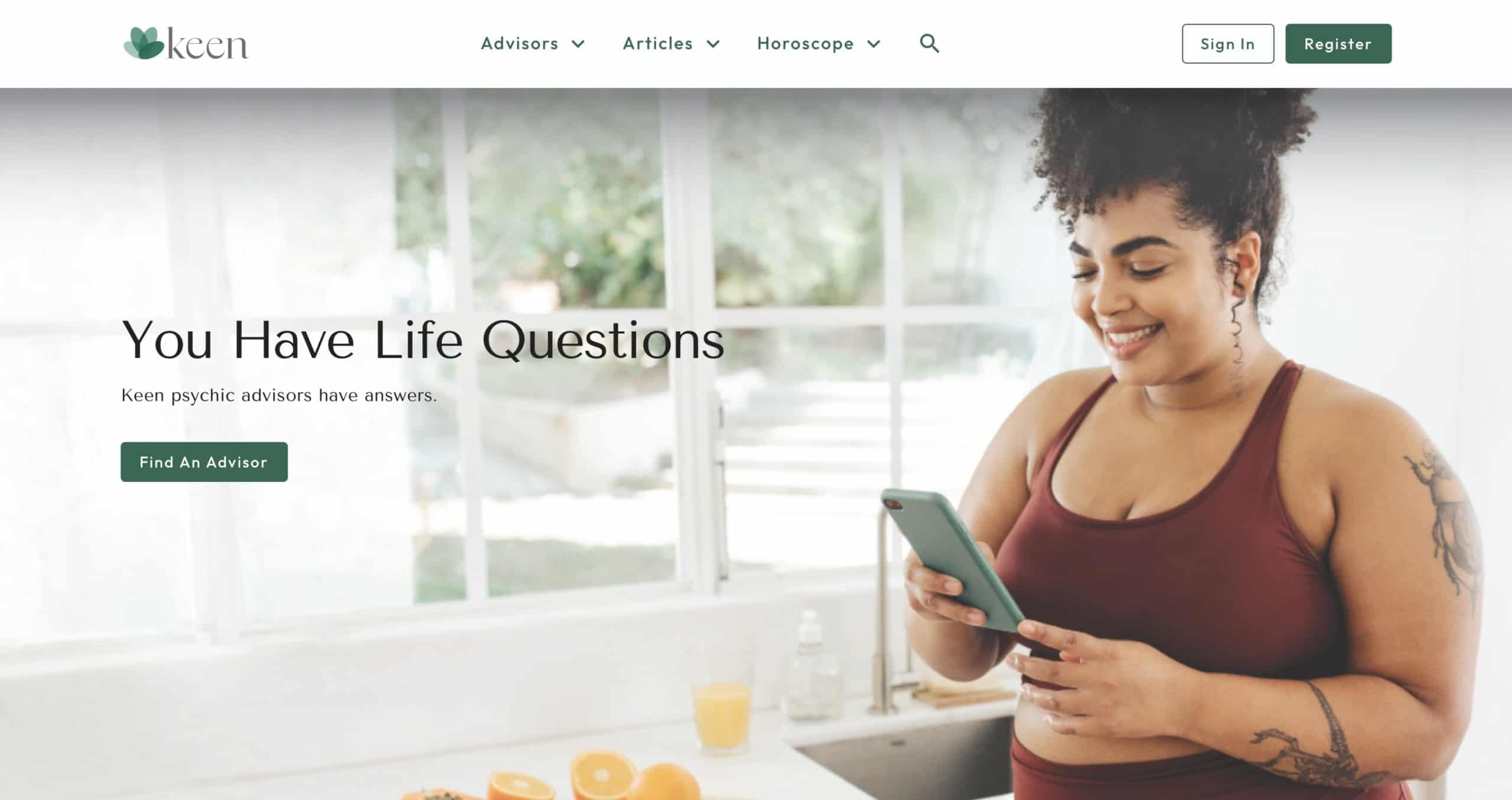 Helpful search filters
5 minutes for $1
Thorough FAQ page
Top rated love psychics
Email advisors before booking
Getting a love reading on Keen is a great choice, especially if you appreciate the convenience of last-minute love advice. With its mobile app, you can access psychic support from the palm of your hand no matter the hour. Using its mobile app is also great when you're on the go and can't commit to a set time and date for a reading.
I like that even if my first choice is busy with a client, I have several other high-rated options on Keen. While browsing through the love psychics on Keen, you'll notice that most of them have a 4.7+ star rating. This is quite impressive, considering that many have done several thousand readings yet have managed to maintain a solid rating.
It would be ideal if Keen added more options to contact its customer support, but despite the options, its email support is helpful. When I reached out to its support, I got a friendly response within the hour and also had the chance to consult the thorough FAQ page.
FAQs on Crystals to Attract Soulmates
How can I use my crystals to attract a soulmate?
The best way to attract a soulmate with crystals is by programming and working with them regularly. To do this, you will need to set a clear intention for your crystal and state it either aloud or in your mind. You can say whatever comes to mind, but a good example would be, "I assign this crystal to enhance my love life and help attract my soulmate".
Remember that the key to attracting your soulmate is to use crystals that correspond with your intentions. Once you've selected the appropriate crystals, write your intentions down on paper, place it under your crystal, and leave it under the light of the Sun or Moon for a few hours. This method is best for activating crystals associated with spiritual connections.
Next, you'll need to work with your crystal to maintain a strong connection to it. You can meditate with your crystal, place it on your nightstand, or wear it as jewelry near your heart to build a bond with your crystal. In Feng Shui, the far-right corner of your front door is considered the relationship corner, so you can place a crystal here to heighten its power.
Can I use multiple crystals together to attract a soulmate?
Yes, you can use multiple crystals to enhance their energies and synergistically attract a soulmate. Since all crystals carry distinct frequencies and spiritual properties, working with multiple crystals at once may be beneficial. That way, you can ensure your manifestation practice is well-rounded.
Just make sure you're combining crystals that resonate with attracting a soulmate and with complementary properties. For example, you can use Rose Quartz to boost self-love and clear love blockages while combining it with Citrine to amplify your manifestation power and luck. That way, you can ensure you aren't using two crystals with the exact same properties.
Do I need to cleanse and recharge my crystals regularly?
Yes, you should cleanse and recharge your crystals regularly to maintain their optimal energy and effectiveness. Crystals can absorb various energies from their environment, including both positive and negative vibrations. So, cleansing helps remove any accumulated or stagnant energies that would otherwise block you from attracting your soulmate.
To ensure that you're cleansing and using your crystals properly, you can contact a psychic for a second opinion. You can always ask them to do a remote cleansing and programming of your crystals to boost their manifestation power. An experienced energy worker like a psychic can be a complementary tool to help attract your soulmate.
Bottom Line
Attracting your soulmate can be affected due to energetic blocks and inner work that needs to be done. But the good news is that certain crystals can heal past wounds and clear stagnant energy to help manifest your soulmate. Just ensure you're working with the right crystals for your personal circumstances so you get the best results.
Keep in mind that working with crystals to attract your soulmate will require your full trust. That said, if you're feeling doubtful, you can get the guidance of a credible love psychic. After all, they're best equipped to identify the love blocks you're working through and give you tailored tips on attracting your soulmate.
To summarize, the best sites for love readings are…