With the rise in popularity of tarot readings, you may be feeling the intrigue to get one. Since tarot readings vary a lot in price, it's not simple to determine the average price nor how much you should commit to paying. And if you're not familiar with the tarot scene, you may end up paying more than you need to.
As a tarot reader myself, I'm familiar with the industry and know what you should expect to pay. Although prices can range due to a variety of factors, I've created a transparent guide that breaks down how much a tarot reading should and can cost. That way, you don't have to worry about getting taken advantage of or ending up with a surprising bill.
While I'll admit that cost is important, you do get what you pay for. From all the tarot platforms I've tested, California Psychics offers the best price for the quality insights you get. The site hosts some of the most experienced tarot readers I've seen and a satisfaction guarantee to keep you protected. You can also get started on California Psychics for $1/min.
How Much Does the Average Tarot Reading Cost?
The cost of a tarot reading varies based on many factors which I'll discuss in the next section. But if I were to ballpark an average, an in-person session with an experienced tarot reader can cost between $40 to $100 an hour. However, this range can be higher in major cities and lower in smaller towns.
The online sphere offers a more extensive range of prices. Many experienced readers charge between $50 and $80 for an hour-long session. The platform used can influence these rates, whether it be a private website, social media, or tarot-specific sites. From what I've seen, most tarot readers on dedicated sites charge between $1 to $5/min.
It's essential to note that the cost doesn't always correlate with quality. Some incredibly talented readers charge lower rates for various reasons, be it building their clientele, personal beliefs about accessibility, or promotional periods. Ultimately, when selecting a tarot reader, it's also essential to trust your intuition and feel a connection with the reader.
Why Do Tarot Readings Vary in Price?
Answering this question requires a lot of nuance. To give you a clear idea for why tarot readings can vary in cost, I've outlined the most common reasons below.
Automated vs. Real-Time Insights
When exploring the world of tarot readings and their pricing, you'll quickly notice a key distinction that will impact cost: automated readings vs. real-time insights. Automated readings are typically computer-generated and rely on pre-set interpretations of tarot cards. They're readily available online and come at a lower cost, which makes them attractive.
And while these readings can be suitable for those on a tight budget or seeking a quick answer, automated tarot readings lack the personal touch and intuitive guidance of real-time readings.
On the flip side, real-time tarot readings are held by people who use their intuition and tarot knowledge to give personalized insights. This approach often results in deeper, more accurate guidance, but can come with a higher price tag. So, when deciding on a type of tarot reading, you should consider what's best for your situation.
Reader Expertise & Tier
Another factor that influences the pricing of tarot readings is the expertise and tier of the tarot reader you choose. Tarot readers come from diverse backgrounds, and their experience levels can vary significantly. More seasoned readers with years of experience and a strong reputation often charge more.
Their expertise allows them to provide in-depth, insightful readings that clients value. On the other hand, newer or less experienced readers may offer their services at lower rates as they build their clientele and gain confidence in their abilities. Remember that you can still get powerful advice from a newer reader, so try to keep an open mind.
It's important to weigh your budget against the level of expertise you seek. While experienced readers may come with a higher price tag, their insights and guidance may be worth the investment when seeking clarity and direction in life.
Varying Price Structures
Understanding the varying price structures in the world of tarot readings can shed light on why prices vary so widely. Tarot readers and/or sites may use different pricing models, such as flat rates per session, price per minute, or based on the complexity of the session. Some readers even offer bundled packages that include multiple or follow-up sessions.
It's essential to inquire about a reader's specific pricing structure and know what's included. This will ensure you have a clear understanding of the value you'll receive. And when comparing prices, consider the quality of the service, the reader's reputation, and your own budget to make an informed decision.
Length of Session
As you might expect, longer tarot sessions often come with a higher price tag due to the increased time and depth of the reading. These extended sessions allow for a more thorough exploration of your questions and concerns, providing you with a comprehensive understanding of the insights offered.
Conversely, shorter sessions are generally more budget-friendly and suitable for addressing specific questions or quick guidance. Therefore, when deciding on the length of your tarot reading, it's essential to balance your budget with the depth of insight you seek, ensuring you get the most value for your investment.
Area & Location
Tarot readers operate in diverse geographic locations, and the cost of living and business expenses can vary widely from one place to another. In metropolitan areas with higher living costs, tarot readers may charge more to cover their overhead expenses. Conversely, in areas with a lower cost of living, you may find tarot services at more affordable rates.
Due to a lower overhead, online tarot readings tend to be more budget-friendly and provide an opportunity to access quality tarot insights regardless of physical location. Therefore, when considering the price of a tarot reading, keep in mind how your location, as well as the reader's location, can influence the overall cost.
The Different Types of Tarot Readings
When it comes to tarot readings, there is a distinction between the reading theme and reading spread. In essence, the theme determines what you're asking about, the spread determines how the cards will provide answers or insights on that topic.
Tarot Reading Themes
A tarot reading theme refers to the specific focus or subject matter of a reading. It's the topic or area of life you're seeking guidance on and it's usually up to you to select the theme of your tarot session.
General Reading
Provides a broad overview of a person's life or a specific situation. It can cover various aspects such as love, career, and personal growth, offering general guidance and insights.
Love and Relationship Reading
Specifically about matters of the heart, including romantic relationships, friendships, and family dynamics. It can provide insights into current relationships, future possibilities, or guidance on resolving relationship issues.
Career & Work Reading
Helps individuals gain clarity about their professional life, career path, job changes, or business decisions. It can offer guidance on finding the right career direction or making informed work-related choices.
Life Path Reading
Delves into a person's life path, purpose, and spiritual journey. It helps individuals understand their life's mission, spiritual growth, and the lessons they need to learn in this lifetime.
Finances & Money Reading
Focus on financial matters, including budgeting, investments, financial decisions, and abundance. They can offer insights into managing finances and attracting prosperity.
Past-Life Reading
Aim to uncover insights from past incarnations that may be affecting a person's current life and relationships. They can help individuals understand recurring patterns and karmic lessons.
Tarot Reading Spreads
A spread is the specific layout of cards used in a tarot reading. Spreads provide a structured framework with a set of predefined positions that help organize the cards' messages into a coherent narrative. The spread used during a reading is usually always up to the tarot reader.
Celtic Cross Spread
Used to gain detailed insight into a complex situation or to answer multifaceted questions. Its ten cards delve into various aspects of the querent's life, exploring the past, present, and potential future of a given circumstance.
Three-Card Spread
Offers a concise snapshot of a situation. Typically representing the past, present, and future, it can also be tailored to fit other triads like mind, body, spirit or situation, challenge, advice.
Success Spread
Designed to evaluate the path to success regarding a particular endeavor, this spread helps to identify potential challenges, strengths, and outcomes. It gives the querent clarity on their goals and the steps or changes needed to achieve them.
Year Ahead Spread
Usually a 12-card spread where each card represents the energy or events of a month in the upcoming year. It's popular for birthday readings or New Year's readings to give an overview of the year to come.
Tetraktys Spread
Based on Pythagorean philosophy, this ten-card spread offers insights into various dimensions of life, from the physical to the spiritual, offering a holistic view of a situation or the querent's life.
Decision Making Spread
A guide for when the person being read for is at a crossroads. It evaluates the outcomes of different paths and helps in making informed decisions.
How Can a Tarot Reader Help?
Navigating life's myriad challenges and questions often prompts individuals to seek guidance from tarot readers. But what exactly can a tarot reader offer when you're in need of support? Let's explore the tangible ways a tarot reader can help.
Exploring Past and Future: Some tarot readings can help you understand how past events may be influencing your present and what potential futures may hold. They can even include timing of events in your life, helping you plan and prepare for future opportunities or challenges.
Clarity and Insight: Tarot readers can offer clarity and insight into various aspects of your life, such as relationships, career, health, and personal growth. They use the symbolism of the tarot cards to provide guidance and shed light on your current situation.
Decision-Making: If you're facing a difficult decision or at a crossroads in life, a tarot reader can help you explore your options and potential outcomes. They can provide perspectives that you may not have considered, helping you make informed choices.
Self-Reflection: Tarot readings can encourage self-reflection and self-awareness. A reader can guide you in understanding your own thoughts, emotions, and behaviors, allowing you to gain a deeper understanding of yourself.
Emotional Support: Tarot readers often offer empathetic and nonjudgmental support. They can provide a safe space for you to discuss your feelings, fears, and concerns, which can be therapeutic in itself.
Validation and Confirmation: Sometimes, tarot readings can validate your feelings or intuitions. Hearing that your thoughts or concerns are mirrored in the cards can provide a sense of confirmation and assurance.
Best Sites for an Affordable Tarot Reading in 2023
I tested each of these options to ensure a valuable list of affordable yet quality tarot reading sites. All of the platforms on this list have real tarot readers and competitive new client offers that will land you a worthwhile session without breaking the bank.
1. California Psychics — Best Overall for an Affordable Tarot Reading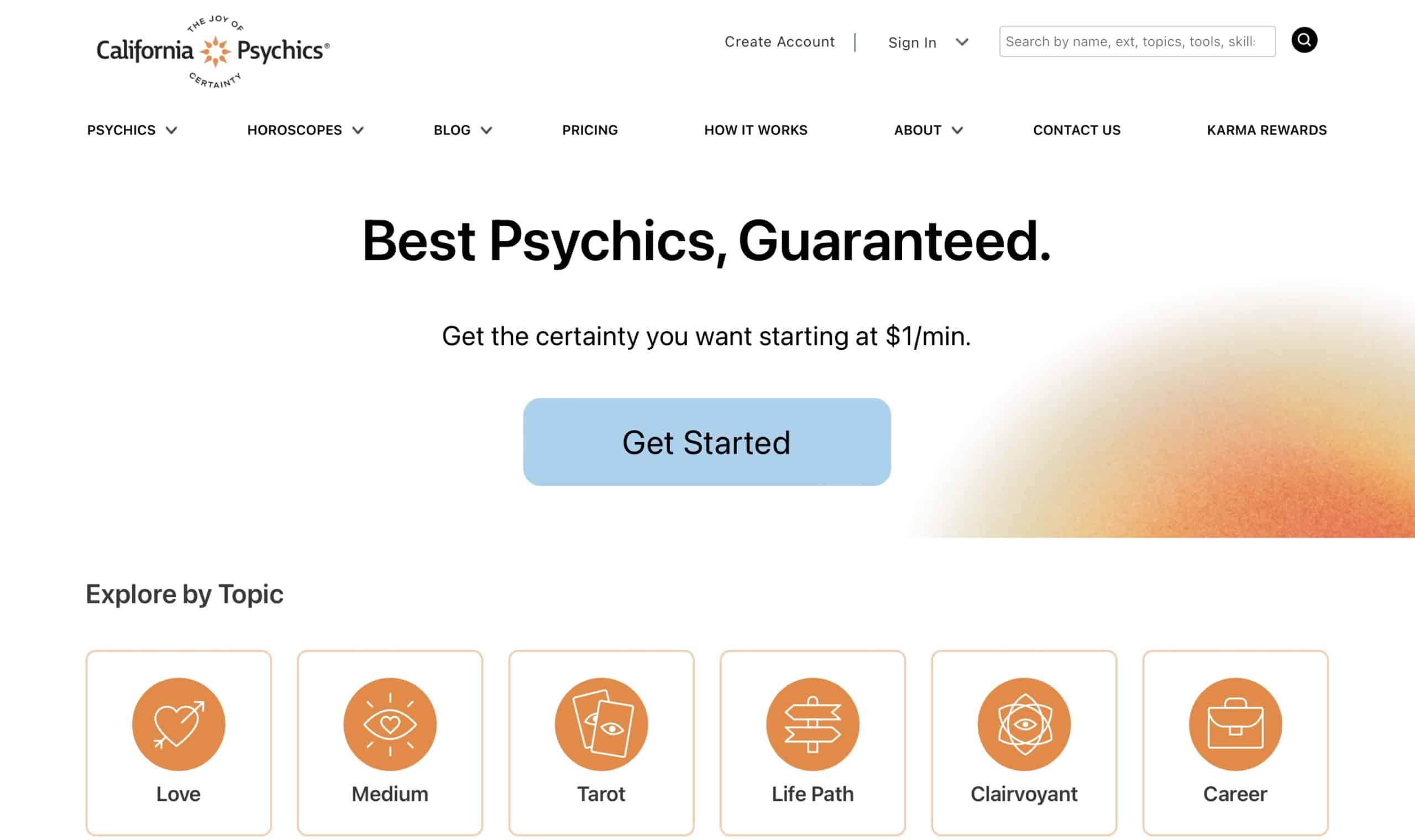 Over 300 tarot readers
$1, $2, or $4/min
Chat and call readings
Karma rewards program
Satisfaction guarantee
From all the tarot sites on this list, California Psychics offers the most flexibility in price. Since it's a tiered system, you can select from a $1, $2, or $4/min reading depending on your budget and needs. Since I wanted to connect with a premier psychic, I opted for the $4/min option and arguably, got the best tarot reading I've ever had.
I connected with Cookie because of her straightforward reading style, in addition to her being a premier psychic and staff-pick. It felt like I was talking with a friend with the added benefit of impartial and one-of-a-kind tarot advice. What sets Cookie apart from other tarot readers is that she's also a gifted psychic, which made my session more impactful.
In addition to the tiered pricing, I like that California Psychics has a worthwhile rewards program for additional savings. Its Karma Rewards program offers a $20 credit, a free astrology report, and points on purchases. I personally used my $20 credit to extend my tarot session with Cookie, which allowed for in-depth advice that didn't feel rushed.
And while there are more affordable options on this list, I feel the quality you get on California Psychics is unmatched. Although I had tarot readings on other sites that were worthwhile, I didn't experience the same level of resonance as I did on California Psychics. Even if you don't have the same encounter, you'll be protected by its satisfaction guarantee.
2. Purple Garden — Get a $10 Credit Toward Your First Tarot Reading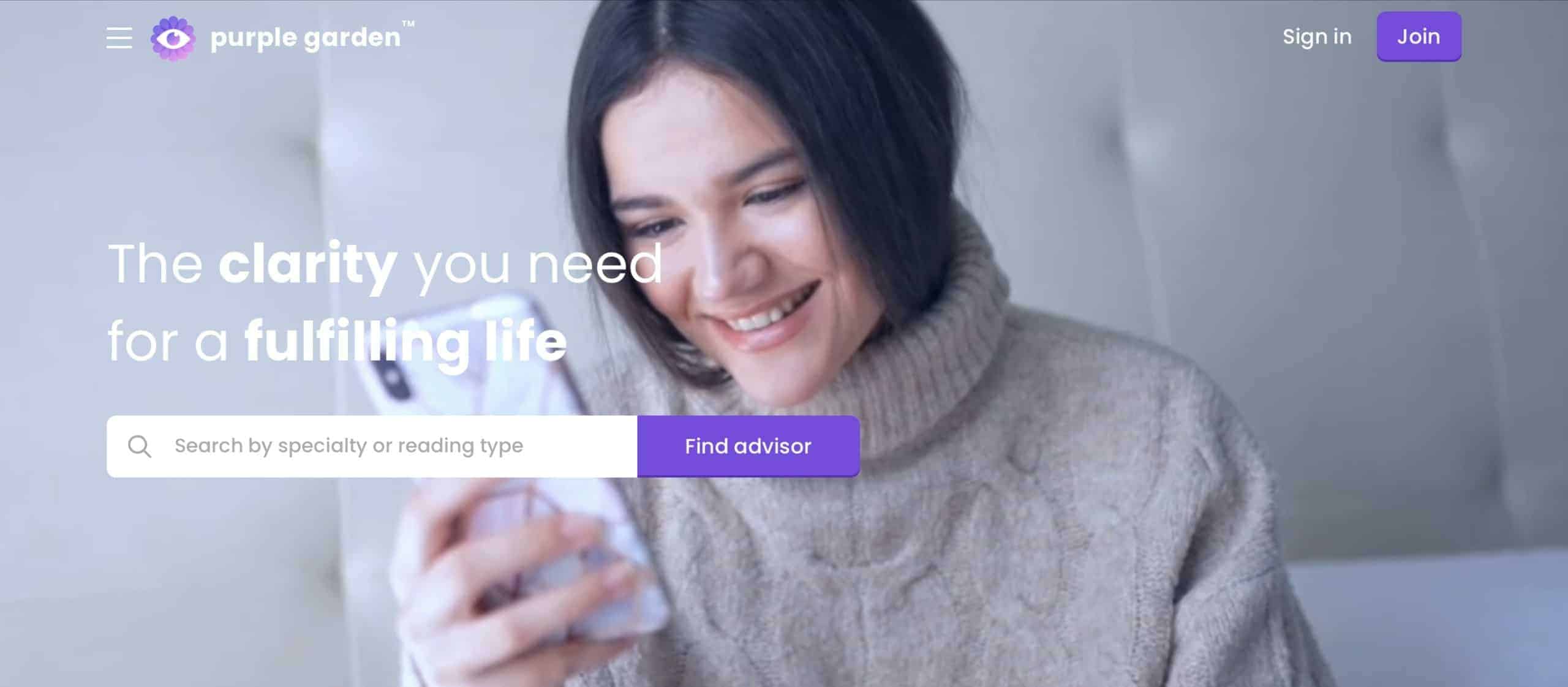 250+ available readers
$10 credit for newcomers
Chat, call, and video sessions
2% cashback program
Refunds upon request
Purple Garden is a solid runner-up for an affordable tarot session because of its generous $10 credit for newbies. Since there are plenty of quality readers with rates of $1/min, you can get up to 10 minutes free and benefit from substantial support. Although my reader was a little more pricey, I still benefited from additional insights without having to pay extra.
I decided on Lolas love Tarots because I noticed a top accuracy badge on her profile. In addition to that, she's completed over 16,000 readings on Purple Garden and is a twin flame/soulmate specialist. Lola had a very professional approach during our session together and was able to clear up a lot of questions I had regarding my love life.
I find that the best part about Purple Garden is its unique Journeys community feature. It's a thread-board style feature where you can post threads, reply to existing ones, and benefit from first-hand recommendations from other users. Luckily I checked it out before picking my tarot reader because another tarot enthusiast had suggested a reading with Lola.
The one thing about Purple Garden is that its refund policy is a little unclear. However, I noticed it's easy to avoid a negative experience with its transparent review sections. Since it has the negative vs positive reviews divided and summarized by amount, so you can easily avoid tarot readers with red flags.
3. Keen — Enjoy the First 5 Minutes of Your Tarot Session For Only $1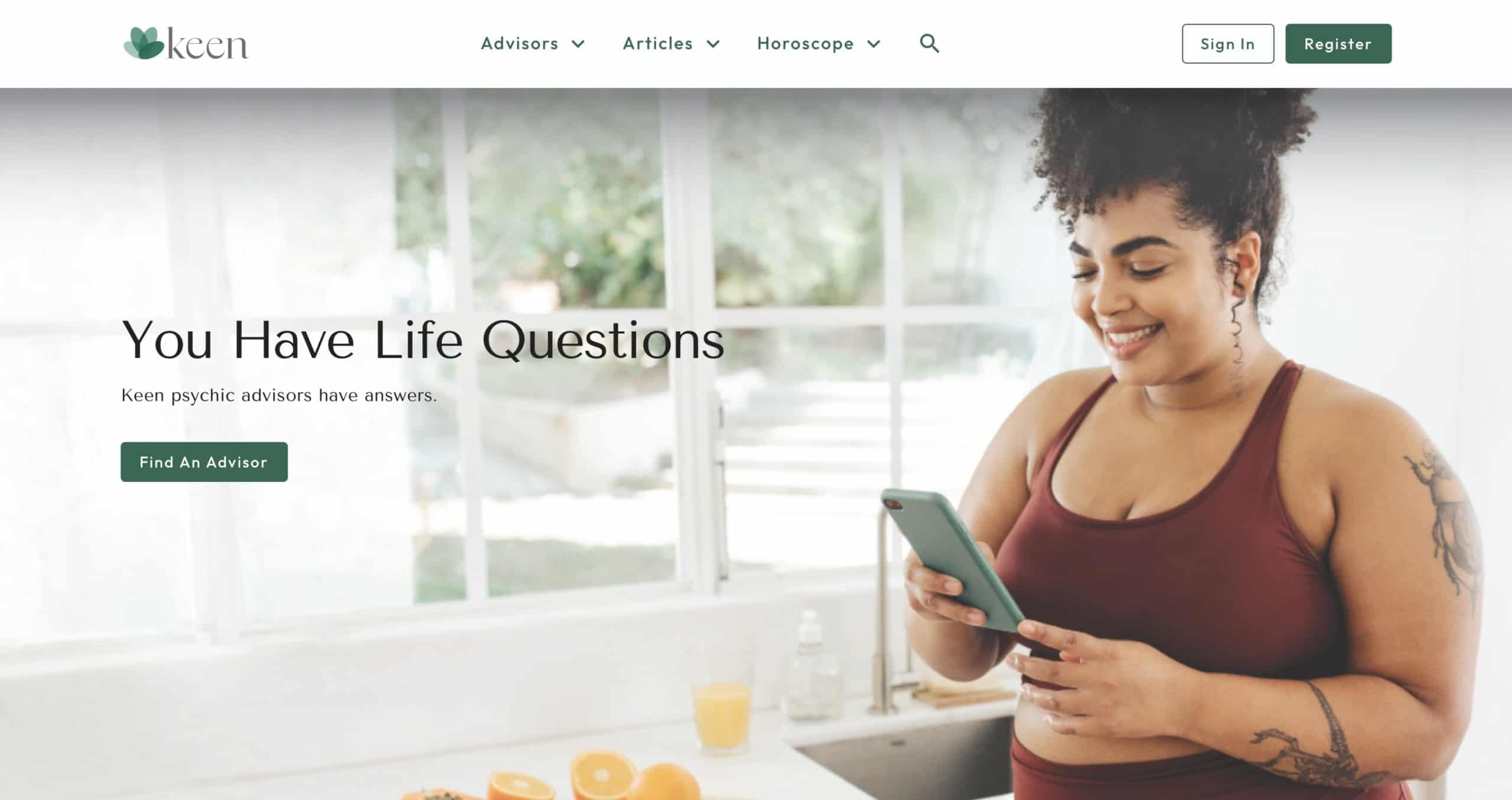 200+ tarot advisors
5 minutes for $1
Chat and phone readings
Keen rewards
$25 in Keen credits for refunds
Keen is yet another trustworthy platform with a solid 25+ years in the industry. It had to make the top 3 of this list because it offers newcomers the first 5 minutes of their tarot reading for $1. I like that regardless of the reader's experience, you can apply this promotion to your first session and really see if the regular rates are worth it.
I used Keen's offer to my advantage and connected with Love Angel Tarot reader. She's been on Keen since 2001 and has done over 45,000 readings since then. I was rather impressed that she had maintained a 5 star rating and understood why during our time together. Love Angel Tarot was very helpful and you could tell her messages were truly from the heart.
I appreciate the in-depth filters available on Keen because they allow you to customize your search. For instance, Love Angel Tarot's regular rate is over $15/min which is not very accessible. However, with the filters, you can find a tarot reader with the same amount of time on Keen but with a regular rate that's more aligned with your budget.
It would be great if Keen eventually came to offer video readings, but despite that, I was surprised by how much I enjoyed my phone session. Not being on camera allowed me to make the most of the online setting while truly immersing myself into the tarot experience.
4. Psychic Source — Receive Tarot Advice for $1/min Plus 3 Minutes Free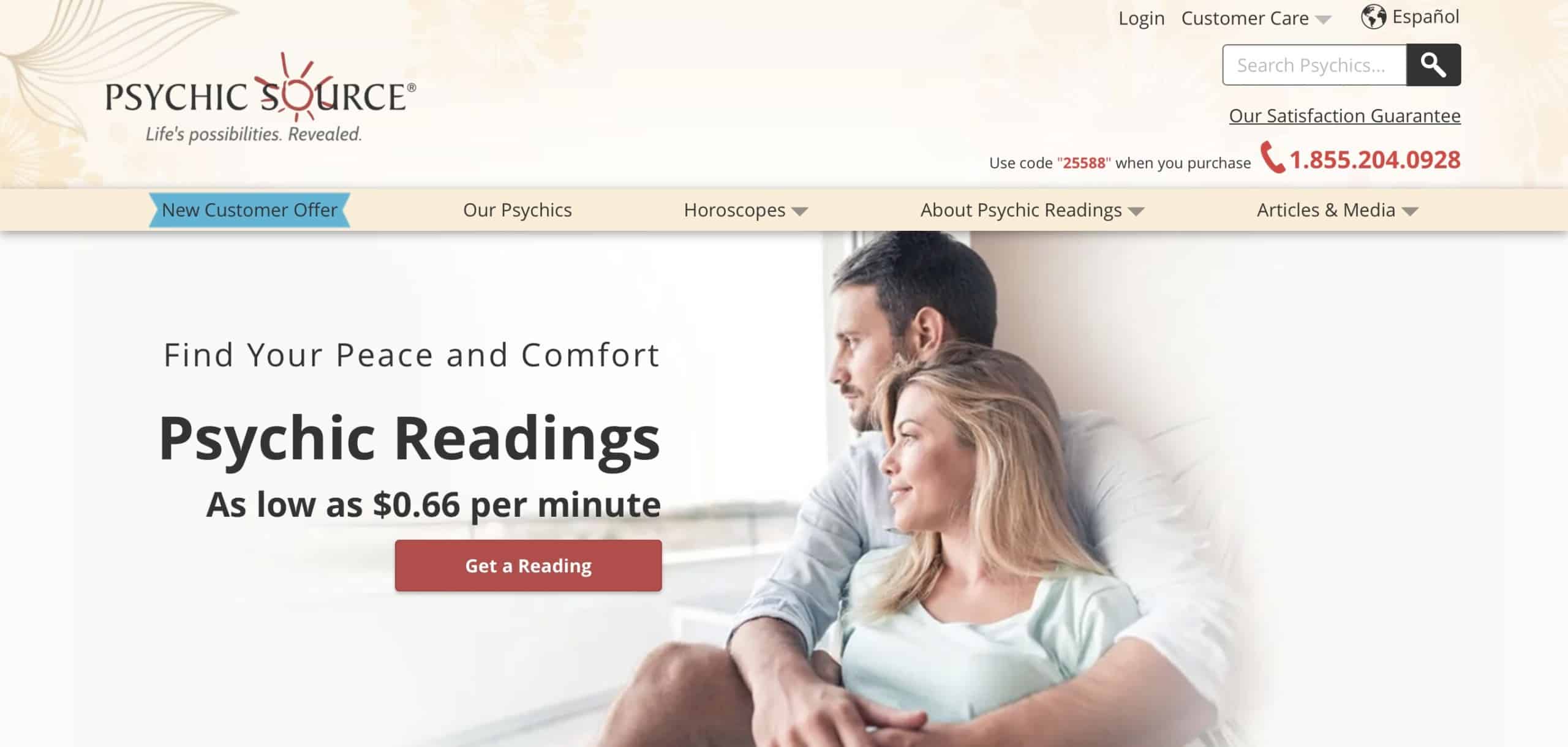 250+ tarot guides
$1/min plus 3 minutes free
Advice via chat, call, and video
Rewards program available
100% money-back guarantee
In my eyes, Psychic Source is a fool-proof option because of its 100% money-back guarantee. Although you need to purchase one of its packages to unlock the $1/min rate and 3 minutes free, you don't have to worry about regretting your choice. In the end, I appreciated this because I got a total of 33 minutes with my tarot reader and only paid $30.
I had my tarot reading with Psychic Stella and feel the price I paid was a great bang for my buck. Stella has been on Psychic Source for over 20 years and has done over 70,000 readings. Considering her experience level and accuracy during our session, it was rather rewarding to pay as little as I did.
Considering the site looks a little outdated, I feel that the audio messages for readers on Psychic Source are quite ingenious. Not only did they save me time from reading through profiles, but I got the chance to tap into the tarot reader's vibe before committing. Listening to Stella's audio clip made me feel confident that she was the right choice for me.
5. PathForward — Benefit From Extra Tarot Time With 3 Free Minutes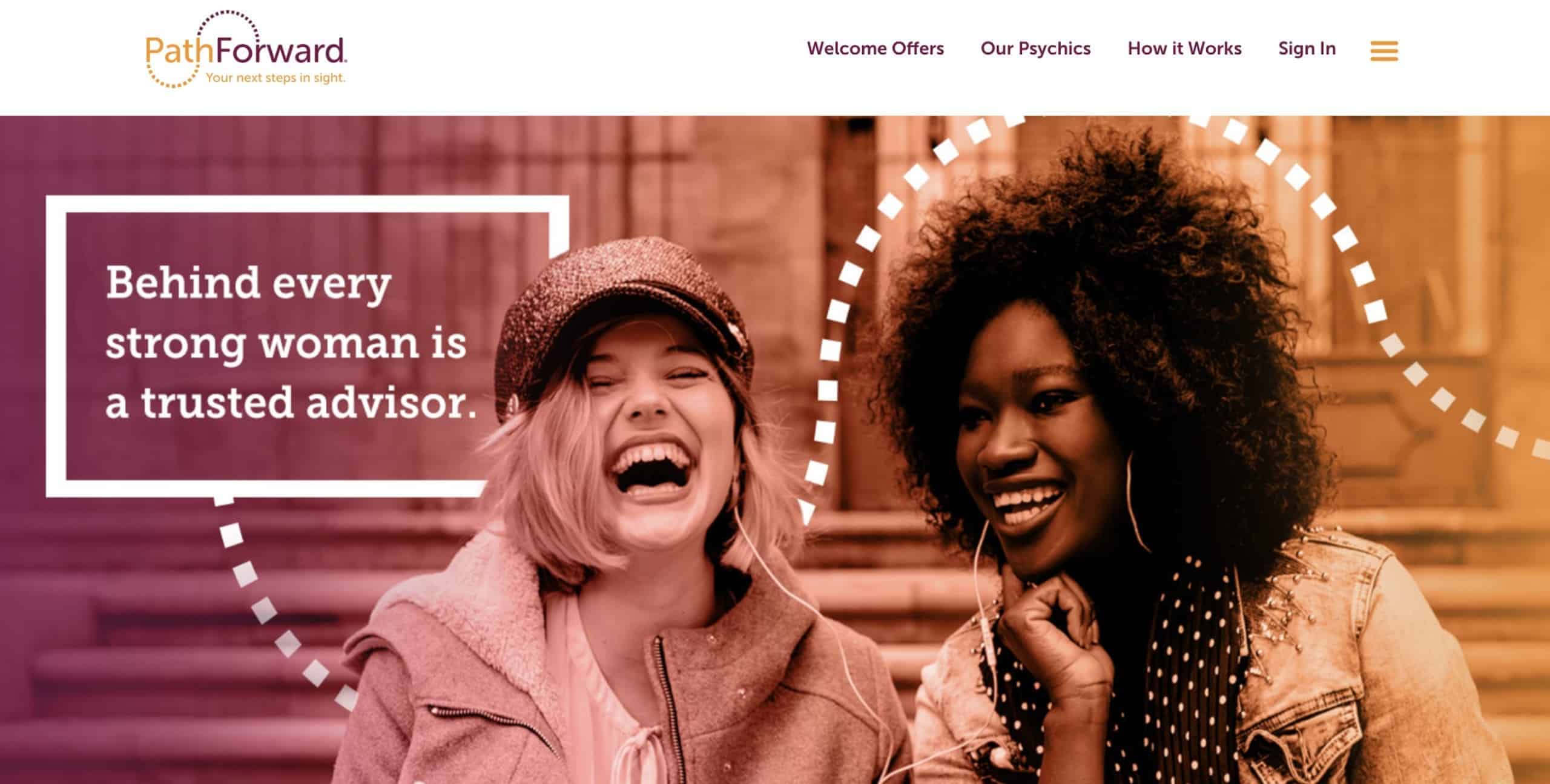 Over 30 available readers
$1/min and an extra 3 minutes free
Connect over chat or call
In Sight rewards program
100% satisfaction guarantee
PathForward is Psychic Source's sister company so it's just as trustworthy and affordable of an option. You can also unlock a rate of $1/min plus 3 minutes for free when you buy one of its minute packages. I feel the biggest advantage to PathForward is that the readers have a locked-in regular rate of $5/min regardless of their popularity or experience level.
I wanted to see the quality match-up between PathForward and Psychic Source, so I connected with Psychic Mayhayley. With full transparency, I couldn't decide which reading was better because both were great. Mayhayley is a gifted tarot reader and medium that has been reading for over 30 years, so her gifts were different but just as powerful.
In full transparency, it was slightly concerning to see that Pathforward only had a little over 30 tarot readers. However, it didn't affect my ability to find several worthwhile options and if anything, the smaller pool of readers feels more intimate. I also didn't have to worry about being overwhelmed from too many options.
Comparison: What's the Average Cost of a Tarot Reading?
| | | | | |
| --- | --- | --- | --- | --- |
| | Introductory offer | Regular starting rate | Rewards program? | Satisfaction guarantee? |
| California Psychics | $1, $2, or $4/min | $4/min | Yes | Yes |
| Purple Garden | $10 credit | $0.99/min | Yes | No |
| Keen | 5 minutes for $1 | $1.99/min | Yes | Yes |
| Psychic Source | $1/min plus 3 minutes free | $4.99/min | Yes | Yes |
| PathForward | $1/min and 3 minutes free | $5/min for all readers | Yes | Yes |
Tips to Save Money on Your Tarot Reading
Seek Out Promotions & Discounts
The best way to save money on online tarot readings is to keep an eye out for promotions and discounts. The majority of reputable tarot sites will offer special rates for first-time clients or run limited-time promotions. These discounts can significantly reduce the cost of your initial reading, making it more budget-friendly and less risky.
Compare Each Site's Regular Rates
While it's easy to overlook a site's regular rates because of an attractive promotion, you should avoid doing so. In the event you wish to extend your reading, you may not be able to if the reader's regular rate is too high. Plus, long-term support will be out of the question if you're relying on promotional rates and the site's regular fees are out of budget.
Opt for Shorter Sessions
Before booking your tarot reading, assess your needs and the complexity of your inquiries. If you have a single question or a straightforward issue to explore, a shorter session may be sufficient to gain the insights you're seeking. By opting for a shorter session, you can benefit from the guidance of a tarot reader while keeping your expenses in check.
Prepare Your Questions in Advance
One effective way to save money and make the most of your online tarot reading sessions is to have your questions prepared in advance. Whether you're engaging in a live chat format or a scheduled video call, being prepared prevents you from paying for unnecessary minutes. It also ensures that you cover all the topics you wish to explore during the reading.
Explore Loyalty Programs
Consider selecting a site that offers you the best loyalty program. Loyalty programs often provide rewards or discounts for repeat bookings, and referral programs can land you a free reading when someone books through your referral link. So, this is a great strategy for long-term savings that is often overlooked.
FAQs on Tarot Reading Costs
Do you need a license to read tarot cards?
No, in most places globally, you do not need a specific license to read tarot cards. However, several considerations and caveats can apply if you're running a tarot reading business. For instance, some municipalities might require tarot readers to obtain an entertainment license/ permit but this is often more because of business regulations.
And while a license might not be necessary, legitimate tarot readers follow a personal or industry code of ethics. This ensures that they provide readings responsibly, without making harmful or definitive predictions, especially about medical or legal matters. For that reason, many site's prohibit these types of readings.
Are there money-back guarantees for unsatisfactory tarot readings?
Yes and no because it largely depends on where you got your tarot reading. Many individual tarot readers operate on a trust basis with their clients. If they have their own private practice, it's up to their discretion whether or not they offer refunds. Some might offer a money-back guarantee to demonstrate confidence in their services, while others might not.
Alternatively, reputable online platforms that host multiple tarot readers typically have a standardized refund policy. These platforms might offer a money-back guarantee within a certain time frame after the reading if you're unsatisfied. However, there might be terms and conditions attached, so always read the fine print.
Should I trust a cheap tarot reader?
It depends. Whether a tarot reader charges a high or low fee doesn't inherently determine their skill level or authenticity. Often, newer tarot readers who are trying to build their clientele might offer readings at a reduced rate but this doesn't mean they aren't skilled. However, you should always do your due-diligence before connecting with a cheap tarot reader.
Sometimes popular platforms will offer promotional rates for a limited time or to first-time clients. This can be a good opportunity to test their services without a significant investment. These cheap tarot readings are typically a better bet because you're normally protected by a satisfaction guarantee or can at least check the reader's track record on the site.
Bottom Line
Navigating the diverse landscape of tarot readings can be a challenge, especially with such a broad spectrum of pricing. But knowledge is power. Remember, it's not about finding the cheapest option but the one that offers the best value for you. Even on a tight budget, you can find worthwhile tarot readings without having to compromise your needs.
Personally, I found the perfect balance of affordability and quality on California Psychics. The tarot readers on the site are some of the most professional, experienced, and highly rated advisors I've come across. Not only that, but the flexible range of pricing options is accessible to multiple budgets and you can pay as little as $1/min.
To summarize, the best sites for an affordable tarot reading are…