Moon water is a popular topic within spiritual communities, but if you're unfamiliar with it, you might be curious about the fuss. Creating moon water is relatively straightforward, but gaining a deeper understanding can influence its potency and your results.
To help you feel empowered, I've created a comprehensive guide that shows you how to make moon water like an expert. Not only will it shed light on the essence of moon water, but it'll also enlighten you on its potential use cases. All in all, possessing this knowledge will enhance your spiritual rituals and journey.
That said, understanding how to make moon water is one thing, but knowing how to use it to transform your life is another. If you're seeking personal guidance around working with moon water, I recommend connecting with a psychic on California Psychics. Doing so can elevate your mystical practices and help you achieve your desired spiritual outcomes.
How to Make Moon Water – A Quick Overview
What is Moon Water?
Moon water is water that has absorbed the Moon's energy and the intentions of the person making it. It's usually created by leaving a water container under a Full Moon but you can make it under any lunar phase. For your convenience, here is the Full Moon calendar for the rest of 2023 and 2024:
August 1st, 2023

Sturgeon Moon (Super Moon)

January 25th, 2024

Wolf Moon

July 21st, 2024

Buck Moon

August 30th, 2023

Blue Moon (Super Moon)

February 24th, 2024

Snow Moon

August 19th, 2024

Sturgeon Moon

September 29th, 2023

Harvest Moon

March 25th, 2024

Worm Moon

September 17th, 2024

Corn Moon

October 28th, 2023

Hunter's Moon

April 23rd, 2024

Pink Moon

October 17th, 2024

Hunter's Moon

November 27th, 2023

Beaver Moon

May 23rd, 2024

Flower Moon

November 15th, 2024

Beaver Moon

December 29th, 2023

Cold Moon

June 21st, 2024

Strawberry Moon

December 15th, 2024

Cold Moon
Making moon water has gained popularity due to the many advantages it provides. For instance, the Moon's feminine qualities help greatly with emotional healing, enhancing intuition, and fueling creativity. It can also serve as a potent tool during energetic cleanses of your aura and living space.
However, moon water's most remarkable aspect is its versatility as it can be incorporated into beauty routines, manifestation rituals, cleansings, and healing practices. Since there's no one-size-fits-all approach to using the substance, you can establish a unique bond with it and choose how to use it.
Step-By-Step Guide: How to Make Moon Water
Although there are various ways to use moon water, there are certain essential steps that must not be overlooked during its creation. It is advisable to rely on your intuition when selecting ingredients for your moon water while also adhering to the following procedures to attain optimal outcomes. Most importantly, it is vital to approach this practice with respect and gratitude towards the Moon and Earth.
1. Decide Your Goals & Moon Sign
Before making moon water, you must get clear on your primary goals and what you'll be using the water for. To do so, I suggest you take some time to reflect on the areas of life you're struggling with and how you would like to see them shift.
Then, you'll need to explore the various Moon signs and decide which coincides best. Since the Astrology sign the Moon is in will flavor its energy, it's important to know what frequency you're working with. I'd say this is most important if you plan to use the moon water for manifestation or spell work.
You can also explore the different Moon phases to see if one calls to you more than the other. Although moon water is typically made during Full Moons, you can customize yours as you wish. But, identifying the most suitable Moon sign and phase will become easier once you've narrowed your goals.
The Moon Through the Signs: Aries – Virgo
| | |
| --- | --- |
| Aries | New initiatives, physical health, leaps of faith, and independence. |
| Taurus | Financial abundance, self-care, stability, and establishing values. |
| Gemini | Clear communication, new skills, networking, and self-expression. |
| Cancer | Healing, home life, intuitive development, and connection to ancestry. |
| Leo | Entrepreneurship, inner-child, passion projects, and authenticity. |
| Virgo | Holistic health, routines, skill refinement, and decluttering. |
The Moon Through the Signs: Libra – Pisces
Libra

Aesthetics, conflict resolution, contracts, and partnerships.

Scorpio

Transmutation, cord cutting, shadow work,

and investigation.

Sagittarius

Travel, acquiring wisdom, enlightenment, and optimism.

Capricorn

Career advancement, mastery, long-term planning, and public recognition.

Aquarius

Advocacy, inventions, freedom of expression, and intellectualism.

Pisces

Spiritual connection, charity, activating psychic gifts, and inspiration.
For instance, making moon water under a Full Moon in Scorpio can be helpful if you want to transform stagnant areas of your life or seek a powerful emotional release. Remember that you'll need to wait until a Full Moon happens in your desired sign, as doing so will reward you with more potent moon water.
2. Choose a Container & Fill It
Choosing a container is straightforward, but ensure it has a lid to prevent spilling and keep debris out. Select a container that can accommodate your needs or use multiple to make lots of moon water. I prefer to use natural-material containers such as mason jars, given their ease of availability. Once you choose a container, ensure it's physically and energetically clean.
Then, you can fill your container with purified water or water sourced from a natural body, such as a stream, river, or lake. Rainwater collected on the same day is another option, but don't use it if you intend to drink your moon water. Unless you want to add crystals or other ingredients to the water, you can fill your container to the brim and seal it.
3. Program Your Moon Water
Programming your moon water doesn't have to be complicated. You can write down the goals you decided on earlier and place the paper under your moon water or hold the container in your hands while focusing on the intention in your mind. Even without a set intention, the Moon will still infuse its energy into the water.
But you'll increase your moon water's potency by adding ingredients. This can look like adding corresponding crystals, teas, and oils into the water to boost your desired energy. If you're using crystals, just ensure they're water safe, such as quartz variations.
While it's normal to feel unsure about including crystals in your moon water, you can gain clarity by understanding how to charge, program, and store crystals properly. Thankfully, working with crystals isn't challenging if approached properly.
4. Leave It Under Moonlight Overnight
Choose a spot where your moon water can fully soak up the lunar energy and remain undisturbed. Common places to leave moon water are in a backyard or on a window sill but always use your discretion. Removing your moon water before sunrise is important to avoid mixing the Sun's masculine energy.
Working with the Moon and making substances like moon water can be a great way to connect to Moon Goddesses and Deities or to feel a greater connection to the feminine energy in the Universe.
5. Store Your Moon Water
You can store your moon water for future use if you don't use it right after making it. When you store it, label it with its creation date, the sign/phase you charged it under, and your intention. This helps you remember and use the water's properties appropriately during spiritual work.
I recommend storing the moon water in a cool, dark place and keeping it away from sunlight. You can store it for up to a month by keeping it inside an airtight container. If you notice any changes in the water's color, smell, or taste, or if you see any signs of mold, you should discard it and make a fresh batch.
How to Use Moon Water?
Moon water is best used for spiritual and ritualistic purposes, such as enhancing your energy to amplify intentions. Common practices to use moon water include spiritual baths, spellwork, and spiritual cleansing, which help boost luck and positivity. You can even use it to water your plants, as it helps promote growth and vitality.
Another use case is to use moon water as a facial mist or toner to hydrate and nourish your skin. It's believed that the properties of moon water can lead to a more beautiful and feminine appearance when used cosmetically. It may be worth trying if you've had no luck with traditional skin treatments and want to experiment with a spiritual approach.
It's also believed that drinking moon water can regulate the menstrual cycle, treat PCOS, and boost fertility. This makes sense since the Moon is a feminine luminary with a cycle that closely corresponds to the menstrual cycle. That said, always seek medical advice before trying alternative healing methods.
Best Sites for a Psychic Reading
If you're using moon water to boost your spiritual practice, seeking guidance from a psychic can be beneficial. I've selected the best online sites for psychic readings, allowing you to receive advice from the comfort of your home and feel at ease. These platforms are renowned for delivering high-quality services and are 100% trustworthy.
1. California Psychics — Best Overall for Spiritual Readings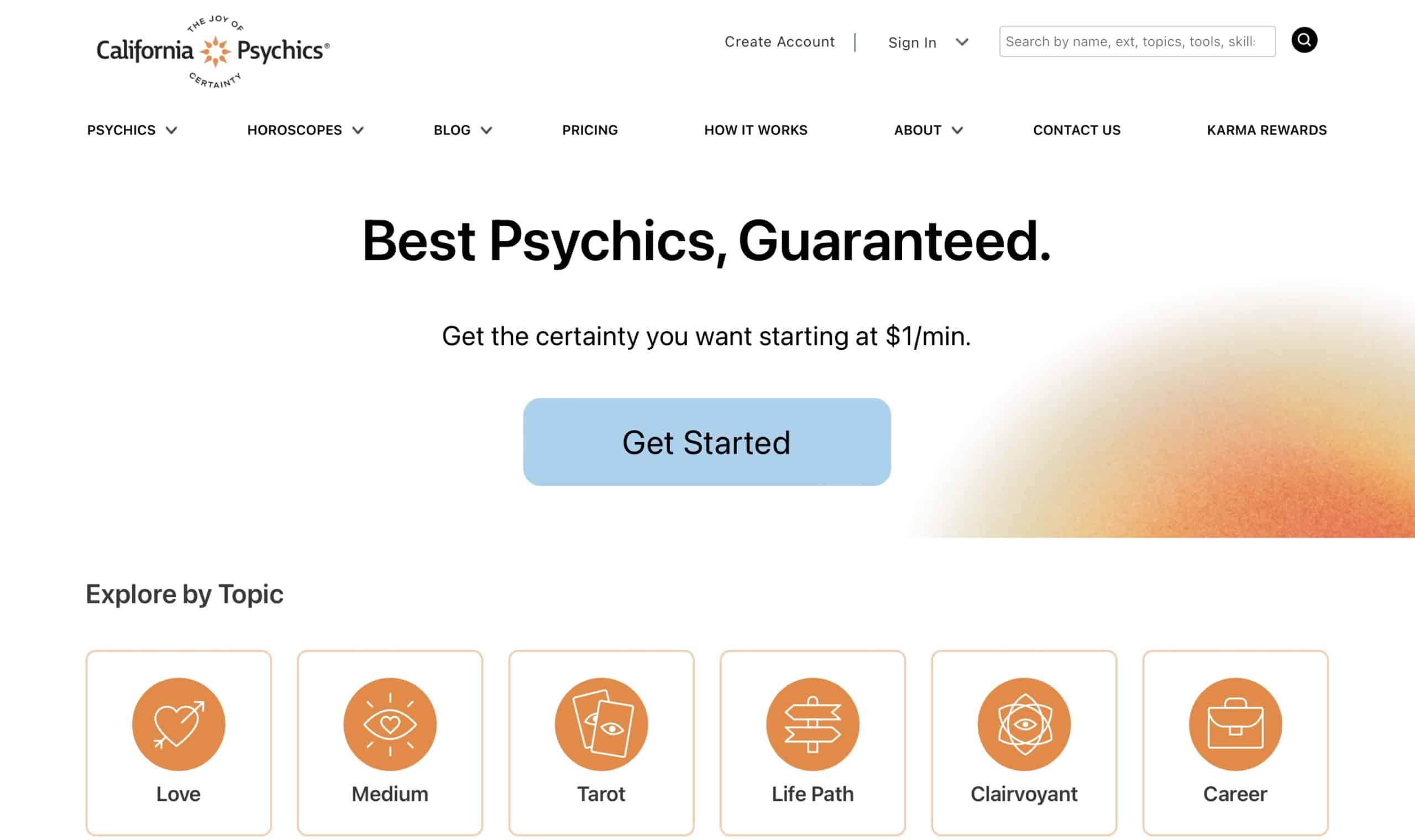 200+ psychics to choose from
Readings for $1, $2, or $4 per minute
2% acceptance rate
Karma rewards program
Satisfaction guarantee
California Psychics stands out from its competitors because it has been in business for 25+ years and maintains a strict vetting policy. The site only accepts 2 out of 10 psychic applicants and regularly monitors them to ensure high-quality standards. Knowing this should put you at ease if you're concerned about getting bad advice.
I also feel reassured that California Psychics has a satisfaction guarantee to keep you protected. If your reading falls short, you can contact its support team and request a refund in site credits. You shouldn't run into any issues if you fulfill the policy's criteria, like submitting your request within 72 hours.
A large appeal to using California Psychics is the benefits you receive with its Karma rewards. Even if you don't intend on using the site long term, you can get a $20 credit and a free astrology report when signing up. I find this worthwhile because you can put the credit towards your first reading and save money on an expensive advisor.
But remember that the site only offers chat and call reading readings, which can make them less personal. On the other hand, chat and call readings grant you additional anonymity if you don't like being on camera. I don't think it should be a deal breaker, especially if you find a psychic you like.
2. Purple Garden — Easily Receive Guidance With Its Mobile App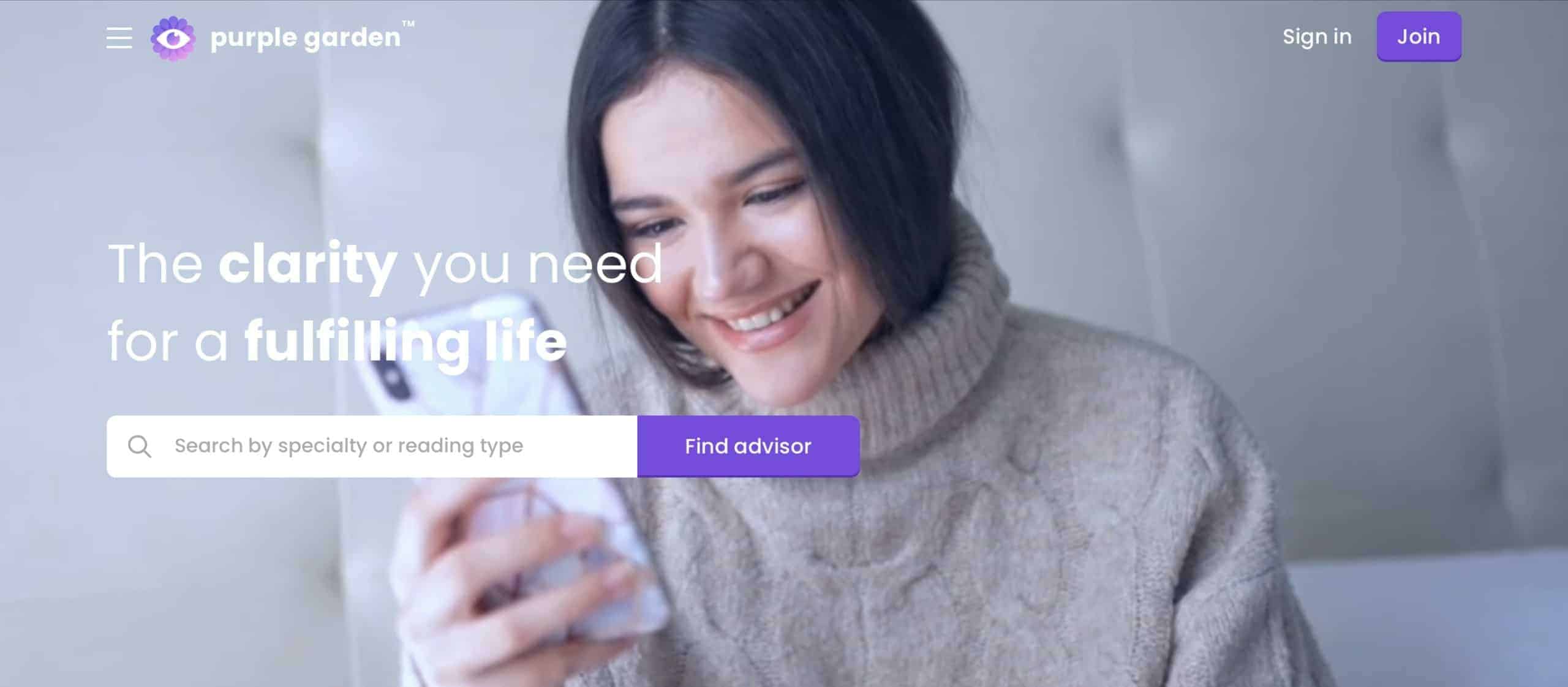 Convenient mobile app
$10 credit for joining
Introductory videos on profiles
Chat, call, and video calls
Thorough FAQ section
Something that adds value to Purple Garden is its convenient mobile app. Having the app makes it easier to get psychic insights on the fly, whether you're traveling abroad or practicing a ritual. You can quickly pull out your phone and call your favorite psychic if you have doubts or need immediate guidance.
I was also happy that you could contact a psychic via live chat, call, or video. Having more options means you have greater flexibility and control over your experience without compromising your needs. For example, if you have a quick question about a Moon sign, you can use its live chat or connect via video for heartfelt advice.
You'll notice that choosing a psychic is easier on Purple Garden because each psychic has an introduction video on their profile. The videos are usually 1 to 2 minutes long and provide a brief overview of the psychic's skills, reading style, and experience. Watching them can save you from reading lengthy bios and give you a feel for the psychic's vibe.
Purple Garden's customer support isn't the most versatile since it has no hotline or live chat support. However, I don't find it problematic since its email support is reliable. You can typically get a helpful response within a 1 to 2-hour timeframe or look through its FAQ for immediate insight.
3. Keen — Feel at Ease with its High-Quality Roster of Psychics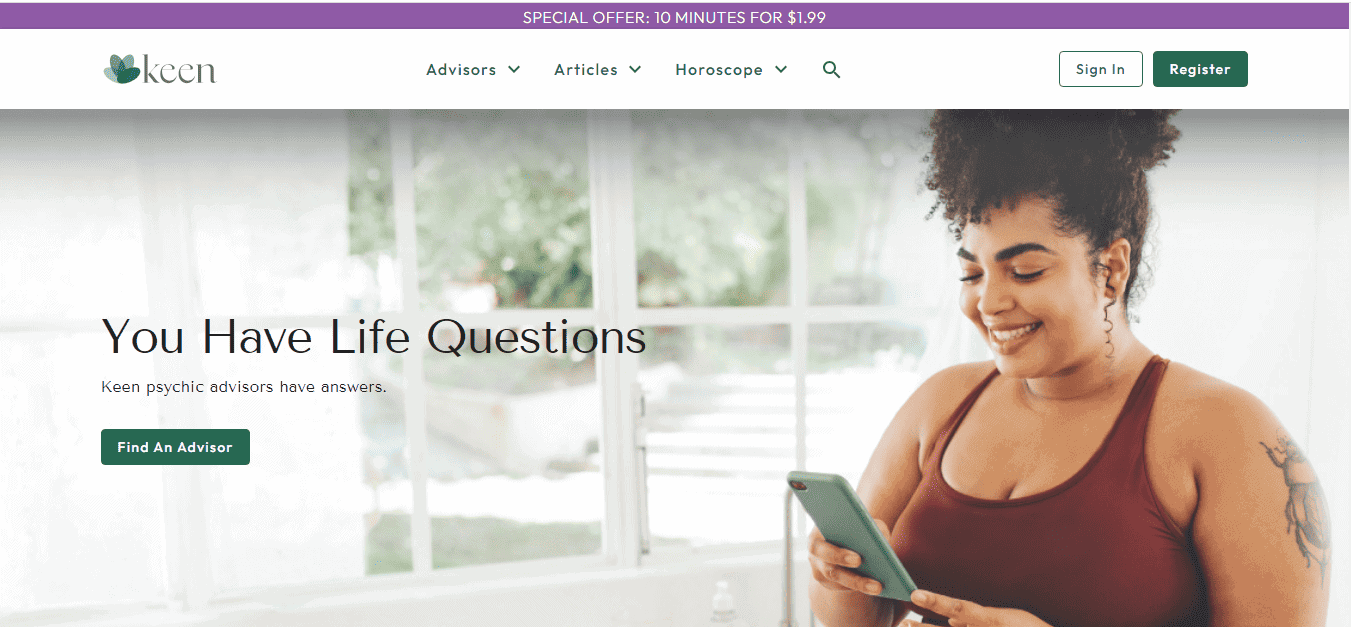 Psychics on site since 2012
Helpful search filters
10 minutes for $1.99
Email psychics before booking
Transparent reviews
Keen is a solid option for psychic guidance because it has a reliable roster of high-quality psychics. Most advisors have been on the site since 2012 and have vast experience helping others. This brings you peace of mind if you're dealing with a complex situation and want to ensure your psychic can offer quality advice.
Regardless, I like how easy it is to find the right psychic on Keen when you use its search filters. You can narrow your search based on conversation type, availability, price, skills, specialties, and more. So, if you need tailored advice on manifesting with Moon water, you can easily find a psychic with that expertise.
While using Keen, you can also email your pick of psychics before committing to a full reading. I like using this feature because it lets you see if that psychic feels comfortable with more niche topics. Otherwise, you may connect with a reader only to learn that they don't know much about Moon phases or working with Moon water.
Although you can find psychics on Keen for under $3 per minute, I've noticed the popular ones can charge up to $15 per minute. However, if you want sound advice without breaking the bank, you can use its newbie promotion to get 10 minutes for $1.99. This lets you test the waters with certain psychics before justifying higher rates.
FAQs on Moon Water
When should I make Moon water?
There's no set time for when to make moon water, but it's typically made during Full Moons. However, don't let this limit you because making it under other Moon phases can be beneficial depending on your goals. You should also consider the Astrology sign that the Moon will be in to ensure the energy is aligned with your intention.
Making moon water under a Full Moon is best for releasing what no longer serves you and removing negative energy. It's also a great time to reap the rewards, offer gratitude, and clear away energetic blocks. On the other hand, New Moons are great for manifesting, reflecting, and beginning new ventures such as relationships or projects.
There are also the Waxing and Waning Moons, although their energy won't be as potent as the Full Moon. The Waxing Moon is ideal for creative work and inspiration if you feel mentally blocked. Additionally, the Waning Moon can help with forgiveness, surrendering, and grounding your energy.
Is Moon water safe to drink?
Yes, drinking moon water is generally considered safe as long as it's made with clean water intended for drinking. Make sure that you know how to store your moon water properly so you don't accidentally get sick from drinking it. Since moon water is just water that has been charged by lunar energy, no evidence suggests it's harmful.
Can moon water help you get pregnant?
While no scientific evidence suggests that moon water helps with fertility, some people believe it can. This is because some spiritual practices associate the moon with feminine energy, cycles, and fertility. As such, some people may choose to use moon water as part of their fertility rituals and find it offers positive results.
It's important to note that while moon water may be a part of some people's fertility practices, it shouldn't be used as a replacement for medical advice or treatment. If you are experiencing fertility challenges, it's essential to consult with a healthcare professional for personalized guidance and support.
Can I make moon water under a Lunar Eclipse?
Making moon water during a Lunar Eclipse is safe, but some people may avoid it due to their spiritual or astrological beliefs. For some astrologers and psychics, Lunar Eclipses are a time of intense, chaotic, and unpredictable energy. This backs the argument that there are better times for spellwork or trying to manifest.
However, to make moon water during a Lunar Eclipse, you should chat with a trusted psychic for their input. Ultimately, the decision to make moon water during a Lunar Eclipse is personal and can depend on certain beliefs, intentions, and astrological considerations.
Bottom Line
Moon water can take your spiritual practice to the next level, allowing you to manifest and heal more effectively. And while it's simple to make, it can quickly become confusing when trying to amplify its energy with corresponding herbs or crystals. But with a good understanding of moon water, it can be as simple or complex as you want.
To feel more confident when working with moon water, you should seek the insights of a credible psychic. Doing so will allow you to identify which areas of life need the most attention and help you better program your moon water, enabling a more powerful transformation.