Atava Garcia Swiecicki, a renowned herbalist, teacher, and founder of Ancestral Apothecary in Oakland, California. Atava has dedicated her life to studying and teaching herbal medicine, spiritual healing, and ancestral traditions. She is deeply committed to helping people reconnect with the earth, their ancestral heritage, and the power of plants as a means of healing and transformation. Atava's approach to herbalism is grounded in an understanding of the interconnectedness of all life and the importance of honoring our ancestors as a source of wisdom and guidance.
In this feature, we will explore Atava's journey into herbalism, her approach to healing, and the work she is doing at Ancestral Apothecary to empower people to reclaim their health and well-being.
Please share your background and what sparked your interest in holistic healing and the benefits of herbs?
Looking back at my life, I now realize that as a young adult, I was searching for something like herbalism or Curanderismo to study. But during the 80s and early 90s, these practices were not as mainstream as they are now. Without social media or the internet, it was challenging to learn about them. Despite this, I felt a calling to pursue these interests, which I now identify as an ancestral memory. At first, I tried to study psychology in college, but it felt cold and distant. It lacked the warmth and sensuality of herbal medicine.
I eventually discovered herbalism through my sister, who invited me to a herbal gathering in the 90s. At the Women's Herbal Gathering, I felt like I had come home. Watching people make tinctures, teas, and salves, I realized that this was what I wanted to do. I met my first teacher there and began my journey as a student.
Early on in my herbal education, I also became curious about ancestral medicine practices. My father's side of the family is from Poland, while my mother's side is Mexican, Hungarian, and Native American. Due to assimilation and other factors, the traditions were not alive in my family. Still, I knew that all these cultures have strong herbal traditions, and I wanted to find my way back to them.
At first, I considered studying acupuncture because it was a great way to get an advanced education in holistic medicine. However, I heard a voice in my head asking me what my ancestors' practices and traditions were and how I could access them. Then in 1999, while working at an herbal store in San Francisco, I met a Curandera, a traditional Mexican healer named Doña Enriqueta Contreras from Oaxaca. She electrified the room, and I knew that I wanted to learn from her. She was the first Curandera or traditional healer from my Mexican lineage that I had met, although there are many different strains of traditional healers in Mexico.
Since then, I have studied a variety of healing arts, such as acupressure school, traditional Asian-style bodywork, and Jin Shin Jyutsu, a hands-on modality. However, I found that herbalism was my true calling. It led me to pursue a clinical herbalist certification through the American Herbalist Guild. About 20 years ago, I started teaching classes, and eventually, I founded Ancestral Apothecary School of Herbal and Folk Medicine. Although I didn't realize it at the time, it grew into a school as I taught more classes, brought in other teachers and students.
While I believe in the strength of biomedicine, I also think that it is important to acknowledge the benefits of holistic medicine, which can nourish our body, mind, and spirit throughout any health journey. I hope that the discrimination and misunderstandings towards herbalism will decrease, and that we can all work together to promote integrative medicine.
My passion lies in connecting people to plants, empowering them with self-care and family care through herbalism, and helping them find their way back to their ancestral medicine traditions like those I have been blessed to teach.
Last year, I published a book called "The Curanderx Toolkit: Reclaiming Ancestral Plant Medicine and Rituals for Healing". It was an incredibly exciting moment for me because I was able to take all of my experiences in the classroom with plants and my teachers, and put them down in writing to share with a much larger community than could fit in my small classroom in Oakland, CA.
What is your approach to healing?
My approach to healing has evolved over the years through my personal experience and working with clients. I view healing as a political and social framework, where the world is out of balance and humanity is sick. There are many intergenerational traumas, environmental racism, and lack of access to healthcare that contribute to poor health. My aim is to unpack the thousands of threads that weave together into the tapestry of our body, mind, and spirit to create harmony.
I introduce clients to herbs and try to get them to incorporate more plants into their bodies and surroundings to build resilience and adaptability. I'm a big proponent of growing medicine, gardening, and learning to grow plants. I believe the greatest healer is the Earth, source, and spirit, and my role is to guide and be a channel for these energies.
I educate clients on the basics of sleep, nutrition, stress management, relationships, and joy. I also look deeper into their family history, ancestry, and environment. I don't believe we ever arrive at a healed place because there are always more layers to unpack.
As a healer, I'm also involved in social activism and free clinics to bring medicine to those who lack access. My well-being is connected to everybody in the community, and we can't separate ourselves from the society we live in.
I meet clients where they are, and I'm open to their spiritual practice, regardless of their beliefs. I believe that our connection to the divine is part of the healing process.
As a cancer survivor, I have a lot of compassion for people on serious health journeys. I hold space for my clients, surrounded by allies, plant, human, spiritual, and Earth. I try to be a healthy cell in the collective of this time, nudging humanity towards a more balanced state.
If you were to pick 4 plants essential to your own wellbeing, what would they be?
That's a great question! It probably changes day-to-day, but right now, I'm in love with tulsi. Any adaptogen would do, but tulsi is such a cheerful and energizing plant that helps with our nervous system, brain health, and immune system. Plus, it tastes great! This plant originates in India, where it's traditionally used, and I'm grateful it was introduced to the United States and other places as a tea that I can drink daily to support my wellbeing.
In terms of the one plant I'd need if I had no others, I'd choose yarrow. It has so many applications, whether you use it for bleeding, cuts, wounds, digestive inflammation, colds, fevers, or flu. It's antiviral and antimicrobial, so I always make sure to grow it. I recently moved from California to the Southwest and made sure to plant yarrow right away. Fortunately, it grows well here.
I also love elderberries as a great remedy for respiratory health, and they taste delicious. One of the things I always taught my herbal students was how to make elderberry cordial, and now it's become popular among my circles. Chamomile is another plant I've been working with a lot. It's a panacea, like yarrow, with many applications for decreasing stress, improving digestion, reducing skin inflammation, and alleviating allergies. It's also gentle and accessible for many people.
I try to think about plants that are easy and accessible for starters because we could talk about obscure plants, but if people can't find them, it's not beneficial. Chamomile is a plant that is available in many places. Being in the desert, I've recently discovered cottonwood buds. They're in the poplar family and make a great anodyne or anti-inflammatory formula. They taste yummy, and I've made some tincture. Now that I'm in a new ecosystem, I'm trying to get to know the plants here and what grows well.
I'd also like to give a shoutout to rosemary and lavender. I moved from a Mediterranean coastal climate to the high desert, and many of my herbal friends can't grow these plants here, but rosemary is doing well. I respect plants that are really hardy and grow in multiple environments. I'd advise your readers to learn about plants that are either native or fairly well-adapted to the ecosystem they live in and build a relationship with them. They will be around if supply chains crash, and we can't get any antiviral herbal remedies, like what happened in the beginning of COVID. Traditionally before modernization our medicine used to be very local, and we would forage or grow our gardens. These are all some of my favorites at the moment.
What are some simple ways people can integrate Herbalism into their lives today?
I am a big believer in food as medicine, so starting with adding fresh or dried herbs to cooking is a great way to integrate herbalism into our lives. Many of the world's greatest culinary traditions use herbs in their cooking. For example, I make a lot of bone broths and always throw in seaweed, reishi mushroom, turkey tail mushrooms, and different herbs. This stock serves as a base for many foods, including the bone broth I am drinking right now. We can also use herbs as herbal sprinkles on our food to get phytonutrients into our body.
Another great way to incorporate herbs is by making herbal teas with loose leaf herbs infused in a Mason jar. Making tea is a hands-on practice and more personal than buying a tincture. Tinctures are great and accessible, and I recommend them to my clients. However, making tea is a daily practice that we can incorporate into our lives.
Baths with herbs, also known as baños, are another way to integrate herbalism into our lives. Herbal baths are beneficial for physical pain, emotional, spiritual, energetic cleansing, and grieving.
I encourage people to grow their herbs, even if it's just one plant in a windowsill. Tending to a plant and using it as our medicine is a powerful relationship that is more profound than buying it online or in stores.
Another esoteric way to bring plants into our lives is to dream with them. I like to use plants for this purpose. For instance, putting a sprig of Rosemary or chamomile under the pillow can bring healing dreams. Chamomile is known as a dream herb and has helped adults and children with nightmares.
There are many ways to bring herbs into our lives, but the essential thing is to make it a daily practice. There is no right or wrong way to do it. We should follow what we are drawn to and maintain a consistent relationship with our plant allies and how they can help us. As a herbalist, I always go back to the earth and stay grounded in my profession.
Are there any other non-negotiable practices you use personally to maintain your wellbeing and self-care?
Yes, there are several things that are important for my wellbeing and self-care. Firstly, I prioritize eating well and getting enough sleep. For me, this means focusing on whole foods such as vegetables and whole grains. Although I eat meat, I make sure it is locally sourced and well-raised.
Secondly, I have a morning practice that involves yoga, meditation, and prayer. This helps me tune in to myself and set the energy for the day. Without this practice, I feel like a pinball bouncing back and forth between various distractions.
Another important practice is tending to my emotions and spiritual well-being. If I am feeling sad or upset, I make sure to give myself time and space to tend to those emotions. This may involve spending time on my yoga mat, in front of my altar, or even taking a bath or performing a self limpia (brushing and cleansing with herbs).
I also believe that joy and creativity are important aspects of wellbeing. I try to balance my time between work and play, and I make sure to spend time with loved ones and my cat.
As I've gotten older and dealt with different health issues, I've realized that taking care of myself is not negotiable. If I don't eat well or get enough sleep, I know I will suffer the consequences. I am grateful to have a lifestyle that allows me to prioritize my self-care.
If you are interested in learning more about Atava or the Ancestral Apothecary visit
www.ancestralapothecary.com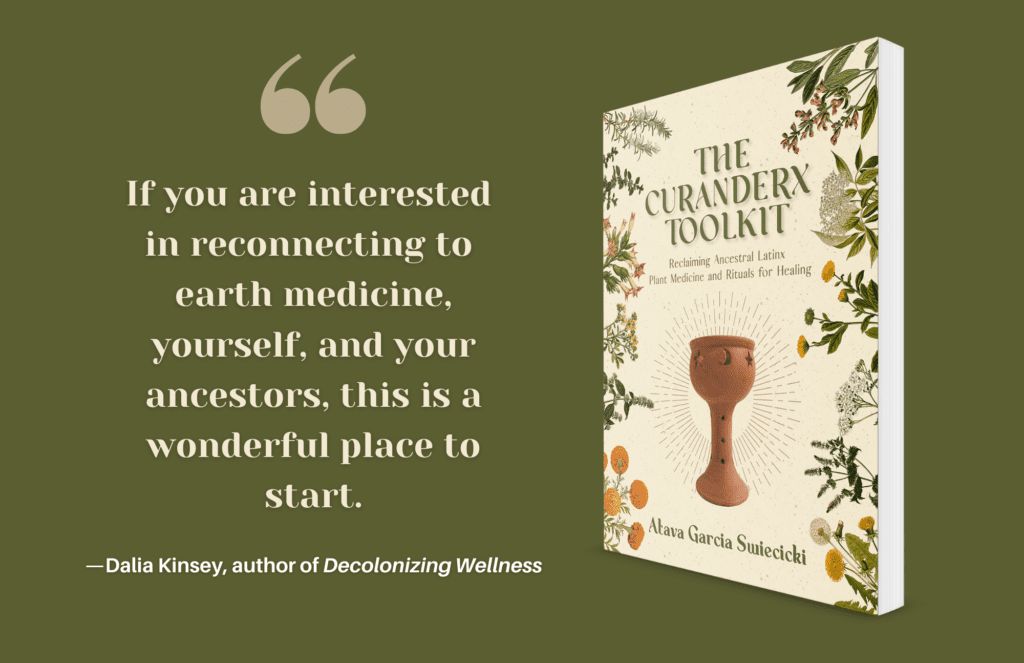 The Curanderx Toolkit: Reclaiming Ancestral Latinx Plant Medicine and Rituals for Healing can be found on Bookshop.org or directly through the publisher, Heyday.