Charlotte Kikel, Founder of Eat in Peace Wellness Consulting is a herbalist, nutritionist, and self-care advocate. Her professional practice draws wisdom from personal health breakthroughs, commitment to ongoing education, formal training and clinical work. She holds a Masters of Science in Western Herbal Medicine from Maryland University of Integrative Health (formerly the Tai Sophia Institute) and is a graduate of the Nutrition Consultant program at Bauman College in Santa Cruz, California. In this feature Charlotte shares insights in holistic healing and the benefits of herbs, and her personal routines for self-care and wellness.
Please share your background and what sparked your interest in holistic healing and the benefits of herbs?
My childhood dream was to own my own bakery. I loved baking with my mom in the kitchen, so all of my career and education revolved around that. Sweets made me happy and I wanted to make others happy. In fact, my dad was Vice President of Transportation for the Imperial Sugar Company in Sugar Land, Texas. At the same time, I was an athlete. I played tennis, swam through college and then as a young adult got into triathlons, so I took an avid interest in health, except that I didn't know enough to discern the good information from the bad. I mean, I was a child of the '80s, so fat was bad and my diet centered around carbohydrates. I would binge on items containing sugar and wheat and dairy and then go run for an hour to "work it off." I also suffered from severe asthma for 30 years. I was always puffing on my inhaler to breathe. It was a vicious cycle of energy expenditure and physical depletion. Eventually when I was 26 years old, my health collapsed and I ended up in the hospital. Of course, the medical system had a diagnosis for it – a severe mononucleosis viral infection, but now I know what really happened. There are three causes for disease: toxicity, nutritional deficiency and injury. I believe I suffered from all three! When I started passing out in restaurants due to low blood sugar, I was fortunate to find a medical doctor who referred me to a nutritionist. Instead of buying her program, I decided to attend the school where she studied in Santa Cruz, California. Then, when I moved out to the East Coast, I wanted more education and found the Master's of Science of Western Herbal Medicine at what used to be the Tai Sophia Institute. I had benefited so much from herbal medicine that I was excited to learn more and then combine that knowledge with therapeutic nutrition.
What is your approach to nutrition?
It's funny, as one of my teachers says, "There's not a separate physiology and anatomy handbook for every single person." What she means by that is that we are all human beings, so there must be some fundamentals that are true for all of us, like the need for animal fat which has been maligned by so many experts. There are compounds, like vitamin A that are only found in animal fat! So I spend a lot of time restoring people's relationship to Nature in terms of food. Our ancestors weren't growing fields of kale for nutrition. They were busy hunting animals like buffalo! In other words, I spent a lot of time helping vegans and vegetarians return to health via consuming animal protein and fat. Eating is NOT an intellectual process. Yes, you choose your food, but then you have to feel it in your body and see if it's right for you. So there is nuance and self-discovery in diet, and that's where I like to spend my time with people. Bridging the difference between what you "think" is good for you and what actually makes you feel alive. I definitely have a bias toward a more low-carb, high-fat diet – both personally and professionally. That's what has helped me the most and it's what I've spent so many years studying. Some version of this is what most people need. Yeah, one person may be able to enjoy sweet potatoes and bananas, while another can't. That said, just eating real food that exists in nature is the ultimate starting point. "Know thyself" is at the heart of my work around food. I hate food plans, but love giving people experiments and then they can learn what their bodies need.
What insights can people experience from your book "Eat in Peace to Live in Peace"?
I wrote this book to encourage people to keep going in their healing process. When you Google images for wellness, you'll generally see happy people doing yoga on the beach, drinking vegetable juice, or running through a field of daisies. But healing is actually ugly. It's work. It's uncomfortable. It demands change. And it doesn't happen overnight. There's almost a stair-step, spiral pattern to it. So in the end, I just wanted to give people hope and the motivation to stay the course. Also, helping people to change their relationship to food and their bodies. It isn't a book that just fills people with more knowledge. It will change how you see things, so that you can make different decisions with more ease.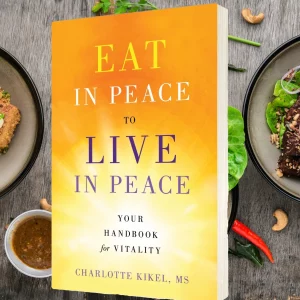 In your opinion, what is one simple thing we can do for our health?
This answer might surprise you but one of the simplest things we can do for our health is to turn off all wireless devices at night, as well as electric fields. Protecting sleep is paramount right now. People are exhausted and many sleep with the cell phones right next to their beds. Some even have their routers in their bedrooms. This interferes with the body's ability to repair itself at night. This technology stimulates the nervous system and depletes the immune system. We have a cut-off switch for the electricity feeding our bedroom at night and have eliminated all wireless devices from our home, so we sleep so much better and deeper. If you search for the term, EMF refugee, Jeromy Johnson has an excellent article and a 12-minute video about people whose lives have been destroyed by all of this electricity in the air. It's something to pay attention to and is off most people's radars. So yeah, protect your sleep! We feel so strongly about this issue that my husband and I went back to school to study at The Building Biology Institute where we will become electromagnetic radiation specialists and will then be able to help people create healthier sleep environments.
Do you have any personal routines that you regularly practice and would recommend for self-care and wellness?
Ha! I think this might be another book! But here are a few…I drink water by the quart instead of the glass and am obsessed with salt. Most people need more salt, not less. So I always add a pinch of Celtic sea salt to my water. I love taking my supplements 2-3 times per day. They definitely make me feel more vital and alive. I get regular therapeutic massage and acupuncture, which isn't just for pain, by the way. Acupuncture helps you be the best version of yourself. Who doesn't want that? I also make sure that all the exercise I do with my body is restorative, like walking and rebounding. One of my favorite parts of this is called Super Slow strength training. All it takes is about 20 minutes once per week. I do what's called The Big 3 – leg press, chest press and chin up. You do each exercise at a weight that yields 100% exhaustion at the 90 second mark. It's so enlivening and gives so much back to the body. Way too many people make exercise an insult to injury in their lives. Excessive cardiovascular activity is a stressor, not a healer. Be gentle and kind. Like I said, I could go on and on. But I didn't get here overnight – just take whatever step you can today to honor your body and those tiny shifts in choices will make meaningful change over time. Just get as close to Nature as you can. There's no right or wrong there – just wisdom. The same wisdom that is found in all of our bodies. Live out of that and you'll feel more alive day by day.
To learn more or reach out to Charlotte visit
www.charlottekikel.com