Kasamba and PathForward are two of the best-known psychic readings sites in the world. Both sites work with experienced advisors and offer an impressive range of reading types. They're also both established sites with great reputations and easy-to-navigate websites.
I wanted to find out which psychic site is better though. I investigated and compared Kasamba and PathForward's reading types, pricing, site usability, trustworthiness, and added features. After hours of careful research, I've concluded that Kasamba and PathForward are both great sites. You'll get accurate readings and excellent customer support from either site, so the final choice is simply down to which site you prefer.
I also really like that both sites have generous introductory offers. Kasamba gives you three free minutes and 70% off your first session, while PathForward offers pre-paid packages that work out at less than $1/minute for new users, as well as three free minutes to get you started.
Quick Summary of Winner in Each Category
💲 Starting price:
PathForward ($

0.89

per Minute)

🔮 Types of reading:
Kasamba (

45

+ Choices)

🤝 Trustworthiness:
PathForward (

Peace of Mind Guarantee

)

🎉 Added extras:
PathForward (In Sight Rewards Program)
🙋 Customer Support:
PathForward (Phone & Email Support)
Kasamba vs. PathForward: Types of Readings
Kasamba
Kasamba's advisors offer readings in 22 main categories, with tens of further subcategories. For example, Love and Relationship readers offer specialized insights into a range of different relationships, including marriage, parent-child, divorce, and dating.

When I clicked into each category, I could see how many advisors offered each type of reading. There were more than 260 Love and Relationship advisors in total, each with different specialties. Approximately 270 psychic readers work through Kasamba's platform overall.
Kasamba offers the following types of reading:
Psychic readings, including aura readings, crystal readings, pet psychics, psychic mediums, remote viewing, and rune casting.
Love and relationships, including breaking up and divorce, cheating and affairs, LGBT-friendly, marital life, parents and children, single and dating, and soulmate connections.
Tarot readings, including angel card readings and cartomancy.
Fortune telling.
Dream analysis.
Astrology readings, including Chinese and Vedic astrology.
Career forecasts.
Palm readings.
Paranormal, including ghosts.
Universal laws, including laws of attraction.
Numerology.
Eastern philosophy, including feng shui.
Past life readings.
Intimacy, including fertility.
Occult, including spell casting.
Graphology.
Picture readings.
Financial outlook.
Kabbalah.
New Age spirituality, including astral projection, intuitive behaviors, and empowerment.
Religion, including Christianity and Wicca.
You can even select UK psychics and look for Spanish-speaking advisors.
While Kasamba has an impressive menu, I found it a little confusing that it mixes subjects and tools together. Many sites separate the issue seekers wish to discuss, and the tools advisors use for readings. This isn't necessarily a bad thing, but is definitely something to be aware of when selecting the type of reading you want.
PathForward
When you look for a reader on PathForward, you can filter based on several reading categories:
Career and money.
Family and friends.
Love, sex, and romance.
Self-love and care.
Spirituality.
You can also filter based on the kind of tools you'd prefer your reader to use. Unlike other sites, some things you may see listed as reading categories are listed as tools on PathForward, including astrology, tarot, cards, numerology, and crystals.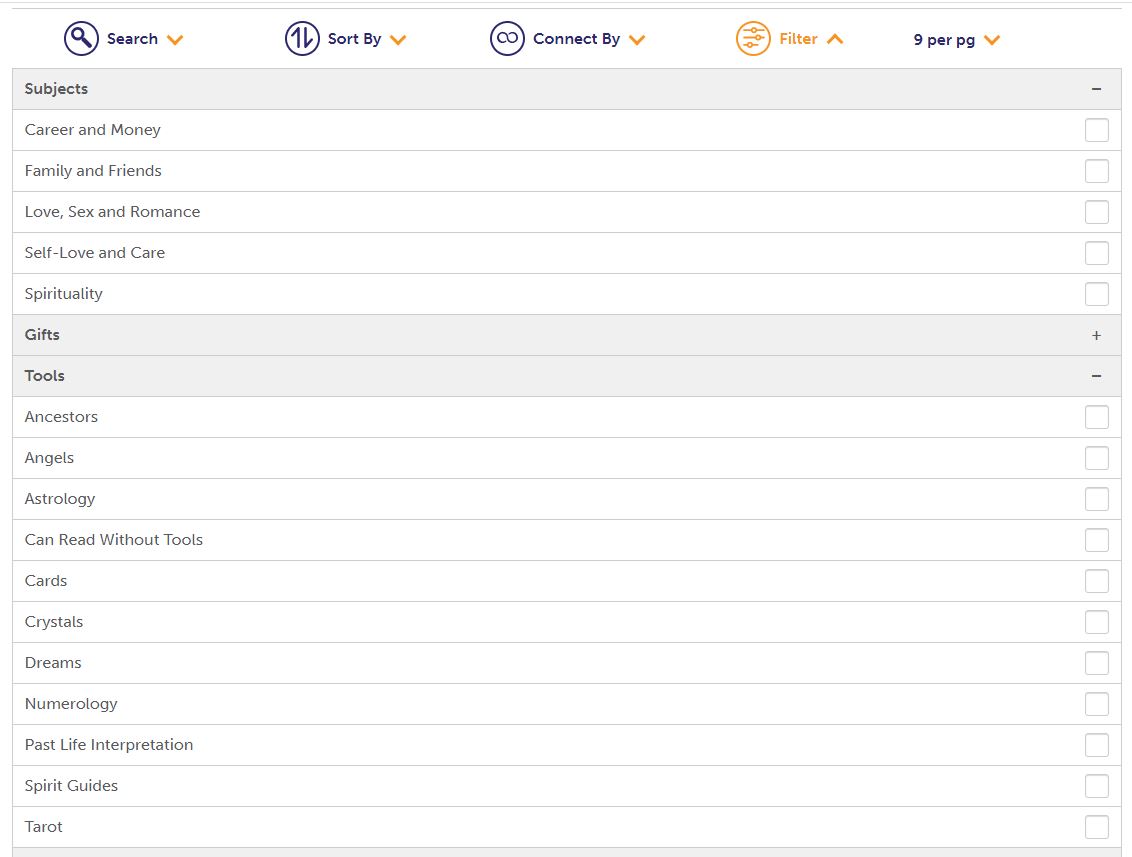 Additionally, some things that I've seen listed as reading types on other sites are listed under gifts on PathForward. For example, pet psychics, mediumship, and intuitive readings are listed as gifts. This isn't a problem, but make sure you read the whole menu carefully before selecting your filters.
Like Kasamba, PathForward lets you look for Spanish-speaking advisors (you can filter by language in the menu). PathForward currently works with around 60 advisors, so if you're looking for a very specific type of reading, you'll have fewer psychics to choose from.
Winner: Kasamba for a wider selection of psychics and specialties.
Kasamba vs. PathForward: Pricing
Kasamba
Kasamba's advisors charge per minute for readings. Psychics can set their own rates and prices range from $1.99 to $30 per minute. This can add up really quickly, so it's worth reading an advisor's profile and reviews carefully before you get started.
Kasamba has a decent introductory offer to help you get started. As well as three free minutes, it gives you up to 70% off your first session up to a value of $50. This generous offer is a good way to make sure you're happy with the site and the psychics on offer.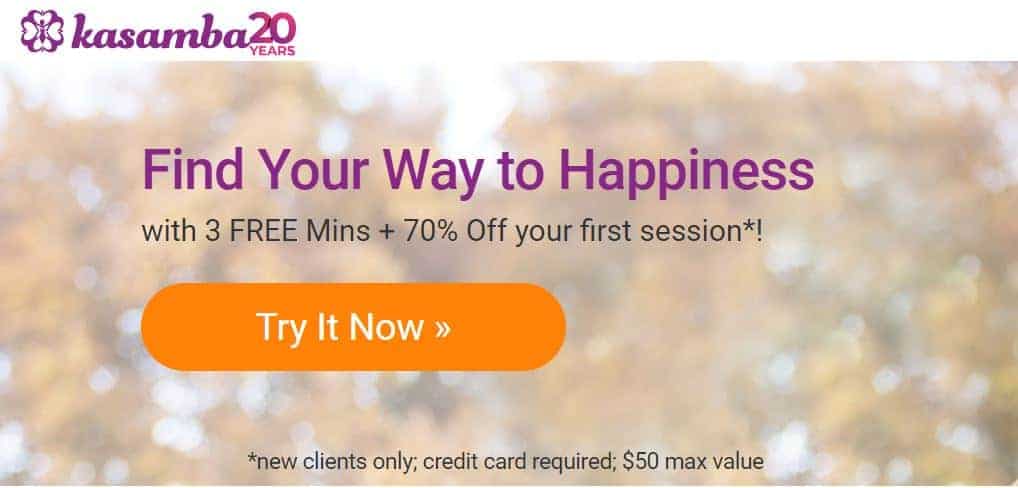 PathForward
Most psychic reading sites let readers set their own rates up to a certain amount, but PathForward does things differently. It charges a flat rate of $5 per minute for all readings. This makes it really easy to keep track of how much you're spending.
It also has a generous introductory plan for new customers. You get three free minutes with your chosen advisor and can pre-purchase a chunk of time for a seriously discounted price. It also offers In Sight Rewards, a reward system that lets you build up money towards future readings.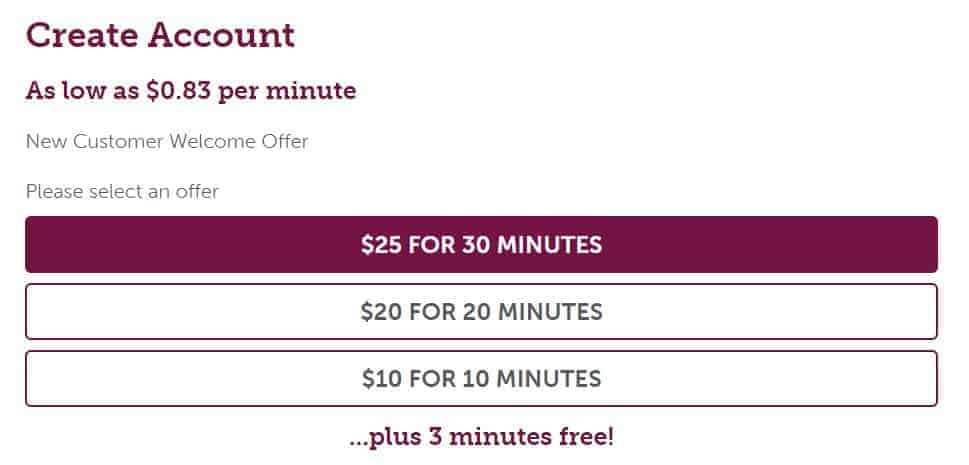 Winner: PathForward for their flat-rate pricing and generous introductory offer.
Try PathForward for Free Today!
Kasamba vs. PathForward: Website Usability
Kasamba
Kasamba's website is easy to use, but the design feels a little old-fashioned and stilted. You can filter for suitable psychics by using the reading categories in the header and dropdown menus.
However, short of using the search bar, you can't narrow down your choice of readers based on their skills or tools. If you want a reading with an empath, you can search for "empath" and choose a reader from the search results, but you can't select empath from a dropdown.
If you're looking for a very specific type of reader, gift, tool, or delivery style, Kasamba might not be the best choice for you. While it offers a huge range of reading types, it's difficult to find an advisor based on anything other than the subject you want to talk about.
Once you've found a psychic you'd like to talk to, you can start a chat or phone conversation (not all advisors do phone calls, so if you prefer talking to typing, make sure you're able to call them). If they're with a different client, you can ask them to notify you when they're available.
Clicking on a psychic takes you to their full profile. This includes a photo, pricing, rates, reviews, and star rating, as well as some information about their gifts and experiences. While this information is helpful, there's no standard formatting or editing, so some pages are really difficult to read.
You can pay with credit card or PayPal. The site lets you either add funds to your account before you start a reading, or submit your credit card details and pay once your reading is complete.
Kasamba also has an easy-to-use app for readings on-the-go.
PathForward
PathForward's website is contemporary and intuitive. I liked the clean layout and easy-to-navigate menus.
The search and filter options let you easily eliminate readers that aren't right for you. You can narrow down your search by availability, connection type (call and chat are both available), or search by name for an advisor you already know. You can also filter by subject, gift, tool, communication style, and language.
If the psychic you want to speak to is busy, you can request a callback. Published schedules ensure you'll always be able to find time to talk to your chosen advisor.
PathForward accepts payments made by VISA, MasterCard, American Express, Discover, or Diners Club credit cards. You can't pay through PayPal.
When you click on a psychic, you'll be able to view their complete profile. This includes a photo, quote, schedule, ratings and reviews section, and summary of the reader's communication style, gifts, tools, and specialty subjects. Psychics can also answer questions about their beliefs and experiences, and leave a voice message introducing themselves.
Winner: PathForward for easy-to-use filtering options and full psychic profiles.
Kasamba vs. PathForward: Trustworthiness
Kasamba
Kasamba was established in 1999, making it one of the oldest psychic sites on the internet. It has a glowing reputation and boasts a 93% satisfaction rate. Its pages are filled with thousands of five-star ratings and positive recommendations and reviews from happy customers.
It also offers a satisfaction guarantee, pledging up to $50 back if you're unhappy with your first conversation with a psychic. Satisfaction guarantees are a great way for a site to show that it really believes in its readers, making it much more likely to be trustworthy.
On the surface, Kasamba seems almost too good to be true. It seems impossible to have virtually no negative reviews or low-starred ratings after delivering readings to more than 3 million people in 20+ years. While it's possible that Kasamba simply doesn't publish negative reviews, it could also be that it cuts ties with poorly-rated readers to retain its high satisfaction rate.
PathForward
PathForward seems to be committed to protecting the privacy of both its users and readers. Advisors use pseudonyms and are forbidden from asking customers for personal details. Your payment information is protected, and advisors can only speak to you through the platform to help keep you safe. Additionally, the site has been online for 15 years (it was formerly known as Hollywood Psychics).
We got a look at PathForward's application and screening process, and found candidates have to answer questions about their abilities, gifts, and experience, just like any other job application.
PathForward enforces a Code of Ethics which is based on professionalism, privacy, confidentiality, security, and integrity. It ensures that both the site and the readers are committed to delivering a high-quality, professional service.
Finally, its Peace of Mind guarantee entitles you to a refund or time with a different reader if you're not happy with your experience on the site. While there are some caveats to this guarantee, it definitely adds to PathForward's trustworthiness.
Winner: PathForward for their Code of Ethics, transparent interview process, and Peace of Mind guarantee
Kasamba vs. PathForward: Added Extras
Kasamba
Kasamba allows you to message a psychic that you're interested in talking to and offer a price for a session. This is a really useful extra feature if you need help and think they're the best person to help you, but can't afford their asking price.
Kasamba's blog is a great extra resource if you're looking to learn more about different types of psychic readings, horoscopes, spirituality, or love and relationships. Additionally, its articles section features pieces by professional advisors and focuses on spiritual insights into your wellbeing.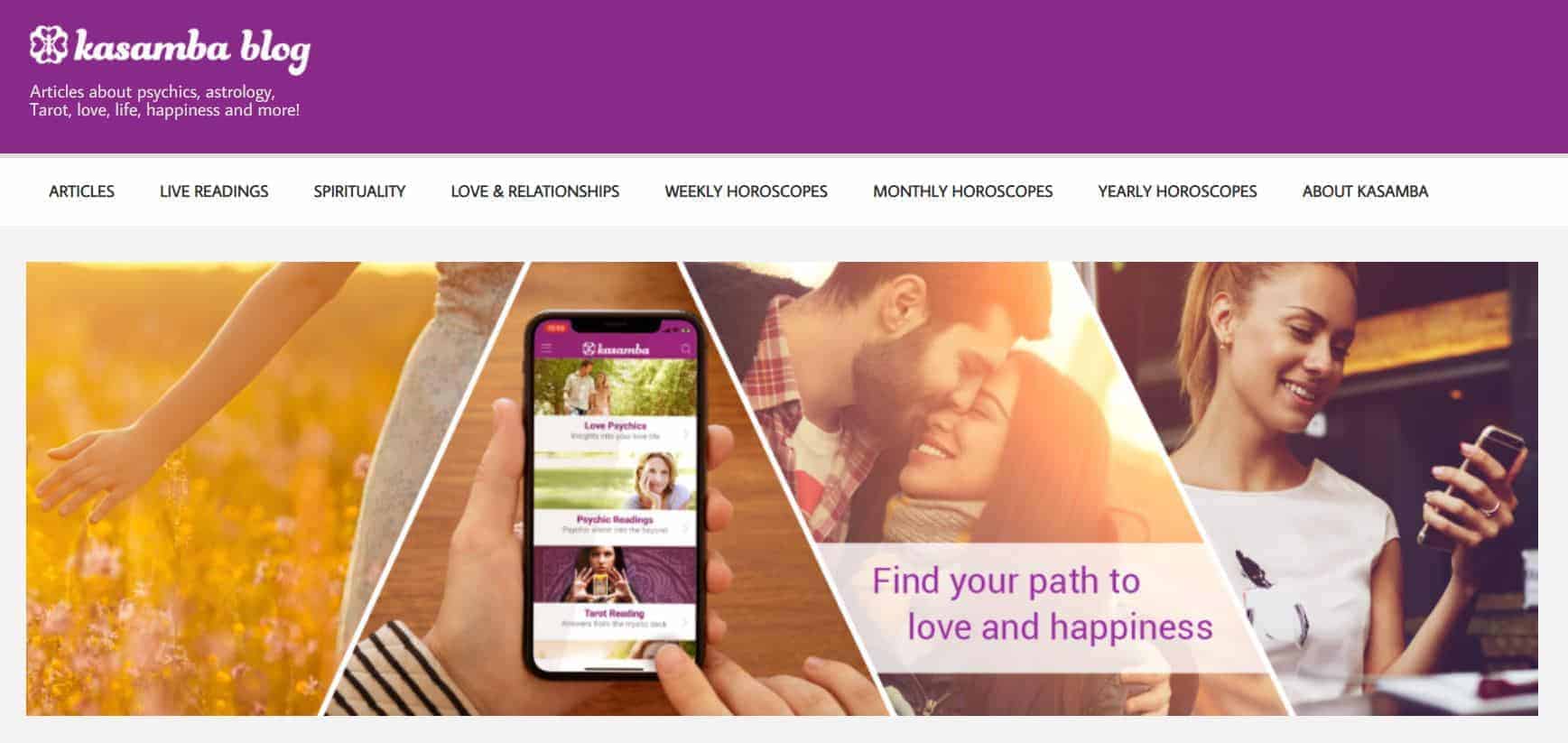 PathForward
PathForward lets you favorite psychics you've worked with so it's easy to find them when you're ready for your next reading. It's as simple as clicking the heart icon. This also makes it easier to see their schedules and plan ahead for your next session. You can also save notes from past readings and questions for future ones.
As I mentioned above, PathForward runs a rewards club called In Sight Rewards. You can earn up to 3% of every dollar you spend, and use your reward dollars towards future conversations on the site.
PathForward's blog (cutely named "The Tea") features articles on topics ranging from astrology and zodiac to money and hustle and self-care and spirituality. It's an excellent resource if you need some extra inspiration or explanation about psychic topics.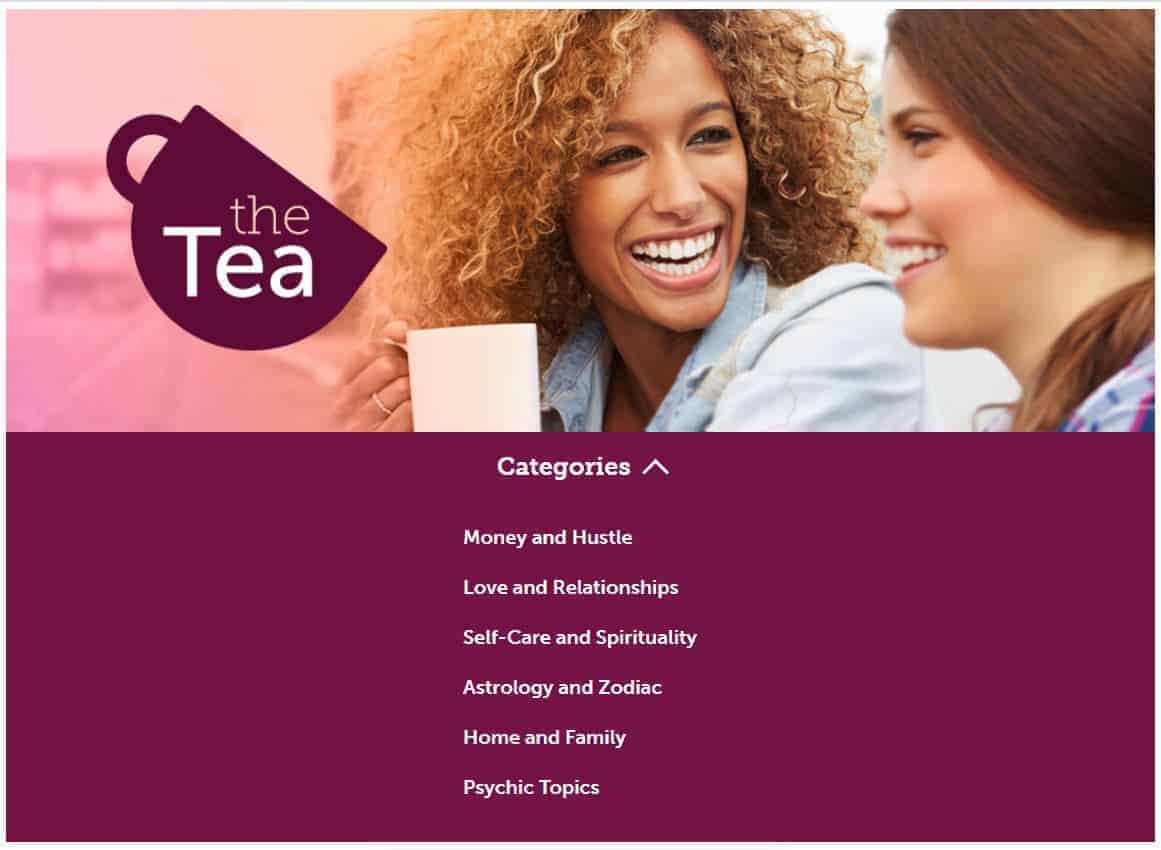 Winner: PathForward for their rewards program.
Discover PathForward's Psychics Now!
The Bottom Line on Kasamba vs. PathForward
Kasamba and PathForward are both excellent sites with sterling reputations. They both offer a broad range of reading subjects, work with experienced and qualified psychic advisors, and offer satisfaction guarantees to ensure you'll have peace of mind when you're online.
Overall, I personally prefer PathForward. While it doesn't have as many reading categories as Kasamba, I think it offers better value for money. I definitely preferred its updated, user-friendly interface and the easy-to-use filtering and navigation options. Its Code of Ethics and transparent psychic screening process also gave me more confidence in the site overall.
That said, Kasamba is an outstanding site with more than 270 experienced psychics offering lots of different types of reading. Its blog and articles section gave lots of extra insight into my issues, and it boasts a really high satisfaction rating.
Ultimately, the right choice of psychic reading site is really personal. You can use the sites' great introductory offers to try them both and make sure the one you choose is the best fit for you.
Overall Winner: PathForward
If you want a big pool of psychics and a wide range of readings to choose from, check out Kasamba.
If you're looking for flat-rate pricing, better transparency, and a contemporary and intuitive user interface, try PathForward.