Searching for the right psychic reading site and advisor can fast become an expensive exercise. Thankfully, there are a number of websites that offer free readings via chat or phone, with some even offering video readings.
However, a free reading is only as good as the psychic's experience, so how do you know which sites to consider?
I decided to test out several top sites to find out which ones offer the best free psychic readings.
In a rush? Here are my top free psychic reading site picks:
Let's take a closer look at the specifics of each of these sites.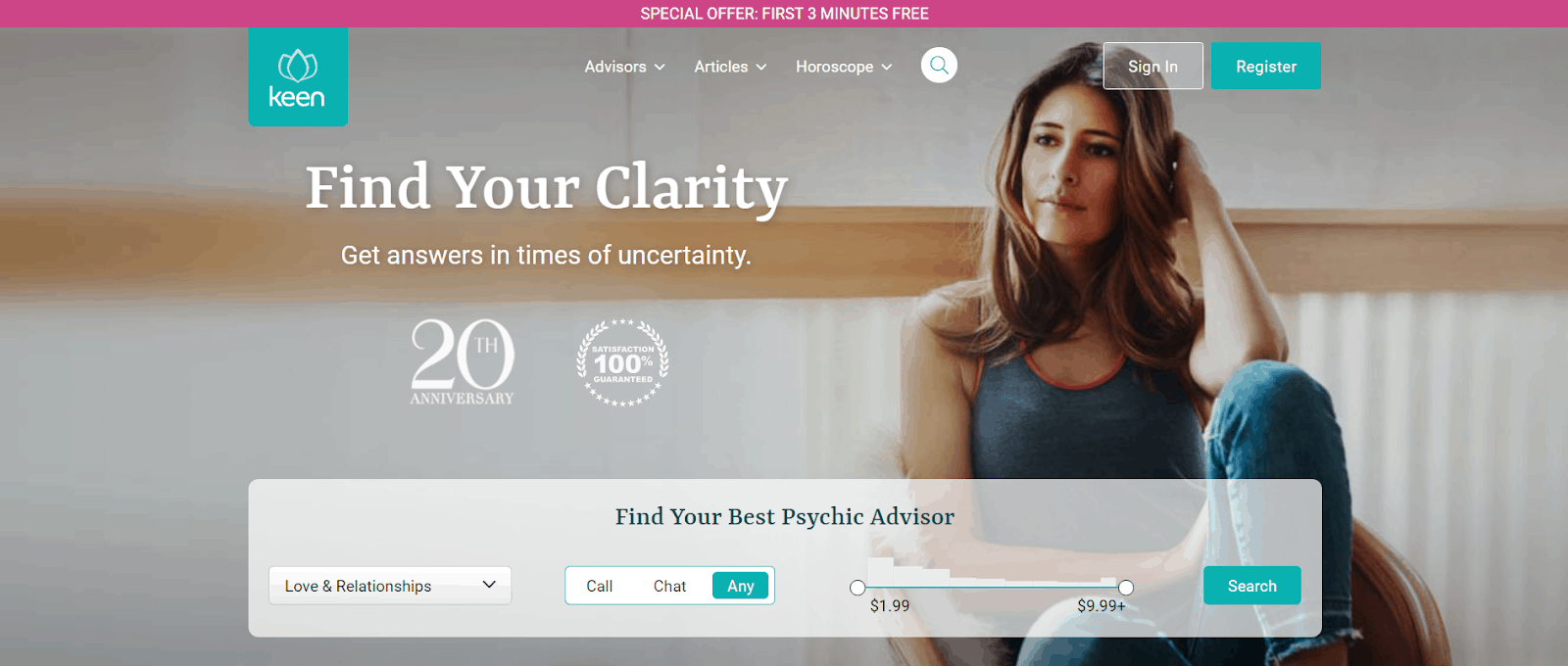 Keen Psychics has been operating for 20 years and is home to some of the most trusted psychics.
If you want to try the site, you can expect the first 3 minutes of your reading to be free.
Keen Psychics has a large psychic network of experienced advisors with a range of specialties. However, the user-friendliness of the site is what stands out the most.
When searching for a psychic, the search results display a short message, star-rating, and number of readings next to each psychic profile. These details can help you decide on the right psychic at a glance.
If you are still having a hard time choosing a psychic, Keen's Best Match tool can help. All you need to do is answer a series of questions.
Keen's satisfaction guarantee states they will refund up to $25 worth of credits should you not be happy with your reading. Unfortunately, you can only request satisfaction guarantee credits once a month.
Explore the Keen Psychics Website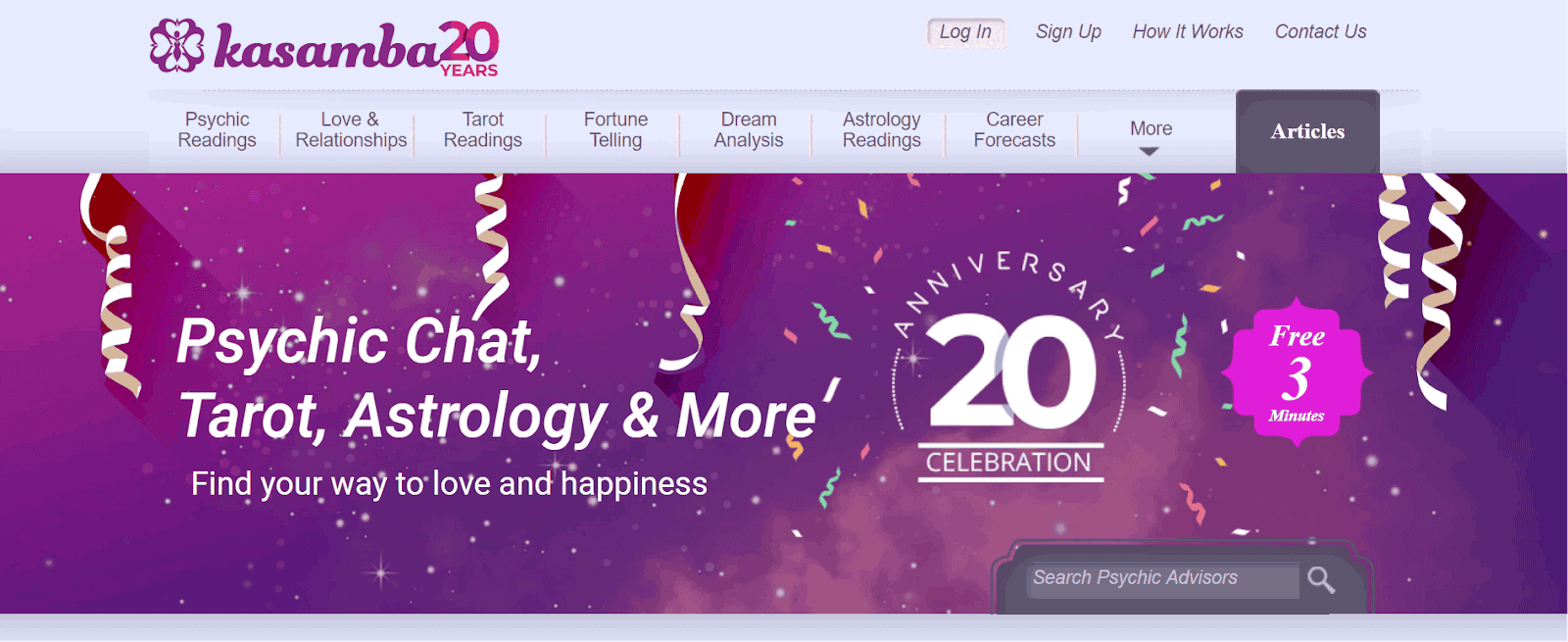 Kasamba has 20 years-worth of glowing reviews from satisfied customers. Their introductory offer also ensures that new users can try the site out without having to pay.
Users receive the first 3 minutes of their psychic reading for free. This applies to both new and existing users for each new psychic you try.
These free minutes can give you enough time with a psychic to get an answer to at least one question.
Also, Kasamba lets users send a message to a psychic for free. This way, you can receive a general response to your question before you commit to a detailed paid reading.
Another feature I really appreciate is that Kasamba allows you to request a reading at your own price.
Kasamba is home to hundreds of psychics who offer chat and phone readings on a wide range of topics, so you'll be able to find guidance on almost anything.
Lastly, if you are unhappy with your reading, Kasamba has a satisfaction guarantee that promises a refund of up to $50 on your first reading.
Claim You 3 Free Minutes on Kasamba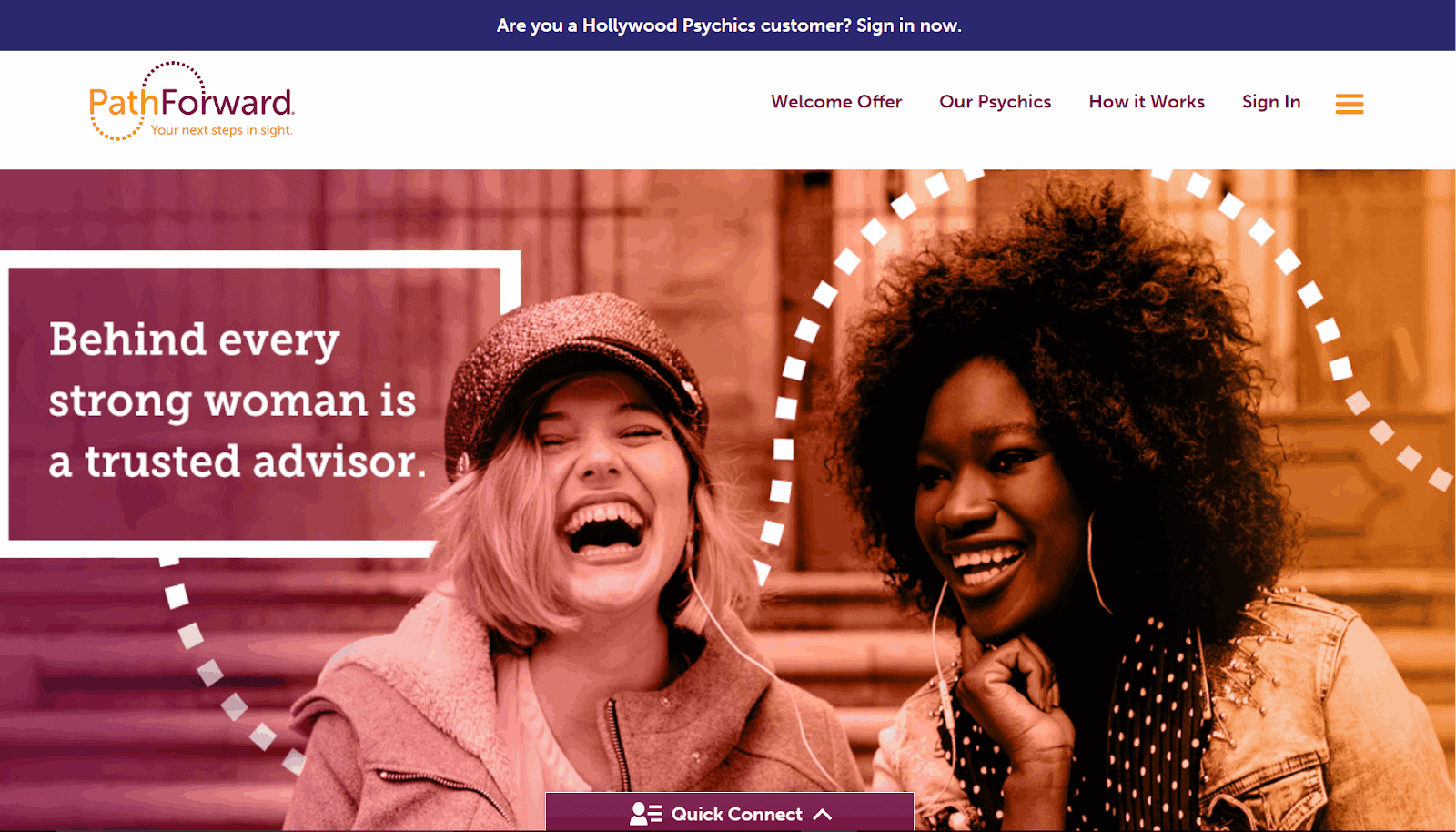 Pathforward straightforward, affordable website that gives new users the first 3 minutes for free. They also have some attractive bonus offers.
If you confirm your email address within 24 hours, PathForward will give you $5 worth of credits for free. Considering new users only pay $1 per minute for readings, these credits will get you far.
Even once you become a regular user, you won't pay anything more than $5 per minute for a reading with any psychic.
PathForward was formerly known as Hollywood Psychics, a site that's been around for over 15 years, which is long enough for me to be confident in their services.
The site also claims that only 5% of psychics who apply are accepted on their network. That tells me PathForward has a very thorough screening process.
As an added bonus, they also have an attractive satisfaction guarantee. If you are not happy with your last reading, PathForward will refund up to 20 minutes, so that you can try a different psychic.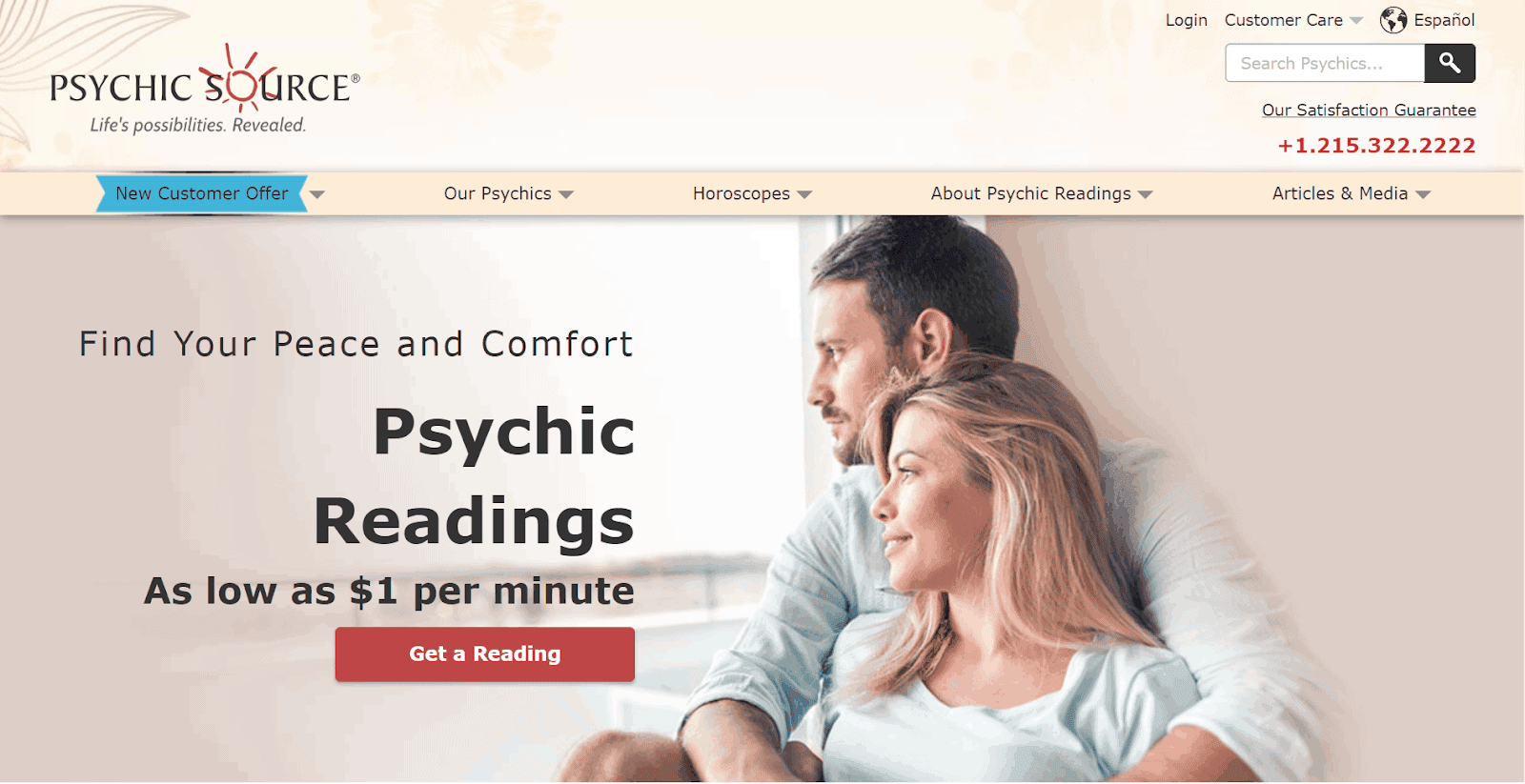 Psychic Source has been around for over 30 years, which is a sure sign of experience and trustworthiness. They also give users the opportunity to try out their services by offering the first 3 minutes for free.
If you value rewards programs, Psychic Source might be right for you. By signing up for their program, you receive a $5 bonus, which can be used to fund an additional free reading.
I found 250 advisors on Psychic Source offering readings via chat, phone, and video. They have a good range of specialties, so whether you want a pet or love reading, there's a good chance you'll find the advisor you're looking for.
If for any reason you are not satisfied with your reading, Psychic Source will refund up to 20 minutes. Thankfully, this satisfaction guarantee applies to both new and existing customers.
Claim Your 3 Free Minutes on Psychic Source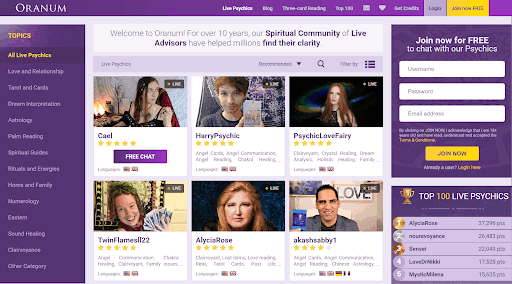 Oranum has one of the most generous free offerings. Oranum psychics are required to host free live video readings and take questions from viewers at no cost.
You don't even have to sign up before viewing these live shows, meaning you can get to know the psychics before you pay for a reading. What's more, you might receive an answer to your question without having to pay at all.
This free offering didn't diminish the quality of my experience either. The site is user-friendly, the psychics are professional, and there are thousands to choose from. This vast selection can be a bit overwhelming for new users though. Fortunately, you can filter your search results quite specifically.
When you sign up, Oranum also gives you $9.99 worth of free credits, which can get you up to a 10-minute reading with some advisors.
Oranum has been online for around 8 years, which isn't that long compared to the other websites on this list. But I still find Oranum to be trustworthy because of their thorough psychic screening process.
I was a bit concerned when I couldn't find any satisfaction guarantee. However, with their many free reading options, you can vet as many psychics as you want before deciding on the right advisor for you.
Watch a Free Live Show on Oranum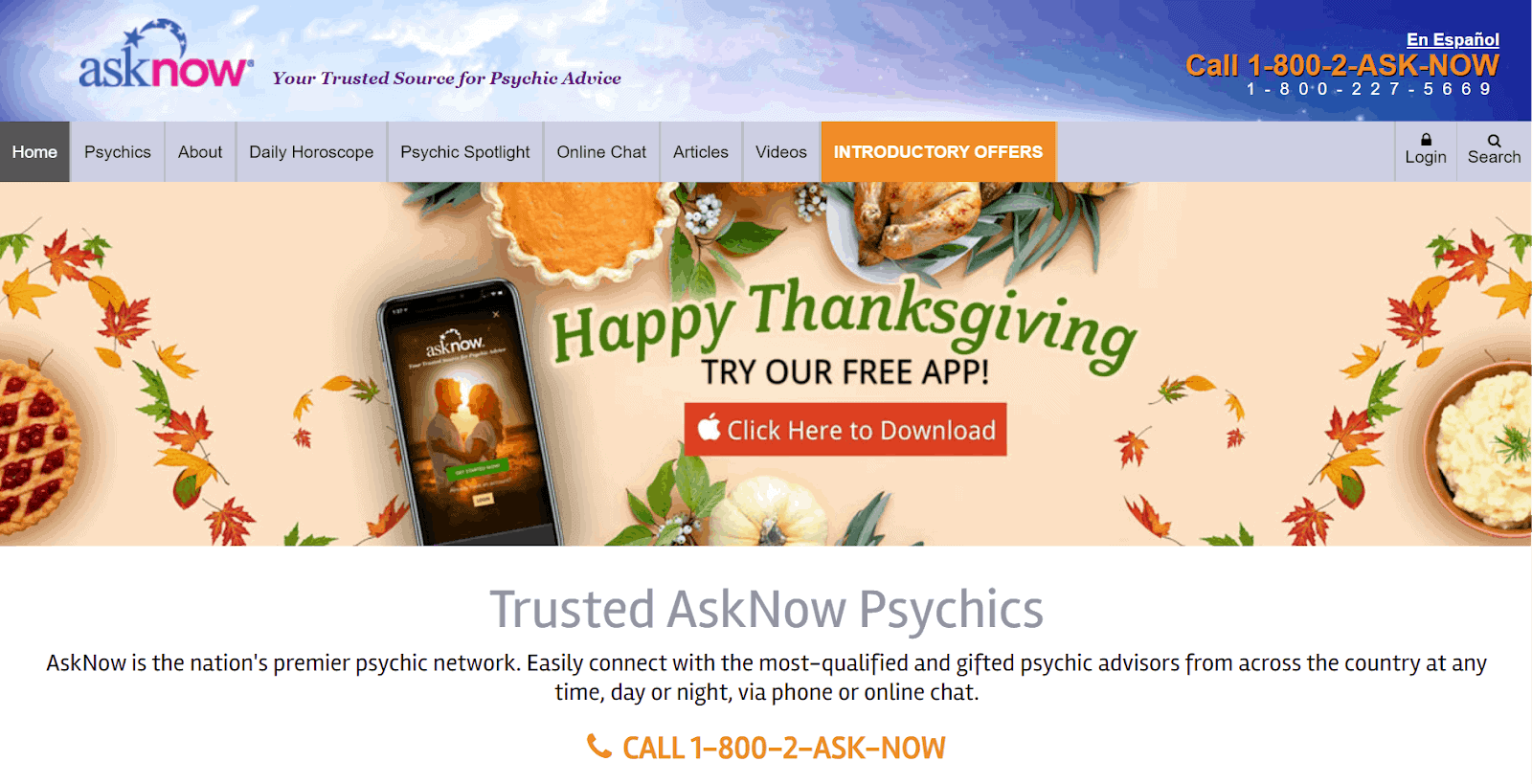 AskNow's introductory offer provides new users with 5 free minutes that they can use to speak to an Elite or Master psychic.
However, you will need to sign up for one of their introductory packages, which includes readings for $1 per minute.
As an added bonus, new users receive one free question with their introductory package.
This comes in handy if you don't really need an extended psychic reading.
AskNow has been online since 2005 and their psychics' have excellent reviews, so I was willing to trust their experience.
However, their satisfaction guarantee could be a lot better than it currently is. If you are not satisfied with a reading, AskNow will only refund up to 5 minutes. That's not even enough for a full reading.
Claim Your 5 Free Minutes on AskNow
What to Consider When Scheduling a Free Psychic Reading
While the prospect of receiving answers from a psychic at no cost is highly appealing, it's important to remember there will be some limitations.
Free psychic readings and introductory offers give you the chance to try a site as well as a psychic of your choice without having to commit to a paid reading. However, if you have more than one question you want to ask, several free minutes might not be enough.
It's important to be realistic about how much information a psychic can provide you based on the free minutes or credits you have available.
Make the most of free minutes and credits by deciding whether there's a comfortable connection between you and a psychic. This way, you can step into a paid reading with more confidence and greater peace of mind.
Bottom Line
Finding the right psychic doesn't need to cost you a lot of money. With so many free minutes available and great introductory offers, it is possible to get an answer to your most pressing questions without spending anything.