With so many tarot cards to choose from, knowing the unique meaning of each card can be difficult. There's nothing worse than seeking guidance and ending up confused or conflicted on what exactly the cards are trying to tell you.
This is why I've put together this list of which tarot cards mean yes and no so you can find insights into your life. With the help of this list, you'll be able to get instant answers to your questions with a clear meaning for each card.
If you want more in-depth answers and the guidance of an experienced reader, you can always speak to a tarot expert on a site like California Psychics. The spiritual guides on this site have been providing meaningful guidance for over 20 years, and readings start from just $1 per minute if you're a new customer.
Get Answers on California Psychics
In a Rush? Here Are My Top Tarot Reading Sites
California Psychics – My favorite site for tarot readings. It has hundreds of readers available by chat or video that can help you get the answers you need.
Purple Garden – Get a tarot reading on the go with its mobile app that makes it easy to find a top tarot reader.
Keen – Dozens of tarot readers at great introductory rates and a satisfaction guarantee in case you're unhappy with your reading.
Major Arcana That Mean Yes, No, & Maybe
Tarot cards can be separated into major or minor arcana. The 22 major arcana are said to signify fated events and life changes that are orchestrated by the universe and the 56 minor arcana show less significant events where we have some control or free will.
You could choose to pull one card from only the major arcana for a quick yes / no answer.
Yes
No
Maybe
The Fool

New beginnings, fresh start, leap of faith, go for it

Death

There are endings, transformations, and changes

The Chariot

A new journey, taking control of the situation, a need to focus

The Magician

Manifesting your desires, you have everything you need

The Hanged Man

Things need further thought, it's time to get a new perspective

Judgment

A final decision needs to be made, karma is at work

The Sun

Happiness and healing, a good outcome is forecast

The Hermit

Go within for the answers, take a break to reflect before acting

The Wheel of Fortune

A new cycle is starting, destiny is in charge right now

The Empress

You are fertile and abundant and able to create the life you want

The Moon

The path forward is unclear, information is still hidden

The High Priestess

Trust your intuition and reflect, your gut knows the answer

The Emperor

You are taking control of your situation like a boss

The Devil

Look again at what you desire, it might not be good for you

The World

A cycle has been successfully completed in your life

The Star

Wish fulfillment and attainment of goals, hope and faith

Justice

Act with integrity and take responsibility, be sincere

Strength or Temperance

Keep focused and control your impulses, fight self doubt

The Lovers

Choices in love and partnership

The Tower

Big changes are happening

The Hierophant

Commitment and responsibility
Minor Arcana That Mean Yes, No, & Maybe
You may wish to remove the court cards from the minor arcana for a 1 card reading. These are the pages, knights, Queens and Kings. You can leave them in, but they are trickier to read as a yes or no, depending on the question.
Also, as a general guide, the 4 suites represent the following;
Cups — the element of Water. Represents feelings and emotions
Wands — the element of Fire. Represents passion, ideas, and inspiration
Swords — the element of Air. Represents thoughts, ideas, and logic
Pentacles — the element of Earth. Represents things, resources, and nature
Cups
Wands
Pentacles
Swords
Yes
Ace
Ace
Ace
Ace
2
4
3
6
3
6
8
9
8
9
10
10
No
4
5
4
3
5
9
5
5
8
10
9
10
Maybe
6
2
2
2
7
3
6
4
7
7
7
8
Tips for More Accurate Yes / No Tarot Readings
Though tarot is undeniably potent in providing crisp and decisive answers to significant queries, we mustn't overlook the subtle complexities it introduces. Here's a collection of useful insights I've put together to aid you in obtaining the clearest and most precise answers when you're performing a tarot reading for yourself.
1. Create clear yes / no questions
Take some time before you begin to shuffle the cards to formulate the right question to ask. For this type of reading, you only want to ask questions that require a clear yes or no answer.
✘ Don't ask: "When will I get promoted?" or "when will I land a new job?"
✓ Do ask: "Will I be offered a new job this year?" or "should I go on a date with him / her?"
It's best if you keep your questions short and to the point. For questions that can't be phrased as a yes / no question, or where the situation is more intricate, consider getting a full reading from a tarot expert.
2. Pull your cards from a full, shuffled, and upright deck
Whenever you draw a card following your yes/no inquiry, remember to place the card back into the deck and reshuffle the cards once more. Failure to do so could potentially diminish the cards' complete potential in providing you with a precise response.
Consider this: when you've already asked 10 questions without returning the cards you drew to the deck, the 11th question you ask doesn't carry the same probability as the initial one.
3. Only ask one question at a time
When you ask questions that have multiple parts, you can't be sure what you're getting a yes or no answer to. So don't fall into the trap of feeling rushed and as if you have to ask multiple things at once. One card = one question.
✘ Don't ask: "Will I get promoted and will I land a new job?"
✓ Do ask: "Will I be offered a new job this year?"
4. Don't keep asking to try to get the answer you want
I understand that receiving an unexpected answer to important personal questions can be disappointing. However, it is not advisable to repeatedly ask the same question or rephrase it in a different way solely to obtain a different answer. It is essential to maintain faith in the power of tarot and show respect to the cards by accepting the answer provided.
5. Consider a more in depth reading
Sometimes the cards cannot give you a clear yes or no answer or the answer you receive might lead to even more confusion. To get the real low down on your situation, it may be time to consult an expert.
California Psychics has hundreds of tarot readers with decades of experience of reading tarot cards. An experienced reader can decipher the meaning of certain cards that appear together, and many can connect to the energy of the people involved for even more direct messages.
Best Psychic Reading Sites for Accurate Tarot Readings
1. California Psychics – Best Overall for Quality, Accurate Tarot Readings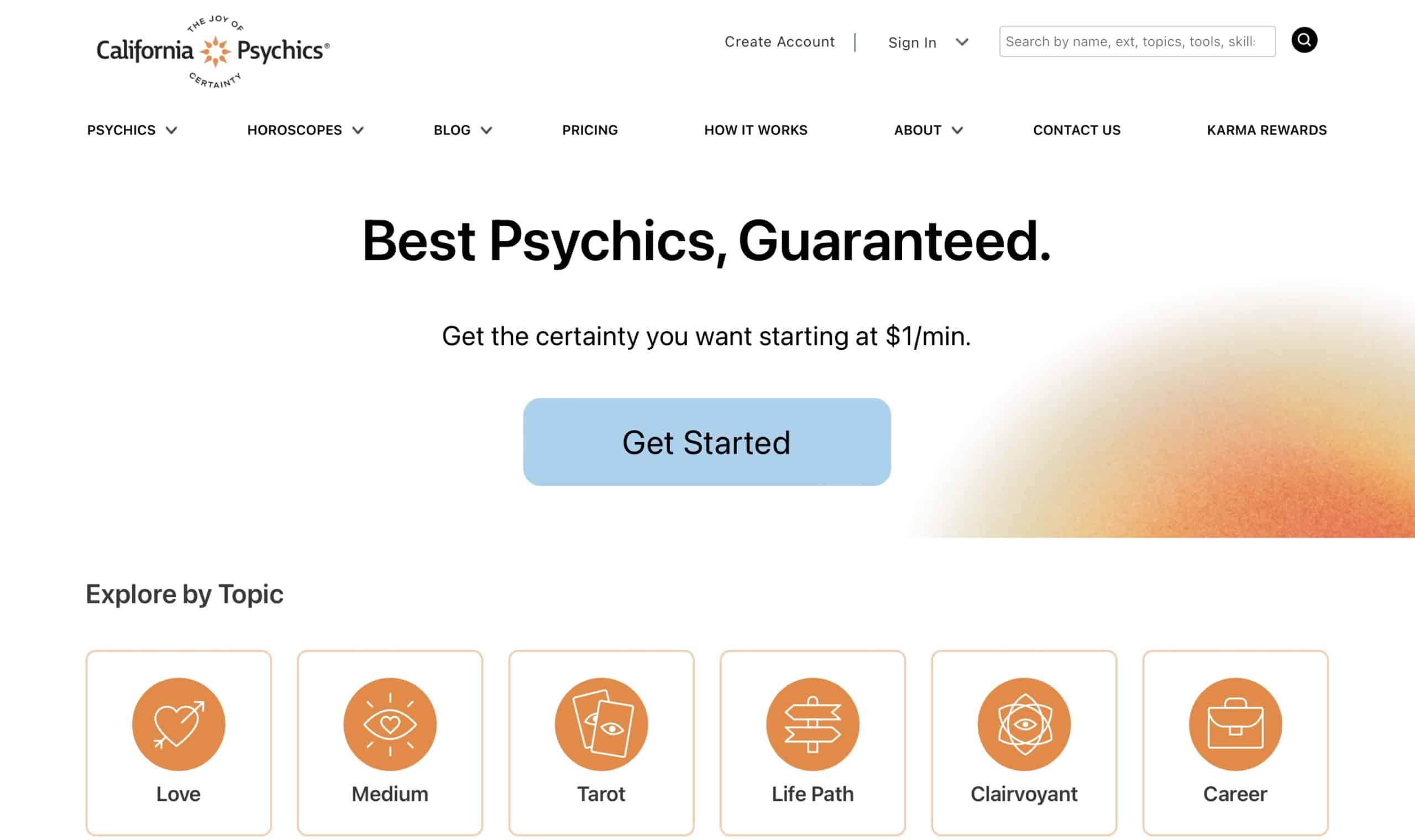 255 tarot specialists available
Long standing reputation and history
3 introductory packages to choose from
All psychics rigorously screened
100% satisfaction guarantee
California Psychics is the best overall site for online tarot readings. It has a wealth of world class tarot readers on hand that are all thoroughly screened to ensure quality. I was initially worried that it would be difficult to choose a psychic, but thankfully the site has tools to search for the exact type of tarot reading you need.
Not just any psychic makes it onto the site as it screens readers carefully to check they are authentic. I love how easy the site is to use and found that as you browse the readers it allows you to filter for just what you're looking for. You can also state upfront the style of reader you prefer too, which not many sites allow.
If you need a quick yes / no answer, you can easily find that here too, with psychics who offer tarot, as well as pendulums, oracles, runes and many other divination services. I found many of the psychics on California Psychics are multi-skilled and have many gifts, so I was glad of the filter that helped me narrow it down.
New users get rates of $1 minute, but unfortunately this excludes top-rated psychics. But, I found that there are a lot of high-quality readers you can choose from if you want to use the introductory offer. California Psychics also has a Karma Rewards scheme that benefits return users.
You can connect to the readers by phone or online chat, at your own convenience. Handy site features allow you to schedule appointments for later, and you can also sign up for an instant reading.
2. Purple Garden – Enjoy Tarot Readings Whenever and Wherever You Like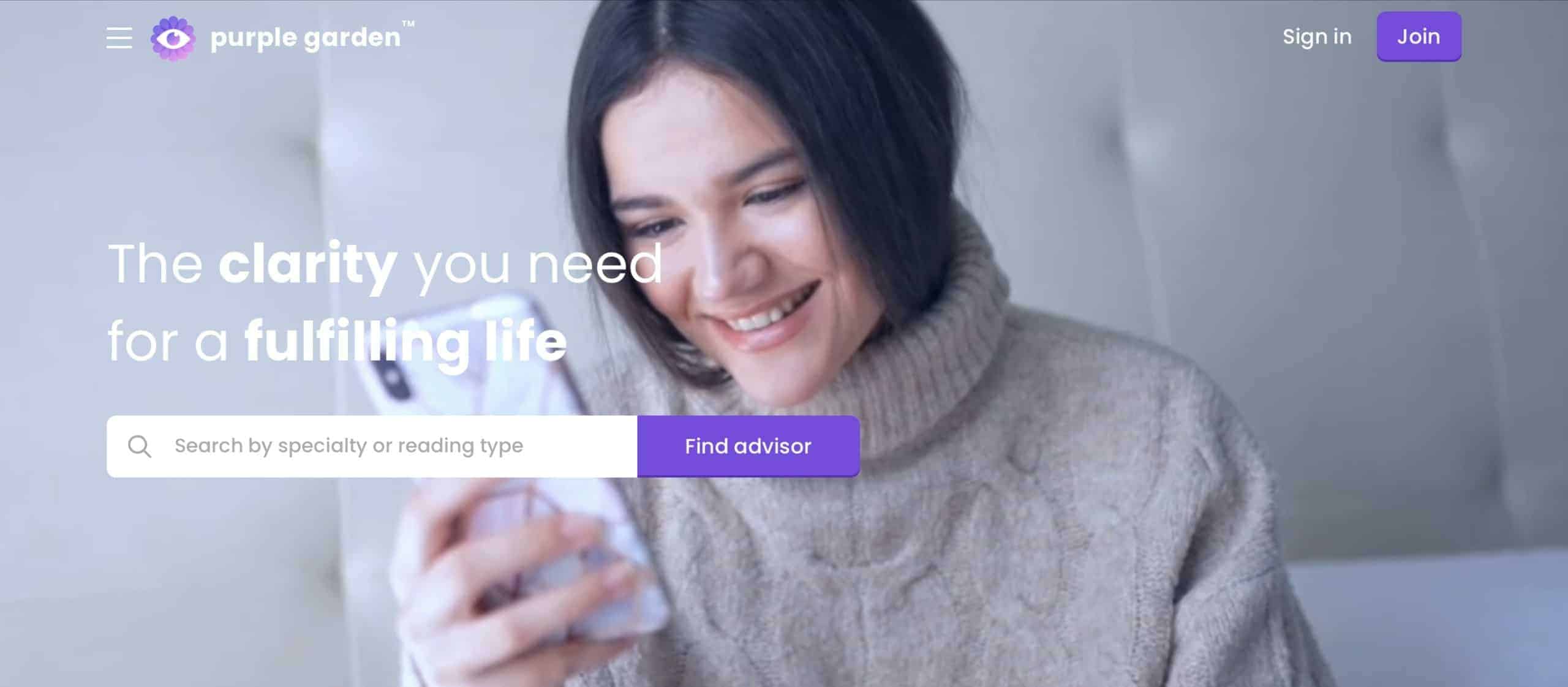 Huge range of tarot readers available
Connect any way you like: video, phone, chat, or app
"Staff picks" feature shows top-rated psychics
$10 bonus for new customers
Customer support 24/7
Purple Garden's mobile app lets you get a tarot reading wherever you want. You can choose chat, live video, or talking on the phone. All the tools and features mean you can relax and enjoy a really great experience, especially if you never had a tarot reading before.
One of the best things about the site is the recommendations that help you select the best psychic, based on reviews from other clients.You can feel confident in your choices as you have many ways to learn about the psychic, including detailed reader bios, customer feedback, and star ratings. I found watching their introductory videos really helped me select a tarot reader, as I was able to choose one that I connected to.
Purple Garden has many readers who specialize in every type of spiritual practice like tarot, oracles, runes, palm reading, astrology, and more. I had a specific question about my career and when I went for a tarot reading on Purple Garden it helped me decide what direction to take.
Be aware there is no satisfaction guarantee on Purple Garden. However, you do get $10 towards your first reading and you get 2% cashback on every purchase, to use towards your future readings.
3. Keen – Find Your Clarity with Top Rated Psychics Available
148 tarot readers available
Call or chat online with app
Comprehensive reader biographies
5 first minutes for $1
Satisfaction guarantee
Keen has plenty of top-rated tarot readers and services available so you are sure to find what you need. Initially, I was concerned that I wouldn't be able to find a psychic out of all the options. However, profiles are detailed, with readers' highlighted strengths, skills and methods, languages, background, approach, and specialities all clearly shown.
With a long standing history, the site has a credible and trustworthy feel, with lots of categories to choose from, including tarot. You can ask to get matched up automatically which saves time if you're in a hurry, especially if you only have a quick question. But, I do think choosing your tarot reader is important, so it's great that you can try out new readers at special rates, as this helps you find the ones you get on with.
The site offers all kinds of readings such as tarot, cartomancy, clairvoyance and loads more. I found that all the readers I tried out were highly experienced and knowledgeable about their craft. My Keen psychic picked up on my question right away, without me needing to say much.
I was disappointed that Keen doesn't offer a video option, as I prefer this method for tarot readings. But, the call and chat methods still gave me a quality reading, and I liked that you can send the readers a 'ping' to check availability. Keen allows you to schedule appointments for later and there is a mobile app for iOS and Android. New users get a competitive introductory offer of 5 minutes for $1.
FAQs on Getting a Yes or No Tarot Reading
What are yes/no tarot readings?
Yes/no tarot readings are for simple yes or no questions. Your success depends very much on the question itself, so use these tips to optimize your question before you pick up the cards. Make sure your question gets to the heart of what you really want to know, and that all it requires is a yes or no answer. You might find it works best for simple day to day issues.
Can I get a free yes or no reading online?
Yes, lots of sites offer free card readings where you can pull 1-3 cards on screen and have them interpreted for you. This can help if you are not confident in reading cards for yourself, or perhaps you don't have a tarot deck to use.
If you have a more serious question, I recommend you contact a professional tarot reader from a site like California Psychics. This will ensure you get the most accurate interpretation of the cards with your exact question in mind.
What are the drawbacks to yes or no readings?
Yes and no tarot readings only work well in some situations. Some drawbacks to yes / no tarot readings are:
Some situations are too complex, leading to even more questions and uncertainty. You could consider getting a full reading to gain more insight.
If you are inexperienced reading tarot, it can feel daunting when some cards show up. You should seek an experienced reader who will have more knowledge.
It can be hard to be objective about your own situation. An experienced psychic can decipher hidden undercurrents you might miss.
If you need more than a yes or no reading can provide, California Psychic has loads of tarot readers that can help you get answers fast.
Bottom Line
Yes or no tarot readings can work great and be a fun way to get a quick answer when you need it. However, with 78 cards to choose from, it can feel daunting when certain cards show up. I recommend you seek advice from a professional tarot reader for a more accurate answer.
My personal favorite tarot reading site is California Psychics. With its top rated pool of psychics, competitive rates and great website that is easy to use, it has everything you need to delve into the mystery of the tarot.
To summarize, the best online tarot reading sites are…