Tarot cards are one of the most powerful tools you can use to get answers to your questions because they offer you a way to get both a simple yes or no, and a more nuanced, detailed answer to what you are asking. But with so many tarot cards to choose from, knowing the unique meaning of each card can be difficult, especially if you want a straight yes or no answer.
To help you make better sense of Tarot cards, I've complied valuable tips for conducting accurate tarot readings. But if you find that reading tarot cards is not your thing, you can always speak to an experienced tarot master on a site like California Psychics. It's possible to get tarot readings for $1 per minute if you're a new customer.
In a Rush? Here Are My Top Tarot Reading Picks:
California Psychics – Best site for online tarot readings with plenty of experienced tarot readers and $1 per minute introductory rates.
Purple Garden – Great for mobile tarot readings and gifts newbies with $10 free credit, but lacks added features.
Keen – Backed by a 100% satisfaction guarantee and offers 3 free minutes for new users, but slow customer service.
Tarot Cards That Mean Yes
If any of the below cards appear in your spread, it indicates the answer to your question is yes. However, Major Arcana cards do carry more weight.
Keep in mind that if you choose to select more than one card, the other cards surrounding your primary tarot card could alter the meaning slightly.
There are a few cards in this list that are more positive than the rest, these include the Wheel of Fortune, the World, the Ace of Wands, and the Ten of Cups.
Then there are cards such as the High Priestess and the Chariot that are positive but are also indicators that a little more work and effort is required.
| | | | | |
| --- | --- | --- | --- | --- |
| Major Arcana | Wands | Cups | Swords | Pentacles |
| The Fool – New Beginnings Await | Ace | Ace | Ace | Ace |
| The Magician – Creativity Will Get You What You Want | Three | Two | Four | Three |
| The Empress – Growth & Abundance | Four | Three | Six | Six |
| The Emperor – You're in Control | Six | Six | Page | Eight |
| The Lovers – Positive Love Changes & Outcomes | Seven | Nine | | Nine |
| The Chariot – Keep Charging Ahead But Stay Balanced | Eight | Ten | | Ten |
| Strength – Use Strength to Bring About Changes | Page | Page | | Page |
| The Wheel of Fortune – Positive Changes are Rolling Around | Knight | Knight | | Knight |
| Temperance – Be Patient, Good Things are Coming | Queen | | | Queen |
| The Star – A Very Positive Outcome Is Imminent | | | | King |
| The Sun – Time to Embrace All the Good Coming Your Way | | | | |
| Judgement – A Fresh Start Awaits | | | | |
| The World – A Cycle is About to End | | | | |
| | | | | |
Tarot Cards That Mean No
The below cards indicate the answer to your question is no. Again, it's important to pay attention to any cards surrounding your primary tarot card as they could tell you why the answer to your question is no for now.
Major Arcana cards such as the Tower and Death might seem scary, but they simply indicate major changes and upheaval. This is when working with a tarot reader on a site such as California Psychics really helps.
Other Minor Arcana cards caution us to slow down or at least proceed with caution. These include the Five of Pentacles, the Eight of Cups, and the Two of Swords.
| | | | | |
| --- | --- | --- | --- | --- |
| Major Arcana | Wands | Cups | Swords | Pentacles |
| Death – Time to Let Something Go | Five | Five | Three | Five |
| The Devil – Detach Yourself From a Bad Situation | Ten | Seven | Five | |
| The Tower – Major Changes & Upheaval | | Eight | Seven | |
| The Moon – Something is Hidden From You | | | Eight | |
| | | | Nine | |
| | | | Ten | |
| | | | Knight | |
| | | | | |
Tarot Cards That Mean Maybe
If any of the below cards appear in your reading, it's best to take a step back and not make any major decisions just yet. There are still a few things that need to fall into place before you can get a definite answer to your question.
| | | | | |
| --- | --- | --- | --- | --- |
| Major Arcana | Wands | Cups | Swords | Pentacles |
| The High Priestess – Trust Your Intuition Here | Two | Four | Two | Two |
| The Hierophant – More Information is Required | Nine | Queen | Queen | Seven |
| The Hermit – Go Within. It's Time to Retreat | | King | King | |
| Justice – More Factors Need to Be Considered & Weighed Up | | | | |
| The Hanged Man – Look at Things From a Different Perspective | | | | |
| | | | | |
How Accurate are Yes and No Tarot Readings?
The accuracy of tarot readings can be influenced by several different factors, including timing and free will. As much as the cards listed above give a pretty good indication of a yes, no, and maybe answers, it's possible they could mean different things at different times, depending on the energy that surrounds you. Spreads are also open to your own interpretation as well as whether the cards show up reversed or upright.
The best way to avoid confusion is to consult with a professional psychic on a site such as Keen. Not only have these readers mastered the art of tarot, but they have additional psychic abilities to further enhance your readings.
I highly recommend you take advantage of California Psychic's introductory offer of 20 minutes for just $20.
Tips for More Accurate Yes and No Tarot Readings
While tarot is a very powerful tool for getting clear-cut answers to important questions, we cannot ignore the nuances that it brings to the table.
I gathered these helpful tips to ensure you get the most accurate and clear answers possible when conducting a tarot reading for yourself.
1. Create clear yes or no questions
This one may seem obvious, but the truth is that we often turn to tarot when we have very complicated life questions that we're seeking answers to. That's why it's important to make your questions as clear as possible.
✘ Don't ask: When will I get a promotion?
✓ Do ask: Will I get a promotion in January?
2. Ask one question at a time.
When you ask questions that have multiple parts, you can't be sure what you're getting a yes or no answer to. So don't fall into the trap of feeling rushed and as if you have to ask multiple things at once. One card = one question:
✘ Don't ask: Will I get promoted, or will I land a new job?
✓ Do ask: Will I be offered a new job this year?
3. Don't ask the same question again just to get the answer you want.
I know that it can be disappointing to get the opposite answer than what you wanted when asking important personal questions. But it's bad practice to repeat the same question, or a similar question just phrased differently, just to get a new answer. You have to have faith in the power of tarot.
4. Be consistent when pulling cards.
Some tarot experts say you must take reversals into account, while others say it doesn't matter which way a card gets pulled. No matter which philosophy you choose to follow, you need to be consistent. That means that if you ignore a reversal for one question, you must continue to ignore them for the rest of your questions too. You don't get to pick and choose when to account for them based on what answer you are looking for. The only person you'll be misleading is yourself.
5. Always pull from a full, shuffled deck.
Each time you pull a card after asking your yes/no question, be sure to return the card to the deck and shuffle the cards again. If you don't, you're not giving the cards their full power to give you an accurate answer. Think about it: if you're 10 questions in, and you aren't returning the cards you pulled to the deck, then the 11th question you ask doesn't have the same chances of coming up as either yes or no as the first one.
6. Ask a friend to pull cards and shuffle the deck for you.
It's human nature to try to force the cards to produce the answers we want to hear, so don't feel bad if you're feeling biased. That's why I recommend asking a trusted friend to pull cards and shuffle for you. You'll take the pressure off yourself, and you'll inevitably get much more objective, accurate answers to your questions.
7. Ask questions that are a matter of fact, not opinion.
No matter what the cards reveal, things are always subject to change based on your own free will and your actions. That's why it's best to ask clear questions that have to do with facts, and not opinions. For example:
✘ Don't ask: Am I ready for a new relationship?
✓ Do ask: Will I meet someone new this year?
8. Consult with an experienced tarot master.
Let's face it, tarot readings are like anything else: you can do a decent job on your own, but if you want the full package, then you need to go to an expert. Just like you might patch up a leaky sink on your own, when you really need it fixed, you call a plumber. The good news is that experienced tarot readers actually cost much less than a plumber!
Best Psychic Reading Sites for Accurate Tarot Readings
1. California Psychics — Best Overall for Online Tarot Readings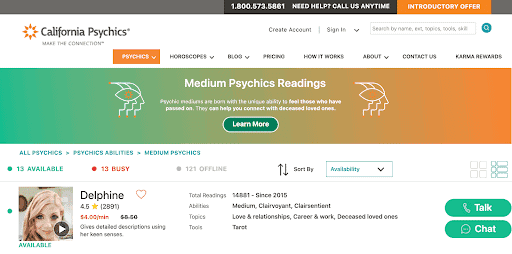 Introductory rate of $1 per minute
Rigorous psychic screening process
Tiered pricing system
Karma Rewards Program
100% satisfaction guarantee
Easy to use website
California Psychics is one of the most reputable psychic reading sites out there due to its rigorous and selective screening process. Less than 2% of applicants who apply to be tarot readers on the site are ultimately accepted, so you know that you'll be working with the best of the best. I was pleased to find over 200 tarot readers with an average rating of 4.9 stars based on customer reviews.
When you join California Psychics for the first time you'll have the chance to purchase a 20-minute reading package for $20. The best thing about this package is that you can split up your minutes between tarot readers as you see fit. So if you speak to a tarot reader who doesn't fit your style, you have the chance to try another one.
Thanks to California Psychics' 100% satisfaction guarantee, you can request your money back if you aren't happy with the service you got. For new customers, it will be a full refund. But keep in mind that you must request your refund within 24 hours of your reading and that California Psychics could block you from using the service in the future.
2. Purple Garden — Enjoy Tarot Readings on Mobile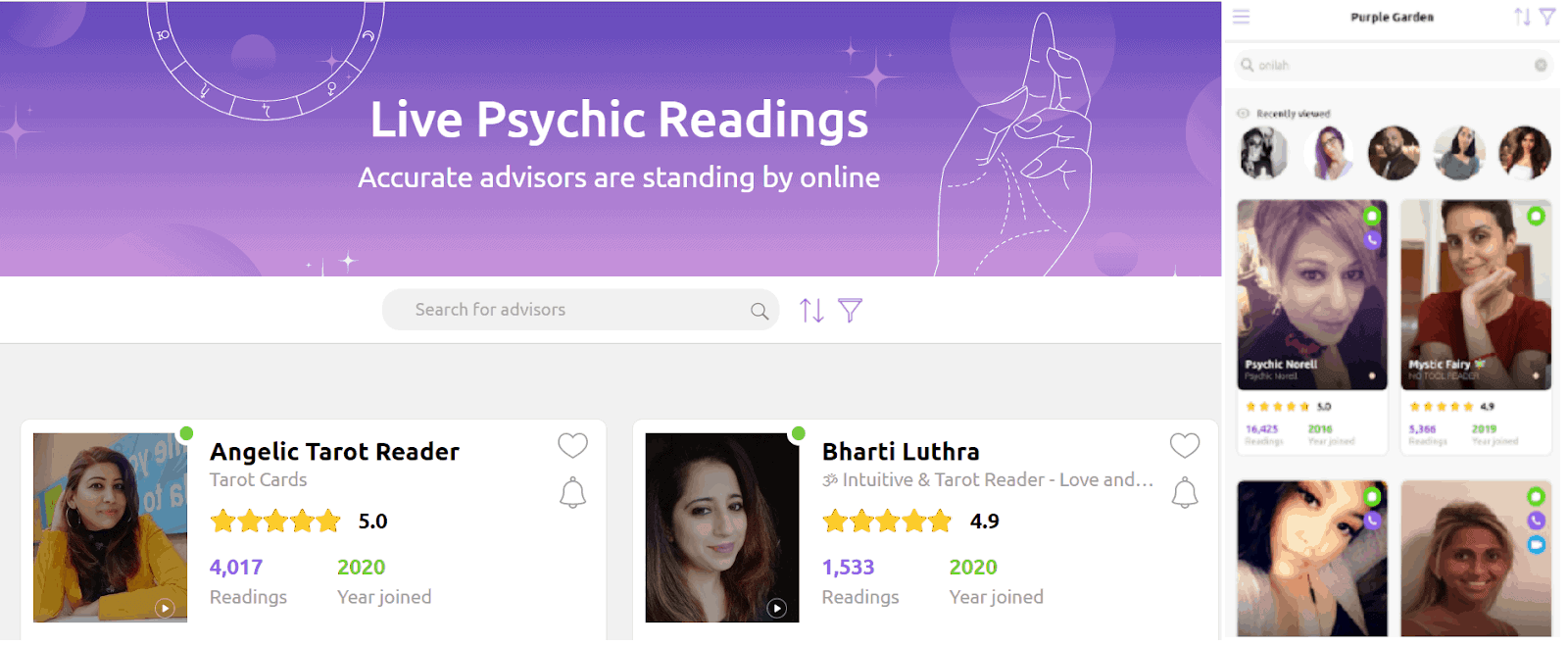 Intuitive mobile app for on-the-go readings
Enjoy video readings
Earn 5% back on all reading purchases
Rates start from $0.99 per minute
New customers get a $10 matching bonus
If you're looking to connect with a tarot reader on the go, then Purple Garden is the right platform for you. It's different from other sites because it is optimized to be used from your phone instead of your computer, making tarot readings just a few taps away at any moment. I received a tarot reading while traveling abroad after installing the app on my phone, which took around 10-15 seconds.
You'll find over 150 tarot readers to connect with, many of which have conducted thousands of readings and are rated 5 stars. The other feature that sets Purple Garden apart is that you have the option to connect with readers not just via phone and chat, but by video, too. This allows you to experience your tarot reading in a much more up-close and personal way than if you were just chatting with an advisor.
Also, make sure to take advantage of Purple Garden's introductory offer which gives you $10 worth of free credit when you make your first purchase of the same amount or more. There's also a 5% cashback on every purchase, which can be redeemed once the $10 is reached. Just keep in mind that it'll expire after 6 months.
3. Keen — Message Psychics Before Your Tarot Reading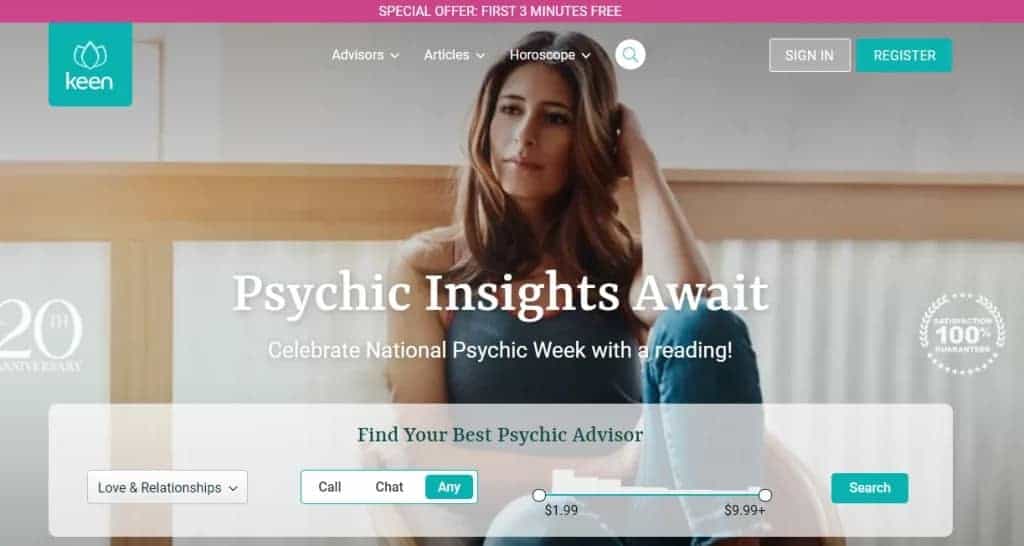 100% satisfaction guarantee
Over 1,000 psychics to choose from
Affordable introductory rates
Schedule tarot readings
3 minutes free for new customers
Keen features over 130 tarot readers on its site, with over 35 of them having received a rating of 4.9 or 5 stars based on customer reviews. You'll even find readers who have 5-star ratings based on not just a couple hundred, but a couple thousand customer reviews. Psychics need to pass a rigorous screening process when they apply, so you can be assured of quality.
When browsing for a tarot reader on Keen, you'll notice that psychic bios are very detailed, which helps you to get to know your reader before joining a paid session. When I viewed psychic profiles, I could see their tenure on Keen, the reading topics they specialize in, customer reviews, and more. This made me confident and assured when choosing a tarot reader.
You can connect with psychics on Keen via call and chat, and new users can take advantage of the site's introductory offer to purchase 10 minutes of reading time for $1.99. In addition to an attractive introductory offer, Keen also has a 100% satisfaction guarantee. So if you are unhappy with the reading you receive, you have the option to ask for your credits to be refunded within 48 hours of your reading to try another psychic.
Bottom Line
Tarot is an art form that can take years of experience to master. While this list of cards will be helpful in bringing tarot into your everyday life, it's best to consult with a professional psychic when you're truly at a crossroads. After all, reading tarot cards isn't for everyone.
If you prefer to speak to a tarot master online, the psychic site I recommend is California Psychics. All of its tarot masters go through a rigourous screening process before providing their service on the site, you know you'll get quality. And thanks to its satisfaction guarantee, you can get a proper tarot reading without any risk.