7th Sense Overview
7th Sense takes the best of the old-skool psychic reading websites, and marries it with the new-fangled world of instant messaging and direct communication.
While there are several levels of membership, which change the price of your call or chat minutes, everything else about 7th Sense is very straightforward and user friendly – which isn't really a given at other psychic reading websites.
I've reviewed over 10 psychic reading websites – here's what I thought about 7th Sense.
7th Sense Psychics and Services on Offer
7th Sense doesn't really tell you what kind of specialisms its psychics have on the site, so, with a bit of searching, I discovered the following specialists available:
Love and Relationships
Money and Finance
Career and Work
Deceased Loved Ones
Destiny and Life Path
There are also some psychic tools available, including tarot cards, angel cards, dream analysis and clairvoyance…not that you would be able to filter these.
While at some sites – like California Psychics and Psychic Source – you have a whole range of 60+ specialisms to choose from (like at Oranum, which was actually bit overwhelming), and some amazing filters, here at 7th Sense, there's actually no way to filter down the psychics by specialism, tools or otherwise. That's a bit weird – I mean, how else are you meant to find a psychic you like?
I guess by the nifty little 'voice introduction' – each psychic has a 10-second or so voice recording, where they can introduce themselves to their potential customers. It's nowhere near as welcoming or demonstrative as Oranum's free to view psychic live streaming, but it's a start, and I really appreciate it.
7th Sense – Is it Trustworthy?
7th Sense certainly looks like it's trustworthy, but ultimately, if you're going to be handing over your hard-earned money to someone on the internet, you want to know that you're getting what you're actually paying for!
Here's what I discovered about 7th Sense's trustworthiness.
Psychic screening process
While some psychic reading websites really got to own with any psychics who wants to join (for example, both California Psychics and Psychic Source demand a criminal background check and a video interview, while Psychic Encounters requires all applicants to do a live reading to interviewers), others like Keen and Kasamba, only need their psychics to apply create a listing…and they're good to go.
At 7th Sense, things are a little more stringent, which is an approach that I applaud. There's a long form to fill in, with some very interesting questions, both about the psychic's gifts and their computer skills –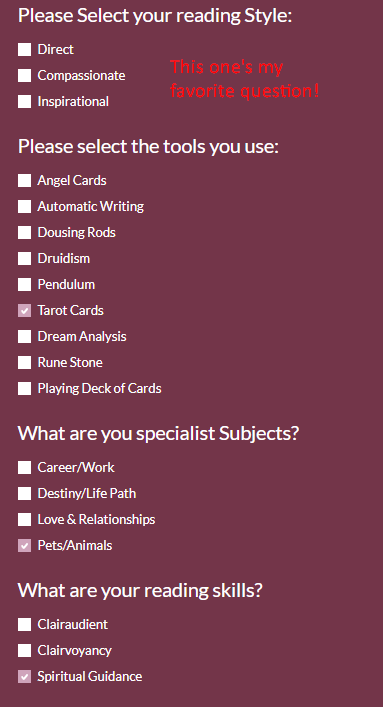 And regarding their computer skills (which is important – after all if you're paying good money to chat to someone, you want to know that they are capable of using a computer and not taking forever to write back) –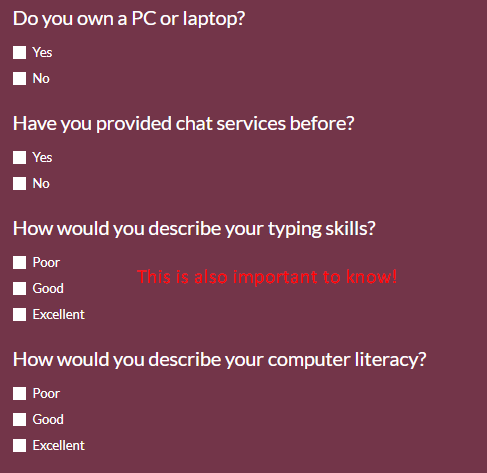 After this, applying psychics will be contacted by 7th Sense and will be invited to make a listing.
It's not quite the rigorous process of other sites, but it is something.
Psychic bios
Sites like Psychic Encounters pride itself on keeping their psychic bios light, while sites like Oranum make their psychics' bios pretty overwhelming (in all senses), but 7th Sense keeps things to a nice medium ground.
You'll see a quick intro from the psychic, their voice introduction, and some other key information – the number of readings they've done (a touch I found on California Psychics too, and really liked), as well as the number of years they've been reading.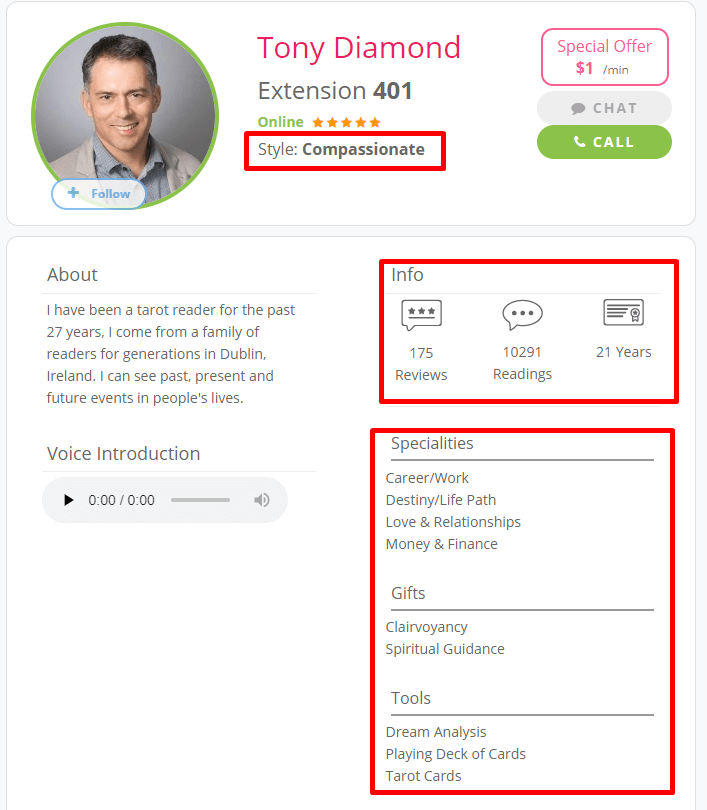 v
I found this a lovely, clean but informative approach to getting to know each psychics – it wasn't overwhelming, and it didn't leave me annoyed at the lack of information. It was pretty close to perfect, if i'm honest, with the right amount of the right information.
The only tiny thing I would have wished for would have been a scheduling app or some kind of calendar for bookings – it's something that both Keen and Oranum do really well.
Customer ratings
While I have been overwhelmed or annoyed by customer feedback either being too much (Oranum) or strangely censored(Psychic Power Network) before, I think this is another thing that 7th Sense gets really right.
I always look for a sign of bad feedback and for honesty from customers, and I wasn't disappointed here:
I really think it speaks volumes when you can see that a site allows all types of feedback, and that's not a given.
Money-back guarantee
While most online psychic reading sites are very upfront that they have a money-back guarantee (in fact, Psychic Source shouts this from the rooftops, which was a touch I liked), other sites, like Oranum and Psychic Encounters keep this on the downlow.
It's not that they don't have one, they just don't promote it. It's the same for 7th Sense: there is a clear refund policy, it's just not really promoted anywhere.
If you find you have an issue with a reading, you'll need to contact support and ask for a refund. Here's what you'll need to know: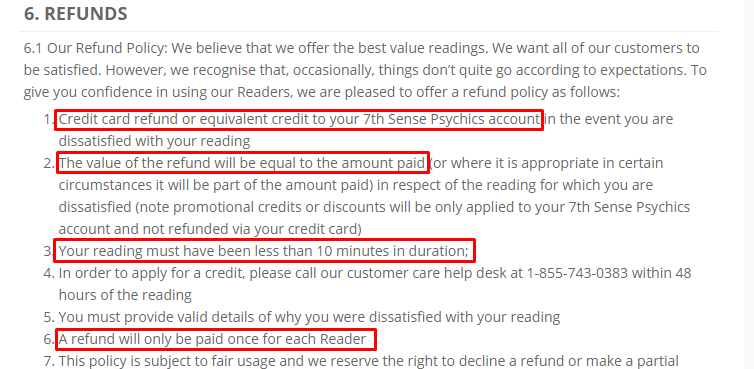 That is –
You will receive a refund to your credit card or your 7th Sense account, which will be the amount you've paid in minutes
That reading must have been under 10 minutes
You only get one refund per reader…so if you're not satisfied a second time, you'll have to deal with it
This is pretty generous, as other sites tend to stick to very strict time frames (e.g. new customers only can get refunds at California Psychics, and only on conversations stopped within the first 3 minutes).
Overall, I'd say all signs point towards unequivocal trustworthiness at 7th Sense – which again, is never a sure thing.
7th Sense Pricing
Like with Oranum, 7th Sense operates on credits, or packages of minutes, rather than just paying per minute for each psychic.
New customers can receive 7 minutes for just $7, which works out as much cheaper than the otherwise standard $3.17 p/minute and up, depending on the plan you have.
While at sites like Kasamba and Keen, you pay directly to each psychic according to their set rates (which can get ridiculous, such as $30 p/minute), things are a little different here –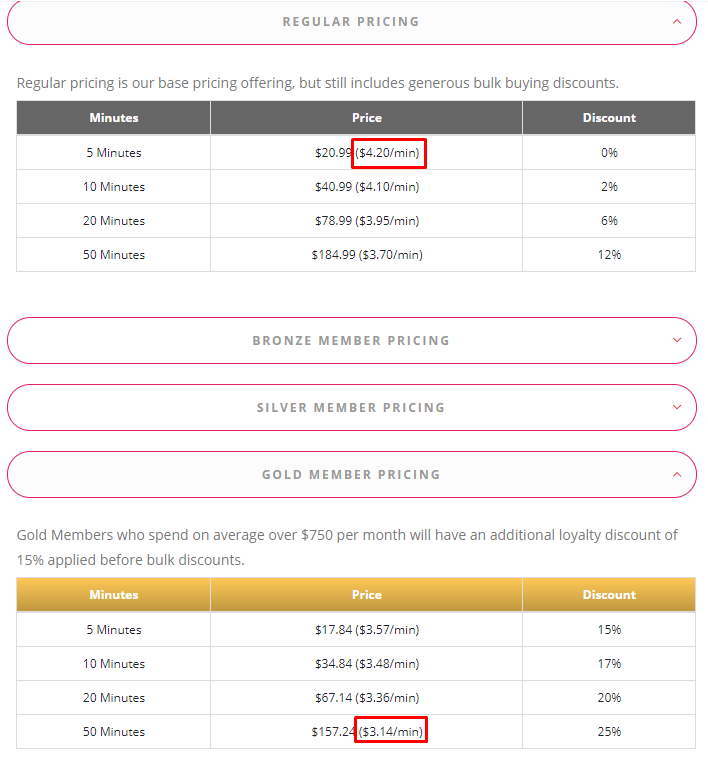 While there really is a dollar or so difference between the 'Regular' and 'Gold' pricing, over time, that can add up.
Personally, I don't really mind the package/tier types of pricing, because it's still cheaper than paying $10+ a minute to more popular psychics (as at other sites). But, as far as affordable pricing goes, there are still cheaper sites out there – both Psychic Power Network and Psychic Encounters have calls starting at $0.99 and $1.99 respectively.
7th Sense Customer Support
While sites like Psychic Source and Oranum have live chat, and others – like Psychic Power Network – have a direct way of getting in touch with someone, 7th Sense has a comfortable medium – a phone line, email and online form.
It also has a way to send a message via Facebook messenger, which was a nice touch I haven't seen before. So I tried it out!
I received an immediate response (probably from a bot) for my first message…but not for my second message…which was answered by a human!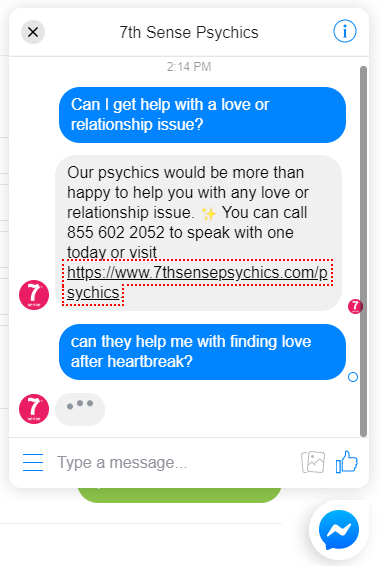 Very nicely done indeed, 7th Sense!
Expert Bottom Line on 7th Sense
7th Sense is a clean, straightforward psychic reading site that has everything you need – details about each psychic, a solid range of specialisms and psychic tools and honest feedback.
I would have liked to have seen some kind of scheduler or booking system, as well as a bit more promotion of the refund policy, but honestly, these are very minor points overall. I had a great time at 7th Sense, and I think you will too.
7th Sense Bottom Line
A clean, straightforward site with a few interesting spins on the usual that I'd never seen before!