7th Sense Psychics stands out from its competitors because it charges the same rates for all readings. And with more than 10 years of experience in the industry and a solid track record, it sure looks like a good choice. But will a fixed pricing model affect the quality of psychics and services offered by 7th Sense Psychics?
To answer your question, I thoroughly tested the site, its services, and its advisors. From this, I can assure you that 7th Sense Psychics is a safe and trustworthy psychic site. The company's transparent psychic review system ensures that you have a clear idea of who you're connecting with, which goes a long way when you're paying for every minute of each session.
The site has a special introductory offer for newcomers, which lets you buy 7 minutes for $7. It is more than enough for you to consult with the site's many advisors. If you're not happy with the quality of your reading, you rest easy knowing that you're covered by 7th Sense's 100% satisfaction guarantee.
7th Sense Psychics Main Features
Types of Readings on 7th Sense Psychics
You will find a diverse selection of reading types and niches on 7th Sense Psychics. These include love and relationships, tarot card readings, and dream analysis, to name a few.
The site lets you connect with psychics through either telephone calls or live chat. Phone readings are great for those looking for a more interactive psychic experience. While, live chat sessions let you plan out questions and carefully analyze the answers given.
Unlike other sites, 7th Sense Psychics charges the same price for readings with all psychics regardless of their ratings. Instead, the company uses a regular, bronze, silver, and gold pricing tier. Rates start at $4 for regular tier customers and continually reduce the higher you rise in the tier. You can also enjoy more attractive rates for bulk-minute purchases.
Love and Relationships
More than 100 professional love and relationship advisors are available on 7th Sense psychics. All have been screened and vetted by the website, so you won't have to worry about connecting with low-quality psychics. They can comfort you during your darkest moments and provide sound guidance on infidelity, partner compatibility, and commitment.
Career and Finance
The site features a roster of skilled career and finance psychics. Most seek out their services to better understand problems related to work or money. Plus, they can help you gain clarity or guide you through issues from work.
These highly-experienced individuals have performed thousands of readings, and all come highly rated. From what I saw, 7th Sense's psychics are often praised for their accurate readings and practical nature.
Tarot Readings
Tarot cards give you insight into the past, present, and future by tapping into the cosmos. With the help of a tarot reader, you'd be surprised how accurate tarot cards are. Best of all, tarot cards are applicable for any niche or problem.
Besides tarot readings, 7th Sense also features readers skilled in cartomancy and angel cards. This gives you a great alternative if you're looking to move beyond tarot cards.
Dream Analysis
There are also several psychics featured on the site who are well-versed in the art of dream analysis. As higher powers sometimes communicate with us through dreams, it's especially important to interpret these hidden messages.
Fortunately, 7th Sense's psychics regularly receive positive reviews for their accurate dream interpretations. Clients have also highlighted how detailed the site's readers are and how they take the time to describe minor details.
Other Readings
In addition to the reading types above, 7th Sense Psychics offers a number of niche reading types. These include astrology, numerology, contact with deceased loved ones, clairvoyance, and spiritual guidance.
Is 7th Sense Psychics Trustworthy? Yes
7th Sense Psychics has a strict recruitment policy that requires advisors to pass a series of tests before approval. Besides that, all featured psychics are employed under contract. This puts the onus on the website to ensure that its psychics are skilled and trustworthy.
And if you're not satisfied with the quality of your reading, you can always request a refund through the site's 100% satisfaction guarantee. Refunds are evaluated on a case-to-case basis, must be less than 10 minutes, and must be submitted within 48 hours.
Additionally, the site's transparent review system lets you view comments and ratings left by previous clients on each psychic's profile. Doing so enables you to get an idea of a psychic before committing yourself. It's also good that the site only allows legitimate users to leave reviews, i.e., only past clients can leave comments on a psychic's profile.
Generally, 7th Sense Psychics' clients are satisfied with the service they receive. And as the company has been in business for 15 years, this should be no surprise.
Top Psychics
Having personally tested dozens of advisors on 7th Sense Psychics, here's my shortlist of the site's top 5 best psychics.
1. Thea — Best For Love and Relationship Readings
Thea is a 5-star advisor with more than 17,000 readings under her belt. She is a third-generation psychic with 16 years of experience who specializes in performing love and relationship readings. Reviews left by her clients consistently point out how accurate and detailed her readings are.
Other niches covered by Thea include career/work and topics related to money and finance. Besides psychic readings, she can also read tarot cards and perform dream analysis, amongst others.
2. Allie — Best For Destiny and Life Path Readings
Allie relies on 45 years of psychic reading experience to help her clients with questions related to their destiny and life path. Having performed more than 19,000 readings, it's easy to see why Allie is a 5-star-rated psychic. Some of the words Allie's clients use to describe her include "sweet and professional", "passionate", and "amazing and in high demand".
You can also turn to Allie for angel and tarot card readings and spiritual guidance. Her warm nature and highly-accurate readings make this psychic one of the most in-demand advisors.
3. Andy — Best For Career and Work Readings
A self-described born psychic, Andy uses her gifts for career and work-related readings. Clients appreciate her direct approach and calm concise readings. With more than 15 years of experience, she has a 5-star rating and has performed more than 1,000 readings on the platform.
Reviews on her page praise her for providing fast, highly accurate predictions. One client mentioned how Andy took the time to reassure her and deal with her anxiety. Andy's other specialty areas include contacting deceased loved ones, guiding clients towards their destinies, and helping them find lost objects.
4. Christmas — Best For Astrology and Numerology Readings
The uniquely named Christmas is a clairvoyant who uses astrology and numerology to give readings. She covers numerous topics such as love and relationships and career and work matters. Christmas's clients have thanked her for making accurate predictions and noted their appreciation for her positive energy.
Additionally, she claims to possess a unique connection to God, having been dead seven times. And with more than 11,000 readings on 7th Sense alone, this claim seems quite realistic. Her clients favored Christmas thanks to her accurate readings and positive energy.
5. Mikhail — Best For Future Readings
Look into the future and gain insight into your career, life path, or relationships by getting a reading from Mikhail. He has been making accurate predictions since he was 10.
Interestingly, Mikhail claims to have been mentored by the renowned psychic Jeane Dixon. His maternal grandmother was also a talented clairvoyant/psychic who passed her gifts down to him.
Clients describe Mikhail as being a compassionate psychic with an excellent sense of humor. One reviewer mentions how Mikhail predicted precisely how her career would turn out.
Is There a Mobile App? Yes
7th Sense Psychics has a mobile app for iOS and Android users. It has a rating of 3.2 stars on the App store, while no ratings are available on Google Play.
I downloaded the app for my iPhone and gave it a try. All in all, it took me less than 3 minutes to download and access the app on my phone. When you first start the app, you need to log in with your 7th Sense account, and after that, you're good to go.
Navigating the app is quick and easy, with a good information hierarchy. The app presents you with a selection of recommended psychics, and you can view their profiles with a single tap. I could easily book a session with my favorite psychic without any fuss.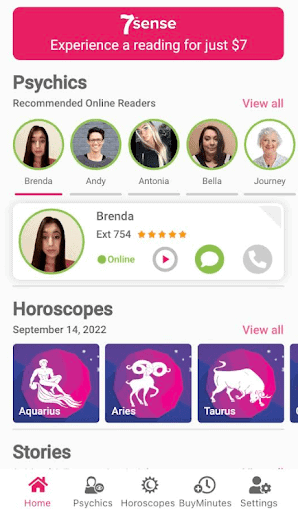 The app also gives you access to additional resources available on the 7th Sense Psychics website, such as horoscopes and phonecasts from top psychics. Its search function lets you filter psychics according to the type of reading you're looking for. Plus, you can use the search bar to look for psychics by their names or extension number.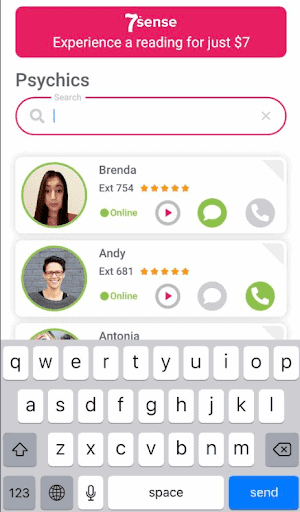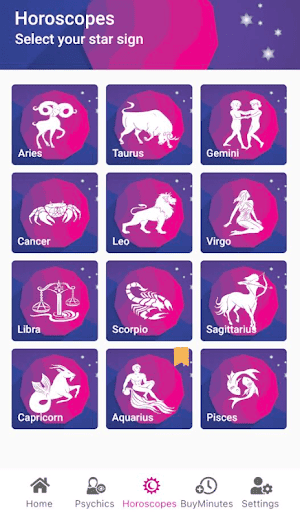 How to Book a Reading?
Create an account. Go to 7th Sense Psychics homepage, and tap on the button that says "Sign Up". After that, it'll take you to another page where you only need to fill in your personal details.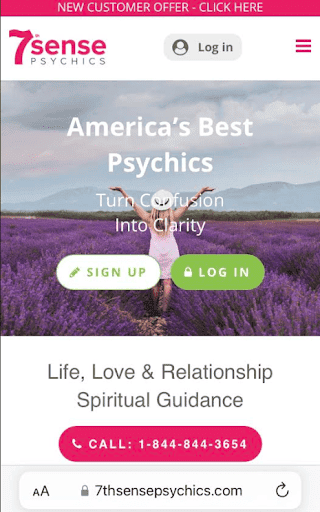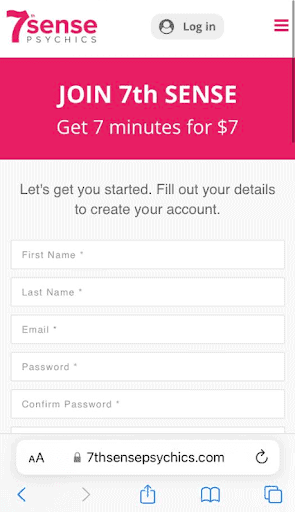 Find a psychic. Tap on the "Psychics" or "Tarot Readers" button. From there, you can browse psychics, listen to their pre-recorded introductions, or get an online chat or phone call. When you've found a psychic you like, you can book a reading by pressing either "Chat" or "Call".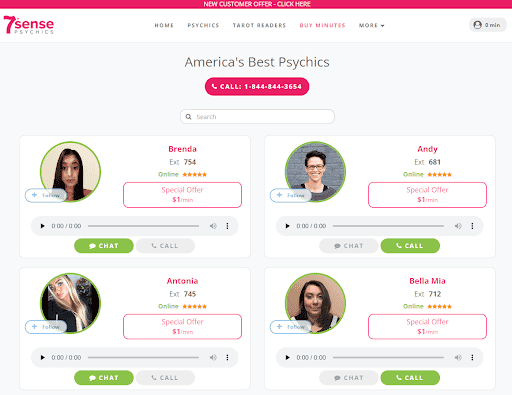 Make payment. After confirming your telephone number via call or text, you'll need to make a credit card payment since it's the only accepted method. I bought 7 minutes for $7 and used it across 2 different psychics.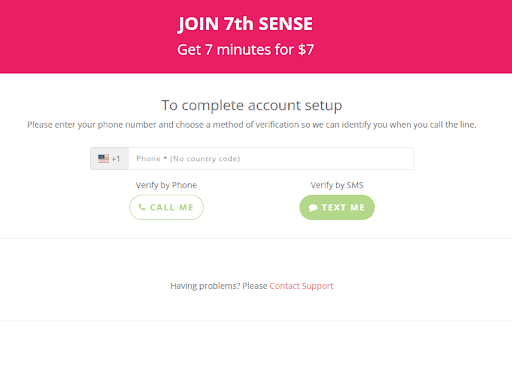 Pricing
7th Sense Psychics uses a tiered pricing system. The first level tier is regular, followed by bronze, silver, and gold tiers. Spending more per month raises your tier level, which lets you enjoy lower dollar-per-minute rates.
| | | |
| --- | --- | --- |
| Tier | Price Range | Discount |
| Regular | $3.60 to $4.00 per minute | 0% to 9% |
| Bronze | $3.50 to $3.90 per minute | 2% to 12% |
| Silver | $3.40 to $3.80 per minute | 5% to 15% |
| Gold | $3.20 to $3.60 per minute | 9% to 19% |
There are also bulk discounts for purchases that are 10 or more. The discount and price ranges applicable to you depends on the bulk package you purchase. Even then, rates of $4.00 per minute make 7th Sense Psychics one of the most affordable sites around.
Also, remember that all psychics charge the same price regardless of their rating. So feel free to try out all of the site's top-rated advisors without worrying about paying more.
If you're a newbie, you can purchase 7 minutes for $7. But you must make payment with a credit card to enjoy this offer since the company only accepts payments made with debit/credit cards.
Customer Support
You can contact 7th Sense Psychics by telephone, email, live chat, or through the site's ticketing system.
Raising a ticket is straightforward. You just need to place your cursor under the "More" drop-down menu and click on the "Help" button. From here, you just need to input your name, email address, phone number, and issue you're having trouble with.
I used the site's live chat feature to ask about the 100% satisfaction guarantee and received an automated message from a chatbot. Checking back, I saw that I received a reply from an actual person after about 24 hours.
A detailed FAQ section also addresses most questions for those with pressing questions. And if you prefer speaking to a person, you can always call the 7th Sense Psychics service hotline. However, the site does not state whether the hotline is operated 24/7 or during office hours.
FAQ on 7th Sense Psychics
What is 7th Sense Psychics?
7th Sense Psychics provides clients with access to top-quality psychic services. It features a roster of more than 150 genuine gifted individuals who have passed the site's strict assessment tests.
The site's psychics cover a variety of niches ranging from love and relationships to issues related to one's business and career prospects. Compared to other sites, 7th Sense Psychics is one of the most affordable around. And if you're new to the site, there's an introductory offer that lets you purchase minutes at a heavily discounted rate.
Does 7th Sense Psychics have a refund policy?
Yes, 7th Sense Psychics has a 100% satisfaction guarantee that acts as a refund policy. According to the company's website, customers can request a refund if they are dissatisfied with the quality of their reading.
Your session must be shorter than 10 minutes to qualify for a refund. And a request has to be submitted to the site's customer service team within 48 hours, along with a valid reason for the refund. Once your refund has been approved, the refunded amount will be credited into your 7th Sense Psychics account.
Does 7th Sense Psychics offer horoscope readings?
Yes, you can get horoscope readings on the 7th Sense Psychics website. Its horoscope page is updated regularly, so you never have to worry about missing out. And if you're regularly on the go, you'll be glad to know that the 7th Sense Psychics app also provides horoscope readings and other resources.
Bottom Line
7th Sense Psychics is easily accessible and has a solid selection of top-tier psychic advisors. The site's slick website and well-optimized mobile app make it easy to book a psychic and use the additional resources available.
While the company does not offer free minutes, its tiered pricing system makes up for this. This means that all psychics and their services are the same price, depending on your tier. And the more you use the service, the cheaper your per-minute rates become.
Overall, 7th Sense Psychics is a good choice for anyone looking to get a casual psychic reading. You have access to a roster of gifted advisors and can enjoy a generous introductory offer.