7th Sense Psychics is a reputable site for psychic readings and while price remains the same no matter which psychic you choose, you might worry about knowing who to choose and the quality of readings
To make sure you'll get a quality service, I tested 7th sense by checking its pricing, trustworthiness, ease of use, and customer care. I've also selected the top psychics on the site
To find out if it's the right site for you, I've tested 7th Sense by checking its pricing, trustworthiness, ease of use, and customer care. I also picked out the top psychics on the site for your ease. You can listen to the audio messages on their profiles and narrow down the option most suitable for your needs.
To test the waters before committing to its regular pricing, you can use 7th Sense's offer where you get 7 minutes for $7. And even if you're not satisfied with your session, you don't have to worry since theres a 100% satisfaction guarantee.
7th Sense Psychics Main Features
Types of Readings on 7th Sense Psychics
There are several reading types available on 7th Sense. You can choose from tarot readings, astrology, love readings, career readings, life path, and dream analysis. Some readers are clairvoyant, some use angel cards, and others use runes or crystals.
If you're after a tarot reading, you can jump straight to the tarot readers from the main menu and then start browsing through them. I found it easy to choose one by listening to their introductory messages, as it gave me an idea of each psychic's reading style.
You can opt to connect with psychics through either telephone calls or live chat. Phone readings are great for those looking for a more interactive psychic experience. Live chat sessions are best for those who want to take their time over the reading.
It does take longer to find a reader as there are not many filters or search functions. You don't get a profile synopsis in the main list either, although you can listen to the introductory messages to hear more about each psychic. You can also see the psychics' years of experience, reviews, gifts, specialties, style, and tools at a glance on their profiles.
Love and Relationships
7th Sense has over 100 love and relationship psychics to help you get clarity on soulmates, break ups, and family relationships. The psychics are carefully recruited for accuracy, and you can read customer reviews to see how they've helped others find love or mend broken relationships.
During a love reading, you can expect your reader to pick up on the most important energies in your love life to give you personal guidance. You can see their style easily, too, at the top of their profile. I found choosing a more inspirational reader helped me see the positive side of my situation.
This reading type is especially beneficial if you're in a confusing romantic situation that you can't seem to get clarity on. Someone objective but impartial can show you new perspectives and reveal things you were unaware of. It can help you avoid rash decisions too, which are always tempting to make in emotional situations.
Career and Finance
Lots of psychics on 7th Sense Psychics can check if you are on the right path to success in your career. These include astrologers, tarot readers, mediums, and clairvoyants, so you should be able to find plenty of accurate advice and inspiration.
We all need reassurance and guidance when facing important career decisions or changes. It might be choices about accepting a new job, turning a hobby into a business, or taking a whole new direction towards something more fulfilling. A psychic can help with insight into how things will turn out and advise what next steps to take.
You can expect your session to highlight the energy at work in your career and highlight any blockages. Your reader can also give predictions for what you can expect in your career and provide alternatives if you're looking to switch paths. Or perhaps you have conflict in the workplace and need help working through it. Your psychic can help you figure out what the problem is and how to sort it.
Tarot Readings
The mystery of the tarot can uncover the energies you are dealing with at this time. The reader can delve into the cosmos to uncover hidden messages and help you overcome any blockages.
Tarot can be used for any situation you are dealing with, whether it's love, career, or working on your spiritual growth and prosperity. 7th Sense has many readers skilled in using the tarot, and I found lots of them have decades of experience. Some have delivered thousands of tarot readings too, so they are experienced and knowledgeable.
Besides tarot readings, 7th Sense features readers skilled in cartomancy and angel cards. This gives you a great alternative if you're looking to move beyond tarot cards. Some readers also use additional divination tools such as runes, pendulums, or oracles.
Dream Analysis
Dream analysis can help you uncover the hidden messages in your dreams. Sometimes, our dreams have something important to tell us or warn us about, and a skilled psychic can help you understand better what your dreams mean.
7th Sense's psychics regularly receive positive reviews for their accurate dream interpretations. Clients have also highlighted how detailed the site's readers are and how they take the time to describe minor details. This deep insight can help you decipher your dreams.
Other Readings
In addition to the reading types above, 7th Sense Psychics offers a number of niche reading types. These include astrology, numerology, contact with deceased loved ones, clairvoyance, spiritual guidance, and life path readings.
Astrology readings are brilliant for learning about yourself and unlocking keys to your destiny. Finding out what makes you unique, your soul blueprint, and what planets are influencing you can help you move forward with better clarity.
You can also use astrology in your relationships, to understand how you and your partner interact. An astrologer can help you understand why you and your partner might have recurring issues and help you balance them out. For example, you might understand your relationship better once you see how your Suns oppose each other.
Numerology readings are great for spiritual growth and enlightenment. A numerologist can help you understand why you see certain numbers often or what numbers are most prominent in your energy.
A life path reading can help you get on your detained path in life and understand your soul's journey. A numerologist can tell you about the significance of your life path number, and highlight how to make the most of your inherent strengths. You can find out your true calling and begin to walk towards a more abundant future.
Mediumship readings allow you to connect with the spirit of your deceased loved ones to help you know they are safe and well. This makes them a great option if you are grieving or struggling with loss. Many of the site's mediums have this kind of ability and are often praised for their accurate readings.
How to Book a Reading
1. Create an Account
It's straightforward to create an account on 7th Sense Psychics in just a few steps. You can opt to set your location to the United Kingdom, USA, Canada, or Ireland. There is no option to sign up using a 3rd party account, but I personally find that doesn't compromise my security and privacy.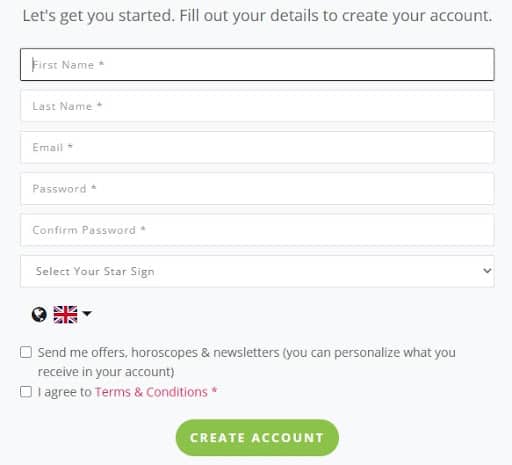 Fill in your name, email, and star sign on the registration form
2. Browse the Psychics
Once your account is up and running, you can start to browse the psychics, listen to their introductory messages, and then connect for a phone call or chat session. I find it really handy that I can see who is online and request an alert if the psychic I like is offline.
There are over 150 talented psychics to choose from on 7th Sense Psychics. The introductory messages really help you get a feel for their style and gifts before you connect. There aren't many filters or search functions on the site, which I find a little disappointing, but the profiles themselves are informative and well laid out.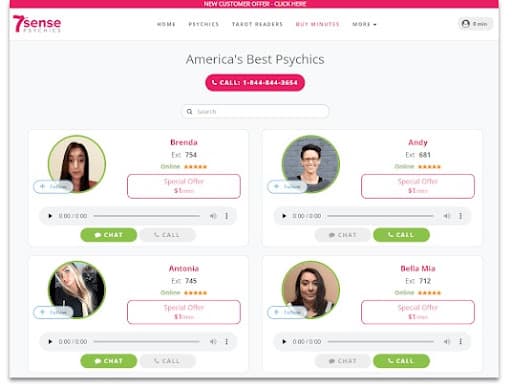 Browse the profiles available on 7th Sense Psychics
3. Make a Payment
Once you have chosen a psychic to connect with, you will need to purchase some credits to book your reading. You can choose a tier from the price packages available, and load up with some minutes, although you get 7 minutes to try for just $1 a minute.
After confirming your telephone number via call or text to verify your new account, you'll need to make a credit card payment since it's the only accepted method. I bought 7 minutes for $7 and used it across 2 different psychics.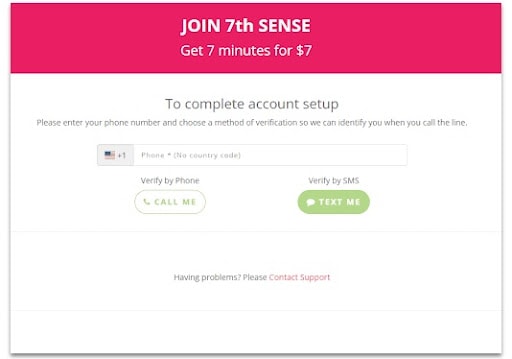 Verify your 7th Sense Psychics account to get your offer
Is 7th Sense Psychics Trustworthy? Yes
According to 7th Sense Psychics, they have a rigorous screening process in place for all their psychics. They specifically select experienced readers who have demonstrated their ability to provide insightful and professional psychic readings. This ensures that the psychics they hire possess authentic gifts and the necessary qualifications to work in this field.
It also offers a satisfaction guarantee for extra peace of mind, so you can get a refund or credit for readings up to 10 minutes long. The site makes customer reviews fairly visible, and you can use these to check if others were satisfied with the reading they got.
Top Psychics
1. Bella

Best for Love Readings

Bella is a love and relationship expert with 10,200 readings under her belt. She is a good choice if you need love advice as she has 30 years' experience and is a 4th generation psychic with skills in channeling, dream analysis, tarot, and clairvoyance.

Bella can tell you if your lover is coming back or new love is entering your life. She has 232 reviews that say she is very direct, straight to the point, compassionate, accurate, and professional.

2. Siobhan

Best for Career and Life Path Readings

If you're looking for career advice or questioning your direction, Siobhan has delivered 11,691 readings, with 494 satisfied clients leaving her a review.

She has 20 years of experience and says she is caring, compassionate, direct, empathetic, enlightened, and honest. She uses tarot, dream analysis, pendulum, and automatic writing as tools to read the energy and provide guidance.

3. Pamsy

Best for Spiritual Readings

Pamsy has 9 years of experience working on 7th Sense and has delivered a whopping 8,464 readings, making her a very popular and busy reader.

She can help as you step forward in your spiritual journey and assist you with all aspects of life, from relationships, careers, and finding your true destiny. She uses angel and tarot cards and astrology to decipher the energy and says she is accurate and direct in her style.

4. Mikhail

Best for Astrology Readings

Mikhail is a 3rd generation Master Psychic with 42 years of experience, 30 of them working on 7th Sense. His profile says he has worked in both radio and television as a guest Psychic/Astrologer, and he is also an author and contributor to magazine articles relating to Astrology.

Mikhail specializes in love and romance, finances, co-workers, and career, so he is able to solve whatever issue you might be facing. He uses astrology, numerology, channeling, and dream analysis and has 77 reviews praising his accuracy and insight.

5. Irish Rose

Best for Tarot Readings

Irish Rose says she has been gifted with hereditary psychic & healing gifts. She works with her spirit guides to deliver messages about relationships, life-path, past lives, dreams, and self-growth. She has delivered 28,711 readings and has 22 years of experience.

Irish Rose uses tarot and oracle cards, astrology, dream analysis, I Ching, and Druidism to provide guidance. She has received 210 reviews, gaining 5 stars from clients. She says she is compassionate and non-judgmental in her approach.
Is There a Mobile App? Yes
7th Sense Psychics has a mobile app for iOS and Android users. It has a rating of 3.2 stars on the App Store, while no ratings are available on Google Play.
I downloaded the app for my iPhone and gave it a try. All in all, it took me less than 3 minutes to download and use the app on my phone. When you first start the app, you need to log in with your 7th Sense account.
Getting around on the app is easy, with a good information hierarchy. The app presents you with a selection of recommended psychics, and you can view their profiles with a single tap. I found I could easily book a session with my favorite psychic without any fuss.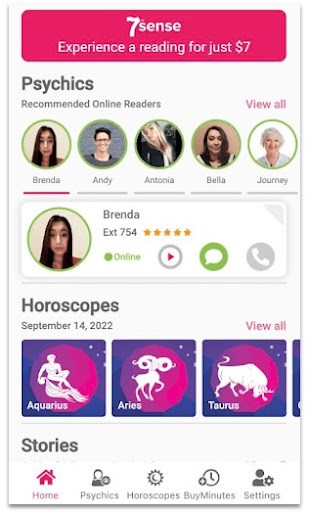 Getting around on 7th Sense Psychics' app is easy
Pricing
7th Sense Psychics offers a new member discount of $7 for your first 7 minutes. Once your 7 minutes have been spent, all readings are charged at the standard member rate of $2.75 per minute.
You can bulk purchase minutes using 7th Sense Psychics' tiered pricing system. The first level tier is regular, followed by bronze, silver, and gold. Spending more per month raises your tier level, which lets you enjoy lower dollar-per-minute rates.
| | | |
| --- | --- | --- |
| Tier | Price Range | Biggest Discount |
| Regular | $3.60 – $4 min approx | 10% |
| Bronze | $3.50 -$3.90 min approx | 12.5% |
| Silver | $3.40-$3.80 min approx | 15% |
| Gold | $3.20 – $3.60 min approx | 20% |
You can make purchases using Visa, MasterCard, and American Express. You will need to purchase some credits before your reading begins, and you can opt for 10, 20, or 50-minute deals. You can also get free readings for referring a friend, and there are other regular loyalty discounts available. Remember to tick the box on the sign-up form to receive these.
Customer Support
You can contact Customer Support in a number of ways. There's a free telephone number, live chat function, email address, and contact form. There are also comprehensive frequently asked questions, so they have support well covered.
Although there are no timeframes for when you will receive a response from them, it should be within 24-48 hours. It is not clear if Customer Support is open during the weekend. By submitting a request through the contact form, you should expect a reply within 1 business day.
However, from my experience, you can expect to hear back sooner, depending on the part of the world you are in. I tried the live chat first and got a reply within minutes.
The FAQ section is fairly detailed, so I was able to find the answers to some of my questions there. It explains how to book a reading, how to resolve payment issues, how to check your account balance, and lots more. I tend to go there first before contacting anyone.
You can opt to contact customer support if you are unsatisfied with your reading and want to claim a refund. Ensure you contact support by telephone within 48 hours of your reading and clearly state why you're unhappy. Although, it's worth pointing out that refunds are only given for readings of 10 minutes and under.
FAQ on 7th Sense Psychics
What is 7th Sense Psychics?
7th Sense Psychics provides clients with top-quality psychic services. It features more than 150 genuinely gifted individuals and a variety of reading niches, from love and relationships to business, career, dreams, and life path.
You will find 7th Sense is one of the most cost-effective psychic platforms around because it offers psychic reading services at flat rates across all psychics. This can help save you money and time and gives you a wider choice when it comes to selecting a reader.
Compared to other sites, 7th Sense Psychics is easy and uncomplicated to use, especially if you like getting lots of readings or trying new psychics. And, if you're new to the site, check out this introductory offer that gives you a discounted bundle of minutes to use.
Does 7th Sense Psychics have a refund policy?
Yes, 7th Sense Psychics has a 100% satisfaction guarantee that acts as a refund policy. According to the company's website, customers can request a refund if they are dissatisfied with the quality of their reading.
Your session must be shorter than 10 minutes to qualify for a refund. Make sure you submit your request within 48 hours and clearly state the reason your reading wasn't satisfactory. Contact Customer Support to submit your claim for a refund.
Is 7th Sense Psychics easy to use?
Yes, 7th Sense is easy to use because you pay the same rate for all psychics and all readings. It offers a variety of communication options, with the option of an app, and it's quick and easy to register for an account.
There is good access to Customer Support if you do have any questions or problems and lots of support information on how to use the site. It is lacking in some features, such as staff picks, and if you're searching for a specific type of reading, it could take longer as there aren't any sophisticated filters. However, if you are just after a love, career, or destiny reading, the simple design might appeal to you. See what types of reading 7th Sense Psychics offer.
Bottom Line
7th Sense Psychics is easily accessible and has a solid selection of top-tier psychic advisors. The site's slick website and well-optimized mobile app make it easy to book a psychic and use the additional resources available.
While the company does not offer free minutes, its tiered pricing system makes up for this. This means that all psychics and their services are the same price, depending on your tier. And the more you use the service, the cheaper your per-minute rates become.
Overall, 7th Sense Psychics is a good choice for anyone looking to get a casual psychic reading. You have access to a roster of gifted advisors and can enjoy a generous introductory offer backed up with a guarantee.