Matters of the heart can be tricky to navigate, especially when you're not sure how a special someone feels about you. To make matters worse, interpreting Tarot cards in a love context can get confusing quickly and lead to more questions than answers. Fortunately, you can avoid complications by understanding how to interpret the messages clearly.
From my vast experience reading tarot on love matters, I've put together a handy guide to keep you on the right track with your interpretations. They'll go beyond traditional meanings by providing contextual answers so you can approach your love life with a newfound sense of certainty.
However, there's always the possibility of dealing with lingering doubts. If you're experiencing frustration, I suggest contacting a credible Tarot reader on California Psychics for personal insights. They can answer your burning questions and provide peace of mind.
Get Love Advice on California Psychics
Tarot Cards That Show He's Thinking Positively About You
The following cards are typically seen as the best ones to receive in Tarot when asking about love matters. If you get multiple of these cards during your reading, you can take it as a good sign that the person you're asking about feels fondly toward you.
Remember that the positive energy associated with these cards can vary depending on the surrounding cards. For example, getting a positive card and a negative one next to it may complicate the situation because there's good and bad. So, try to evaluate the overall message by looking at the positive vs. negative ratio.
| | |
| --- | --- |
| Card | Meaning |
| The Lovers | Indicates that this may be a soulmate. Regardless, there's a high chance they want to choose you as a partner. |
| The Empress | They find you beautiful and see you as a potential wife and mother. |
| The Hierophant | They're looking for something serious and traditional. May want to make things official or elevate the connection in some way. |
| The Emperor | A stable and committed male energy that is willing to put the work in to see success. If it comes out with the Empress, it can represent they see you two as a divine match. |
| The Sun | They feel positive and happy around you. Something about you makes them feel young and carefree. |
| The Star | This person feels hopeful about the relationship and looks at you as wish fulfillment. |
| The Fool | They're open to a new start in love and want to jump into things. However, they aren't thinking too far ahead into the future. |
| The Magician | They're actively manifesting you and doing what they can behind the scenes to make things happen. |
| Ace of Cups | A positive Omen for new beginnings in love. They're feeling the love in the air. |
| Two of Cups | A sign that they see this as a worthy partnership and want to invest in it with equal give and take. |
| Nine of Cups | They feel fulfilled when they think about you and feel ready to share their accomplishments with another. |
| Ten of Cups | They want the ultimate fairytale life with you, including the white picket fence, pets, and kids. |
| Knight of Cups | They want to present you with an emotional, sincere, or romantic offer. |
| Ace of Wands | They're feeling passionate about you and thinking, "I want you". |
| Four of Wands | This is the "I want to settle down & bring you home to my family" card. |
| Six of Wands | They're proud to be with you and hoping for a successful outcome. |
| Ten of Pentacles | They see this potential for long-term stability and can envision a sturdy life together. |
Tarot Cards That Indicate He's Thinking Negatively About You
Regrettably, these cards may not be the most favorable ones to encounter during a love Tarot reading. They generally suggest the presence of unfavorable or challenging energies that may disrupt relationships. If you find it difficult to interpret the other cards in the spread for a clearer understanding, I recommend seeking guidance from a professional to gain clarity.
| | |
| --- | --- |
| Card | Meaning |
| Death | The person you're asking about may be considering ending the relationship or returning to someone from the past. |
| The Tower | They see the relationship as risky and a threat to their existing foundations. |
| The Devil | Watch out for their true intentions, as they're likely drawn to you for superficial or egotistical reasons. |
| The Moon | There's secrecy, and things are happening behind the scenes. Either they can't express themselves fully, or they're hiding something from you. |
| The Hanged Man | Stagnant energy that can indicate a stalemate and no progression forward. The person may be feeling like the relationship is going nowhere. |
| Judgment | They feel that unless there are major changes in the relationship that it won't work. |
| Three of Swords | Can indicate the person you're asking about is going through a difficult emotional time. |
| Seven of Swords | Some type of deceit and manipulation is happening. Be wary of letting this person into your life. |
| Five of Swords | A sign that the person you're asking about will walk away from the situation or is being inconsiderate of your feelings. |
| Five of Wands | The person you're asking about may have multiple options they can't decide between. It can also show internal struggle or feeling like you two butt heads too much. |
| Ten of Wands | Feelings of burden. The person you're asking about may have a lot on their plate and feel an additional burden because of the relationship. |
| Five of Cups | They're disappointed about investing in the relationship or how things have unfolded. |
| Eight of Cups | Talks about walking away to find something more emotionally fulfilling. The person you're asking about may be feeling called to walk away from their current situation and may relocate or leave in search of something else. |
| Seven of Cups | The person you're asking about is feeling clouded by too many options and has shiny object syndrome. |
| Four of Cups | Outright rejection of the relationship or their feelings. The person you're asking about will either reject a serious commitment or is struggling to deal with their emotions. |
| Two of Pentacles | Juggling of options. It can sometimes talk about someone dating more than one person at a time and trying to figure out the best connection. |
| Knight of Wands | While this card can talk about a lot of passion for you, it can also indicate player tendencies. Proceed with caution. |
Is This True Love? (Yes, No, or Maybe)
When you inquire about someone, they might have specific emotions concerning you and the bond between you two, but that doesn't rule out the possibility of genuine love. Tarot readings can have subtle variations based on the query posed, so I recommend consulting the interpretations below when you're seeking a yes or no answer regarding the authenticity of the love.
"Yes" Major Arcana Cards
The Sun – Stay optimistic and expect positive energy.
The Chariot – This relationship is proceeding as its meant to, expect new developments.
The Empress – No need to pursue him, you'll attract him by sitting back.
The Emperor – He is willing to put the work in to make this happen.
The Fool – Trust the connection and take the leap of faith.
The Magician – You or him are actively manifesting this relationship.
Strength – Don't force things, as this difficulty shall pass.
Wheel of Fortune – This connection is fated to happen.
The Star – Take time to heal and believe in the impossible.
Temperance – Stay balanced and expect positive developments.
Justice – There's an unfinished soul contract with this person.
"No" Major Arcana Cards
Death – You're being called to close this chapter before the Universe does.
The Tower – The relationship is built on an unstable foundation.
The Devil – This dynamic is toxic and too focused on the wrong things.
The Moon – You may think the relationship is worth it, but you do not see clearly.
"Maybe" Major Arcana Cards
High Priestess – You know the answer deep down.
The Hierophant – Marriage is in the cards, and it may work with counseling or the input of a wise mediator.
The Hermit – You both need to reevaluate what you want and take a time out first.
The World – It can go either way, call it quits or start on a clean slate.
The Hanged Man – You're gripping onto control, and it's keeping this stuck.
The Lovers – You're soulmates, but free will is at play. You must choose each other for this to work.
Judgment – The relationship needs a complete rebirth and major adjustments.
Best Sites for a Tarot Reading in 2023
Reading Tarot for yourself can be challenging, especially when you're emotionally invested in the topic. If you're confused about how to interpret the cards, chatting with a professional reader can help. These sites are the best for a Tarot reading due to their affordability and wide selection of readers.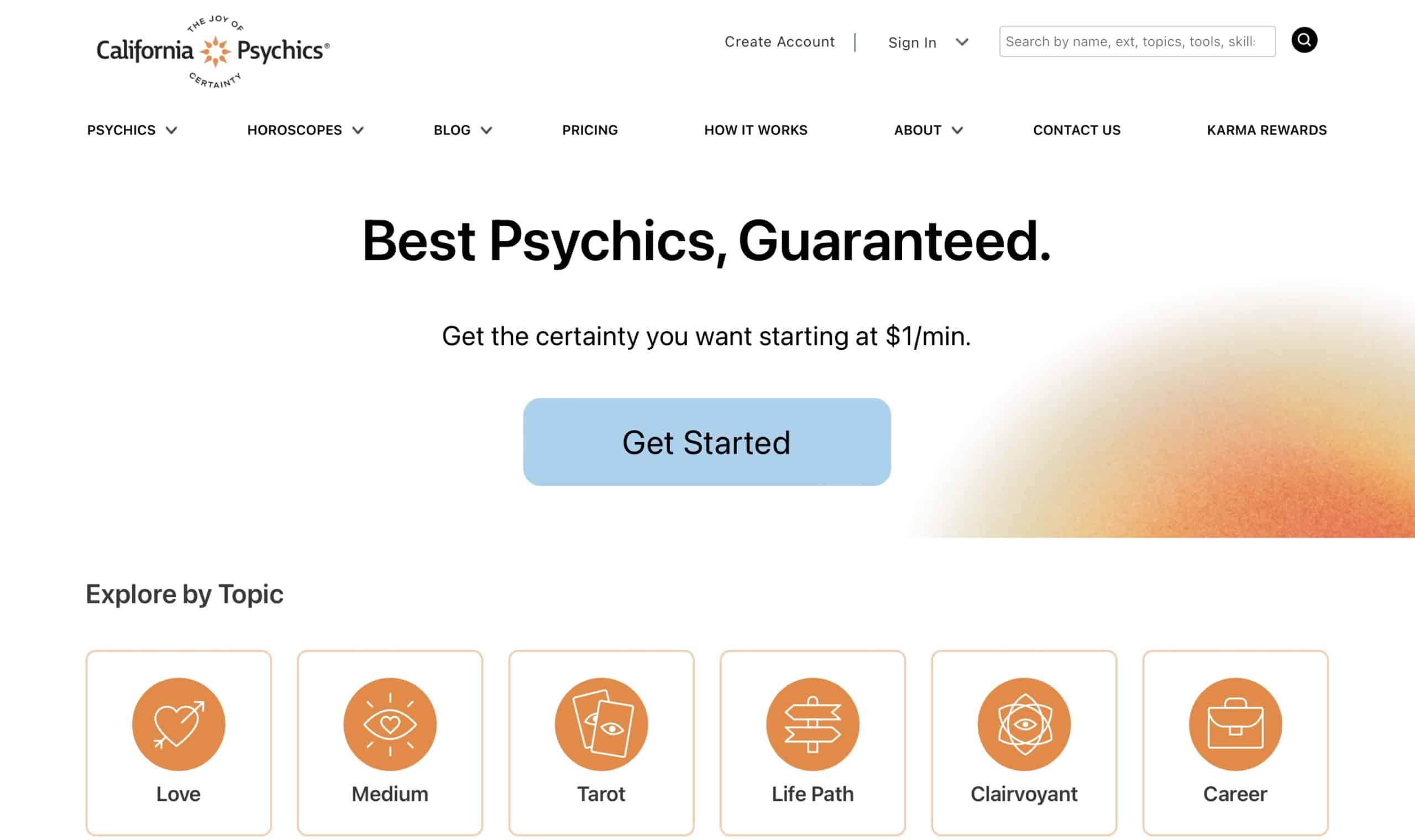 200+ Tarot readers
Satisfaction guarantee
$1, $2, or $4 per minute
Highly-rated Tarot advisors
Strict vetting of readers
California Psychics is a reliable platform for Tarot readings because of how strict its vetting process is. The site only accepts 2% of all applicants and has ongoing monitoring practices after bringing in new readers. Psychics must pass several accuracy tests and even read for California Psychics' employees, so rest assured that its quality is top-notch.
I feel safe using California Psychics because of its user-friendly satisfaction guarantee. If you experience a bad reading, you can contact its customer support to describe your experience and receive a full refund in site credits if you qualify. That way, you can quickly connect to another Tarot reader without spending extra money.
Luckily, receiving a poor reading is unlikely since most of California Psychics' Tarot readers have a 4.5-star rating and above. Considering most advisors have 10,000+ readings completed, these are great odds that should leave you feeling confident before booking a session.
Although the usual charges on California Psychics might be quite high, as a newcomer, you have the opportunity to receive a Tarot reading for just $1 per minute. This affordable rate takes into account the excellent service provided and allows you to explore various readers without any financial risk.
2. Purple Garden — Get 4% Cashback on Tarot Readings and Save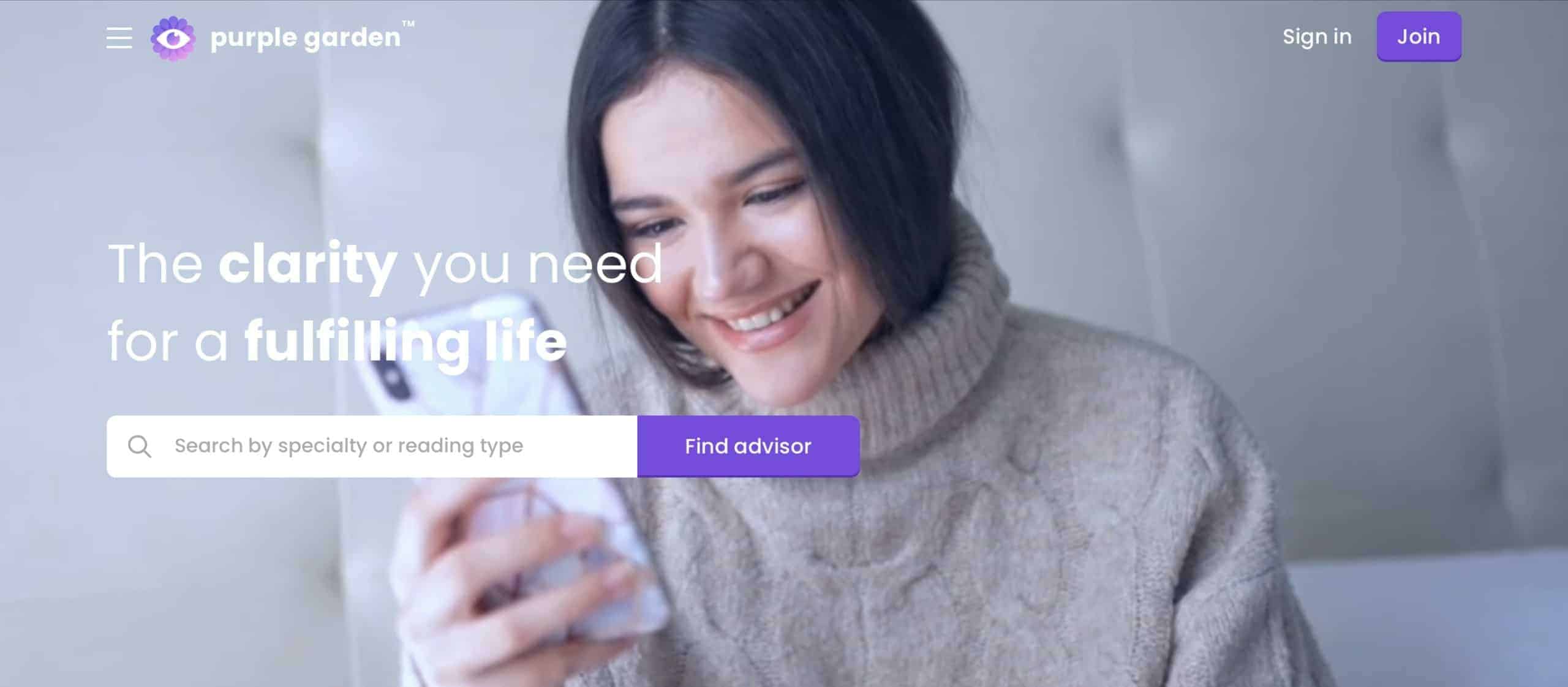 Introductory videos on profiles
$10 credit for joining
Chat, call, and video readings
2% cashback on purchases
User-friendly mobile app
Purple Garden lets you establish a long-term relationship with a Tarot reader. It has one of the highest cashback rates at 2%, so you can get the Tarot insights you need without breaking the bank. This means you won't have to worry about the financial burden of ongoing support.
Thanks to Purple Garden's mobile app, you can instantly connect with top-notch Tarot readers at a convenient time. Its user-friendly interface makes navigation straightforward. I've found the app useful while traveling, as you can receive love insights from anywhere without booting up your laptop.
An additional perk to using Purple Garden is how it lets you connect with your Tarot reader in various ways. You'll have your pick of a live chat, phone call, or video call Tarot session and can select according to your needs. If you like seeing the Tarot cards you get, you can hop on a video call and get the intimate interaction you're hoping for.
Although the evaluation process on Purple Garden might lack clarity, the platform's reviews are very transparent. Each reader's reviews are showcased right at the beginning of their profile, making it simple to identify any significant concerns.
3. Keen — Feel at Ease with Its Roster of Experienced Tarot Readers
In-depth search filters
Experienced Tarot readers
5 minutes for $1
Send mail before booking
Readers since 2002
Keen is a solid option for getting Tarot readings because it has many readers that have been on the site since 2002. This indicates that its readers are experienced and well-liked since they've maintained a client base for so long. Seeing a solid track record can be reassuring if you seek reliable love insights.
I find Keen's features to be unique since it's one of the only sites that lets you email readers before paying.It's a great advantage since you can ask multiple Tarot readers general questions and get more clarity on their skills and specialties. This feature is especially helpful if you need insights on more specialty topics like LGBTQ+ or cheating.
On Keen, you can dip your toe in the water before committing to a reader by using its introductory package. Its offer includes 5 minutes for $1, which you can put towards a longer session and test top-tier Tarot readers. Regardless, it's an enticing offer since you get a reasonable amount of time without breaking the bank.
Remember that if you ever need a refund, you won't return it to the original payment method. However, you won't be left high and dry since Keen issues refunds for unsatisfactory readings with its Keen credits. In the rare event this happens, you'll get up to $25 in credits and get to connect with a new advisor without having to add more funds.
FAQs on Love Tarot
Can you do a love Tarot reading for yourself?
Yes, you can do a love Tarot reading for yourself but you need to be aware of the potential drawbacks. While many people find value in using Tarot to gain insights and guidance on matters of the heart, it's not always easy to interpret the message. People can be prone to self-delusion, a lack of understanding, and biased interpretations.
I suggest finding a credible Tarot reader that you vibe with to get objective insights and more out of the practice. Since many Tarot readers work online nowadays, it's simple to get immediate advice from the comfort of your own home — even via video. That way, you can seek guidance at a time and place that suits you.
How can Love Tarot help me in my current relationship?
Love Tarot can provide valuable insights and guidance in your current relationship by offering clarity and a fresh perspective. Since the Tarot helps reveal the underlying energy in love dynamics, it can help you understand the reality of a situation. Tarot can help answer questions like "What is he thinking?" and "Is this true love?".
With that in mind, remember that Tarot serves as a tool for guidance and self-reflection. A reading can provide valuable insights, but ultimately, you have the power to shape and navigate your relationship. So, I recommend complementing Tarot insights with your own intuition, individual efforts, and personal growth in love.
Can Tarot predict the future of my love life?
Tarot isn't designed to predict the future with absolute certainty, including the specific outcomes or events in your love life. While Tarot can provide insights and guidance on potential paths and energies surrounding your love life, it is important to understand its limitations when predicting the future.
That said, following a credible guide can clarify your current love dynamics, emotions, and potential outcomes. This, in turn, can sometimes pan out to be quite accurate and equip you with clarity you wouldn't otherwise have. But your love life is shaped by numerous factors, including your choices, actions, and the choices and actions of others.
Bottom Line
Tarot is a powerful tool for insights into your relationships, as it can help you make sound decisions in love. That said, it's tricky to perfect, and if you're heavily invested in the situation, it can leave you unsure of your next steps. When you're in this spot, a contextually relevant Tarot guide can be a lifesaver and allow you to see things without distortion.
But when the situation is more intricate, you'll need more than just a Tarot guide for sound advice. Connecting with a credible Tarot reader can relieve pressure and create a safe space for heartfelt reassurance. Their perspectives can be powerful since the messages tend to hold more weight than your own interpretations.
To summarize, the best sites for Tarot readings are…