Psychic Encounters has now merged with California Psychics, which came into effect on the 31st of March 2022.
Most of the psychics from Psychic Encounters can now be found on California Psychics. If you're still interested in Psychic Encounters, then please see our
California Psychics Review
for more information.
California Psychics vs. Psychic Encounters: An Overview
When you're dealing with two popular psychic reading sites, it can feel next to impossible to choose just one. Fortunately, choosing between California Psychics and Psychic Encounters is easier than you think.
If you love having choice in terms of psychics and reading categories, and you plan to schedule regular psychic readings, you're going to love California Psychics – the Karma Rewards feature in particular.
If affordability is the most important to you and you enjoy connecting with psychics via your mobile phone, you're probably going to prefer Psychic Encounters.
In this review, I've covered everything you need to know about both psychic sites, including website usability, reading types, trustworthiness, and price. By the end, you'll know exactly which website is a better choice for you.
Once you've made your decision, you can also take advantage of California Psychics' $1 per minute introductory offer and Psychic Encounters' $0.99 per minute offer for new users.
Quick Summary of Winner in Each Category
California Psychics vs. Psychic Encounters: Types of Readings
California Psychics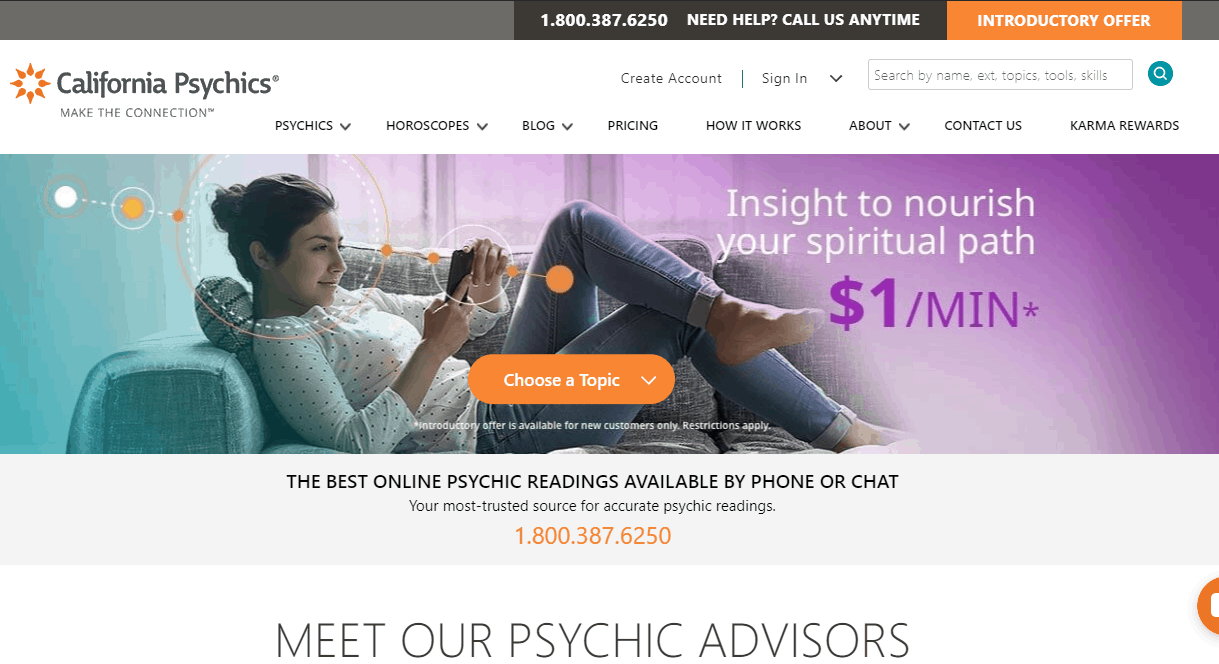 There are two ways you can connect to a psychic on California Psychics via phone or chat, but not always both – it depends on the psychic. Aside from that, they have a wide range of specialties and categories to cover almost any concern. Their primary categories are as follows:
Career Advice Readings
Love & Relationships
Money Readings
Life Path Readers
Other categories include readings to help you connect with your pet, learn more about your past lives, connect with lost loved ones, and find lost or missing objects. California Psychics has a large selection of top-rated psychics with unique abilities, who use a variety of tools, such as tarot and crystals. What I like best about California Psychics is that you can use the main menu to narrow your search according to specific abilities, tools, skills, and more.
Psychic Encounters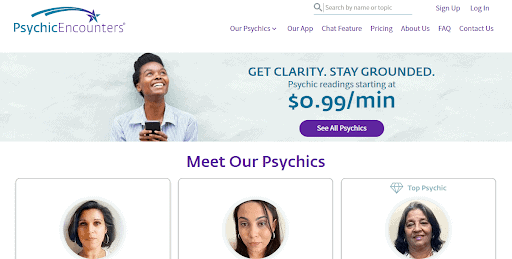 Psychic Encounters provides the same chat and phone readings as California Psychics, with the addition of a video option. This is beneficial if you prefer the face-to-face intimacy that a video reading provides. Their primary categories include:
Life Path
Love
Departed Loved Ones
Money
While these categories aren't as specific as those offered by California Psychics, the spiritual advisors on this site are equally gifted with psychic abilities and the ability to conduct readings using tools such as crystals and tarot cards. The only disadvantage is that their selection of top-rated psychics isn't as diverse. On a brighter note, this site has readers who speak both Spanish and English.
Winner: California Psychics for a larger selection of top-rated psychics.
Browse Readings on California Psychics
California Psychics vs. Psychic Encounters: Pricing
California Psychics
California Psychics' per minute rates range anywhere from $4 – $15 based on a unique three-tier pricing system (popular psychic, preferred psychic, and premium psychic). The per-minute cost of a psychic varies depending on what tier they fall under, sometimes up to $10. Not to worry, while the higher per-minute price is definitely a measure of how talented a psychic is, a lower price doesn't mean the opposite. You get gifted psychics at every tier.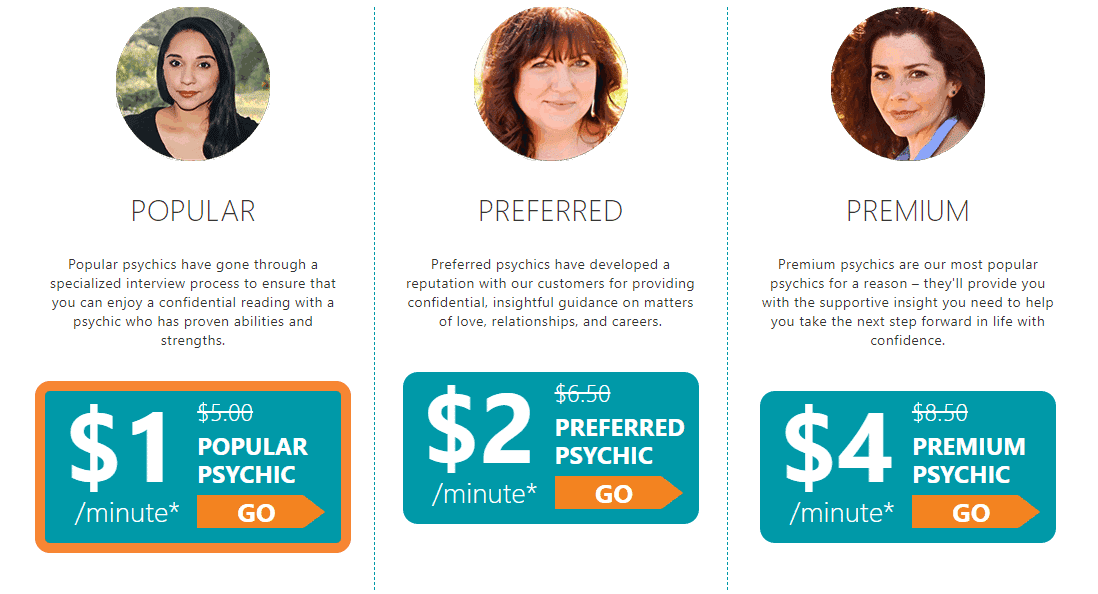 The more expensive advisors can set their own prices based on their tier. However, each advisor's per-minute cost is clearly displayed for complete transparency, so there is no deception here. Fortunately, as a new user, your first call is charged at a flat rate of $1 per minute.
Psychic Encounters
When it comes to affordable online psychic readings, Psychic Encounters is at the forefront. They charge flat rates of $0.99 or $1.99 per minute, depending on the psychic's level of experience. So, the price difference between a less experienced psychic and a top-tier psychic is only $0.99. This way, you can try out the site and your favorite psychic while also saving money on fees that can quickly add up when the minutes are factored in.

Psychic Encounters' pay-as-you-go model also makes it simple to manage how much you spend on each call. You can also save your payment method and use it the next time you need to contact a psychic.
As an added bonus, new users get a flat rate of $0.99 per minute when signing up.
Winner: Psychic Encounters for affordable ongoing rates.
California Psychics vs. Psychic Encounter: Website Usability
California Psychics
I have mostly only good things to say about the California Psychics website and mobile app, which is available for both iOS and Android devices.
It's detailed, but it's also simple to use. The filtering options are extremely powerful, allowing you to search by reading style, tools, topics, psychic abilities, and more. As a result, you can be quite specific about your preferred advisor.


Furthermore, each psychic's profile on the site is packed with information for you to review. There is even a calendar that you can use to schedule an appointment if you don't want to wait for a chat or call.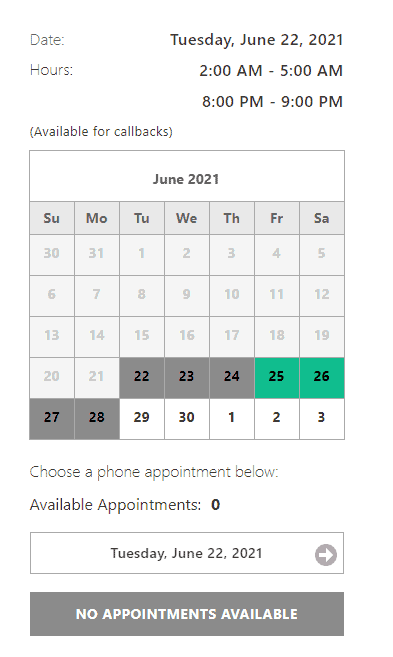 The only drawback I found was that you cannot top up your account during a session, so if you run out of funds, you are cut off and must wait for the next available slot. In addition, the sign-up process is complicated. I'm not sure why they assign your order to a specific advisor even if you haven't made a decision. Fortunately, you can change your preferred psychic after your order has been completed.
I would also prefer it if California Psychics used a pay-as-you-go model. For the time being, if you want a reading, you must sign up for a 20-minute session.
Psychic Encounters
The Psychic Encounters website is simple and easy to use, but it is too simple for me in some ways. One, you cannot streamline your search using search filters, making it difficult to find the type of reading or psychic you require. Second, their categories are too broad for my taste. However, if you are looking for a more general reading, this may not be an issue. You can only contact a psychic if they are online and available.

On the plus side, connecting with a psychic is a breeze both on their website and app. All the information you need to make an informed decision about an advisor is available on a simple page once you click on the psychic's profile. When you are ready for a reading, simply click on the chat or phone button to be redirected to the login/sign-up page. After that, select your payment method and you're done! The entire procedure takes only a few minutes.
Winner: California Psychics for their search filters and detailed psychic profiles.
Explore the California Psychics Site
California Psychics vs. Psychic Encounters: Trustworthiness
California Psychics
Numerous factors speak to the trustworthiness of California Psychics, including the fact that they have been in business for more than two decades. They also have a rigorous screening process that includes a month-long, four-step process. Prospective psychics must complete a proprietary California Psychics online training program, as well as pass two assessments and a background check. Despite this, I appreciate that their services are backed by a full money-back guarantee.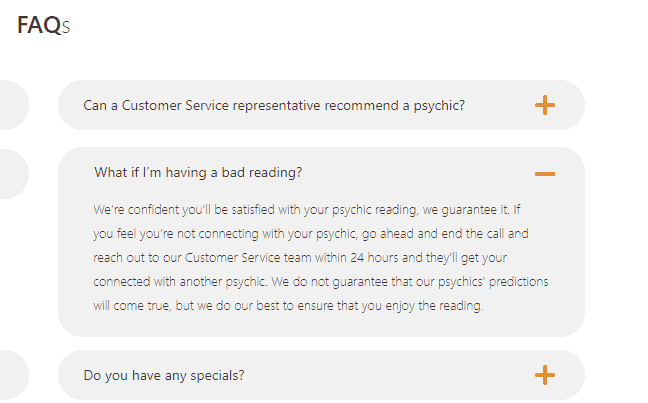 They do not issue cash refunds, but if you contact customer support within 24 hours, you will be able to get another reading for free up to the value of your previous reading. Unfortunately, this guarantee can only be used once.
Psychic Encounters
Although Psychic Encounters has been offering psychic readings since 2016, they provide very little information about their hiring process, which I found disappointing. Despite this, they are regarded as one of the better psychics websites as evidenced by their growing clientele.
Another favorable point is the legitimacy of their reviews – negative ratings are not filtered out, and only verified users are permitted to leave a review. Furthermore, each advisor receives ratings, which you can review at a glance to determine the overall level of satisfaction across all readings they've chaired.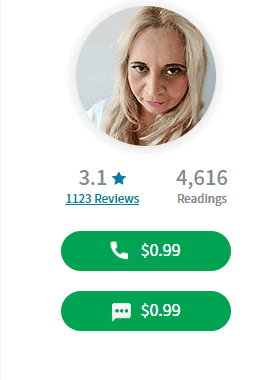 There's a help center that answers the majority of your questions, with one exception, their refund policy.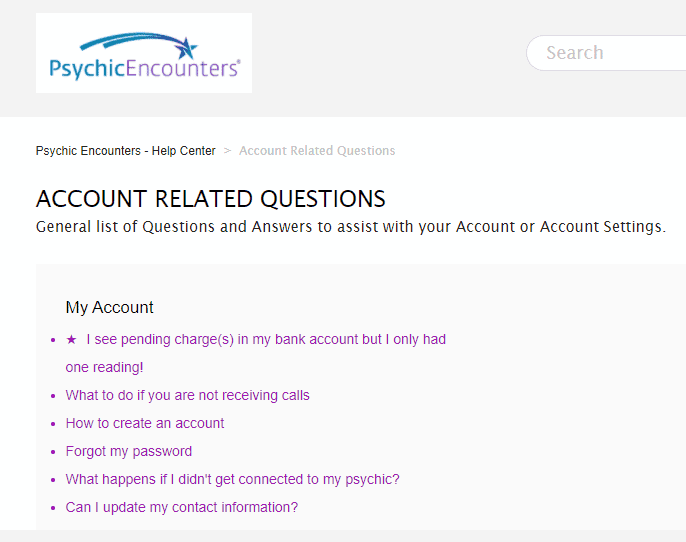 I had to contact customer service (which can only be reached through a ticketing system with a 24-hour response time) to learn that they do not offer refunds. This could be due to their low per-minute rates, but I don't think it's a good look for them. Overall, Psychic Encounters lives up to their promises.
Winner: California Psychics for their 100% money-back guarantee.
California Psychics vs. Psychic Encounters: Added Extras
California Psychics
California Psychics has a rewards program called Karma rewards and bonuses. This feature awards points for each reading as well as other benefits like a free detailed birth chart and a $20 credit when you sign up – the points you earn with each reading can be redeemed for future psychic readings. As a member of this platform, you will also receive personalized free daily horoscopes, free daily tarot card draws, and access to a Zodiac compatibility checker for your person of interest.
Psychic Encounters
Psychic Encounters doesn't have many additional features, but it does have a mobile app for both Android and iOS. The app is simple to use and ideal for on-the-go reading.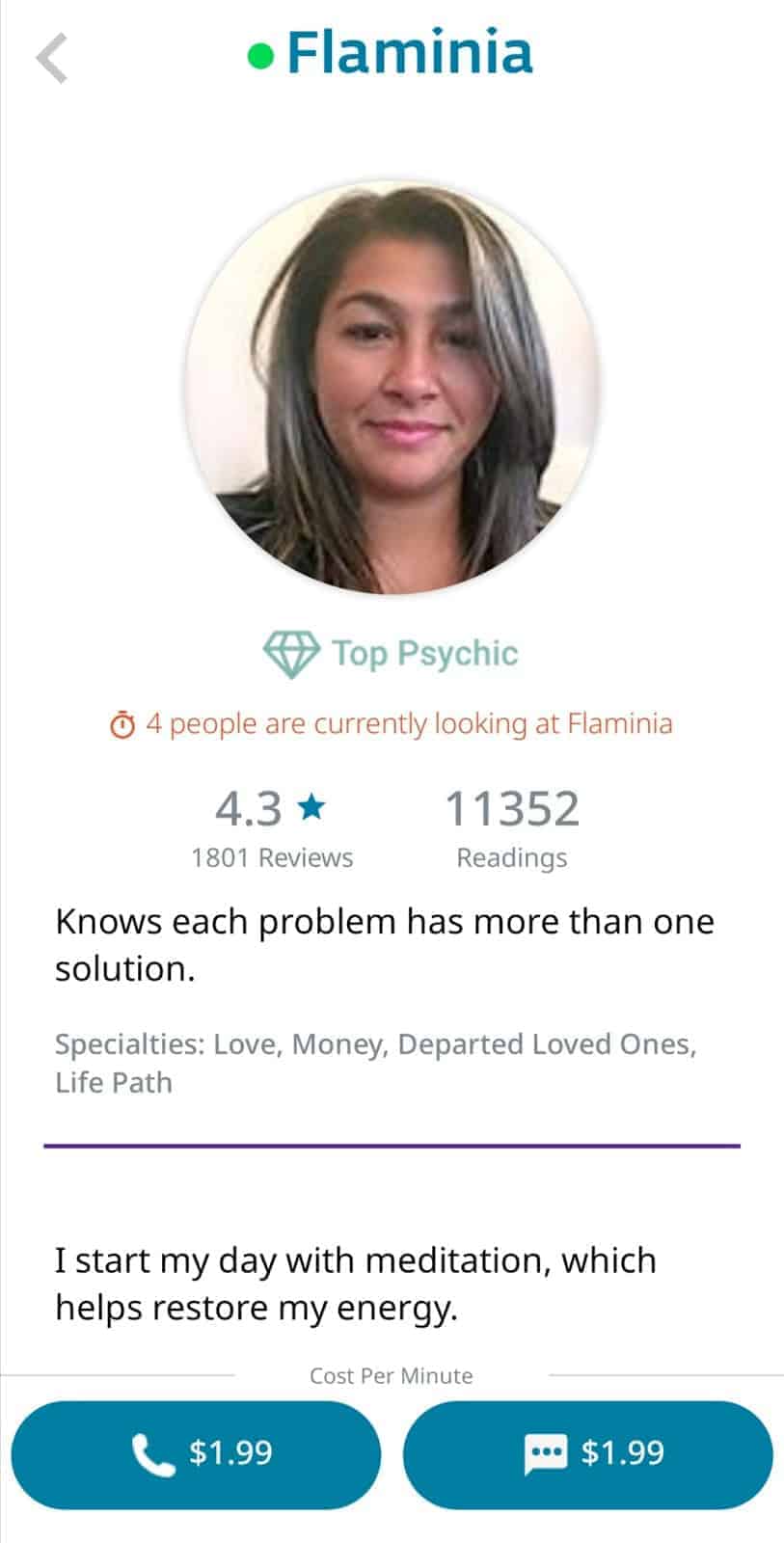 Winner: California Psychics for their rewards program and free horoscopes.
The Bottom Line on California Psychic vs. Psychic Encounters
California Psychics is the winner in important categories such as trustworthiness and reading types. However, when it comes to personal preference, the site that would work best for you is determined by your requirements.
If you're looking for a low-cost way to connect with gifted psychics, Psychic Encounters is a great option. But, if you're willing to pay a little more for access to niche readings and a larger pool of talented psychics, California Psychics is the better option.
Overall, if you thoroughly research a psychic before committing to a reading, you're bound to have a great experience on either of these platforms.