With many established psychic platforms on the web, it's not unreasonable to doubt if Sanctuary is worth your time. Having only launched in 2019, Sanctuary is rather fresh in the world of psychic readings and has a limited track record. But after thoroughly revewing Sanctuary, I can assure you that its readers are legitimate and deserving of a try.
For your first session on Sanctuary, you can test out a reader for $4.99 and receive 5 minutes of guidance. I found its offer to be sufficient for testing out the quality of a particular reader before committing to their regular per minute rate. And in the event you're disappointed by your session, you can contact its customer support to request a full refund.
Types of Readings on Sanctuary
Sanctuary's layout is unique because rather than browsing through specific categories, you click on the advisor's profile and check out the services they offer. The types of readings offered will vary from reader to reader, as some are expert Astrologers that prefer to stick to one field of study, while others may have a range of skill sets under their belts.
Because Sanctuary is geared towards offering instant advice, it doesn't require you to schedule in advance. It's simple to see which readers are online and ready to assist you. Additionally, you can expect privacy during your 1 on 1 session since all readings are done via an encrypted live chat, which minimizes the odds of being overheard.
Psychic Readings
Psychic readers on Sanctuary specialize in no-tool readings which is beneficial when you'd like a reader to tap into your situation with their own gifts instead of a tool. Additionally, traditional psychic readings can offer you more personalized and specific information. For example, a psychic on Sanctuary can provide future predictions using their gift of clairvoyance.
Most psychics on Sanctuary have decades worth of experience and have completed over 3,000 readings. So, you can feel confident that the psychic you select has the relevant skills and proficiency to tap into the spirit realm for answers.
Tarot Reading
Getting a tarot reading can paint an insightful story of your journey or a particular situation you're trying to navigate. The archetypes throughout the cards can give your reader an in-depth look rather quickly so they can instantly know what's going on. Tarot readings are preferable if you're working with a limited budget and need structured advice quickly.
The special thing about the tarot readings on Sanctuary is that many of the tarot readers are multitalented and psychic. Getting assistance from a tarot reader with many available skills is great for niche situations or when you're looking for well-rounded support. For instance, I saw a reader on Sanctuary that offers energetic hygiene and cord cutting in addition to tarot.
Astrology Readings
Since Sanctuary is primarily astrology focused, you'll be impressed by the qualifications of its astrologers. You can connect with one of its professional astrologers and receive a personalized birth chart reading or transit forecast. These readings are best if you're curious about what astrology has to say about you, your path, and what may come up in the future.
Astrology readings are based in theory and complex systems, so this reading category would be best suited for those that prefer a logical or concrete approach. You can expect your reading to go beyond the basics of your zodiac sign since many of its astrologers have 10+ years of training.
You can even find the president of Astrology Toronto Incorporated (ATI) on Sanctuary, who's name is Jennifer. All you have to do is search for her name and she if she's available to begin a session.
Other Available Readings
In case you're after a particular kind of guidance, you can choose from a handful of other reading topics on Sanctuary. In addition to the reading types above, Sanctuary offers sessions for love and relationships, energy healing, mediumship, past life, and human design.
Love and relationship readings are a good choice when you're not picky about the type of psychic gifts or tools but want an advisor with vast experience in this space. From what I've seen, many of the love and relationship readers on Sanctuary have practices outside of the site that are dedicated to guiding others in love.
Additionally, energy healing is becoming popular but this service isn't explicitly available on other psychic platforms. So, it's a game changer that Sanctuary offers it because it means there are energy workers that are solely focused on honing this skill. This type of reading can be helpful when you want to heal from a traumatic situation or clear out energetic blocks.
Mediumship readings are a must on any psychic platform so it's reassuring to see that Sanctuary offers it. Mediumship is a type of psychic gift but it's not mutually exclusive to psychic readings and having both available demonstrates that Sanctuary understands this distinction. Select this category if you'd like to get some closure on a recent passing.
Lastly, human design is an astrology branch that combines Vedic philosophy and psychology. While social media has helped popularize human design, not every astrologer is trained in it, and I've yet to see on other psychic platforms.
How to Book a Reading?
In order to get a reading on Sanctuary, it's necessary to make an account, select a reader, and pay for your preferred reading. The process is rather straightforward so you won't have an issue starting your reading within minutes.
1. Create an Account
Creating an account on Sanctuary is rather standard which makes it a simple process. You'll need to start on Sanctuary's home page and click on the "Sign Up" button located on the upper right-hand side. You can choose to sign up with Facebook, Apple ID, or an email but I recommend joining with email to maximize online privacy.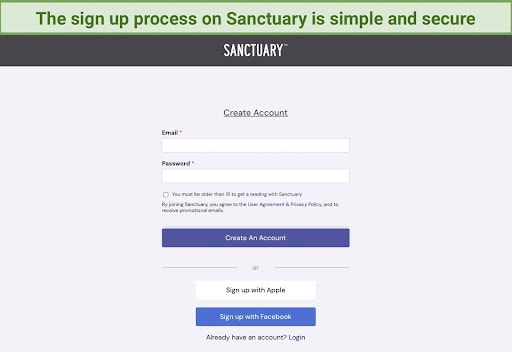 Maintain your privacy by creating an account with an email and password
2. Choose Your Reader & Reading Type
Next you'll need to select your reader from the list of online psychics and you can see which ones are available depending on the color of the dot under their photo. A green dot indicates that the reader is online and free to connect, whereas the purple dot means they're online but busy. And, each advisor's skills are displayed under their name for quicker browsing.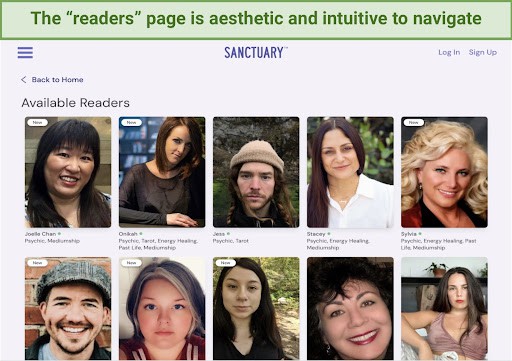 Narrow down your options by browsing the expertise of each advisor

Once you click on a reader that interests you, I recommend reading through their profile to ensure your choice is suitable for your needs. Look for the amount of readings completed, experience level, and any particular skills that you're after. If the advisor you pick offers multiple reading types and prices, you'll need to select one before starting your session.
3. Start Reading
After selecting the reading type, you need to select the length of your session. As a newbie, you'll qualify for Sanctuary's introductory promotion of 5 minutes for $4.99, which allows you to test your psychic before paying full price. Then, you can select the theme of your inquiry from a list of options including love, career, life path, major transits, or other.
The price breakdown for each service is clearly displayed before checkout

There is an optional question at the end which asks more about what you'd like to talk about during your reading. I recommend answering it with additional details so you can jump straight into your reading and save yourself time. Keep in mind that Sanctuary only offers live chat sessions at this time.

Once you're done with the questionnaire, you'll need to pay for your reading in advance. You'll see an order summary displayed on your screen which will give you a full breakdown of your total and you can add your email for an electronic purchase receipt. Sanctuary uses Stripe for its payments so you're able to pay with any major credit or debit card.
Is Sanctuary Trustworthy? Yes
Being a newer platform, I was a bit skeptical of the level of trustworthiness on Sanctuary. But, after my first reading I felt confident that it was offering legitimate services because the messages I received were accurate. Even prior to the reading, it became apparent that Sanctuary wasn't out to scam anyone and that it was offering worthwhile expert guidance.
Something you'll notice is that Sanctuary is rather transparent with its pricing and that there are no hidden or sketchy fees. All of the listed prices are easy to read, see, and understand. Since each reader sets their own pricing there can be variations but the cost is clearly displayed next to the types of readings that particular reader offers.
To ensure trustworthiness, it's a must to look into the vetting process of a platform because this can impact the quality of your experience. I was quite impressed with Sanctuary's unique approach to vetting because their readers must pass a variety of tests, multiple interviews, and even do in-house training which is unheard of on other competitor sites.
I felt at ease when I saw that Sanctuary offered accessible customer support because this can make or break a site's trustworthiness. When you're in need of assistance, you can use the email support form and hear back within a couple hours. Email support is standard across all legitimate sites but the quick response time on Sanctuary is reassuring.
One thing that concerned me about Sanctuary is that there are no client testimonials for its advisors. And while I hope this is added in the future, many of its readers have thorough bios with listed qualifications. For instance, one Astrologer mentioned that they're the president of astrology Toronto and this was easily verified with a google search.
Top Readers on Sanctuary
I reviewed and selected the top 5 advisors from various categories. That way, you won't have to second guess your choice and feel more at ease going into your session.
Stacey

Best for Psychic Readings

Stacey joined Sanctuary in 2022 and has completed over 1,100 readings since then. She's a formally trained and educated psychic that can directly connect to your spirit guides for accurate guidance.

Her main priority is to offer you spiritual insight and practical tools to help you align with your best self. Stacey's psychic gifts allow her to channel guidance on love, relationships, career, and life path.

She can clearly see into the past, present, and future to provide you with a new perspective in addition to predictions.

Lina

Best for Tarot Readings

Lina is a natural born intuitive tarot reader who is also gifted with clairaudience. This means that Lina can hear the spirit realm during her tarot sessions and this helps her deliver tailored guidance.

While Lina joined Sanctuary in 2021 and has read for over 2,000 people since, she has over a decade of experience reading tarot.

Lina is a straight shooter and isn't in it just to tell you what you want to hear. So, if you'd like someone that will tell you how it is, you'll find value in Lina's tarot readings.

Jennifer

Best for Astrology Readings

Jennifer has an impressive track record on Sanctuary since she's completed 4,000+ readings since joining in 2019.

She's an internationally certified astrologer and a registered psychotherapist that can guide you through most situations. Not only that, but she's the president of Astrology Toronto Incorporated and has 15+ years of experience under her belt.

Her delivery style is inspirational which is best when you're looking to redeem your faith in the universe.

Theresa

Best for Mediumship Readings

Theresa has 15+ years of experience delivering messages of healing from crossed over spirits. With her combined mediumship and clairvoyant gifts, Theresa can deliver you with accurate and detailed messages to bring you closure.

Aside from that, she's also skilled in animal telepathy and can connect with any departed pets. She has an impressive track record with over 3,000 readings done since 2021.

Penelope

Best for Energy Healing

Penelope is a 2nd generation clairvoyant psychic and she has over a decade of experience as a professional energy reader and healer.

She takes a grounded and truthful approach to her healing practice which allows you to understand how she works to heal you. After your session with Penelope, you will feel greater clarity and a reboot of your energetic field.

With more than 4,000 healing sessions done on Sanctuary, Penelope is a skilled healer you can feel confident in.
Is Sanctuary Easy to Use? Yes
Sanctuary's interface is easy on the eyes and rather intuitive to navigate. In case you're new to online readings, you won't feel overwhelmed by the layout and feel confident making your way around the site. All of Sanctuary's pages are easily accessible with the navigation bar located on the top right hand side, so you won't waste time trying to find what you need.
While Sanctuary has a mobile app that can come in handy when you're on the go, I find connecting with an advisor to be quicker on the desktop version. This is more convenient when you're in need of immediate guidance and can't be bothered to go through the additional time consuming steps on the app.
Like the app, the desktop version offers daily horoscope forecasts so you won't miss out on this feature if you're a fan of Astrology. When I checked the predictions for my sign, I was impressed at how accurate it was and it became apparent that a skilled Astrologer is behind this feature.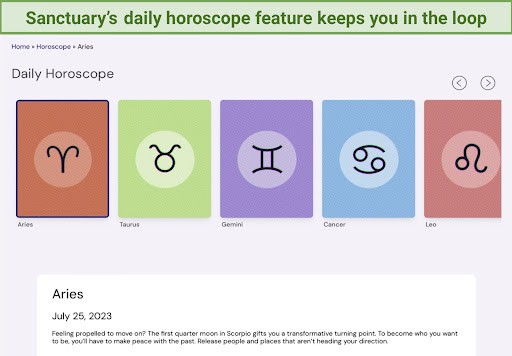 Getting your daily horoscope forecast is great for free and accurate advice

One thing I enjoy about Sanctuary is that you can select the theme of your reading before you begin. When I got mine, it felt more personalized from the get go because the reader already knew the topic of my session. Not only that, but you'll save time explaining the scope of your situation at the beginning of the reading and can jump straight into getting advice.

I hope that in the near future Sanctuary adds search filters so you can narrow down your options in a few clicks. But since the site is rather new, there aren't hundreds upon hundreds of advisors to search through and its algorithm only displays the ones that are available. So, at this stage it's not so inconvenient that I would feel deterred from using the site.
Pricing
Sanctuary's pricing is quite standard and it works on a per minute basis. But, the rates vary between readers and the different services they offer. For example, someone may offer Tarot and energy healing readings and charge $6.99 per minute for the former and $8.99 for the latter.
From my experience, the lowest per minute rate is $2.99 but depending on the advisor, it can go up to $19.99 per minute. However, the average per minute rate you should expect to pay is somewhere between $4.99 and $9.99.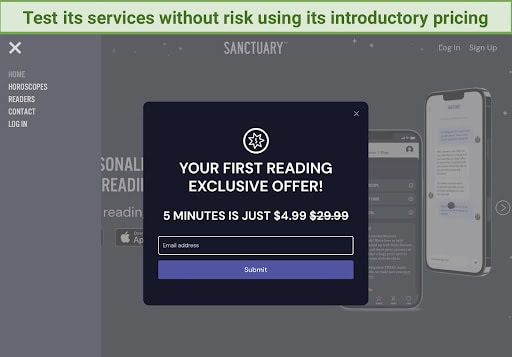 If you're new to Sanctuary you'll qualify for its discounted rates

While these rates are a little pricey, you can stay within a reasonable budget and dip your toe into Sanctuary with its 5 minutes for $4.99 offer. You can also feel more at ease about having a potentially disappointing experience since Sanctuary offers refunds. Just make sure you contact support within 2 days and that there are reasonable grounds for the refund.

Paying on Sanctuary feels secure since it uses Stripe to process payments. Stripe is one of the most popular payment providers and has extensive security and fraud prevention features, making it safe to use. You can get a payment receipt sent to your email and pay with any major credit or debit card.
Customer Support
Contacting Sanctuary's customer support team is straightforward since you don't have to hunt around for contact information. Simply click on the 3 horizontal lines on the top left side of the home page and select "Contact". You will be redirected to a contact form where you'll need to enter your name, email, reason for contact, and your message.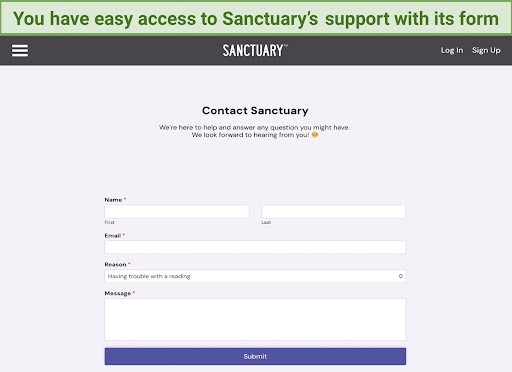 Filling out Sanctuary's contact form is simple and hassle-free

I found Sanctuary's customer support to be similar to what you can expect on other established psychic sites. Its representatives were courteous, helpful, and I only had to wait a couple hours to get assistance, which was expected. In case you're in a rush for answers, I suggest you check out its thorough FAQ because you'll likely find answers there.
FAQs on Sanctuary
Are the readers on Sanctuary legitimate?
Yes, the readers on Sanctuary are legitimate and thoroughly evaluated for their skills. That said, as a client it's challenging to decide which readers are worthwhile compared to others because there are no testimonials. But, you can still check how many readings they've done, when they joined, and their relevant skills and experience in their bio.
To help you feel at ease, I suggest checking out this list of the 5 best readers on Sanctuary. The readers were selected based on the amount of readings completed, years of experience, qualifications, and their presence online. Selecting one of these picks will bring you more confidence before your reading and lessen your chances of feeling disappointed.
Is Sanctuary safe to use?
Yes, Sanctuary is safe to use. It's a legitimate company that amassed millions of followers on Instagram before launching their own service platform. That aside, you can expect legitimate advisors to give you guidance in exchange for payments. The site is not a scam and has been used by many individuals, but since it's newer it is still getting itself established.
It's understandable to feel weary, but there are many things that make it a trustworthy platform. Sanctuary's pricing is transparent, the readers are thoroughly vetted, its customer service is accessible, and it offers refunds, so there is no reason to feel unsafe while using it.
Does Sanctuary only offer astrology readings?
Sanctuary offers more than just astrology readings. Although Sanctuary went viral for its astrology content online, it's expanded its services beyond only astrology. Some of the options include psychic readings, tarot, mediumship, past-life, energy healing, human design, and more.
Also, many of its advisors are experienced in a variety of themes like career, love, life path, pet communication, etc. From what I've seen, many have established practices outside of the platform rather than the other way around. So while many of them have only been on the site since 2019, they have amassed many clients on their own outside of the site.
Does Sanctuary offer refunds?
Yes, Sanctuary offers refunds. However, you must contact its customer support team within 2 days of your session to qualify. You should keep in mind that refunds are decided on a case by case basis, so they will have to evaluate your request before issuing a refund. In the event they find your claim to be false, then they would reserve the right to reject the refund.
That aside, contacting its customer support is accessible and you don't have to wait long for a reply. This should reassure you because in case you do want a refund, you won't have to be left high and dry wondering if you'll get a response.
Bottom Line
The services on Sanctuary are legitimate and the quality is rather impressive considering the age of the site. And while there's some things that could be improved for a better experience, the platform offers all the basic features you need for a worthwhile session. I was skeptical at first, but after trying Sanctuary for myself my doubts quickly went away.
It's normal to feel some apprehension when trying a new psychic site, but you can keep your budget low with Sanctuary's newbie offer of 5 minutes for $4.99. Better yet, the offer will give you the opportunity to try one of its popular readers without worrying about the price. Ultimately, this will allow you to give Sanctuary a fair shot before writing it off.