Tarot cards can be great for gaining clarity when you're feeling uncertain about your love life. But, while tarot cards can bring you accurate answers, it's not always simple to know which questions to ask.
From my professional experience as a tarot reader, I've put together the best tarot questions about love to help shed light on your relationships. Keep in mind that even when you have clear tarot questions to ask about love, it can take a lot of skill to interpret the cards properly.
This is where connecting with an expert tarot reader on California Psychics can bring you objective and reliable advice. That way, you'll feel more confident about the guidance you get since it's coming from one of the site's top tarot experts.
10 Best Tarot Questions to Ask for Clarity in Love
Formulating the best questions about love can be tricky when you don't have a lot of experience with tarot. But, well-formed questions are crucial to receiving accurate and helpful answers. So, I suggest working with the following guide so you can avoid questions that are too vague, leading, or closed-ended.
Clarify the Relationship
Clarifying the vibe of a connection with tarot saves you from lost time and potential heartbreak. But, it's difficult to get a straightforward answer if you pose the question "does this person only see me as a friend?" It's okay to ask yes or no questions to the tarot, but as a beginner, stick to open ended questions for a clearer interpretation.
Is there a romantic or solely platonic dynamic in this relationship?
Asking this question is best for situations in love that seem ambiguous or confusing. Use it when you're in a dynamic where you feel a spark but aren't sure if they only see you as a friend. By getting an answer on the nature of the dynamic, you can set appropriate expectations for yourself and navigate your interactions accordingly.
Tarot can also highlight the strengths and weaknesses of your current relationships, and even give you insight into why you're holding onto a particular person.
Discover the Underlying Vibe
The tarot is a great ally when you're keen on discovering the underlying vibe of a relationship. It'll be easy to determine if the energy is genuine or toxic, depending on the nature of the cards that come out. This question can allow you to set the stage for follow up questions you may have about the future of your relationship.
What is the energy like in this connection?
Not only that, but exploring the energy sheds light on compatibility and resonance between you and another. You should be prepared for the tarot to expose if the energies are harmonious, balanced, and supportive or whether there's recurring negative patterns and themes. All in all, getting these answers will assist you in making informed decisions in love.
See Yourself From Their Eyes
Posing this question is valuable for allowing you to empathize with your partner. The tarot cards you get will give you an understanding of the other person's perspective and how they perceive your qualities and actions in the relationship. Having this insight allows you to see eye to eye with your partner, which will lead to greater success.
How does this person view me from their perspective?
However, asking this question can also help when you're not sure about how someone views you. This question, in addition to question 1, will bring you clarity about whether your love interest sees you more romantically or platonically. Seeing yourself from another's perspective can help you adjust your approach or behavior if necessary.
Unravel Their True Intentions
The tarot can provide a look into your partner's underlying motivations, desires, and feelings regarding your connection. This can help you gain clarity on whether their intentions align with yours or if there are potential discrepancies that need to be addressed. That way, you won't overlook the green flags or alternatively, the red ones.
What intentions does this person have towards our connection?
Shedding light on the intentions of another can help you lower your defenses or warn you of giving out a second chance. Let's say you had a falling out with your partner and you want to make sure they're coming back with the right intentions. By asking this question, you'll get direction on the best approach to take.
Peek Into Your Future Together
Ask this question in case you've been worried about how your future looks with your person. You may be certain that your person of interest has feelings for you or you may even be in a committed relationship already. That said, attraction and commitment doesn't always yield a favorable future.
What would a hypothetical future look like with this person?
Also, exploring the hypothetical future can equip you with emotional resilience. Having a heads up about potential challenges can help you navigate them when the time comes, and give you the opportunity to decide if it's worth dealing with.
Take the Blind Fold Off
Gaining awareness of any hidden aspects within a relationship can empower you to make conscious choices. When you feel something may be off between you and your partner, it's not always easy to know why. But, you can take the blinders off by asking the tarot about what you're not seeing clearly.
Can you reveal what maybe hidden to me within my love life?
In addition, many individuals carry energetic blockages that directly affect their love life and have no idea. For example, maybe you have a fear of abandonment that keeps you from fulfilling relationships. However, by gaining this knowledge you can be proactive and use spiritual tools like crystals that can clear blockages and attract your soulmate.
Get Helpful Love Tips
The tarot works wonders when you feel stuck in love and could use helpful advice on attracting it in. Getting proper direction lets you take an active role in shaping your romantic future, since you'll recognize that you have the power to influence your love life. This can look like gaining clarity on the red flags that you've overlooked in previous relationships.
What are some ways I can invite new and healthy love into my life?
For instance, the tarot can offer practical advice and suggestions on specific actions you can take to invite new and healthy love into your life. It may guide you towards self-care practices, opportunities for personal growth, or specific social activities. It can also answer whether you're compatible with someone you're seeking a relationship with. Use this question when you'd like a roadmap for manifesting positive changes in your romantic journey.
Explore the Possibilities
This question shifts the focus to the future, allowing you to gain a sense of what lies ahead in your romantic journey. For example, you may be engaged and wondering if you'll make it to the altar.
What can I expect next when comes to love?
Knowing what to expect next in love can assist you take proactive steps. Tarot can give you guidance on challenges, opportunities, or areas of growth that may arise so you can prepare mentally, emotionally, and practically for what lies ahead.
Identify Your Karma
Using this prompt can be powerful to use during shadow work and when you're looking to dig deep into matters of the heart. By inquiring about this topic, you show the universe a willingness to dive deeper into what holds you back in love. You can expect to understand where you may have unresolved patterns, limiting beliefs, or emotional blocks.
Which lessons do I still need to master in my love life?
Moreover, this question can bring you more awareness about what your love experiences are teaching your soul. I find this can help make the lessons less personal and equip you with a higher perspective on your experiences. For instance, you may learn that you need to master self-acceptance in love because of experiences in a past life.
Uncover Your Destiny
Asking the tarot about the spiritual dynamic can reveal whether your love interest is your soulmate, twin flame, or a karmic partner. This will ultimately answer the question of whether you're meant to be with this person long term or not. And knowing if someone is a karmic partner can save you from staying after you've already learned the lesson with them.
What is the spiritual dynamic with my love interest?
This question also delves into the concept of destiny and whether there is a greater purpose or divine plan in your connection with your love interest. Therefore, offering you a broader perspective and guidance beyond what may be apparent in your current circumstances.
Best Sites for a Love Tarot Reading
Even as a professional tarot reader, I avoid doing love readings for myself because it can be tricky to be objective. In case you're struggling with personal bias after asking tarot questions about love, consider chatting with a tarot expert. I've made a list of the best sites to get a love tarot reading based on site transparency, affordability, and skilled readers.
1. California Psychics — Best Overall for a Love Tarot Reading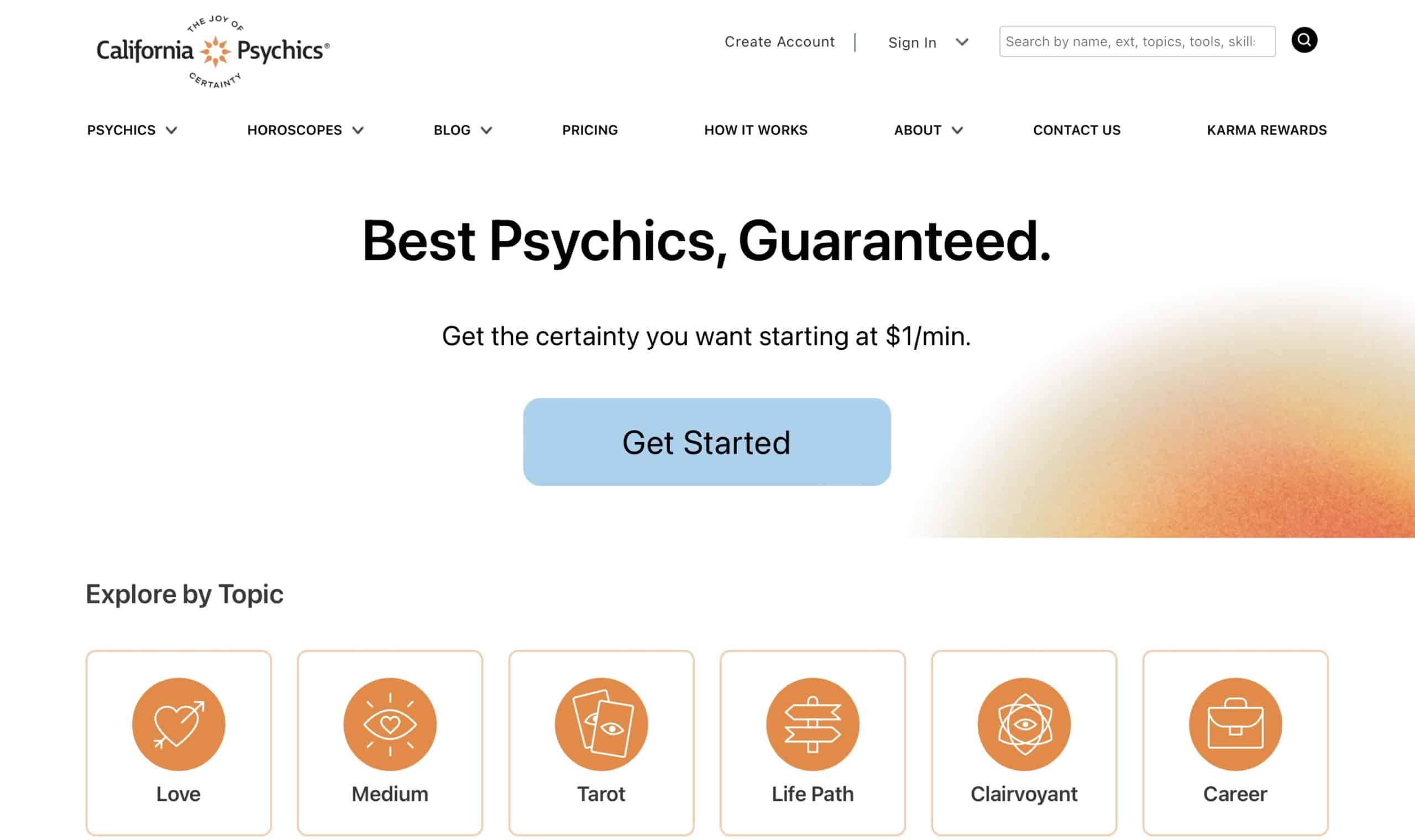 300+ tarot advisors
$1, $2, or $4 per minute
Satisfaction guarantee
Karma rewards program
Strict vetting of tarot readers
You'll be in good hands asking your tarot questions about love on California Psychics with its high standards. The site only accepts 2 out of every 100 applicants and is committed to continuous vetting of its tarot readers. Therefore, you know you aren't wasting your cash on bogus tarot insights since all of the readers on California Psychics are legit.
I enjoy that I don't worry about having limited options for a tarot reader on California Psychics. You'll have 300+ tarot readers to choose from and have the benefit of connecting with one that speaks to your soul. Having a wide variety of choices ensures that you feel comfortable with your tarot reader which will maximize the odds of a positive experience.
A minor compromise to getting love insights on California Psychics is that its premium readers can be pricey. However, if you're new to the site you can connect with a top tier tarot reader for an affordable rate of $4 per minute. This ensures that you don't spend too much before deciding if the platform suits your needs.
2. Purple Garden — Get Tarot Love Insights via Chat, Call, or Video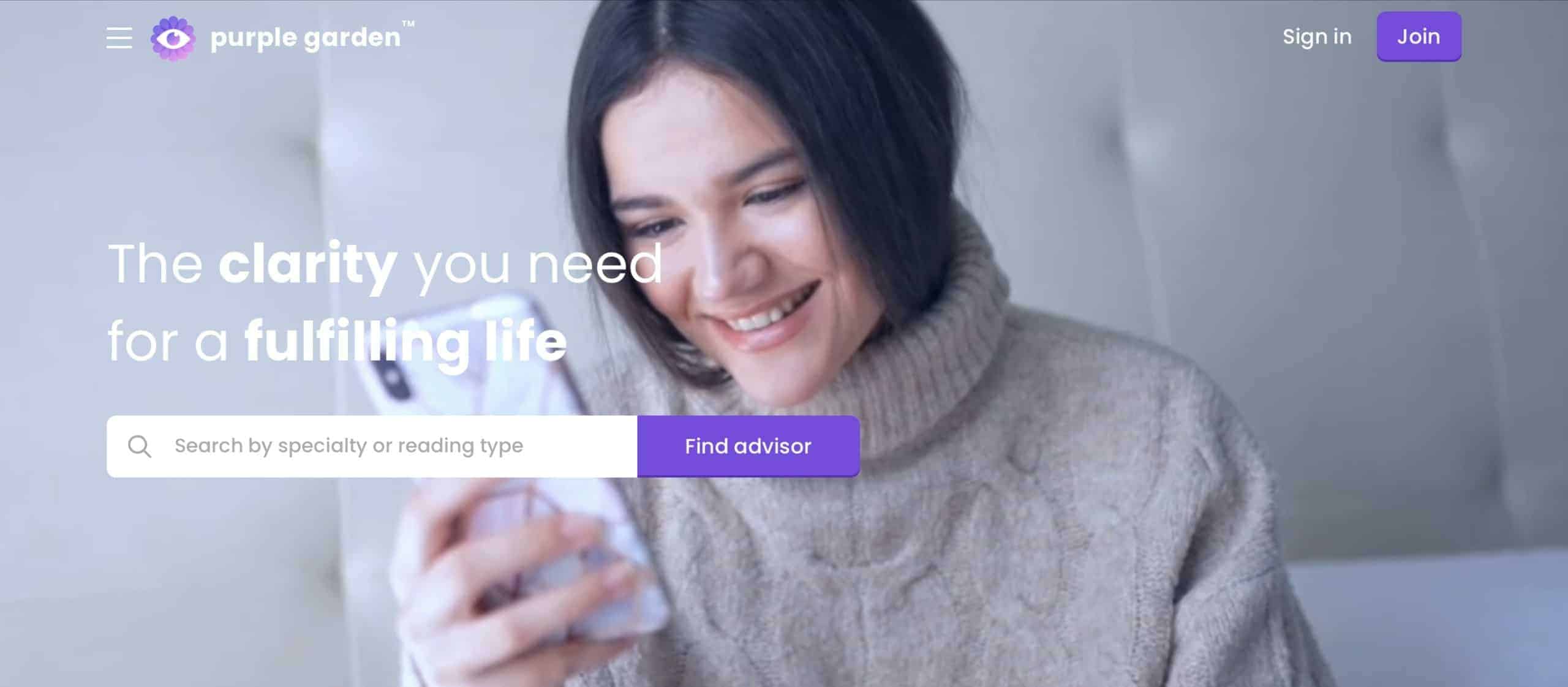 Get $10 free
Video introductions on profiles
Tarot readers with 20,000+ readings
Journeys community feature
Transparent review sections
Purple Garden is a solid pick to get tarot love insights because you'll get the freedom to choose between a chat, call, or video session. Having the option of a video reading is also useful for tarot sessions in case you like to see the cards your reader is pulling.
I appreciate how quick it is to browse for readers on Purple Garden because of the video introductions on profiles. To avoid spending a lot of time reading through each tarot reader's bio, you can watch their video and get a quick summary of their expertise. This will ensure you don't overlook any details about their experience while saving yourself time.
One thing about Purple Garden is that the site is a little vague about its screening process for tarot readers. But, this isn't a huge deal since the review sections for its tarot readers are transparent. At the top of each profile, you'll get a numerical breakdown of the positive versus negative reviews to help you make a wise choice.
3. Keen — Get Answers With It's Free Tarot Tool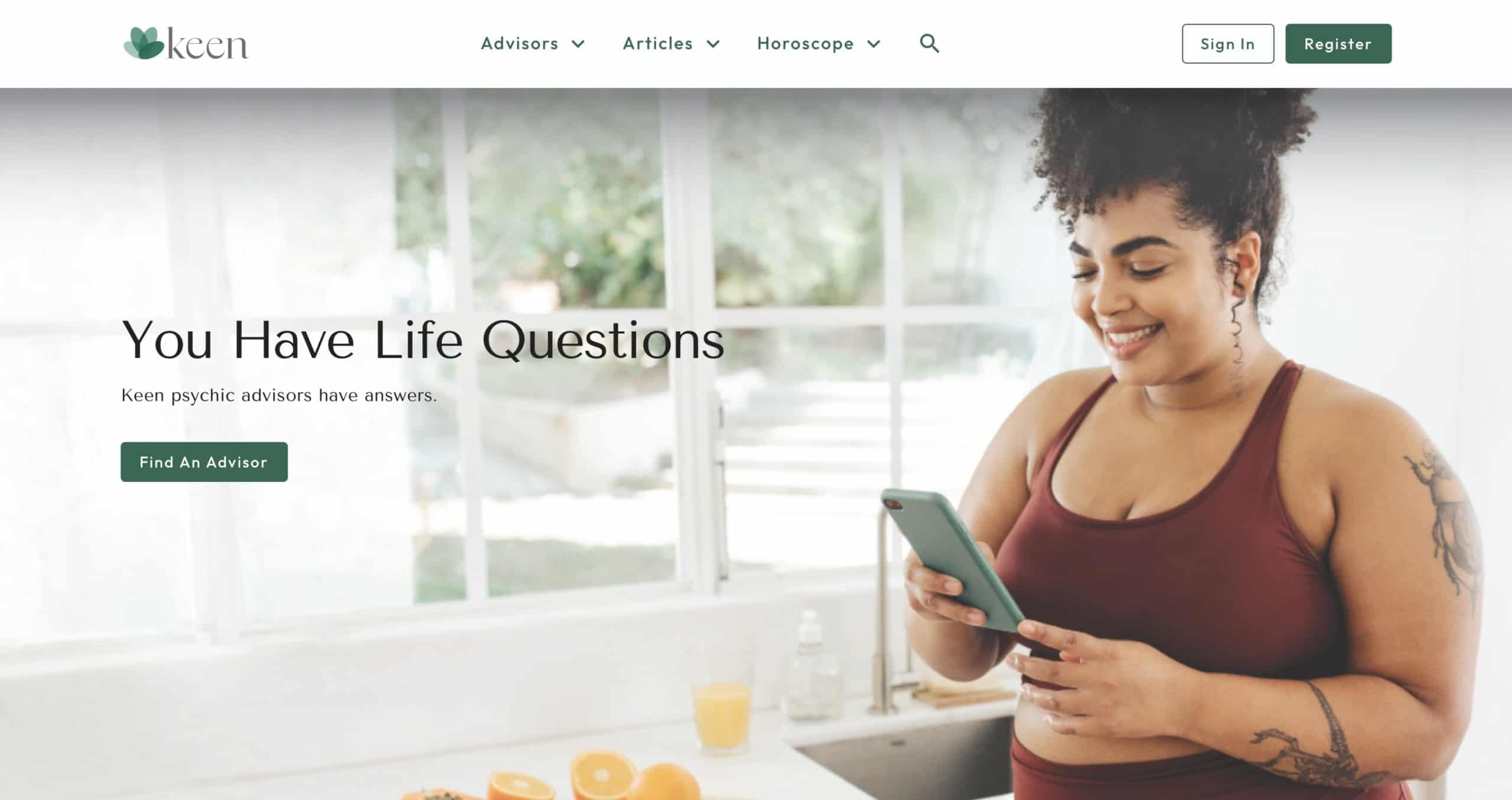 5 minutes for $1
Email tarot readers before booking
Helpful search filters
Convenient mobile app
Tarot readers with 4.8+ stars
Keen offers several free articles and horoscrope readings for love that you can use to get even more insight into your relationship. It also has a free interactive tarot reading tool, you can use this for any quick questions about your love life and then seek the guidance of an advisor to explain the results.
I find it helpful that Keen allows you to email any tarot readers you're considering before booking a session. I recommend using this feature in case you have any doubts to clear up with your reader, as it'll allow you to be at ease when you book. In case you have a niche love situation, it can be valuable to ask your reader if they have any relevant experience.
Keep in mind that some readers on Keen don't offer the option to arrange a tarot reading ahead of time. But, thankfully you can set up alerts for specific readers and get notified when they become available.
FAQ on Tarot Questions About Love
Can you ask the tarot about a specific person?
Yes, you can ask the tarot about a specific person to inquire about their intentions or view towards you and your connection. However, don't ask about anything that isn't relevant to you and don't pry into their personal life because it's considered unethical. By sticking to ethical questions you can still get a lot of helpful insights.
Just make sure you're wording the questions well so you can get accurate tarot insights and avoid confusion. This is one of the biggest mistakes that newbies make when working with the tarot, as it can be tricky to pose your questions properly. But, once you have some examples of the best questions to ask you'll have a guideline for how to formulate your own.
What is the best card for love in tarot?
It's important to note that there isn't a single "best" tarot card for love, as the overall message should be evaluated based on surrounding cards. But, there are certain cards that are commonly associated with love, romance, and deep emotional satisfaction. However, you should chat with a credible expert for an objective reading on your situation.
The best cards to get when asking tarot questions about love are the lovers, two of cups, ace of cups, and ten of cups. These cards are part of the cups suit which deal with matters of the heart and they're the most positive to receive. Additionally, the lovers card is seen as the soulmates card from the Major Arcana cards.
Can you ask yes or no love questions to the tarot?
Yes, you can ask yes or no questions but Tarot readings are more insightful when approached with open-ended questions. Be aware that yes or no questions can sometimes limit the depth of information and insight provided by the cards. The tarot is designed to offer a broader perspective rather than simply providing straightforward yes or no answers.
To enhance the depth of your session, consider asking open-ended tarot questions about love that invite more comprehensive and insightful responses. These types of questions encourage the Tarot to provide a broader range of guidance and perspectives, allowing for a more enriching and meaningful reading experience.
Bottom Line
Tarot is one of the most popular divination tools for a reason, as it can give you powerful insights by working with it. But, many beginners don't realize that the accuracy of a love reading can be impacted by the quality of the questions asked. The good news is that you can consult my expert list of the best tarot questions about love.
Don't shy away from getting in touch with a reliable tarot advisor that can provide you with the objective love advice you need. Getting the second opinion of a reader on California Psychics can be worthwhile to ensure you're not interpreting your tarot cards based on wishful thinking.
In summary, these are the best sites for a Tarot reading on love…