If you're on the hunt for a psychic reading, Purple Garden is a great option with its user-friendly app, a large selection of readers, and unique features. However, with its mixed reviews and lack of customer guarantee, it can be difficult to decide if Purple Garden is trustworthy.
After doing a thorough walk-through of its website and app, I found that Purple Garden delivers exactly what it promises. Since nothing about it gave me the indication that it was scamming users or providing them poor services, it's safe to say that you can trust Purple Garden.
To help you feel at ease, I have reviewed and included all the information you need to decide if Purple Garden is for you. But if you already feel that Purple Garden is a good match, you can get some psychic insight for as low as $0.99 a minute.
What Makes Purple Garden Unique?
High-Quality Mobile App
Purple Garden offers its services through its website and app, but the app is my personal preference. Signing up on the app is straightforward and quick because you can sign up with an existing Google account. The platform also lets you sign up with an email and password, which is a great alternative for added privacy.
The app feels professional and is very user-friendly. Its professionalism was a big reason why I felt so secure using the platform. Providing my personal information felt safe because the experience was similar to other trustworthy platforms like California Psychics and Keen.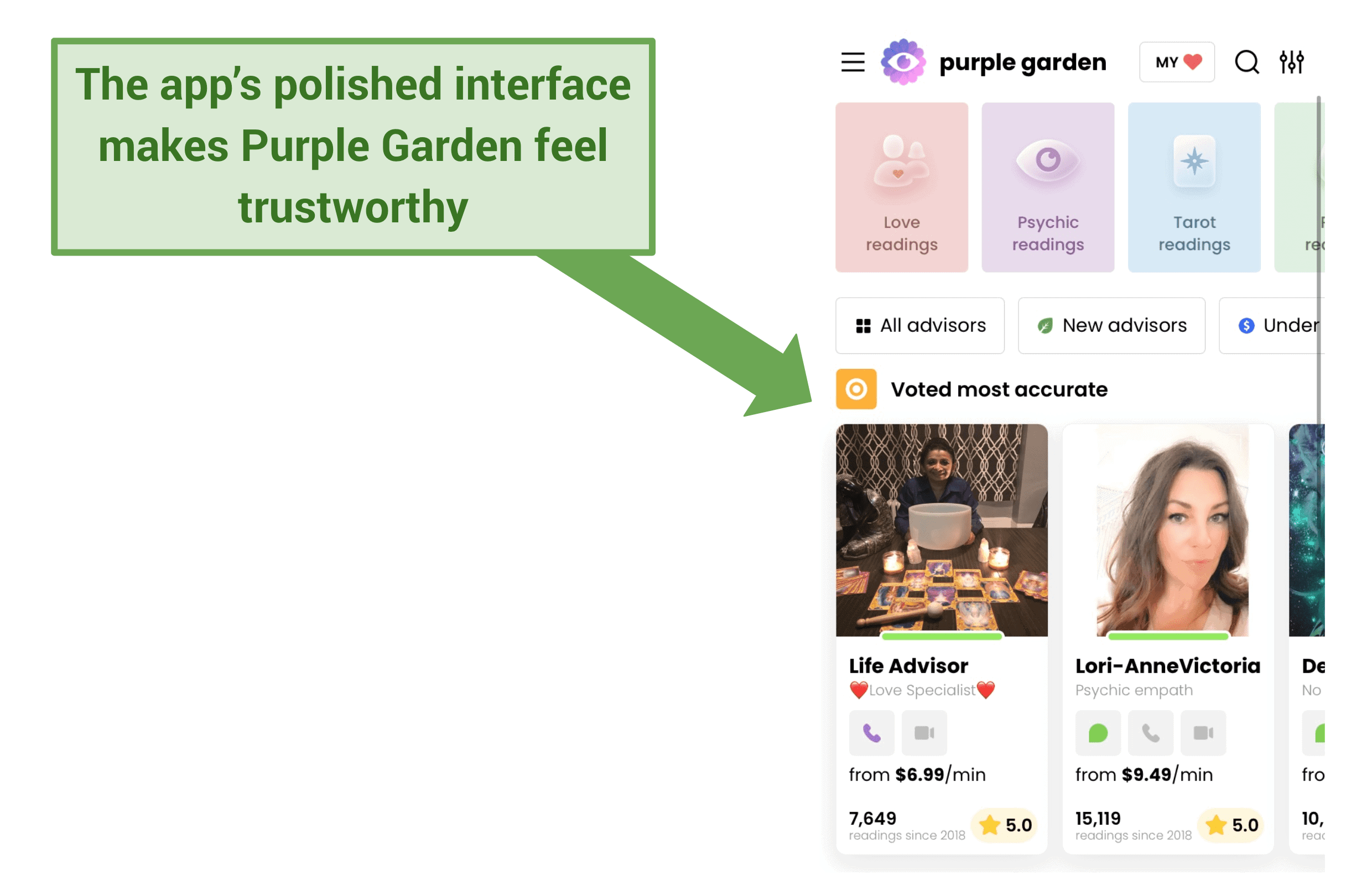 Purple Garden's app is aesthetic and easy to use
Another aspect I like is that the reader profiles are highly detailed. Each one has its own profile with a photo, amount of readings they've done, star rating, and a thorough about me section. They even include the number of users that were happy or unhappy with their reading. Ultimately, Purple Garden's app is trustworthy because of the transparency it provides.
Journeys Feature
The Journeys feature on Purple Garden is something that I find helps them stand apart. It's similar to a thread board where you can share your unique situations and how a psychic on Purple Garden helped you through them. It's interesting to read about what other people are going through and how getting a psychic reading was a practical tool for them.
Additionally, I find that the Journey's feature indirectly acts as a review feature because the client typically highlights the name of their psychic. Ultimately, Journeys is a great feature to let you know which psychics are accurate and highly recommended. It feels like a friend recommending you to their psychic, only it's done online.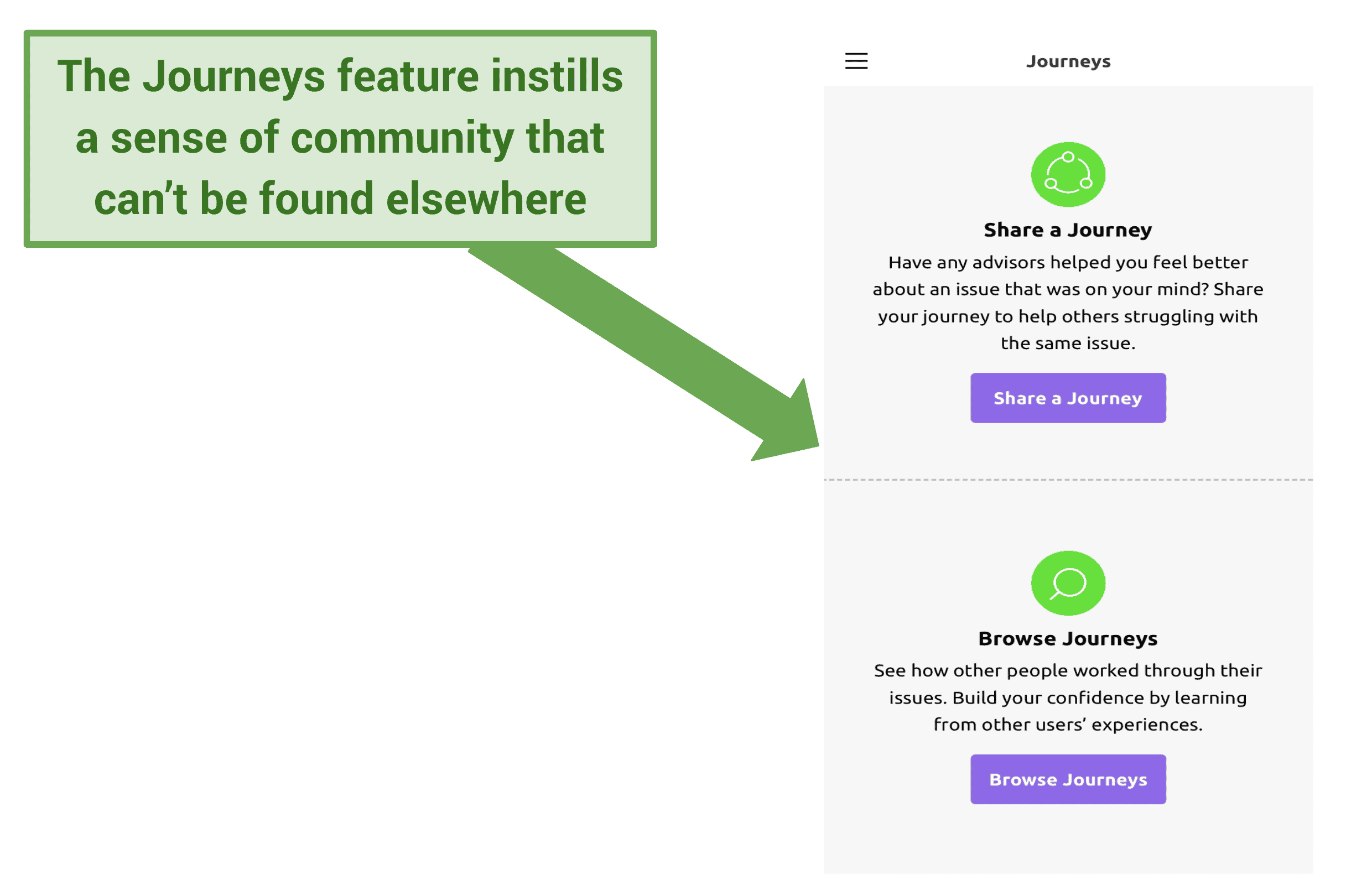 You can get a taste of other people's experiences by using Journeys
This unique feature makes Purple Garden trustworthy because it creates a sense of community. As a result, it helped me feel more at ease about using Purple Garden and recommending the platform to others. Seeing other people go through similar circumstances helps the app feel more legitimate.
Cashback Program
Purple Garden offers a cashback program where you can get a 5% cashback on all purchases without limit. The cashback program allows you to apply the credit to any future readings after you have accumulated $10 or more, which is Purple Garden's way of rewarding its loyal customers.
Firstly, this is a great program because it allows you to feel like you are being appreciated for your business. The cashback program makes Purple Garden feel trustworthy because they are trying to give back to you. Additionally, it incentivizes you to continue using Purple Garden.
However, to highlight my last point, it can feel like Purple Garden only offers a cashback program to incentivize you to purchase more readings. This is especially apparent because the cashback program is only for Purple Garden credits.
My only concern is that they could be promoting the codependency of psychic readings to gain a profit. That said, it is important to be aware that Purple Garden is a business and is allowed to operate as such.
Get Your Purple Garden Credits
Are Purple Garden's Readers Screened?
Yes, all readers on Purple Garden go through a screening process. To offer services on Purple Garden, readers must submit an application and complete a test. The test is a mock reading where the psychic must showcase their reading style and abilities. Once they have completed the reading test, their application will either be accepted or rejected.
While it's great that Purple Garden screens its readers, it doesn't guarantee accuracy or customer satisfaction. But what's important is that Purple Garden looks for readers that can show they have experience and do not accept every applicant. For this reason, Purple Garden feels trustworthy because it gives you a good chance of finding a reader with experience.
Understandably it can be nerve-wracking to spend money on a service that isn't guaranteed to be good. However, it's important to note that it's standard for psychics reading outside of psychic platforms to not offer guarantees or refunds. I also recommend you pay close attention to a psychic's profile and reviews to reduce your chances of a bad experience.
What Do Customers Say About Purple Garden?
Even though there are some negative reviews, the majority of customer reviews seem to be overwhelmingly positive. After all, it's nearly impossible to guarantee that everyone will be happy with their experience. By reading through the negative reviews, I realized that different levels of experience with technology and varying compatibility with readers were to blame.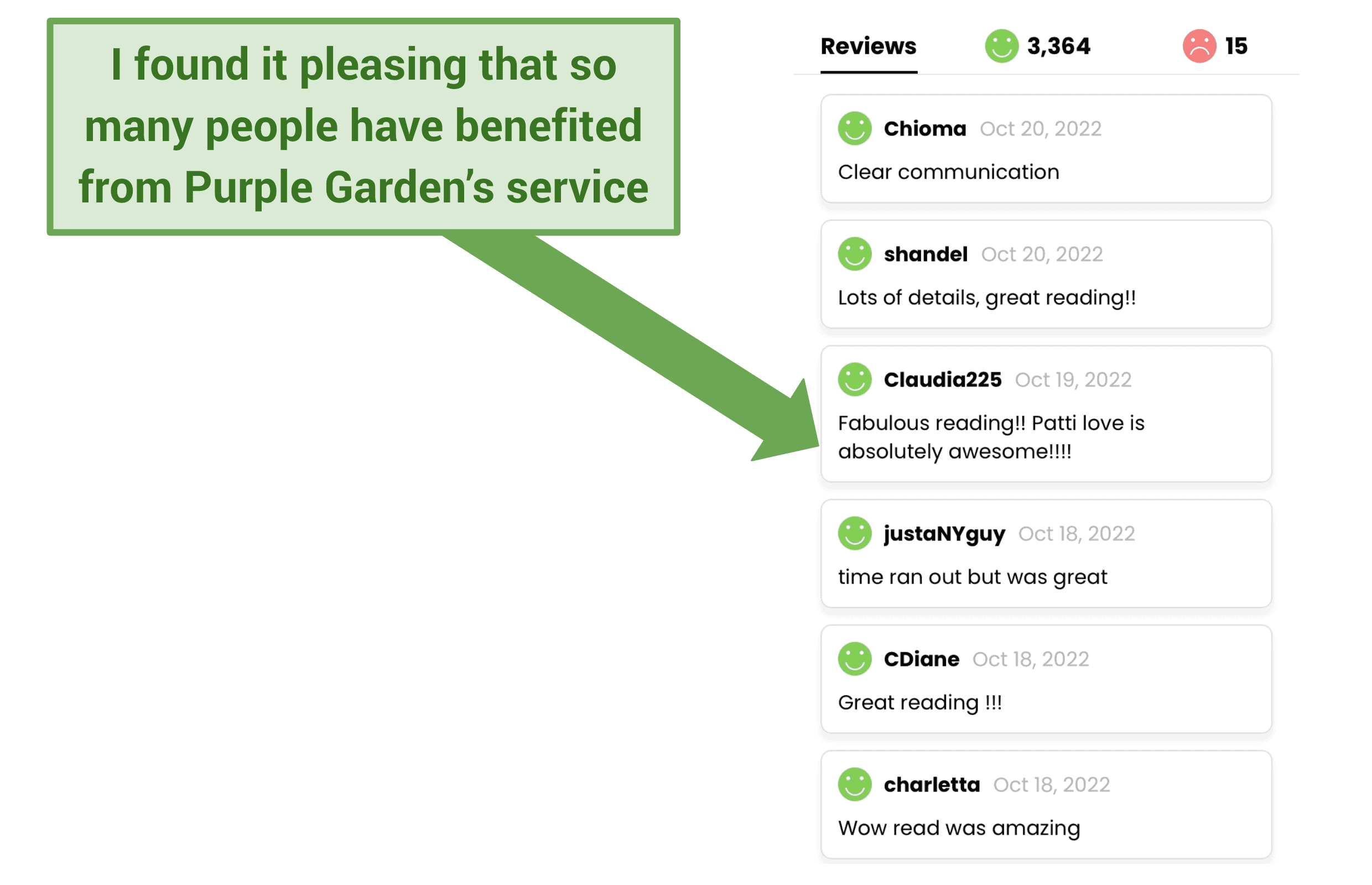 You can get a great sense of how customers feel by reading their reviews
I found the reviews on the site to be very helpful for evaluating the trustworthiness of Purple Garden. Thousands of positive reviews were raving about the experience, and overall it seemed like people were getting their money's worth.
Is Purple Garden's Privacy Policy Trustworthy?
Ultimately, I feel Purple Garden's privacy policy is standard and should be seen as trustworthy. However, this can be a tricky question because everyone has a different level of comfort regarding their stored data. That being said, if you use most platforms without concern about your data storage, Purple Garden should be no different.
I thoroughly examined Purple Garden's privacy policy and felt it was transparent. They outlined that while using the site, they may collect personal information which includes:
Email, login name, and full name
PayPal payer ID and PayPal email address
IP address and geographic location
Profile photo
Live chat transcripts, video recordings, and in-app messages
Favorite advisors list and reviews
Any information provided in your customer service inquiries
While the list may seem long, this is not a rare amount of information to collect. However, if you are looking to add extra privacy to your account, I recommend signing up with email and password only. If you choose to sign up with a Google account, you will inevitably be sharing more data than if you signed up without it.
Perhaps the most important point is that none of your data is sold to any third parties. Additionally, the only third parties with access to this information are secure third-party payment platforms like PayPal. Advisors do not get any access to your personal information, and you can request for any stored data to be deleted at any point in time.
How Much Do Readings Cost on Purple Garden?
While all readings on Purple Garden vary according to the reader, its rates start at $0.99 per minute. There is also no time commitment and if you feel the reader isn't a good fit, you can hang up at any moment. This feels trustworthy to me because you aren't locked into your reading if it goes wrong.
Additionally, Purple Garden's prices are fair compared to its competitors and are what you should expect from a psychic reading. The site also offers a lot of price incentives with its cashback program, refer-a-friend promotion, and first-time user credits, making its services more affordable.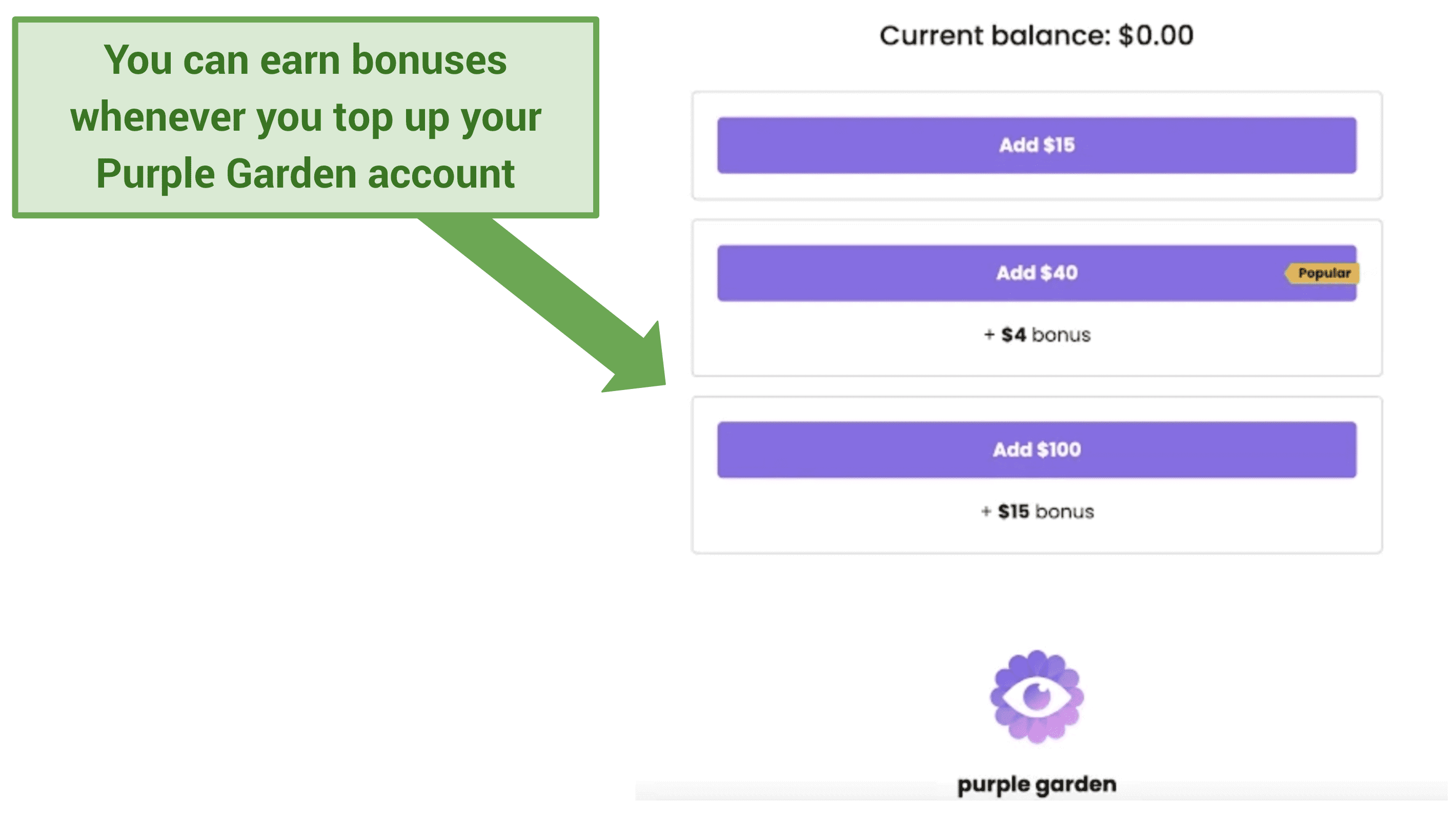 Purple Garden has some neat incentives that help make the service more affordable
The friend referral promotion gives you a free reading every time you refer a friend who purchases a reading, which is a great way to build a trusting community. Purple Garden also offers a matching $10 credit the first time you buy $10 or more in credits.
What Payment Methods Does Purple Garden Accept?
One of the things that makes Purple Garden feel more secure is the range of accepted payment methods. Typically the wider range of payment methods, the better. This is especially true if you can pay with PayPal or any major credit card since any unauthorized charges are easily refunded.
Here is the list of the payment methods that Purple Garden accepts:
PayPal
Debit Card
Discover
American Express
MasterCard
How do Refunds Work on Purple Garden?
Purple Garden does not issue refunds for unsatisfactory readings and only offers refunds for technical issues. When I learned about this, I quickly became skeptical because having this guarantee would insulate you on Purple Garden from spending money on a terrible reading.
That being said, I realize how much Purple Garden values and trusts its psychics for upholding this policy. Having this policy in place guarantees that higher-quality psychics will join the site. This is because they do not have the chance of losing money for readings that have already been completed.
Additionally, this is common practice for the majority of psychic services outside of psychic platforms.
What is Purple Garden's Customer Support Like?
While there is no live chat feature to contact Purple Garden's support team, you are able to email them. This can be a frustrating feature when you are in need of a quick answer. However, the customer support available on Purple Garden is reliable.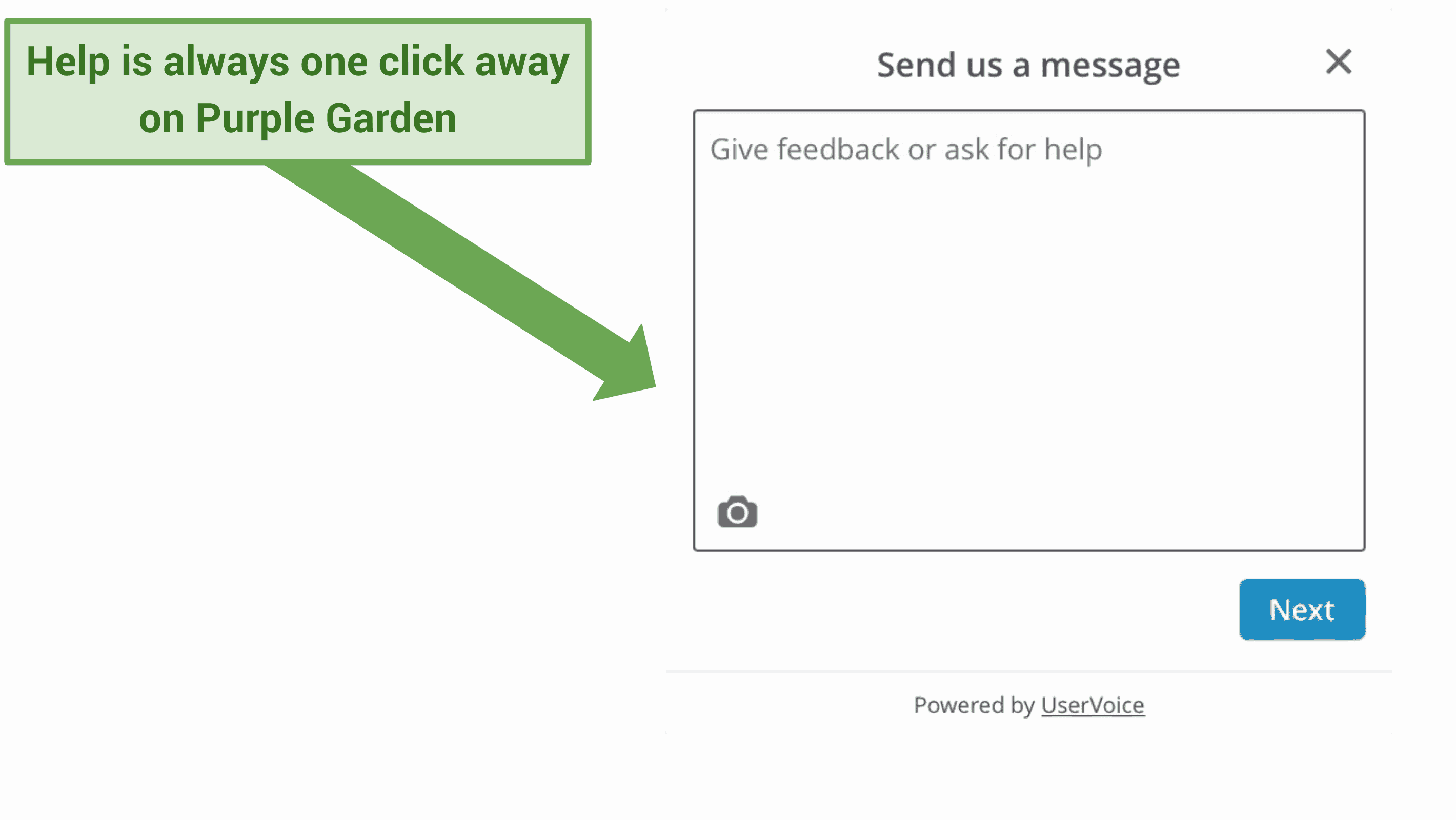 Purple Gardens offers support whenever you need it
To my surprise, I found that Purple Garden's support team replies very quickly. When I emailed support, it took 2 hours for them to respond. I was impressed by this because I was expecting to hear back from them within 1-2 business days. Purple Garden outlines that they can take up to 2 business days to respond, but in my experience, you can expect quicker replies.
The Best Purple Garden Alternatives
If you feel that Purple Garden doesn't have what you're looking for, you can check out these alternatives. After all, the most important thing is finding a platform that best suits your needs.
California Psychics — Best Overall Purple Garden Alternative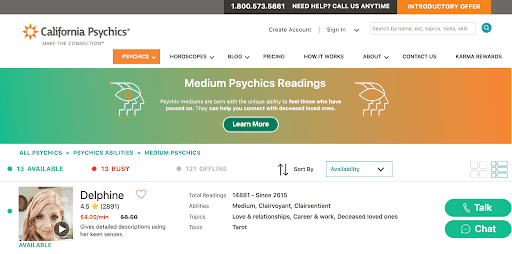 Servicing clients for over 25 years with over 6 million readings given
Only 2% of reader applicants are accepted
100% customer satisfaction guarantee
24-hour customer care hotline
Secure & confidential payments
California Psychics is a solid alternative to Purple Garden and is widely kown for being a reputable psychic platform. I was pleasantly surprised to find that it only accepts about 2% of readers that apply. This means you'll likely develop a personal connection with your psychic, who will offer compassion and guidance.
The platform offers a wide range of reading topics like love, career, soul path, pets, mediumship, and even lost item readings. Each reader has their reading specialty highlighted on their profile, along with the unique gifts and tools they use (if any). Whatever area of your life you need help with, you'll find it on California Psychics.
Since pricing per reader ranges on California Psychics, you will have no issue finding a reader that suits your lifestyle. The platform also offers introductory packages which let you receive an accurate reading that starts from $1. This is a great way to try their service before committing to higher-priced psychics.
Keen — Easily Connect With a Trusted Psychic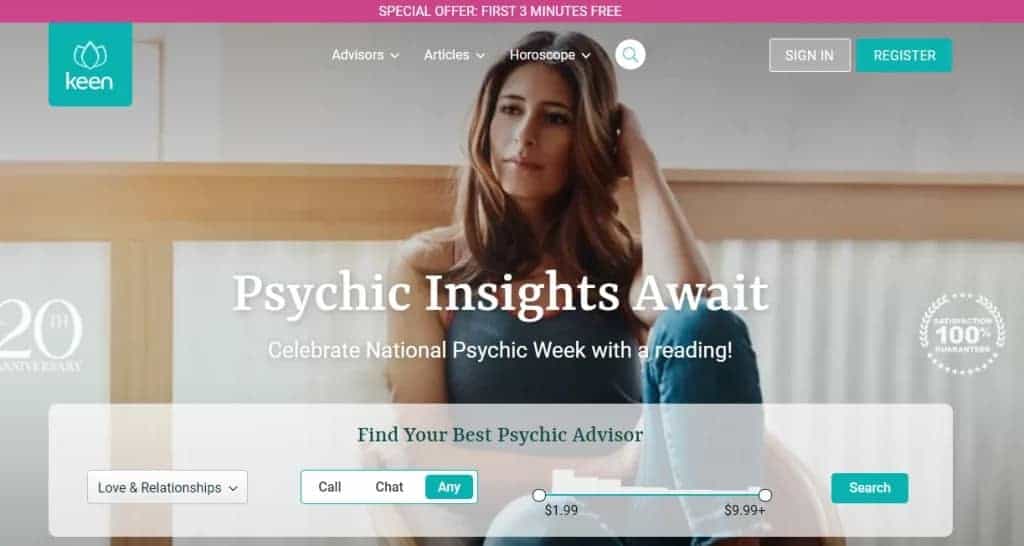 20 years in business with over 35 million readings given
100% satisfaction guarantee
24-hour customer care hotline and web support
Safe and anonymous transactions
Free tips from featured psychics
Keen is another great alternative to Purple Garden that is now very popular. In fact, it became so popular that it stopped accepting applications from psychics. This makes Keen feel trustworthy because it shows that it's focused on authentic experiences that are of higher quality. In short, you won't have an issue connecting with a psychic.
While Keen does not disclose its screening process for readers, it's obvious that its readers are highly experienced. I discovered that a large portion of its readers have been on the platform for years and have given thousands upon thousands of readings. Seeing these figures is a sure tell sign that you'll receive helpful guidance and accurate insights.
Additionally, Keen does a great job of helping you along your journey with its wide range of resources. One of my favorites is their Psychics 101 article, which includes many videos made by top-rated psychics that walk you through the guidelines to follow during a psychic reading. This is a clear sign that they want you to have the best experience possible by clearing up common misconceptions and addressing frequently asked questions.
Psychic Source — Find a Psychic With Unrivaled Experience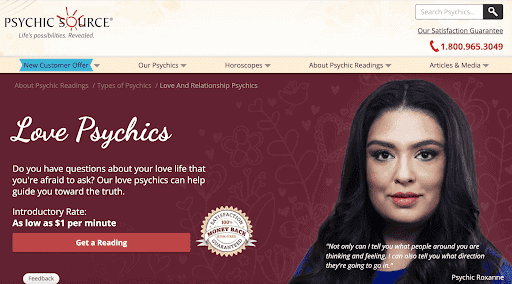 Over 30 years of experience
Readers on the platform for over 20 years
100% satisfaction guarantee
Developed code of ethics
Extensive reader screening
Psychic Source's website can feel a bit outdated compared to other sites, but it has been in business the longest. Some of their psychics have been with them for over 20 years, so you won't risk having your favorite reader disappear. They also have an unmatchable amount of experience that trendy platforms can't match.
The unique thing about Psychic Source is that while it's an online platform, there is something about it that feels like you're at a psychic convention. This means you'll experience an old-school vibe that makes it feel like it's actually in person. I felt very comfortable and drawn to the readers on Psychic Source, despite the site's disadvantage with its interface and marketing.
Finally, having been in the scene for long means Psychic Source has the experience to screen their readers appropriately. It seems like their standards seem higher as they hold their readers to a code of ethics that other platforms don't mention. This made me feel at ease because I know that any reading you get has integrity at the top of the list.
Frequently Asked Questions
What are the Pros and Cons of Purple Garden?
Purple Gardens' pros and cons can be subjective, so you should decide which outweighs the other. There are a number of things I liked about Purple Garden, such as its secure payment methods, thoughtful features, and variety of reading types, which are available in English and Spanish. Plus, they regularly offer promotions.
On the flip side, I think they could improve on their satisfaction guarantee policy and offer a live chat option for customer support. Purple Garden's competitors seem to offer these features to their clients, so it's unclear why they aren't able to offer the same. However, it seems that this may be because affordability for users is Purple Garden's top priority.
Is There a Customer Satisfaction Guaranteed on Purple Garden?
Unfortunately not. Purple Garden does not hold itself responsible for the accuracy or quality of its readings, so they don't offer refunds. But you can avoid this by investing in a higher-rated reader with higher customer satisfaction. There are also many features available to check what other users thought about their experience with a particular reader.
What Types of Readings Does Purple Garden Offer?
Purple Garden offers a wide range of reading types for affordable costs. You can find readings for love, Astrology, psychic insights, Palmistry, angel divination, dream analysis, Oracle insight, and Tarot. In addition to finding a reading for your needs, you can find one that's well-suited to your lifestyle.
They also offer readings via live video, live text, and live voice and have a pre-recorded option. Their options for readings tailor to modern times since you aren't forced to set time aside for a live reading. If you're on the go, you can choose to do a live text reading or a pre-recorded one.
Bottom Line
Purple Garden is a trustworthy site with many highly rated psychics. This means you should not feel worried about falling victim to a scam or fraud on the site. However, I highly recommend you do your due diligence before choosing an advisor because there isn't a satisfaction guarantee.
But the good news is that Purple Garden does a great job of being transparent, which helps you get the clarity to choose whether it's for you. Ultimately, it's important to decide if you value better prices or a guaranteed experience before trying Purple Garden. If you choose to go ahead with a reading, you can connect with a psychic for as little as $0.99 per minute.
To summarize, the best alternatives to Purple Garden are…