Hollywood Psychics Overview
*NOTE*: Hollywood Psychics is now PathForward – You can read the full review here.
Hollywood Psychics looks very similar to most online psychic reading services….but actually, it's pretty different. Boasting some pretty different specialisms, amazing filters and a nice customer satisfaction guarantee, it's the place to be if you want a psychic reading site that knows how to treat customers, while not overwhelming them.
I've reviewed over 10 psychic reading sites, and here's what I think about Hollywood Psychics.
Hollywood Psychics Psychics and Services on Offer
Hollywood Psychics might look pretty similar to any other online psychic reassignment service – but it really is pretty different to most.
That's because the services on offer are really unlike anything I've ever seen before.
While other sites might have dozens on specialisms on offer (Oranum, California Psychics, Kasamba), which can quickly be overwhelming, Hollywood Psychics goes the opposite route, offering these specialisms only –
Family and friends
Mind – Body – Spirit
Sex and Relationships
Work and Money
And I really respect that – there's something to say about picking just a few, choice specialists and building up a core following of customers who appreciate that.
At the same time, Hollywood Psychics doesn't skimp on the tools on offer –

Which again, shows a nice, niche field of expertise (as well as fantastic filtering options – the likes of which I've only seen at California Psychics, and which makes things so much easier to find the right psychic for me). I've also never seen a pet psychic on a psychic reading site's service list either, so I really liked that.
But, the best thing I saw on Hollywood Psychics has to be the 'Compare Psychics' feature. You choose 4 psychics you want to compare, and then can see – at a glance – the important information you need. For me, I like to check out a psychic's experience, user reviews and tools –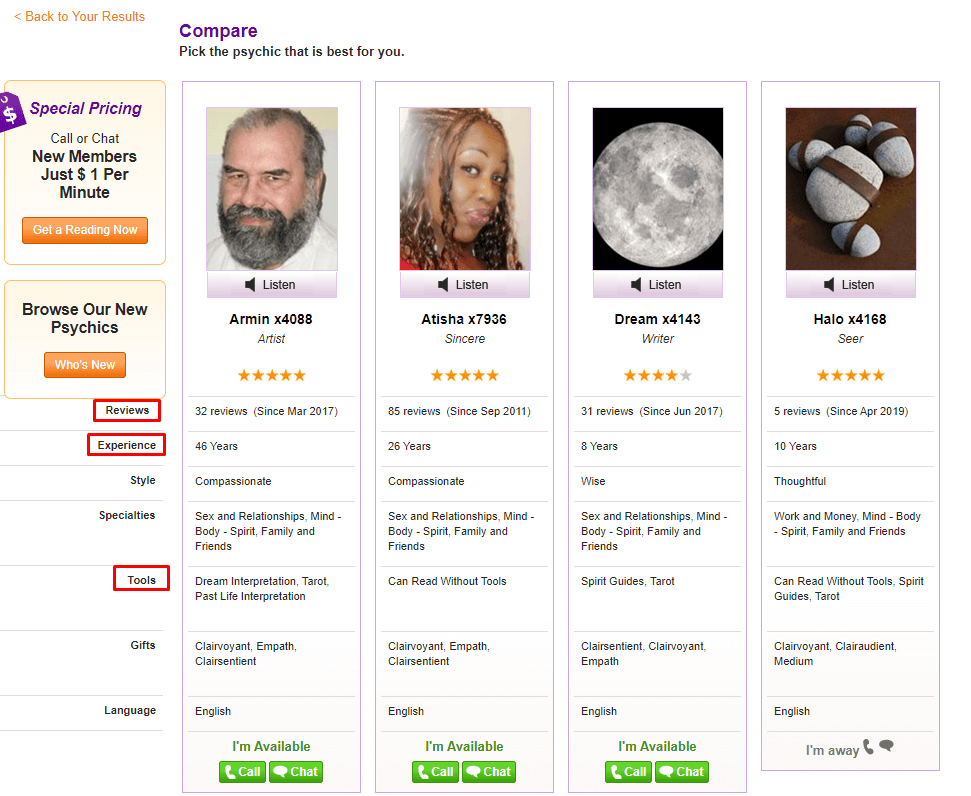 And I did just that! It's a really simple tool, but left a huge impression on me – nice one, Hollywood Psychics!
Hollywood Psychics – Is it Trustworthy?
In my exploration of various psychic reading platforms, I discovered that certain sites initially appeared reliable and credible. However, upon closer investigation, I uncovered questionable practices such as the potential manipulation of user reviews, selectively displaying only positive ones, or insufficient vetting of psychic applicants.
So, I asked myself, just how trustworthy is Hollywood Psychics? Here's what I discovered, broken down into categories:
Psychic screening process
The psychic screening process at any psychic reading site can be wildly different from one another – while sites like California Psychics and Keen really invest in checking out their applicants (even performing background checks and having applicants perform live readings), and 7th Sense makes all applicants sign a legally binding contract, these sites tend to be exceptions.
So I was really pleased when Hollywood Psychics' insist on a pre-interview questionnaire for candidates, and then a pretty in-depth application process –

I think this is probably the longest application I've seen at any psychic reading site – a questionnaire, an interview, a second interview and a contract. I was very impressed with this.
Psychic bios
Firstly, psychic bios vary wildly from site to site – while some sites, like Oranum and BitWine can have psychic bios that are massively overhauling, others – like 7th Sense – get it just right, with just enough information tastefully presented to help you see what you need when choosing a psychic.
I think Hollywood Psychics also gets it just right, with psychics answering questions about themselves, rather than writing a bio (which I thin levels the playing field – not all psychics are great at marketing themselves, and this way, you can focus on someone's psychic ability, not how well they present their gifts), but also a scheduler (which not all psychic reading sites include):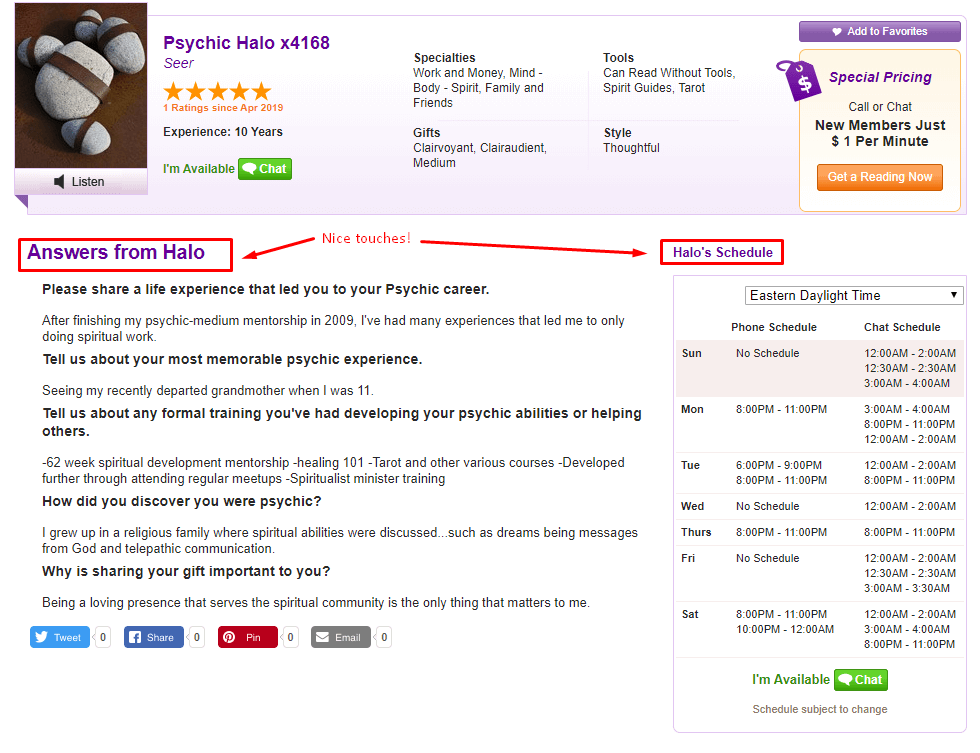 If I was really nitpicking, I would have liked to have seen a way to schedule or book the psychic from their scheduler (which sites like Psychic Power Network allow you to do), but again, that's not a must.
Customer ratings
One of my favorite things to do when choosing psychic is to look at the reviews and ratings a customer gives.
I find them very telling, and they give me a solid idea of the type of psychic I might be speaking with. It also tells me a lot about a site's integrity – for example, at Psychic Power Network, I suspected that the site was censoring reviews, as I only found some very old reviews that were positive, and no new ones or negative ones from customers. At other sites, when there are negative reviews, it's very clear that there's no censoring all filtering.
That's what I discovered at Hollywood Psychics: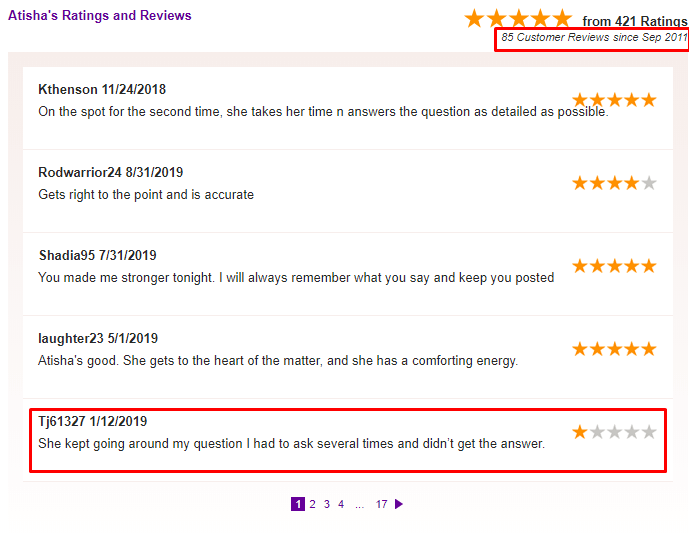 That was very reassuring. I also really liked that I could see the number of customer reviews each psychic had received too.
Money-back guarantee
Some psychic reading sites – like AskNow, or 7th Sense – really hide their satisfaction guarantee policy, for whatever reason (even if it's a good one). Others, like Kasamba or California Psychics, really shout out about it from the rooftops.
Hollywood Psychics is like that too – boasting a link on the top right of the home page saying 'easiest return policy ever', you'll see that Hollywood Psychics really cares about its customers' satisfaction –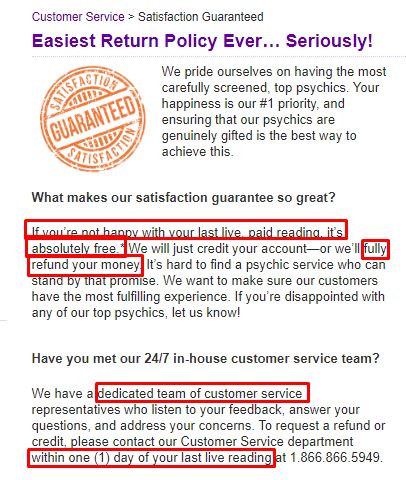 You'll get your reading refunded, as long as you contact customer service within one business day. That's pretty generous – sites like 7th Sense give you up to 3 days to contact support, while others, like BitWine, insist that it's not their problem and it's up to the discretion of the psychic themselves to return your money (or not).
Hollywood Psychics Pricing
Psychics reading sites massively vary in their pricing structure – at some, there's a 'one-size fits all' policy (like Psychic Encounters' $0.99 per minute phone calls, or Psychic Power Network's $1.99 phone calls), while at others, psychics set their own prices and you could pay ridiculous amounts (up to $30 per minute, at sites like Kasamba and Keen), for the most popular psychics. Other sites, like AskNow, set pricing tiers according to a psychic's experiences for which you buy bundles for. At Oranum, you pay in credits.
At Hollywood Psychics, things are kept simple – you preload your account with , for example, $30. For this amount, you know how long your reading will be, as each psychic costs $5 per minute.
That's a little steeper than some psychic reading sites on the market, but also a lot cheaper than others (as I mentioned above).
There's also a pretty generous introductory offer – new members pay $1 per minute, and get 3 minutes free on their first paid reading: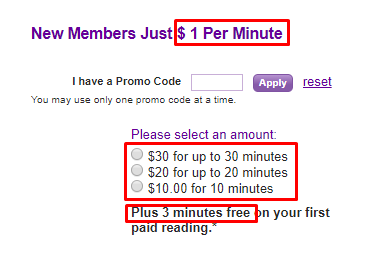 That's pretty generous.
Hollywood Psychics Customer Support
Hollywood Psychics has a dedicated, in-house customer support team available 24/7. And that's it.
I find customer support at other psychic reading sites to vary massively. Some, like BitWine and Psychic Power Network have only a form submission for customers to get in touch, which didn't leave me very impressed. I prefer a way to directly get in touch, on my own terms – which is why sites like Keen's live chat, or 7th Sense's Facebook messenger widget really left an impression. Hell, even AskNow had a mail address for people to write to!
I think a phone line is great – but it's a bit of a misstep to not have other support channels too.
Expert Bottom Line on Hollywood Psychics
I really liked Hollywood Psychics – from the cool Compare Psychics widget, to the generous introductory offer, there's a lot going on here that customers will enjoy. Those specialisms? Fantastic. The psychic bios where psychics have to answer questions? Genius.
Yes, there were a few things I would have preferred to see – a way to book psychics online and even more customer support channels, but all in all, Hollywood Psychics is now one of my favorite psychic reading sites.
Hollywood Psychics Bottom Line
A very customer-friendly psychic reading site, with really interesting specialisms and a great introductory offer.